Track by Track
LARRY PINK THE HUMAN chat through debut collection 'M1XTAPE'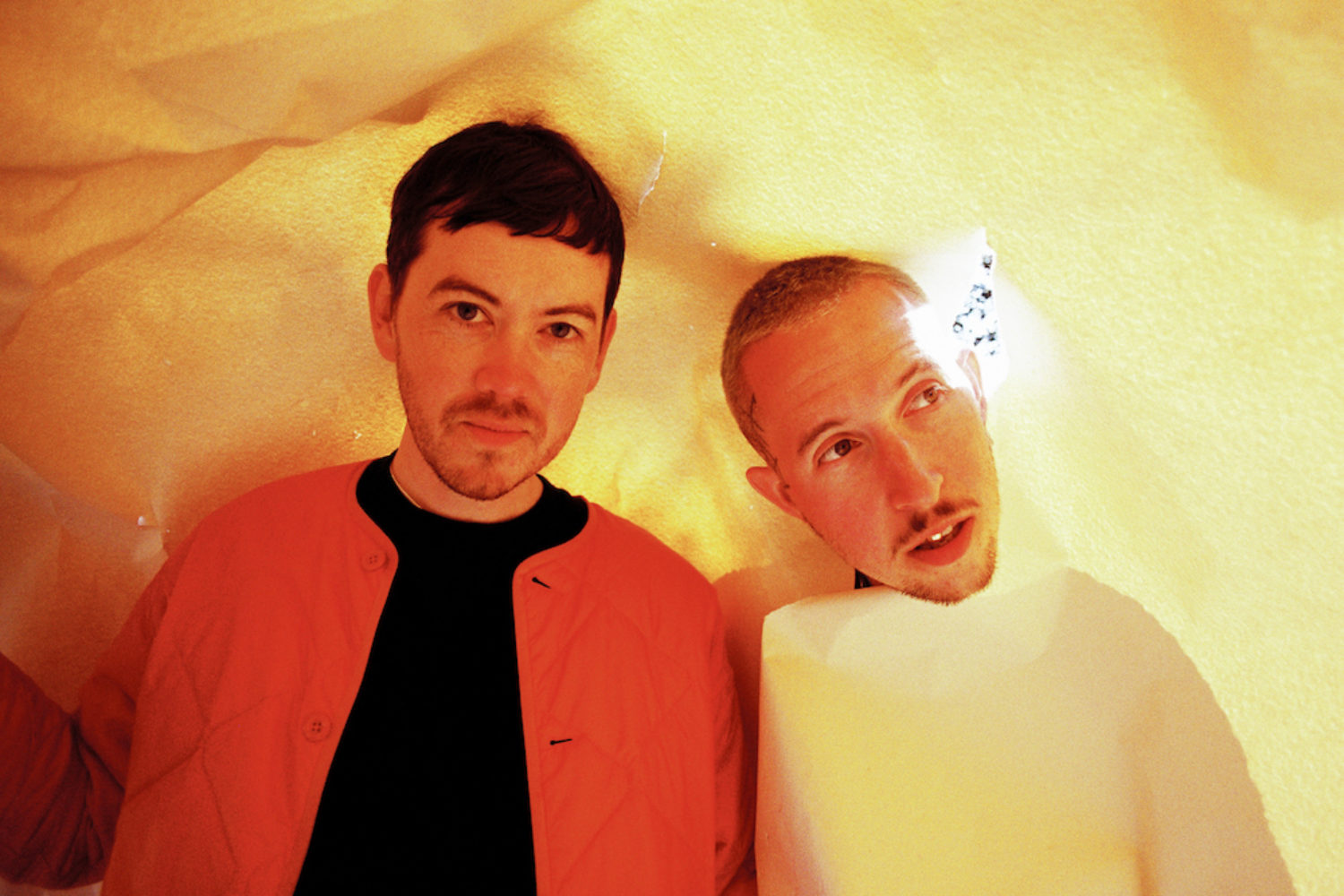 Laurie Vincent and Jolyon Thomas give us a track by track run-through of their full-length release.
After first making their introduction last year, LARRY PINK THE HUMAN - aka Laurie Vincent and Jolyon Thomas - have now shared their debut collection 'M1XTAPE'.
"Nothing speaks to us deeper than music and these songs represent the beginning of LPTH," Laurie and Jolyon say. "The highs the lows, the ordinary and the fantastic all bundled up one after the other with a guitarlele and some weird synths."
We got the pair to give us a track by track run-through of how it all came together!
BISOUSxxx
Laurie: This song actually includes a sample of my daughter Summer at the beginning, and my girlfriend saying 'Bisous'. It makes this somewhat of a photo album of a song; cementing the emotion I was feeling at that exact time. It is also the first song we have released that's come from somewhat of a 'jam'. Both of us starting in the studio with a blank page. For this reason it feels like a real insight to what the future holds for this band. Abandoning traditional song structure felt liberating and exciting.
Jolyon: What I like about this song is that the chorus vocals are all cut up and out of place. There are words missing. On paper this sounds as if it will be a bit jagged or jarring, but it's not. I think it sounds beautiful. Sometimes songs just happen and this was one of those.
NO WRONG NO RIGHT
Laurie: After binge watching 'We Are Who We Are' then listening to Blood Orange's 'Time Will Tell' I picked up a guitar and decided to write our own coming of age 'anthem'. It's somewhat a letter to my younger self.
Jolyon: This bass line reminds me of David Bowie - 'Ashes to Ashes'. We deffo had a little bit of a Bowie vibe in the room which is always a good thing. The song is about reflection, and I think this is part of its reminiscent sound and the 'coming of age' atmosphere we were conjuring.
SURFACING
Laurie: Fully embracing our love of anthemic-synth pop. I feel like we really 'went there' with this song. It's made to be played at festivals and stadiums. It was also the first song that emerged from my new home studio during a panic moment when I wondered whether the investment in myself would pay off.
Jolyon: This is certainly our current stadium song and biggest vocal moment on the mixtape. I'm pretty sure it's dual harmony all the way through which is pretty pop. The synth outro at the end I made after a mad night in the studio on my own with some tape echoes and all the mad stuff. I sort of did it for fun but I'm glad it's stayed. A lot of our process is letting each other mess about and be free. We're not precious so there's quite a few unpredictable parts on this mixtape which we have kept in. This is one of them.
ELEVEN11_GTR_SONG
Laurie: This song was born on an iPad version of GarageBand in lockdown 1.0. It was a real confidence boost for me seeing some sounds and ideas I'd put down make their way into the final mix. The whole project has been pushing both of us out of our comfort zones and learning about the different roles in the band experience. Putting down some guitar on this track also felt like a nod to a past life, it was fun to get 'shredding' again.
Jolyon: Loved Laurie's demo of this. As always we went kitchen sink on the middle 8 and threw a proper curveball with some trap hats and 808s. I think deep down this is the sort of juxtaposition we always wanted to be able to do with the 'rock' music we've made previously. These sort of moments really liberate us and the music.
DO DON'T WILL WON'T
Laurie: One of the most challenging songs on the mixtape to get right. What started off as a very simple demo turned into a massive moment. On the way to the studio one day I was listening to about v.6 of the second recording we had done of this song, and the hook in the post chorus came to me. The song had existed in one form or another for about a year and a half at that point. It has been amazing to work on a project over such a prolonged amount of time and seeing how the songs grow at their own pace.
Jolyon: Yeah, this is maybe the most 'produced' song on the mixtape. Bouncing a little bit off the world of 'BISOUSxxx' - we sampled ourselves and remixed what we had and looped it and got down to the bare bones. Vocals + banjo + kick + snare!
BREATHE
Laurie: Probably the darkest it gets on the mixtape. Penned originally on the way back from a late night hospital visit. It coincided with a brief obsession with 'Hounds of Love' and the synth sounds on that record. Jolyon instantly educated me on what synth was used and we started playing around with a plug in that gave us the hook in the chorus. This song definitely references our love of the 80s. It's brooding, dark and about as honest as it gets. I'd say it's the song I struggled most letting go into the world, Jolyon insisted it should get heard.
Jolyon: I think the darkness comes from the honesty and that's where Laurie was at right there. The lyric 'I'm running away, stood in quicksand' gets me every time, it's real…
FEELS LIKE HOME
Jolyon: This is really visual to me, this song. The lyric and the contrast of the instruments was something we really wanted to experiment with. It's quite '3D'. I'm really into serialism and other minimalist type classical music so the song has a quiet avant-garde string arrangement hugging the choruses. We're rule breakers!
Laurie: The most 'traditional' example of songwriting on the record, this one is about finding new love and the hope it brings. I feel like it's only right to leave the record on an optimistic note. From the ashes rises the phoenix and all that.

Get your copy of the latest issue