News
Black Country, New Road announce new album 'Ants From Up There'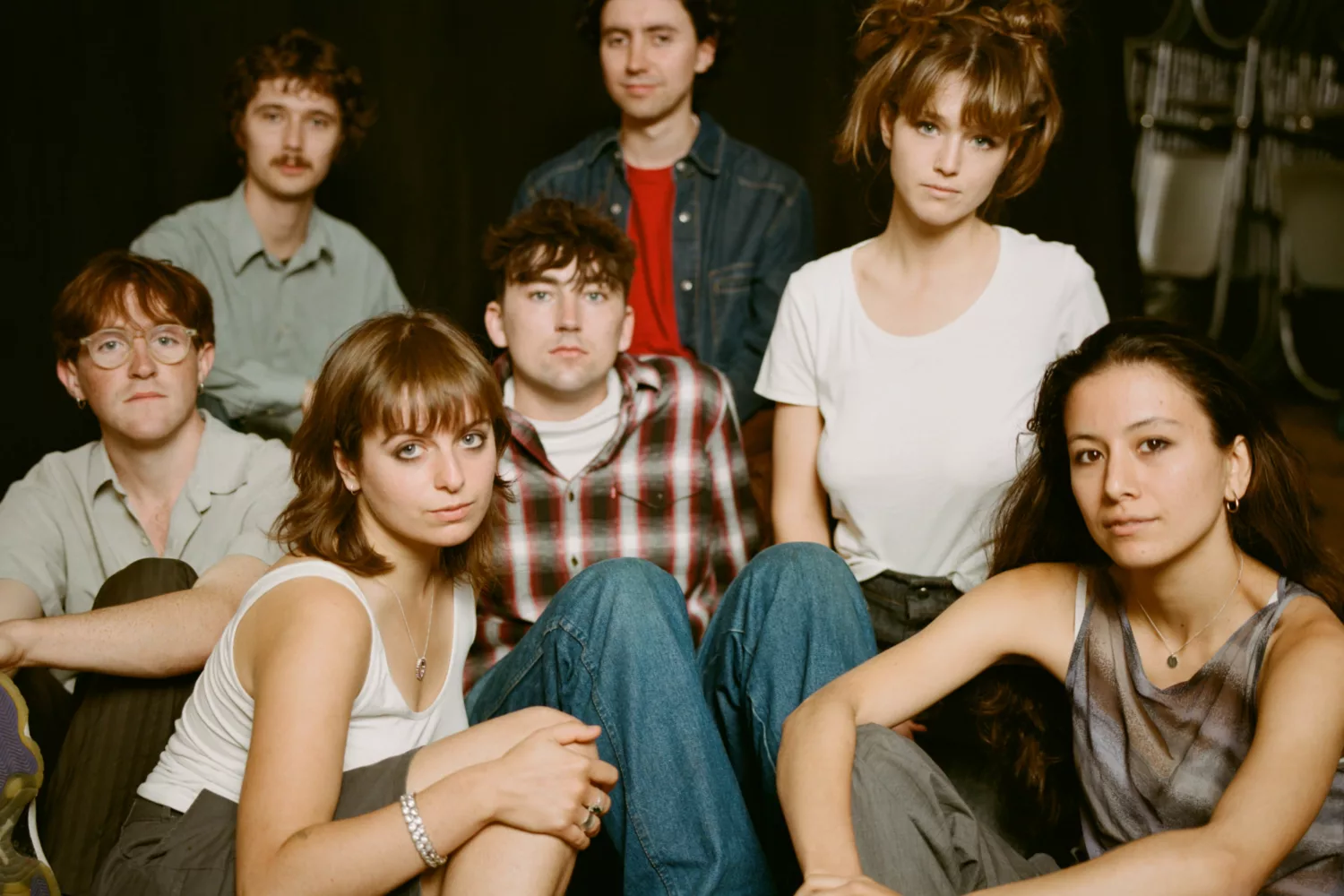 Photo: Rosie Foster
Listen to new track 'Chaos Space Marine' now.
Following the release of their debut album 'For the first time' earlier this year, Black Country, New Road have announced that their second album 'Ants From Up There' will be released on 4th February on Ninja Tune.
Sharing new track 'Chaos Space Marine' alongside the news, frontman Isaac Wood calls it "the best song we've ever written."
"We threw in every idea anyone had with that song," he adds. "So the making of it was a really fast, whimsical approach - like throwing all the shit at the wall and just letting everything stick."
Speaking on the forthcoming record, Tyler Hyde notes, "We were just so hyped the whole time. It was such a pleasure to make. I've kind of accepted that this might be the best thing that I'm ever part of for the rest of my life. And that's fine."
Check out 'Chaos Space Marine' and the full LP track list below.
'Ants From Up There' Tracklisting:
1. Intro
2. Chaos Space Marine
3. Concorde
4. Bread Song
5. Good Will Hunting
6. Haldern
7. Mark's Theme
8. The Place Where He Inserted the Blade
9. Snow Globes
10. Basketball Shoes
See Black Country, New Road live at the following dates:
OCTOBER
22 - Rotondes, Luxembourg
23 - Bumann & Sohn, Cologne – DE (SOLD OUT)
24 - Botanique Orangerie, Belgium – BE (SOLD OUT)
25 - Le Trabendo, Paris - FR
27 - Le Grand Mix, Tourcoing - FR
28 - Lieu Unique, Nantes - FR
29 - Rockschool Barbey, Bordeaux - FR
NOVEMBER
01 - Teatro Duse, Bologna - IT
02 - Auditorium Della Mole, Ancona - IT
05 - Circolo della Musica, Turin - IT
06 - Bogen F, Zürich - CH (SOLD OUT)
08 - Underdogs', Prague - CZ (SOLD OUT)
09 - Lido, Berlin - DE (SOLD OUT)
10 - Hydrozagadka, Warsaw - PL (SOLD OUT)
11 - Transcentury Update Warm Up @ UT Connewitz Leipzig - DE
12 - Bahnhof Pauli, Hamburg - DE
14 - Le Guess Who? Festival, Utrecht - NL
16 - Paradiso Noord, Amsterdam - NL (SOLD OUT)
20 - Super Bock En Stock, Lisbon - PT
21 - ZDB, Lisbon - PT (SOLD OUT)
29 - Chalk, Brighton - UK (SOLD OUT)
30 - Junction 1, Cambridge - UK (SOLD OUT)
DECEMBER
01 - 1865, Southampton - UK
03 - Arts Club, Liverpool - UK (SOLD OUT)
04 - Irish Centre, Leeds - UK (SOLD OUT)
06 - O₂ Ritz Manchester, Manchester – UK (SOLD OUT)
07 - Newcastle University Student Union, Newcastle Upon Tyne - UK
08 - SWG3, Glasgow - UK
09 - The Mill, Birmingham - UK (SOLD OUT)
10 - The Waterfront, Norwich - UK
12 – Marble Factory, Bristol – UK (SOLD OUT)
13 - Y Plas, Cardiff - UK
15 - Whelan's, Dublin - IE (SOLD OUT)
FEBRUARY
08 - Roundhouse, London - UK
18 – DC9 Nightclub, Washington, DC – US (SOLD OUT)
19 – The Sinclair, Cambridge, MA – US (SOLD OUT)
22 – Sultan Room, Turk's Inn, Brooklyn, NY – US (SOLD OUT)
23 – Elsewhere, Brooklyn, NY – US
25 – Johnny Brenda's, Philadelphia, PA – US (SOLD OUT)
26 – Bar Le Ritz, Montreal, QC – CAN
28 – Third Man Records, Detroit, MI – US
MARCH
01 – Lincoln Hall, Chicago, IL – US
03 – Barboza, Seattle, WA – US (SOLD OUT)
04 – Polaris Hall, Portland, OR – US
05 – The Miniplex, Richard's Goat Tavern, Arcata, CA – US
06 – Great American Music Hall, San Francisco, CA – US
08 – Zebulon, Los Angeles, CA – US (SOLD OUT)
09 – Regent Theater, Los Angeles, CA – US
APRIL
06 - The Foundry, Sheffield - UK
07 - O₂ Academy, Oxford - UK
09 - Liquid Room, Edinburgh - UK
10 - The Empire, Belfast - UK
11 - Olympia, Dublin - IE
13 - Albert Hall, Manchester - UK
14 - Rock City, Nottingham - UK
16 - Concorde 2, Brighton - UK
17 - O₂ Academy, Bristol - UK
JUNE
02 – Primavera Sound Festival, Barcelona - ES
JULY
08 - Pohoda Festival, Trencin - SK

Get your copy of the latest issue