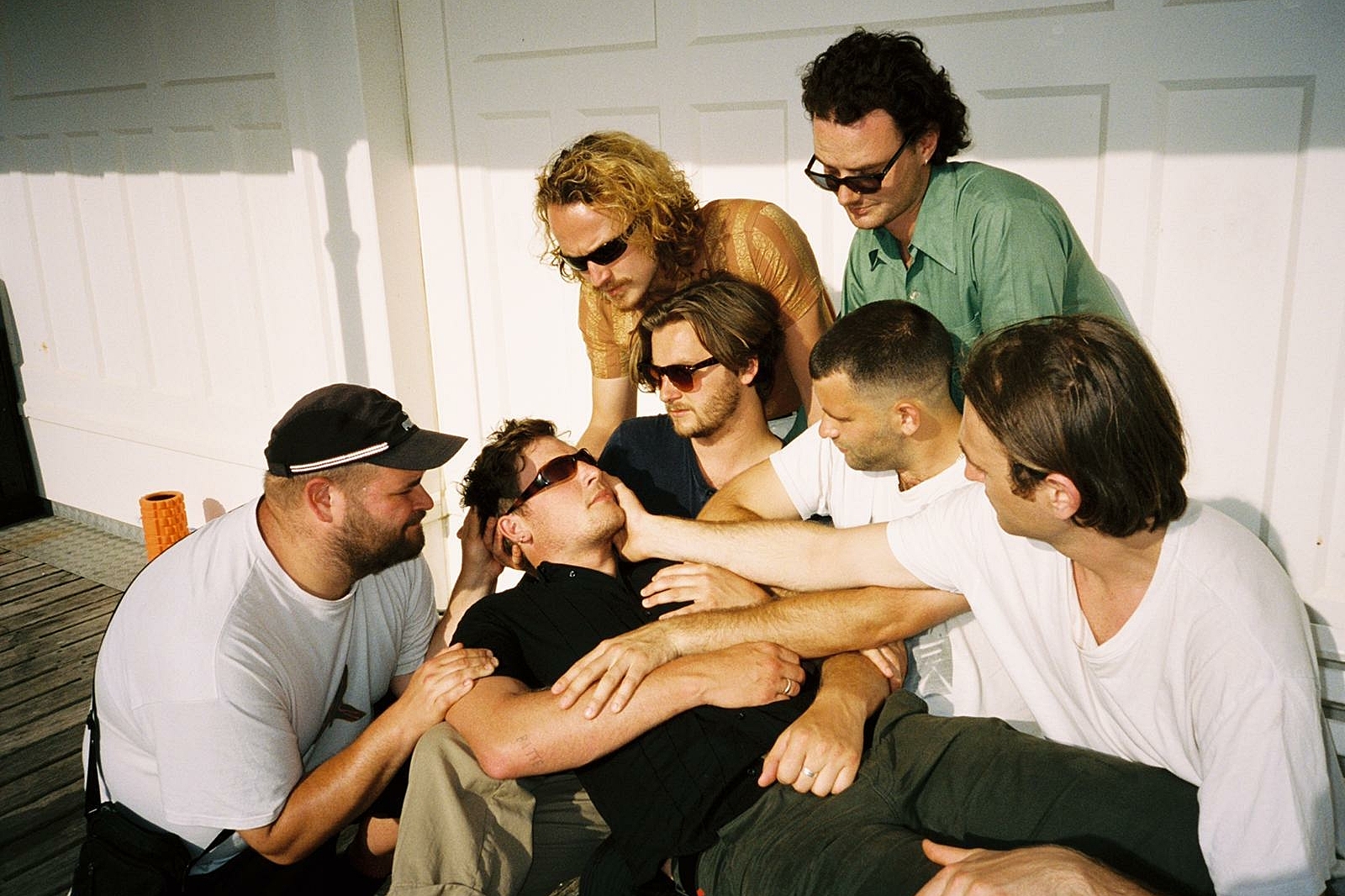 Photo: Katie Allen
Introducing…
Get To Know… KEG
The Brighton seven-piece release their debut EP today!
Hello and welcome to DIY's introducing feature, Get To Know… getting you a little bit closer to the buzziest new acts that have been catching our eye as of late, and working out what makes them tick.
Recently we've met dream-pop newbie Cathy Jain, NYC's Flossing, South London art-rock sextet Blue Bendy, fast-rising bedroom-pop artist girlhouse, and now we're introducing you to Brighton seven-piece KEG.
Releasing their debut EP 'Assembly' today, we sent the group over some qs to get to know them a lil' better.
Describe your music to us in the form of a Tinder bio…
Albert: 7 Bloated geese looking to Rockpool.
What's your earliest musical memory?
Albert: Probably singing Robbie Williams in the playground with my guys.
Joel: Listening to Bill Haley's Rock Around The Clock whilst sat in a Thomas The Tank Engine made of cardboard boxes.
Who were some artists that inspired you when you were just starting out (and why)?
Albert: Minutemen are an obvious one, frantic and short was our main prerogative at the beginning.
Joel: If you mean starting out from the very beginning then it would have to be Van Halen's 'Eruption'. The ultimate shred, it blew my tiny 11 year old mind.
You're from Brighton! What do you think of the music scene there at the moment?
Albert: There's definitely something going on outside my kitchen but I can't work out what it is. The Famous People are a beautiful bunch and a great band.
Are there any other artists breaking through at the same time that you take inspiration from?
Albert: There are plenty of lovely bands at the moment making uncompromising sounds. It's great to hear your contemporaries push the boat out. Blue Bendy are the best band in Corsica.
Who would be your dream collaborator?
Albert: Cate Le Bon rocks our world. If we're talking post mortem then Scott Walker, would have loved to record some carcass slapping with him.
Musically or otherwise, what are you most looking forward to this year?
Albert: Obviously bonfire night and pancake day mainly, anything that has sweets involved. We're going on tour with Lice as well which won't be shite.
Joel: Launch of the James Webb telescope. One for the space nerds.
If people could take away one thing from your music, what would it be?
Albert: Bow down to our baroque styling, and gaze awestruck at the Behemoth power within our sonic nuggets.

Get your copy of the latest issue