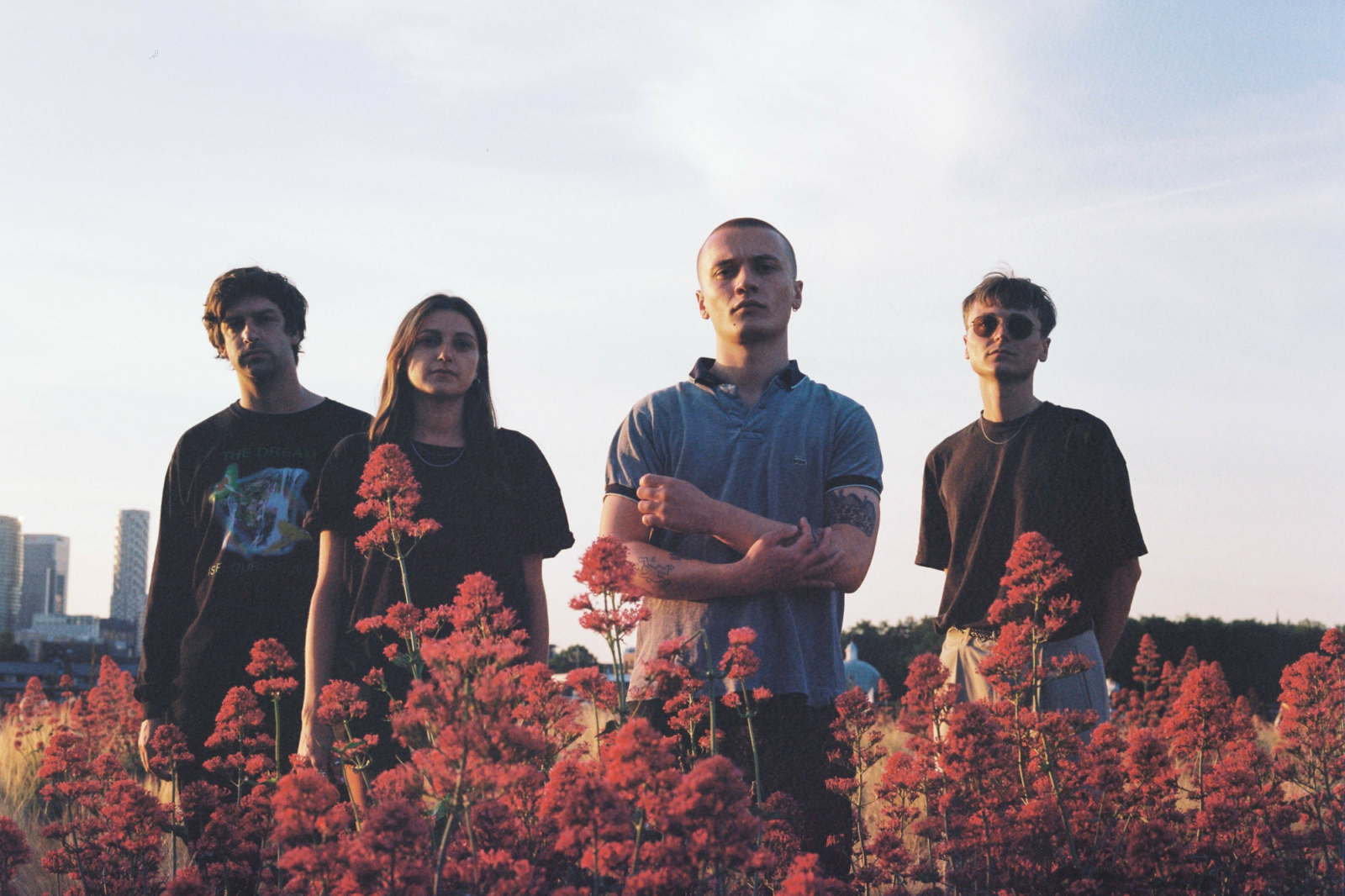 Photo: Stewart Baxter
Interview
On With The Show: Talk Show
London-based rabble-rousers Talk Show have a new Joe Goddard-produced EP on the way, and a pulsing, electronic new direction to match.
"Dance and punk have always rubbed shoulders," considers Talk Show frontman Harrison Swann. "You see photos of Blondie at Studio 54, and then there were bands like Suicide who mixed electronica and punk, and The Prodigy in the '90s. So it didn't feel weird to try and mix these things, it felt natural."
Having charged into the ring with a series of antagonistic, bullish clarion calls a couple of years back, the past 12 months have been a transformative time for the London quartet. Having ditched a slew of material written and recorded at the start of 2020, it was when Harrison was drafted in for a writing session with house DJ Eli Brown - eventually resulting in collaborative single 'Trouble' - that things started to click.
"We recorded the Eli song with Joe and Al from Hot Chip, and after that we thought we'd do anything to make it work and happen again," he continues. "I remember coming out of the session being like, THIS is what we should be doing. It's what we'd always wanted to do but never quite figured out how to get there." "We had all this material and had come to a dead end, and then it was a 'right place, right time' [situation] of being introduced to someone who does something vastly different," bassist George Sullivan adds. "It was the push we needed to break the framework we had for writing and have the confidence to go for it."
"[Working with Joe and Al from Hot Chip] was the push we needed to break the framework we had for writing."
— George Sullivan
Embracing the dance music - The Chemical Brothers, Faithless etc - that they'd always been fans of and pushing those elements to the front, the first taster of Talk Show 2.0 came with last month's 'Underworld' - an homage to 'Born Slippy', and a fizzing, pulsing elevation of their previous work. Next up there'll be a full EP that picks up that mantle and runs with it, prioritising positive mantras and simple but strong ideas.
"Being in a room with [Joe and Al], armed with this music we really love, made me want to work really hard - to prove to ourselves that we could do it and not leave a stone unturned," Harrison enthuses. "This EP feels hopeful and positive. I wanted it to feel open and big and grandiose; I stopped caring what anyone thought of me or my lyrics and that was the biggest help. When I listen back to old stuff I can hear myself trying to impress other people, and now it's such a weight off my shoulders and I think we've all felt that in the band. It's been really freeing."
Allowing themselves to strip away any former parameters of what Talk Show 'should' be, the band's next phase is set to be just as visceral, and even more fun. "There was definitely some excitement [when we were in the studio]," grins George, "that when things do go back to normal, and you're at a gig with a capacity crowd, don't you wanna write something that really grabs that moment?"