Interview
Penelope Isles on their new album: "It's a little castle out at sea that sheltered us from the stormy seas"
The duo's new record 'Which Way to Happy' is out now via Bella Union
Two years on since the release of their debut 'Until The Tide Creeps In', Penelope Isles have returned with new record 'Which Way To Happy' out now via Bella Union.
In our review of the album, we called it "a genuinely healing listen" and "an album to get cosy with while its music lovingly soaks your wounds".
In a new interview with DIY, siblings Jack and Lily Wolter discuss recording the album in Cornwall as lockdown hit, and how the finished product serves as a shelter from "stormy seas".
Listen to 'Which Way To Happy' in its entirety and read our interview with the band below.
Did you have any thoughts on how you wanted to build upon the foundations of the debut? What did you want to explore musically on this new album?
Jack Wolter: I focused on my production skills a lot more on this album. The majority of my songs had already been written at least a year or so ago, Sudoku is actually seven or so years old. Whereas Lily's songs on WWTH are all pretty fresh. They do all feel coherent though, even though they are all written in a different time. So I just really wanted to do the best I could as an engineer and producer. I spent a lot of time trying to push myself mentally in the studio. Putting everything I have learnt from people together to try create something quality. When the opportunity of working with Dave Fridmann came along in the mixing stage, I knew it was gunna be a better sounding second record!
The album's a reflective one, no doubt accelerated by the situation everyone was facing at that time. How comfortable did you feel exploring subjects that felt so raw, or did facing those thoughts and feelings become more of a necessity?
Jack: Yeah, the making of this album was certainly a focus point and a refuge for us during lockdown. Times actually got really difficult for us and all we could do was to channel that energy, frustration, confusion and whatever else it was into the process. Often having to rethink and redo stuff though because of such a challenging mind set. Lyrically the album is a lot more honest and vulnerable. A lot of the lyrics were finished whilst recording and they are for sure a reflection on our state of minds at the time.
Throughout the album, you often play by juxtaposing brighter sonics with more raw lyrics. What inspired you to explore that approach?
Jack: We have always loved the lighthearted cool pop sounds.. Pavement, The Magic Numbers, The Thrills, The Coral. But we love more abstract stuff too and the more weirder stuff. Combing all these is just something that could only ever happen naturally. I'm not sure we could ever force anything! 'Cover me' and 'agoraphobia' by Deerhunter have been an influence in terms of your question. Where a playful exterior is lined with darker words.
How was it working with Dave Fridmann and Fiona Brice at points during the process?
Jack: So amazing. Both are such a massive part of the album. We feel very lucky to have worked with them. It was the first time we opened up our door and let other people inside our songs, which was hard!! I'm certainly a massive control freak. Letting go of something you have been losing your mind over for months and have them in essence rip it apart is a bit of a spin. But doing so, and working out how to detach a certain part of you from your head and to listen to new mixes with a fresh mindset has made us strong and better equipped in creating things in general. Whether that be music or visual art.
We had to work really quickly with Dave as he was working with a lot of analog gear. So there wasn't much time for pondering. It was a fast process and was out of our comfort zones. Thankfully though we are thrilled with the results. Fiona's strings have coloured our songs in in a way we could have only dreamt of. Working with her and the arrangements she would create and then send to us was mind blowing. I remember downloading a file for her first draft of Pink Lemonade and listening whilst driving to the studio and I was in floods of tears. Such a wonderful talent! Thank you Fiona.
What sort of headspace did you find yourself in when you were beginning to make this record?
Lily: We were most definitely excited to get into a studio mindset and turn all our bedroom demos into something bigger and better. We had just gotten back from touring the states, and before that a whole year of playing over 100 shows, living in a van and not much time at all for recording or being at home. I think we were very ready for a change in lifestyle and to get stuck into the other side of it all. Little did we know just how big of a change it would be because we coincidentally began recording at the cottage on day 1 of the first lockdown!
How did the field recordings made there help to shape the story of the record?
Lily: Only a couple of the field recordings were made in Cornwall. If I remember rightly, it's the big 'HEY!' at the end of 'Iced Gems', and the laughter of Jack falling out of the boat at the bottom of the cottage lake which you can find somewhere in 'Have You Heard'. The others came afterwards when we were finishing up in our Brighton studio. We both spent a while searching into the deep dark depths of our voice memos over the years, and finding things that were relevant or sounded fitting.
My favourite sample is at the end of 'In A Cage', which is about 10 years old now, of our Good friend Eugene from the Isle of Man, who discovers Jack's little dictaphone and realises it's been left recording while everyone was hanging out and having fun for 39 minutes and we found it hilarious. We wanted to dedicate the album to him so finding this snippet of joy was just perfect and felt so right.
What was it like being in the cottage in Cornwall, especially when lockdown kicked in and things took a turn?
Lily: When we had the idea to move into this little cottage for a few weeks to make this album, we envisioned lots of beach days, pub trips, surfing every morning, trips to our parents house down the road! But day 1 we arrived and realised that none of that was possible, and in fact we were completely isolated in this tiny (but beautiful) house, with 1 double bed for 4 of us and absolutely nowhere else to go. Not to mention the fact we ended up living there for 2 months! I would be lying if I said it was fun and games the whole time.
Sure we completed a couple of intense puzzles, and had a lot of adventures on the little boat in the stagnant lake near by, and drank a LOT of whisky and had many laughs… but there were times we felt pretty trapped, with not much else to do but make these songs. Which was both a good and a bad thing! Along side this, both Jack and I were going through super rocky times in our relationships which contributed to that isolating feeling for sure. Despite all this, I wouldn't change the whole experience, it was a weird chapter and I'm sure there are more to come.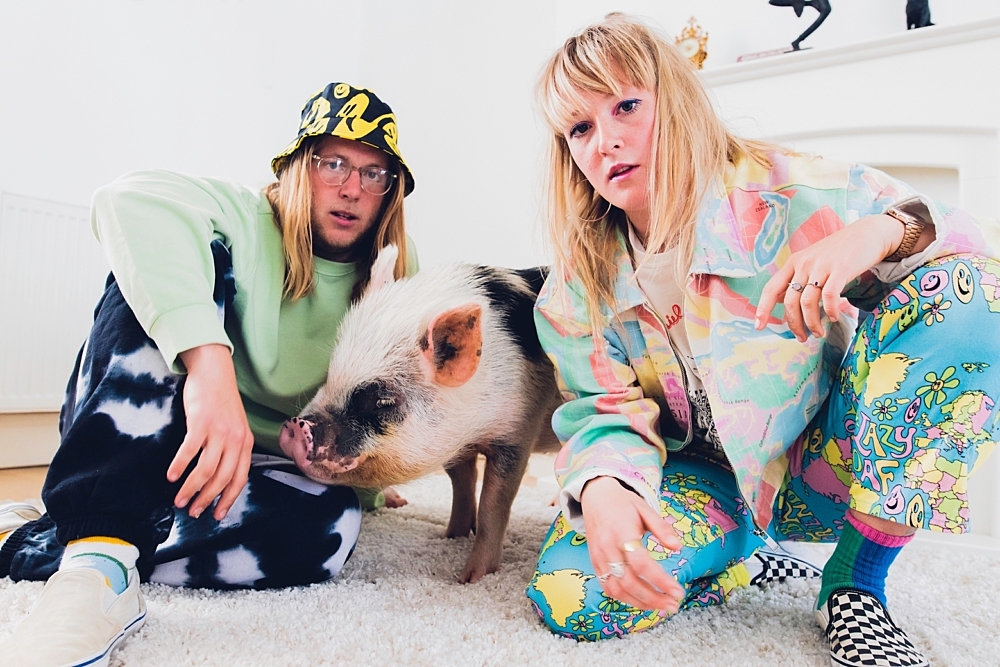 "I wouldn't change the whole experience, it was a weird chapter and I'm sure there are more to come."
— Lily Wolter
What would you say were the challenging moments of making the record? And what were the more reaffirming ones?
For me personally I experienced a lot of waiting around for the first few weeks. Apart from the songwriting and getting the majority of my ideas across to the others as best as I could, my main contributions are keyboard/piano/vocals which tend to come last in the recording process. I mostly became the cottage cook and made sure the boys were getting their 5-a-day! Of course I gave as much input as I could, I care about it all so deeply, but put it this way…next time I'm gonna leave tracking the drums to the 3 drummers in the band, and I'll go put the kettle on, ha!
One of my favourite moments was when we headed back to Brighton and it all really started to take shape. When Fiona Brice sent over her first drafts for the string arrangements, I cried into my laptop under the sheets for hours! Hearing something so beautiful on our songs that we had been grafting on for months was so surreal, and something we had always dreamed of.
What would you like listeners to take away from the album? And what do you think yourselves as a band have taken away from it?
Lily: One important thing I have learned from my brother from making this album, is that taking time and doing things again and again and experimenting in different ways until it sounds right to you, most definitely counts. And to be thorough pays off, no matter how long it's taking, or how tired you're feeling. I don't think I have ever even thought about what someone would take away from our album until this very moment.
When we release 'Which Way To Happy' into the world, it's no longer ours… it's anybody's and anyones to make what they will. Whether it brings them a sense of nostalgia, or makes them feel relatable to us, all I know is I would love them to finish listening to it, slowly remove their headphones, walk out the front door and scream down the street…"THAT WAS THE BEST FUCKIN THING I HAVE EVER HEARD IN MY LIFE."
Jack: Anything they want! And that would mean the world if anyone got anything from these songs. It's yours! For me, it's been a focus point and a safe house for a rocky few years. I kind of see it as a place or a friend who I've spent hours with, chatting and working things out. Or a maybe it's a little castle out at sea that sheltered us from the wind and the stormy seas.

'Which Way To Happy' is out now via Bella Union.

Get your copy of the latest issue