Interview
Time To Ascend: Years & Years
Following a star-making turn in Channel 4's award-winning It's A Sin, Olly Alexander is preparing his next steps as a newly-solo artist as new Years & Years LP 'Night Call' beckons…
Though Olly Alexander's star has been consistently on the rise since the early '10s, 2021 will undoubtedly go down as the year the multi-hyphenate performer crossed into the next level.
Back in January, while most of us were barely moving from the living room sofa, Olly was causing Channel 4 viewers to burst into uncontrollable sobs with his portrayal of Ritchie Tozer, the shame-filled gay actor at the heart of Russell T. Davies' astounding AIDS drama It's A Sin. No sooner had he finished the press cycle for the show - which broke All4's streaming records and inspired a four-fold increase in uptake during February's HIV Testing Week - than the next big career move followed: in March, it was announced that Years & Years, the three-piece band he had fronted for more than a decade, would continue as a solo project.
A new single, 'Starstruck', ensued in April, followed swiftly by a remix featuring none other than Aussie pop queen Kylie Minogue. Next came a BRITs performance alongside Elton John, in which the pair covered the Pet Shop Boys single which inspired the name of Davies' hit drama. Summer 2021 saw Olly make his publishing debut, contributing an essay about PrEP to the anthology 'We Can Do Better Than This: 35 Voices on the Future of LGBTQ+ Rights', followed in October by another Kylie collab, 'A Second to Midnight'. And after announcing his first solo album 'Night Call', Olly will round out 2021 prepping for its release in January.
"My criteria [for the new album] was that it had to make me move and dance and feel good."
Even without the worst health crisis in living memory going on in the background, it's exhausting just thinking about everything the actor and singer has been up to recently. "Right from the start, this year has felt like a bit of a whirlwind," he agrees, speaking over Zoom from his North London flat. He's slightly surprised, he confesses, at just how positive the reaction to his first acting role in five years ended up being, despite his own immediate excitement at the prospect of being involved with the project.
"When I read it I cried, like proper sobs, and a lot of us cried at the read-through. So right from the start, it was a deeply emotional project to be involved with, but you don't really think about the kind of reaction that it's gonna get," he explains. "I was definitely taken aback by the intensity of people's reactions. But I mean, It's A Sin is the first AIDS drama on British TV and it's 40 years after the crisis, so I guess it's not that surprising in some ways that there's been such an intense reaction. It really opened my eyes to just how much has been left unsaid, and how much still has to be explored from this time in history."
One unanticipated outcome of the drama's overwhelming success was that Olly suddenly found himself a spokesperson for the issues raised by it - a role that he has been happy to take on even if it does cause him some consternation. "I do have a lot of anxiety about taking up space and saying the right thing," he admits, "but everybody really wanted to engage with the subject matter publicly, and [talk about] how HIV had progressed since what the show is depicting. I think we all felt that it was just so important that it went beyond what an actor's responsibilities typically are. There was a conversation between people who had watched the show about getting Channel 4 to put a disclaimer at the end of the episode to point people towards resources. And I'm really happy we did that because I think it really made a difference."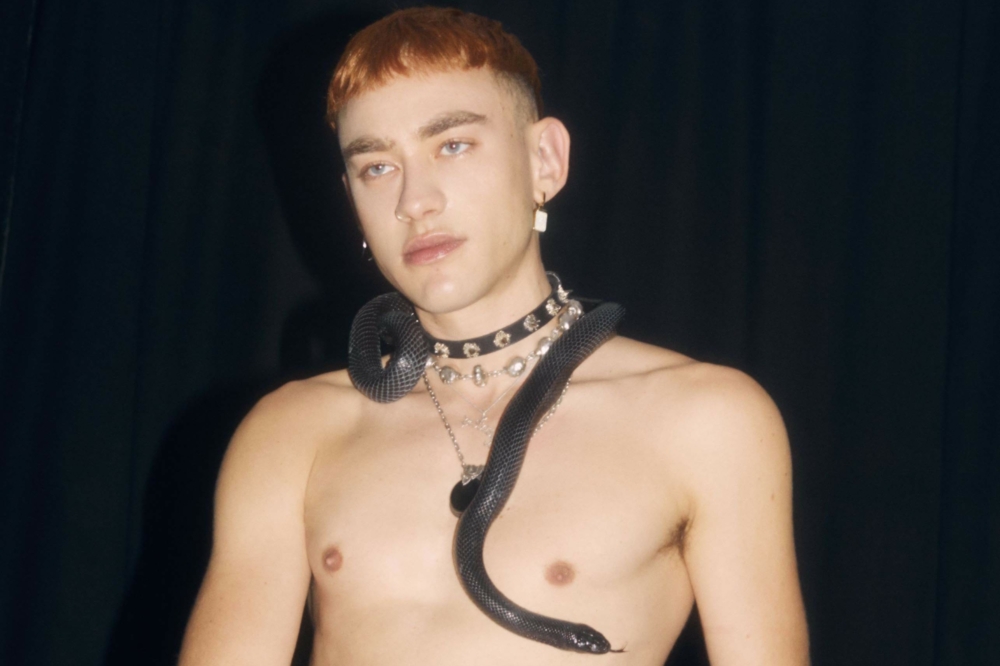 "I'd love to make my own arthouse horror movie, or a TV series that's like Twin Peaks meets Queer As Folk…"
After the trials and tribulations of 2020 forced the then-band into hibernation, the additional eyes on Olly also spawned a revived anticipation of Years & Years' next output. "Once It's A Sin came out, everything happened so fast. I felt like I had to put something out because I had people's attention, to be like, 'I'm a solo artist now, here's the song!' And then it just kind of didn't really stop!" Olly recalls. But though everything might have moved pretty quickly following the announcement, the decision itself was a long time coming for the frontman and his former bandmates, Mikey Goldsworthy and Emre Türkmen.
"The pandemic happened and I think we just hit a reset button," he continues. "Like a lot of people, I just had all this time to really reflect on where I wanted to go and what was really going on with me. Over the year I continued making music, and then we had this conversation where we were like, 'Oh, we're such a different band now than we used to be, what is the best way to move forward?'"
For Olly, being able to get into the studio and continue making music throughout the pandemic was a lifeline among all the uncertainty. "It's always been precious to me, but it became even more precious. And I think it really changed the approach that I had," he explains. "When you're making any creative thing it can be really easy to get in your head. I feel like I've had this tendency to really overwrite my songs or overthink every decision, and it's not the most freeing thing to do. I think you're kind of at your best when you're just being yourself and having fun, so I just felt I just appreciated being able to do that. I was like, 'OK, that's what this album has to be'."
And like the current Kylie singles, Years & Years' first solo LP is set to be an upbeat and dance-driven delight. "My criteria was that it had to make me move and dance and feel good. I wanted to just go into the studio and try and have fun, because the only time I was getting to move during lockdown was when I was making music," Olly explains. "I really got back into listening to a lot of dance music, things like SBTRKT, and Little Dragon and Disclosure. And doing It's A Sin, I was listening to loads of '80s stuff - disco, Pet Shop Boys. And I really like the ethos behind a lot of that electronic dance music from that time, it being about liberation on the dance floor. So I have some collabs on the go that are more in the dance music world; it's all pretty pumping," he promises.
And as for the acting? He confesses that his recent lauded performance is a tough act to follow. "I haven't really found anything that good yet, so I don't have any plans. But I do think it'd be fun to like, make my own thing…" Olly teases. "This is like a real shot in the dark, but I've been saying it in interviews because it'll force me to follow it up: I'd love to make my own arthouse horror movie that's also quite funny. Or maybe a TV series that's like Twin Peaks meets Queer As Folk…"
He's already a singer-songwriter, actor, campaigner and essayist. Who's to say that Olly Alexander isn't about to become your next favourite screenwriter, too?
'Night Call' is out 21st January via Polydor.