Class of 2022: Role Model
Going from newbie film student to Mac Miller-tipped bona fide pop star in the making in two years, Tucker Pillsbury is dreaming bigger by the day.
"Someone came up to me at a meet and greet and said that they'd describe my music as sad and horny," Role Model beams over Zoom. "I thought that was really beautiful…"
Now at a point in his career where he's used to hoards of fans lining up for meet and greets, and with his "sad and horny" bops currently gaining more and more universal acclaim, it's hard to think that at one point Role Model - aka 24-year-old Tucker Pillsbury - didn't have a plan to make music at all.
Raised in Maine without - he professes - a single "musical bone" in his body, Tucker originally studied film before a chance meeting with two friends at the end of his freshman year would go on to derail his academic plans entirely. Seeing them record music in their dorm, Tucker decided to try his hand at penning songs; when they left him some recording equipment, he soon fell in love with the process. But his route to success wasn't all smooth sailing.
"[The music] was horrible in the beginning," he laughs. "I started rapping, and those [songs] are horrible! I've made sure they do not exist on the internet anymore. But there was a point where I changed my name to Role Model and I put out my first song under that name called 'Cocaine Babe' on SoundCloud, and immediately it did far better than anything I had ever put out. I was like, this is cool, it feels more like me."
Based around a sample from soul band Penny and the Quarters, 'Cocaine Babe' found Role Model taking inspiration from '50s and '60s pop-rock - alongside his love of rap - to craft sounds that would eventually become the lo-fi, lovelorn pop he's now known for. However, following the track with 2017 debut EP 'Arizona In The Summer' (recorded in his "disgusting" dorm closet), Tucker found that he'd hit upon the right sound but it still wasn't getting the traction he had hoped for. He was almost about to call it quits, but then came a phone notification that would change everything…
"Out of nowhere, Mac Miller's manager had DM'd me and said that he and Mac loved the EP," he recalls. "I screamed. I was in my little apartment at the time and I remember throwing my phone. I remember needing to get out all my excitement, so I went out of my apartment and ran up and down the stairs in my building."
Tucker pinpoints that moment as changing his life, and he still considers what the late rapper would think every time he sits down to write. "Would he fuck with this song? Would he think that this line is corny? I think that's just his power: he really is just someone you look up to the second you meet them."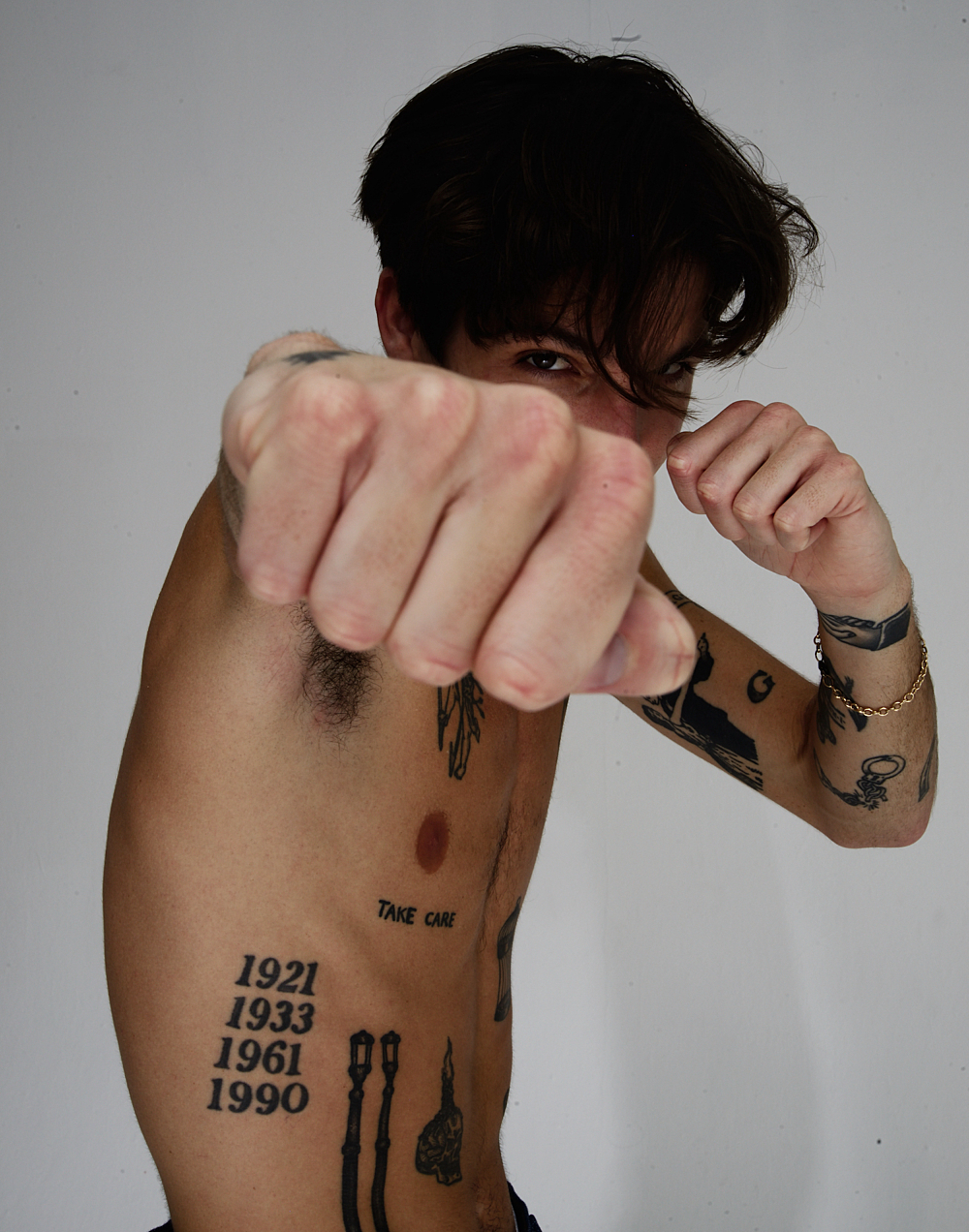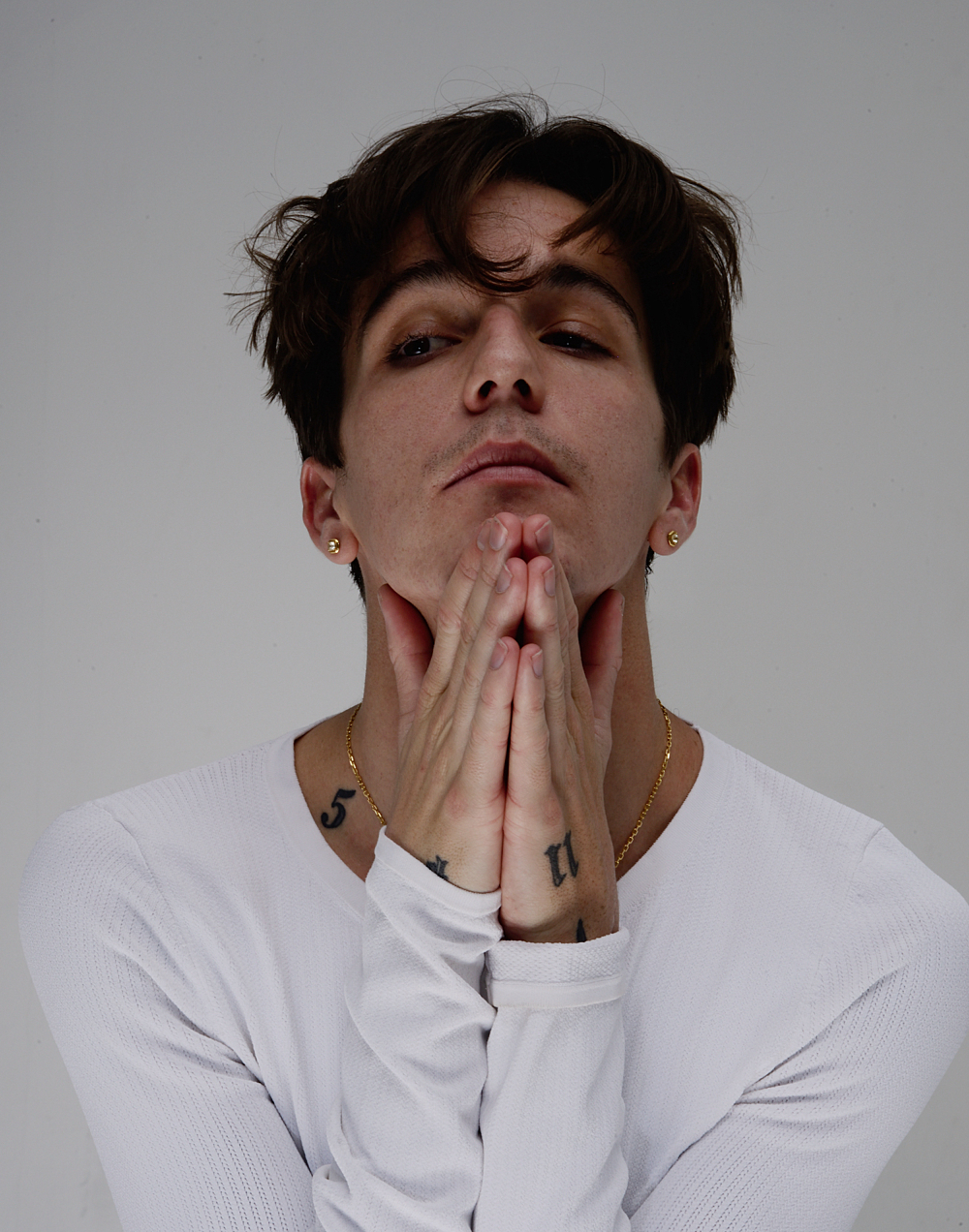 "I want to make pop music with substance."
Making Moves
Who: Soundcloud star who's a rapper one second, a crooner the next.
In three words: Sounds like sunshine.
Achievements so far: Gaining a fan in his idol, the late Mac Miller.
Most likely to: Hide a devastating one-liner about anxiety in songs as bright and sunny as they come.
Fast forward to 2021, and the care and thought that Tucker has continually put into his work has fully manifested itself into undeniable breakthrough success: Role Model, with a little help from Mac, has become one of the hottest new names in the 'biz. Backed up by two other heartstring-pulling EPs (2019's 'oh, how perfect' and 2020's 'our little angel'), as well as last year's viral hit 'blind', Tucker has now got the amount of eyes on him that he always wanted, and is ready to increase his reach with a long-awaited debut album, set for release "early early" 2022.
Not wanting to just pen an album of love songs ("Honestly, that's just boring"), the album details the journey of his first big relationship, told through past mistakes with people, resulting in an album that's both about love and "the power of women". "I want to make pop music with substance," he emphasises. "I think it's so easy to make these catchy fucking 'I love you baby, drive me crazy' type of songs, but I just can't do that. And so I think the challenge for me is fitting a really visual story into these pop structures."
Noting Olivia Rodrigo, FINNEAS, and Billie Eilish as musicians crafting a similar style of pop, Tucker highlights writing how he speaks as something that makes his music so relatable - and he's certain this album is going to connect with people even more. "I'm not one for trophies or anything, I've got no history in sports or anything, but a trophy would be fucking nice," he jokes. "About a year and a half ago I tweeted 'I'm not kidding, I want a GRAMMY for this', and that's the mindset I've had for the past two years working on it!"
From recording in a closet to selling out venues worldwide, Role Model's ride now looks like it's only going to continue its ascension. "I was talking to my mom yesterday, and she's like, 'What the hell? This [success] came out of nowhere? You were in school for film, like, two seconds ago, what happened?!'" he smiles. "I'm just as confused, but I'm here for it!"