DIY's Best Musical Moments of 2021
TikTok, Travis Barker, Taylor Swift ripping The Ex Who Must Not Be Named a new one, and more!
Congrats, team! We made it through another year. And while things may not still be 100% back to normal, 2021 still cranked out some iconic musical moments that'll go down in history.
From the continuous rise of lockdown-go-to-app TikTok and the stars it has subsequently birthed, to Travis Barker popping up as a feature on loads of songs, to Britney Spears finally being free and Taylor Swift unveiling the 10 minute version of 'All Too Well' and singlehandedly ending the career of anyone selling "Fuck the patriarchy" keyrings, it's been a wild one.
So allow us to guide you through the most standout moments of the last year…
Måneskin turn Eurovision wild
Just when we thought Eurovision couldn't get any wilder, four Italians stormed through in 2021 to pick up the prize and add some electrifying rock'n'roll sleaze to the contest's bread-and-butter of shiny pop (don't worry, they're also as deliciously camp as every Eurovision winner must be).
Not only did they win this year's contest, but in its wake they're also doing a pretty fantastic job of becoming a genuinely huge band in their own right. The continued hype around Måneskin was shown at a wild, chaotic free London show in October, and they'll hit Brixton Academy next year, sure of becoming the breakout Eurovision stars of the decade.
Mamma Mia indeed!

Taylor Swift's 'All Too Well' gets compelling new chapters
Ever since Taylor Swift revealed a few years back that a 10-minute version of her fan favourite hit 'All Too Well' existed in a vault somewhere, Swifties across the planet have been beside themselves with excitement. It was predictable, then, that it became the cornerstone of 'Red (Taylor's Version)', the second part of the singer's campaign to re-record all her old albums to regain rights to her masters.
In the track's new parts, we find out that The Ex Who Must Not Be Named (just Google it) wore 'Fuck The Patriarchy' jewellery, get searing one-liners ("I'll get older, but your lovers stay my age") and many new chapters in Swift's most compelling, enduring tale.

Travis Barker becomes the sought-after collaborator of the year
Far from confined to his role as drummer of Blink-182, in 2021 Travis Barker cemented his role as a lynchpin in the new rap-rock revolution, becoming a go-to collaborator for rappers looking to go rock (Machine Gun Kelly, Trippie Redd), young superstars-in-waiting looking to find their voice (KennyHoopla, jxdn) and old heads trying to find a fresh spark (Avril Lavigne).
Barker didn't appear at the new ALT+LDN Festival in summer – an event headlined by Architects and Playboi Carti that brought the worlds of rap and rock together – but he was largely responsible for it existing in the first place.

Beep beep! This was the year Olivia Rodrigo took over
You might not have believed it when Taylor Swift disciple and Disney star Olivia Rodrigo dropped her debut single 'Drivers License' in the first week of 2021 that, by the mid-way point of the year, she'd become the world's most exciting new pop-punk star.
Gen Z, however, flit between genres with abandon, and on 'good 4 u' and 'brutal' from debut album 'Sour', Rodrigo showed she can do crunchy, Paramore-esque rock bangers as well as she can pull off heartbreak ballads. It doesn't feel premature to say that she could already be inspiring a new generation of rockers.

Artists old and new go viral on TikTok
Unpredictability is at the heart of TikTok, which in 2021 became one of the primary ways to discover cutting-edge new music. Among the breakout stars of the year was PinkPantheress, whose nostalgic, intimate drum'n'bass exploded on the platform, before debut mixtape 'To hell with it' showed she could exist beyond the confines of a 10-second clip.
Then, even more extraordinarily, TikTok also saw songs from decades ago get new life breathed into them through viral clips, namely defunct cult Scottish band Life Without Buildings, whose 2001 track 'The Leanover', which became a lip-sync hit started by Beabadoobee. It's a brilliant sign of the internet and hungry young music fans bringing music round again to be adored by a whole new generation.
Let's leave 'Wellerman' in 2021 though, yeah?
Live music's back, baby!
After what felt like an excruciatingly long wait, live music – real live music as we know it, with no social distancing – returned this summer with a series of pilot events before a full restart in July. In our review of the historic Download Pilot, we said: "Nobody can quite believe this. The fans standing shoulder to shoulder with people they've had to keep two metres away from for fifteen months can't believe it, and the artists on stage are similarly incredulous. For ten thousand lucky punters and forty bands, live music is no longer a distant dream. The sheer joy of the whole experience, miraculously put together in a matter of weeks, brings more than one frontperson close to tears."
As Emma Wilkes wrote, the return of live music gave us "a glimpse into a more hopeful future" and proved how important it is, for all our mental health, and the bands who deserve their platform ahead of bright futures.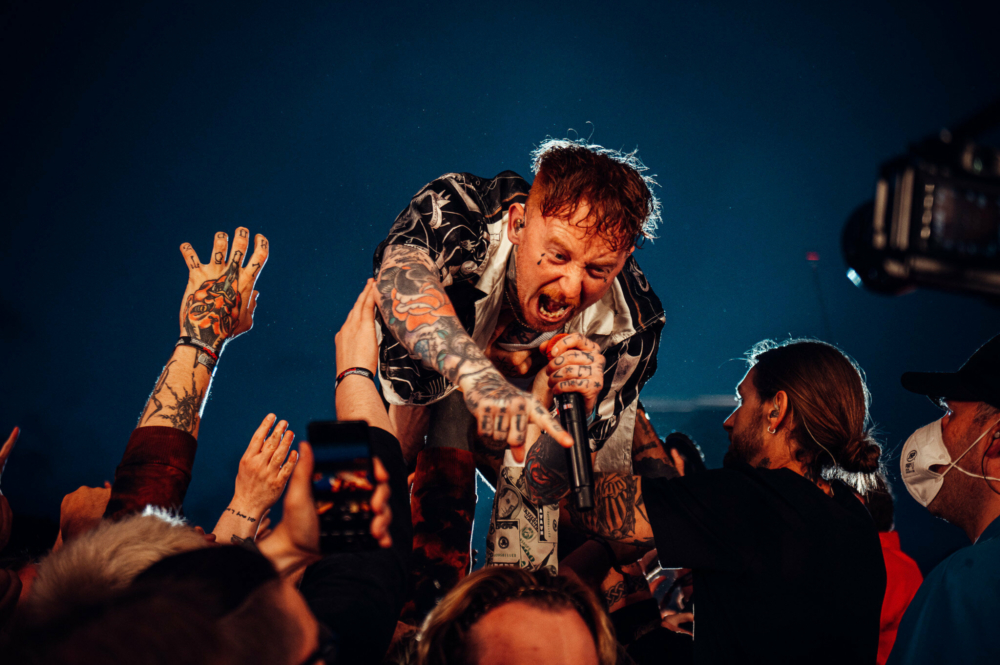 Arlo Parks wins the Mercury Prize
To everyone who encountered it, Arlo Parks' music became a friend in tough times during lockdown. "You're not alone, like you think you are," she sang on 'Hope', while the devastating 'Black Dog' gave comfort to those struggling with existential worries and depression ("It's so cruel what your mind can do for no reason," she sang softly).
Because of this, no other record deserved to win the 2021 Mercury Prize more. 'Collapsed In Sunbeams' is an album that's united and comforted people through the hardest time in living memory, and seeing Parks play it at full live gigs this summer became a communal exorcism, mourning the time lost but celebrating that we made it through.

Britney is free!
After 13 years and a huge public campaign, Britney Spears was finally freed from her conservatorship in November this year. Calling it the "best day ever," allowing the singer to regain control of her life and career came as indicative of a larger trend within music, righting wrongs that were set in place in a much different time.
While Taylor Swift spends years trying to regain autonomy over her music after signing a record contract as a teenager, unaware of its future ramifications, Britney spent over a decade gagged and unable to speak out. When she was finally freed, it felt like a victory for anyone and everyone the music industry has ground down into submission.

Southgate you're the one!
Just as the country was preparing to come out of lockdown, Euros fever swept England in a haze of barely-socially-distanced, beery chaos. As England got to the final of a major tournament for the first time in over half a century, football-adjacent songs became the soundtrack of a nation.
Alongside the newly adopted football anthem 'Sweet Caroline' and old favourite 'Three Lions', England fans once again adopted Atomic Kitten's 'Whole Again' to praise their commander in chief Gareth Southgate. The band themselves then warmed all our hearts when they officially recorded 'Southgate You're The One', and performed it to a rowdy rabble of boozed-up footie fans at Boxpark in Wembley. Absolute legends.
All together now: "Football's coming hoooome again!"


Get your copy of the latest issue