Albums of 2022: Alfie Templeman
The prolific teen sensation is readying his anticipated full-length debut: an album drawing from genres past to create something thoroughly new.
Bedfordshire pop prodigy Alfie Templeman - still at the daisy-fresh age of 18 - has, in three measly years, notched up four EPs and an acclaimed mini-album, 'Forever Isn't Long Enough', released just this May. Still not content with this delightfully relentless release schedule, however, the close of 2021 brings whispers of a debut album proper, due for the new year…
The record's recent first tease, '3D Feelings', reprises the brand of funky sunshine pop that Alfie has made his staple - albeit with a richer, more expansive sound. Citing R&B, Motown and Amy Winehouse as key inspirations, his other name checks are tantalisingly left-of-centre.
"It's not just 14 puny, shitty pop songs. I promise!" he laughs. "A lot of this record is influenced by Krautrock, weirdly enough! Also a lot of proggy stuff, bits of Genesis, Pink Floyd. There's a Santana influence as well, and a Beatles-y bit. It's a massive mixing pot on this album. It's just random shit that I like, basically. It's great!
"Making a full-length record has given me a chance to go both ways," he continues. "I've been able to extend the production and do something really poppy, but also the chance to touch upon some stuff that's maybe, oooh… experimental?! When you're 18, you're still learning what music you love, so it's kind of my 'trial and error' album. I don't know if I'm really doing it right or not though. I'm so worried that Santana's gonna call me up and go, 'This is shit. What are you doing?! Stop!'"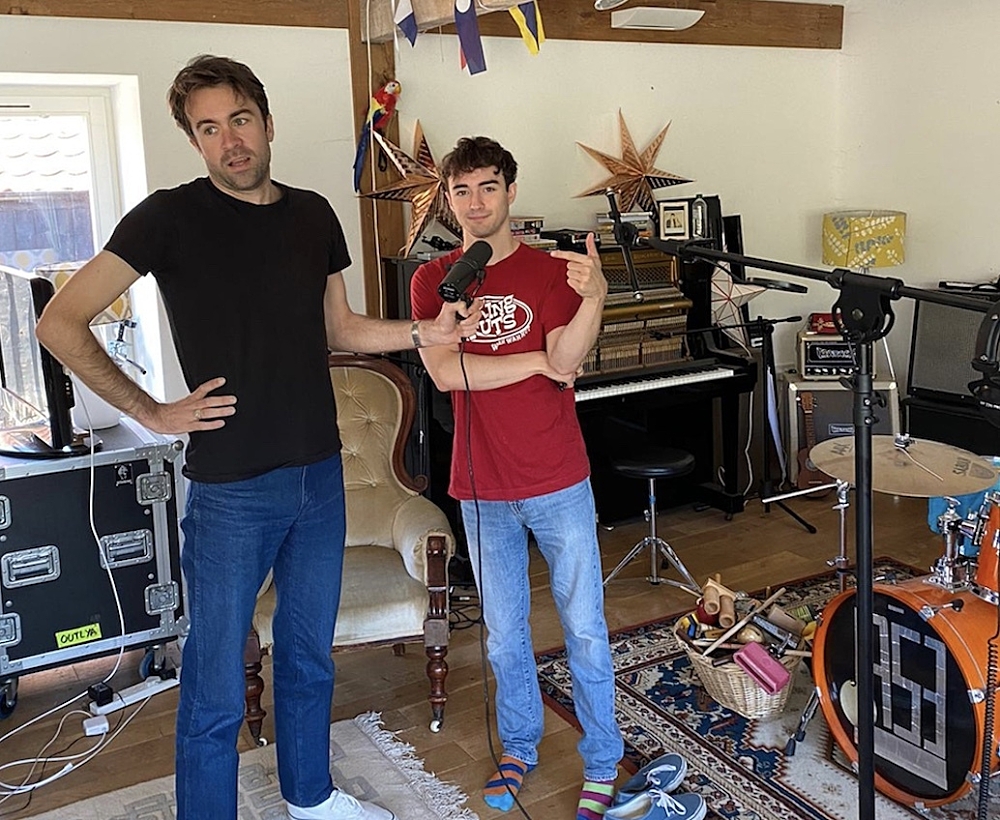 "I'm so worried that Santana's gonna call me up and go, 'This is shit. What are you doing?! Stop!'"
Much of this trial and error period was conducted this summer in producer Will Bloomfield's Suffolk studio, with former 'Happiness In Liquid Form' collaborator Justin Young of The Vaccines back in the writing room. "I've done so much with Justin so we have a really good respect for each other," he notes. "I've got these incredible guys to help me put together something and it's good because, well, I've got Justin Young! So this will definitely be cool."
Preceding these fruitful sessions, however, came a darker period of mental turbulence and creative lethargy for the musician. "I slowly made stuff in 2020, and nothing really picked up until 2021. [2020 was] when I went into a massive depression state for ages," he explains. "I was constantly on edge, all the time. I was like, 'I need to record a song or something, something to get out of this'. That's how I made the last song on the record. I was very depressed, very confused. I was getting therapy. I started [taking] antidepressants. Everything was really intense. No worries though - I'm all good now."
With an album in the bag, plus a host of dates pencilled in across the UK, Europe and America in the coming months, Alfie recognises that this is a "pivotal" moment in his career. Will he find the time to commit to any new year's resolutions too?
"No wanking in 2022. That's a rough one, but you know what, I'm gonna try and inspire the boys."