Listen
Bodega share new single 'Thrown'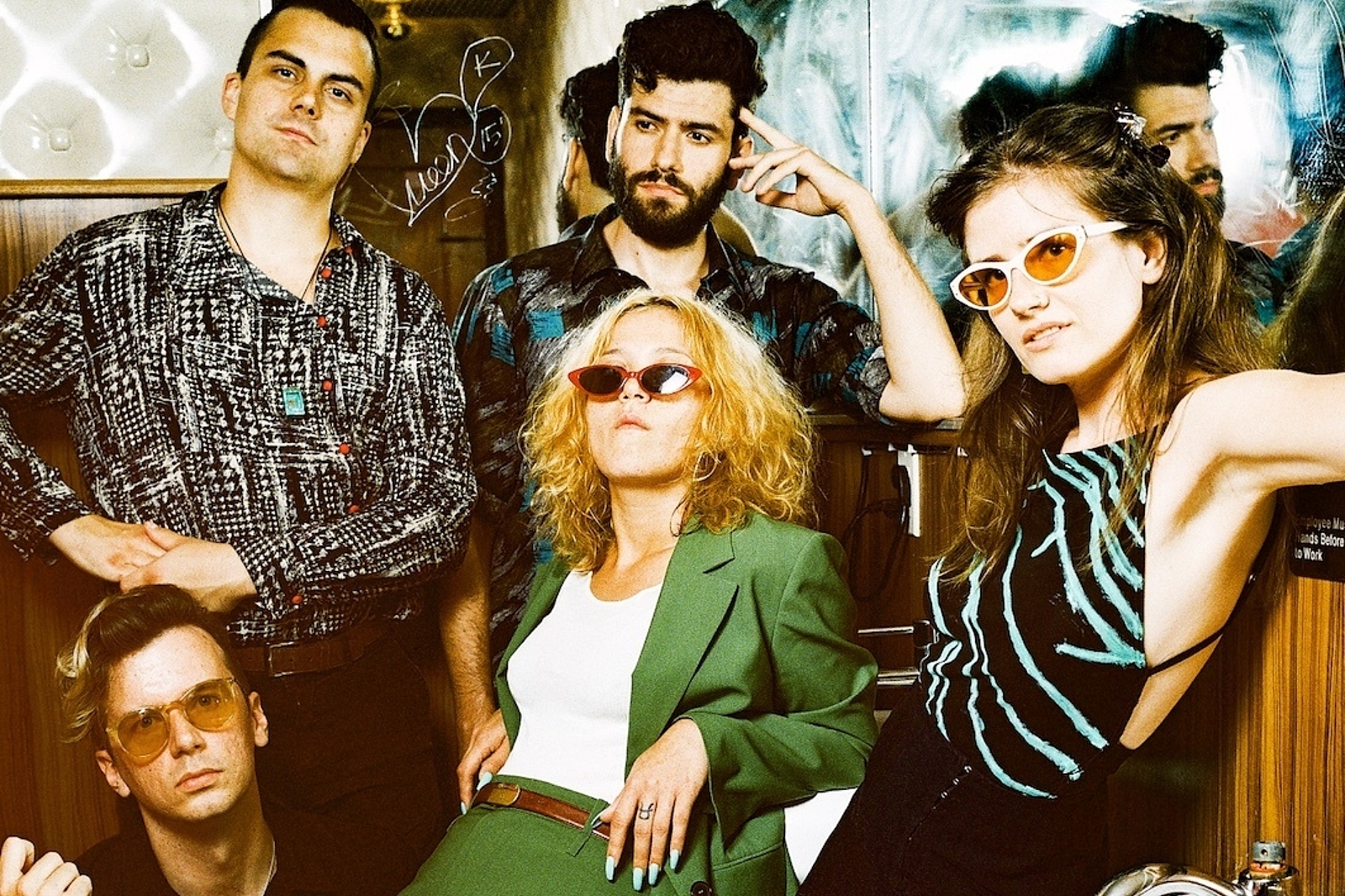 Photo: Pooneh Ghana
Taken from their upcoming new album, 'Broken Equipment'.
Ahead of the release of new album 'Broken Equipment' on 11th March, Bodega have shared their latest single 'Thrown'.
"'Thrown' was an attempt at a self-portrait track," Ben Hozie notes. "The older I get the less I trust my own thoughts and perceptions of self ——> I realise most of my values and judgments come from the records, films, books, and advertisements I have consumed my whole life. Recognising this 'thrown-ness,' while slightly disturbing, has been a source of inspiration for my creative mind. If the mind can only output what has been presented —> provide it with the proper input. You can remake yourself entirely at the drop of a (top)hat. The inputs I selected for this lyric: James Joyce and Bob Dylan. The music, to me, is a synthesis of many of the stylistic motifs our group has developed over the past few years: syncopated bass over a slow-shifting sea of guitar harmonics, violent guitar spams with machine influenced but human-played drums; plus male/female vox alternating between spoken text raps and melody."
Check it out below.
'Broken Equipment' Tracklisting:
1. Thrown
2. Doers
3. Territorial Call of the Female
4. NYC (disambiguation)
5. Statuette on the Console
6. C.I.R.P.
7. Pillar on the Bridge of You
8. How Can I Help Ya?
9. No Blade of Grass
10. All Past Lovers
11. Seneca the Stoic
12. After Jane
See Bodega live at the following dates:
MARCH
11 | Brighton, UK - Prince Albert SOLD OUT
12 | Brighton, UK - Prince Albert (matinee)
12 | Brighton, UK - Prince Albert (evening) SOLD OUT
13 | Portsmouth, UK - Wedgewood Rooms
14 | Cardiff, UK - Clwb Ifor Bach
15 | Bristol, UK - The Fleece
17 | Birmingham, UK - Hare & Hounds
18 | Leicester, UK - International Arts Centre
19 | Birkenhead, UK - Future Yard
20 | Newcastle, UK - The Cluny
22 | Glasgow, UK - Mono
23 | Glasgow, UK - Mono
24 | Manchester, UK - Gorilla
25 | Sheffield, UK - Yellow Arch
26 | Leeds, UK - Brudenell Social Club
28 | Cambridge, UK - Portland Arms
29 | London, UK - Moth Club
30 | London, UK - Moth Club
31 | London, UK - Moth Club SOLD OUT
APRIL
02 | Nijmegen, NL - Doornroosje
03 | Amsterdam, NL - Paradiso Noord
04 | Maastricht, NL - Muziekgieterij
05 | Tourcoing, FR - Le Grand Mix
06 | Paris, FR - La Maroquinerie
07 | Rouen, FR - Le 106
08 | Nantes, FR - Stereolux
09 | Bordeaux, FR - Rock School Barbey
13 | Madrid, ES - El Sol
14 | Valencia, ES - Loco Club
15 | Barcelona, ES - La Nau
16 | San Sebastien, ES - Dabadaba
17 | Toulouse, FR - L'Ecluse Saint-Pierre
19 | Nimes, FR - Paloma
20 | Rivoli, IT - Circolo Della Musica
21 | Pisa, IT - Lumiere
22 | Milan, IT - Magnolia
23 | Bologna, IT - Covo Club
25 | Munich, DE - Hansa 39 @ Feierwerk
26 | Cologne, DE - Bumann & Sohn
27 | Hamburg, DE - Molotow
29 | Antwerp, BE - Trix
30 | Luxembourg, LU - Out of the Crowd Festival
£7.00
Buy Now