Live Review
IDLES, O2 Academy Brixton
17th January
IDLES might have been headlining, but tonight's a 2-4-1 of artists more than ready to occupy the spot.
On paper, IDLES' visceral, lyrically no-nonsense punk and Self Esteem's forward-thinking, witty pop have little in common. When the Bristol quintet announced the support bill for their mammoth four-night run at the legendary Brixton Academy, doubtless a few eyebrows will have been raised at this second night pairing. However, in terms of cultural impact, you couldn't really pick better bedfellows: not since IDLES first instigated a wave of conversation around mental health and compassion, creating the empathetic AF Gang fan group and turning its authors into figureheads of a new punk movement has one artist seemed to exemplify a shift and a moment in culture as much as Self Esteem is doing right now.
For Rebecca Lucy Taylor, her fight is a different one to tonight's headliners. But where later, songs rallying for unification and kindness will ring out from the mouthpiece of Joe Talbot, Self Esteem's support set is a vital, exhilarating, transcendent set of world-weary yet ultimately hopeful pop from a seasoned performer who visibly knows that this is her moment.
No second on Brixton's iconic stage is wasted by Taylor; having played small venues for more than a decade in her old band and the first days of her solo career, the sense of relishing tonight is tangible. Dark red lights create a dramatic glow that heightens the punishing Kanye drums of 'How Can I Help You?' and 'Prioritise Pleasure''s climactic chorus; each bit of choreography is flexed and stretched like a West End performance rather than one at a scuzzy rock venue. At one point, Taylor stops and soaks up a pause between songs for 15, maybe 20 seconds as cheers from the crowd get louder and louder. With a sold-out Kentish Town Forum coming up, a Brixton headline is surely on the cards before long, but that still feels like only the beginning.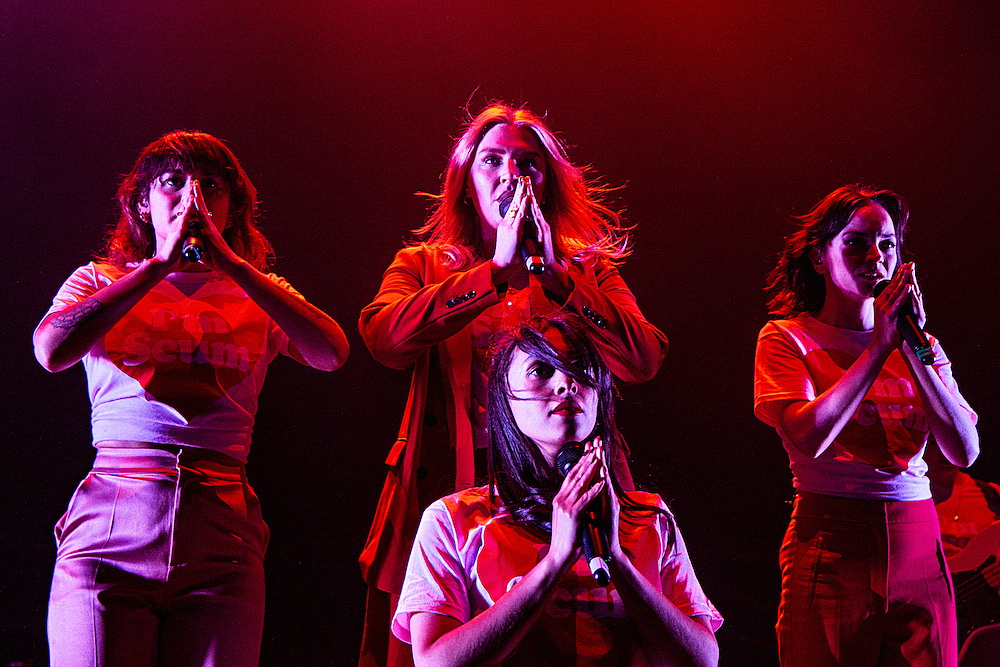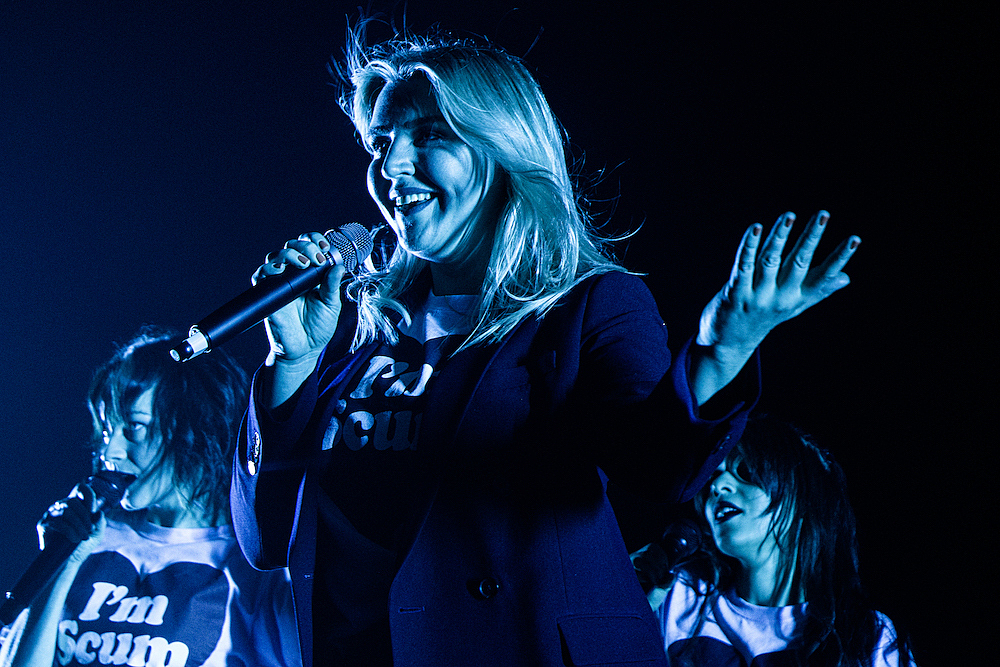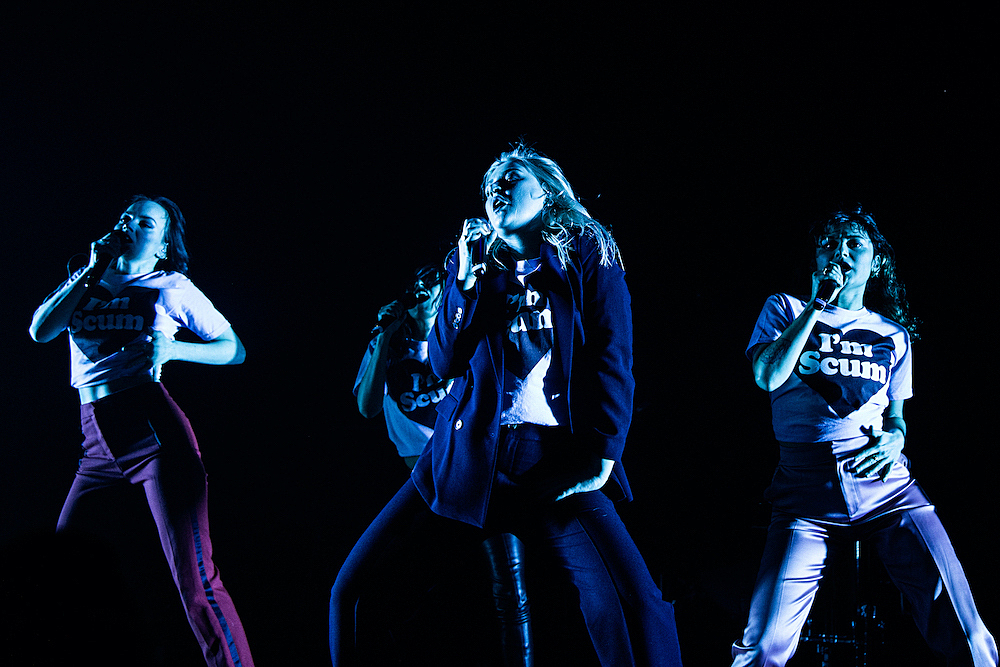 Though no-one would wish a global plague on any poor sod's career, a little time away from the relentless touring circuit that had made up their lives for years has been a good thing for IDLES. Recent LP 'Crawler' was roundly praised as a boundary-testing return to form, and tonight is proof that absence does indeed make the heart grow fonder: having only played a handful of shows on UK shores since the start of 2020, tonight makes for a timely reminder of just why the band catapulted to fame in the first place. IDLES are, undoubtedly, a tour-de-force of a live band, and even though they're perhaps a slightly more mature entity these days (normally half-naked scampering guitarist Mark Bowen is dressed in a suit and abnormally still), the power of their performance still rings out to the back of the venue.
Four albums in, IDLES are in possession of a sizeable back catalogue from which to cherry-pick from, too. And from the opening ominous thrum of 'Colossus', through the scattershot rap of newie 'Car Crash' via bruised oldies ('Mother') and sing-along hits ('Never Fight A Man With A Perm'), they navigate the task perfectly. Midway through the set, a glitterball descends as the guttural soul of 'The Beachland Ballroom' rings out; that the band's biggest curveball is received as rapturously as the fizzing, gleeful punk that they first pricked ears with is testament to their continued relevance - whether the naysayers will acknowledge it or not.
Though the familiar feral spit of 'Rottweiler' ends the set as usual, tonight doesn't feel like just another IDLES show. Despite being long-postponed and in support of two already-released albums, this run almost feels like the start of a new chapter rather than the close of one. There's plenty of life in this lot yet.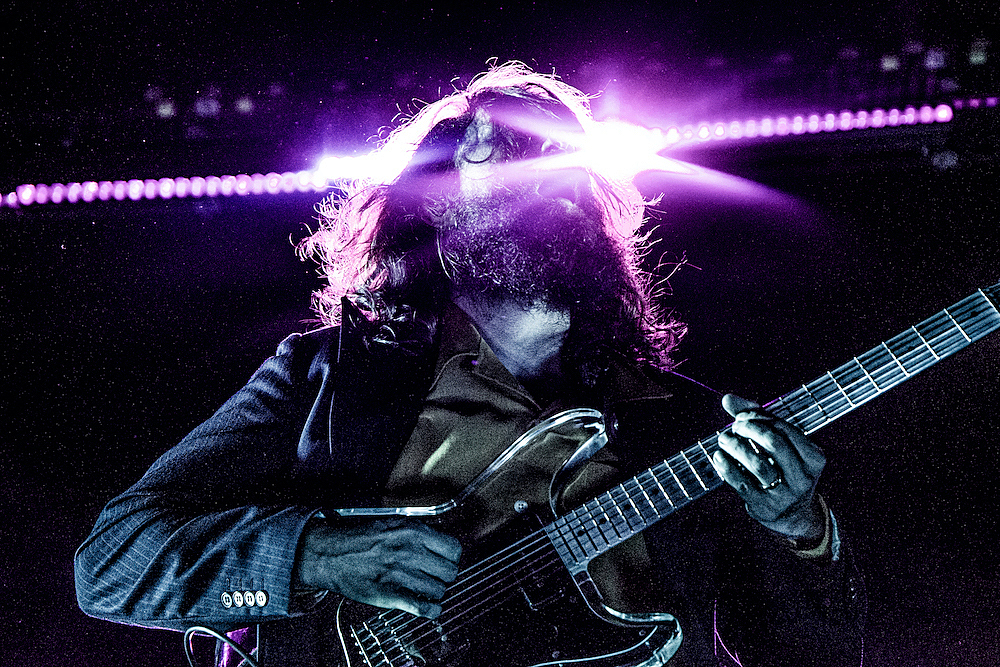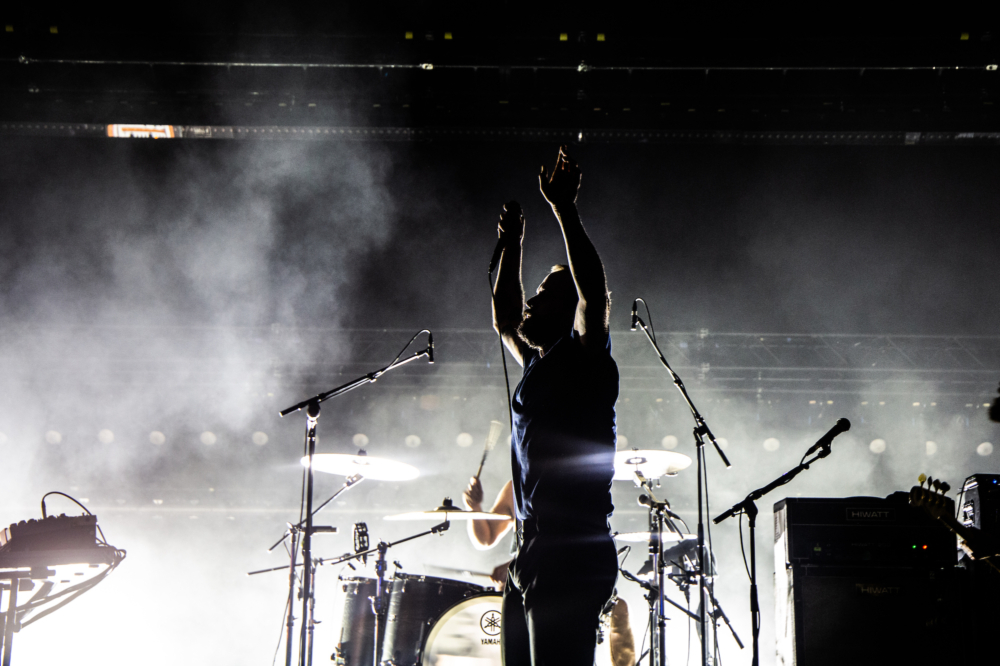 Get your copy of the latest issue