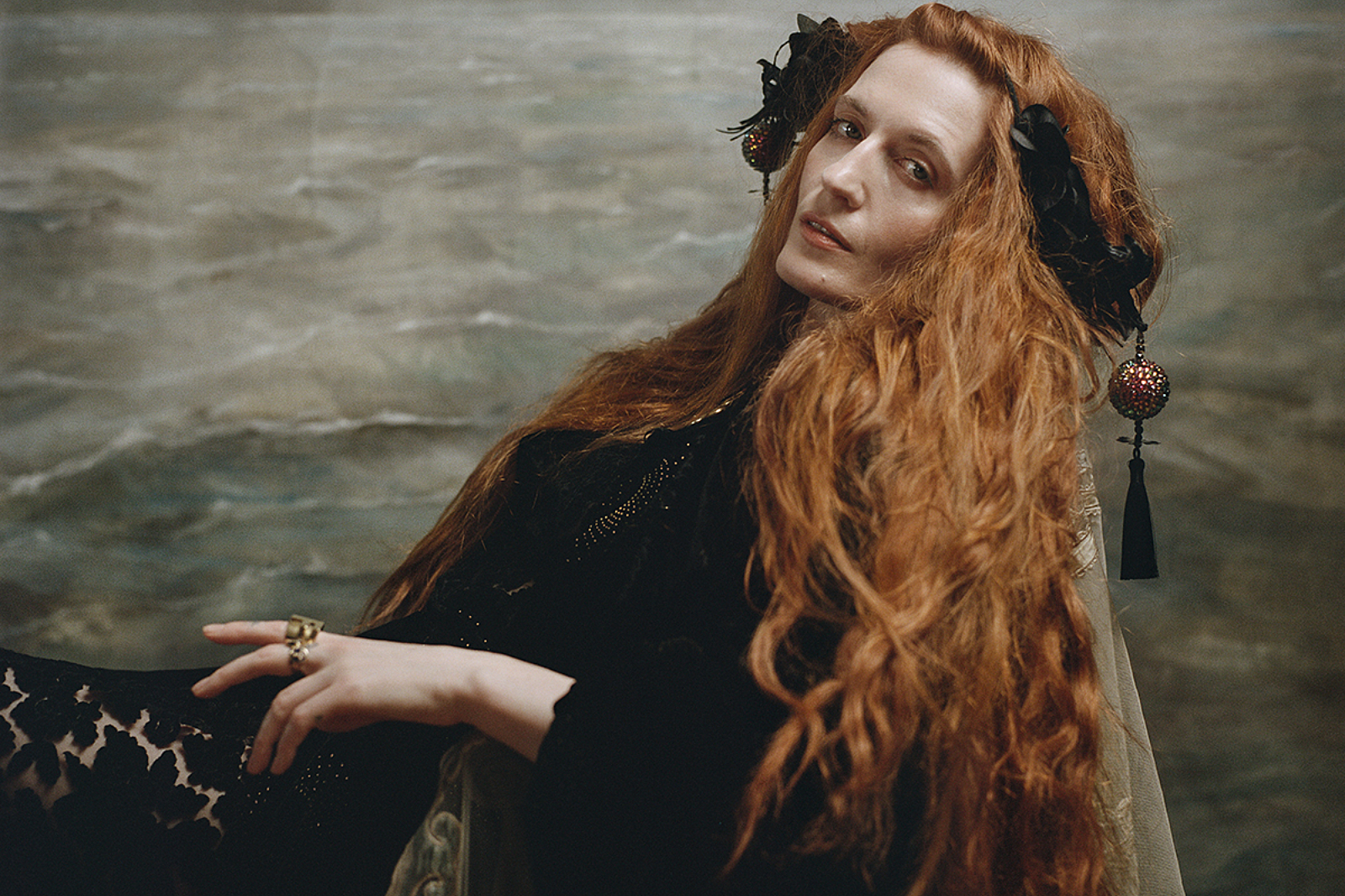 Photo: Autumn de Wilde
In-depth
Shake It Out: A Comprehensive Guide to Florence + The Machine
With new album 'Dance Fever' on the way, we take you through the history of Florence Welch.
Once you hear a voice like Florence Welch's, you'll never forget it. Since her buzzy early days in 2007 and the release of massive debut album 'Lungs' two years later, she's been a once-in-a-generation talent that you feel lucky to be around to witness.
From bombastic pop bangers to creepy ballads and soft, introverted musings, her music has taken many shapes across the past decade and a half, all leading her to becoming one of the most celebrated singer-songwriters in the world, and one you sense we have only scratched the surface of in terms of what delights she could yet bring in the years ahead.
With Florence + The Machine's comeback confirmed and new album 'Dance Fever' on the way, we're taking you back through Florence's career to document how a star was born, and where she may go next.
From Robot to Machine
It was only an hour before her first ever gig that Florence Welch settled on her stage name. Deciding that original idea – Florence Robot/Isa Machine – derived from her collaborative teen project with Isabella Summers, who went by Isa Machine opposite Welch's Florence Robot, she settled on an amalgam, and Florence + The Machine was born.
While the name may have been a rushed, last-minute decision, her stunning talent was never in doubt. From her earliest shows in South London, an unstoppable buzz formed around the singer,
At times she was dark and moody, though also deeply fun and energetic. That her breakout single 'Kiss With A Fist' had the working title of 'Happy Slap' tells you all you need to know. Armed with a one-of-a-kind voice and dark, layered, intriguing lyrical matter, we had an undoubted superstar on our hands from the very start.

Dog Days Are Over
Unsurprisingly, Florence + The Machine's debut album 'Lungs' fast became one of the most anticipated records of 2009, and - again, unsurprisingly - delivered on every front. Across its 12 tracks, she presented fun-loving, scrappy punk numbers ('Kiss With A Fist'), hints at the powerful pop she would hone in on in the future ('Dog Days Are Over', 'Rabbit Heart (Raise It Up)') and smoky, menacing ballads ('Girl With One Eye', 'My Boy Builds Coffins').
Yet it was a track tagged onto the end of the album that would really turn heads; a cover of Candi Staton's 1998 hit 'You Got The Love', it's arguably gone on to become Florence's biggest hit. Far from just a cover version, it showed the world the unbelievable pipes that Welch possessed and set her well on the road to becoming a true world-beater. More on that in a sec…

Following its release, 'Lungs' went on to hit Number One in the UK charts, sell 100,000 copies in its first month. The wave of hype then hit the United States, with the album creeping up the charts and eventually hitting the top Stateside as well. Rarely has a debut album created a superstar so quickly and firmly.
Two years later, Florence returned with second album 'Ceremonials', a record that built on the foundations that 'Lungs' set and took her to more polished, poppy heights. This was exemplified by its lead single 'Shake It Out', a simply joyous romp that has been reverberating around festival fields for the decade since. In 2015, third album 'How Big, How Blue, How Beautiful' followed, and saw Florence – along with producer Markus Dravs (Arcade Fire, Coldplay, Wolf Alice) – stripped things down on an album that cut away the excess and drilled into the heart of Welch as a songwriter.
While the pop sheen was taken away on album three, Florence's ascendence to becoming one of the biggest singer-songwriters in the world was never in doubt, and on the tour for the album, her star rose even further.

Dave Grohl breaking his leg might have been the best thing to ever happen to Florence Welch. Just a few weeks before Foo Fighters were supposed to headline Glastonbury in 2015, Grohl fell off stage while performing at a festival in Sweden, crocking him and ruling the band out of their first time topping the bill at Worthy Farm.
Perchance, Florence + The Machine were scheduled to play just before the Foos on the Pyramid Stage that night (though we'd argue she had been ready to headline the biggest festivals in the world for years…) And so, through a kind turn of events – sorry, Dave! – she was finally given the opportunity that year, and knocked it out of the park.
While a nod was given to Grohl and co. with a 'Times Like These' cover, her set was about more than just filling a gap: it showed the world that she was big, bold and brave enough to command the biggest stages on earth and bring the house down. Over the next half decade, she's become one of the most consistently brilliant festival headliners about, all down to that risky (or so it seemed) decision to bump her up on a Friday night in Somerset.

In DIY's album review of Florence's fourth album, 2018's 'High As Hope', we wrote: "To make fourth album 'High As Hope', Florence Welch headed home. Crafting the first stages of the record in her house in Peckham, she cycled every day into the South London hotspot's creative hub, the Bussey Building, to - as she put it - 'bang on the wall with sticks.'"
Even more stripped back than its predecessor, the album looked back to childhood in order to find hope with which to live through in an increasingly dark and dangerous world. Musically, this was brought out in stunning yet minimal compositions, where Florence's trademark bombast was replaced by introversion and deep thinking. It may prove to be an outlier in her discography, but showed that Florence Welch contains even more multitudes than we had previously seen, and that her genius runs deep and wide.

Heading into the 2020s, Florence has had plenty of irons in the fire away from her own band. Last summer, she shared new track 'Call Me Cruella', taken from new Disney film Cruella, which stars Emma Stone as the titular character.
"Some of the first songs I ever learned how to sing were Disney songs. And the villains often got the best numbers," Florence said of her involvement. "So to help create and perform a song for Cruella is the fulfilment of a long held childhood dream."
In 2022, she also revealed that she's set to score a new Broadway adaptation of The Great Gatsby, saying: "This book has haunted me for a large part of my life. It contains some of my favourite lines in literature. Musicals were my first love, and I feel a deep connection to Fitzgerald's broken romanticism. It is an honour to have been offered the chance to recreate this book in song."

In February of 2022, Florence returned with long-awaited new music in the form of 'King'. While it still features her trademark, barnstorming voice and swelling instrumentation, but its most interesting step forwards is in its lyrics and message.
"As an artist, I never actually thought about my gender that much," she says of the inspiration for the powerful song. "I just got on with it. I was as good as the men and I just went out there and matched them every time. But now, thinking about being a woman in my 30s and the future… I suddenly feel this tearing of my identity and my desires."
New album 'Dance Fever', which is produced Bleachers' Jack Antonoff and Glass Animals' Dave Bayley and inspired by choreomania - "a Renaissance phenomenon in which groups of people - sometimes thousands - danced wildly to the point of exhaustion, collapse and death" – has since been previewed by new tracks 'Heaven In Here' and 'My Love'.
The record, a "fairytale in 14 songs," is set to open up the world of Florence to even more fascinating places as she cements her standing as a generational artist.


Get your copy of the latest issue