Listen
Tracks: Megan Thee Stallion & Dua Lipa, Everything Everything, Phoebe Green & more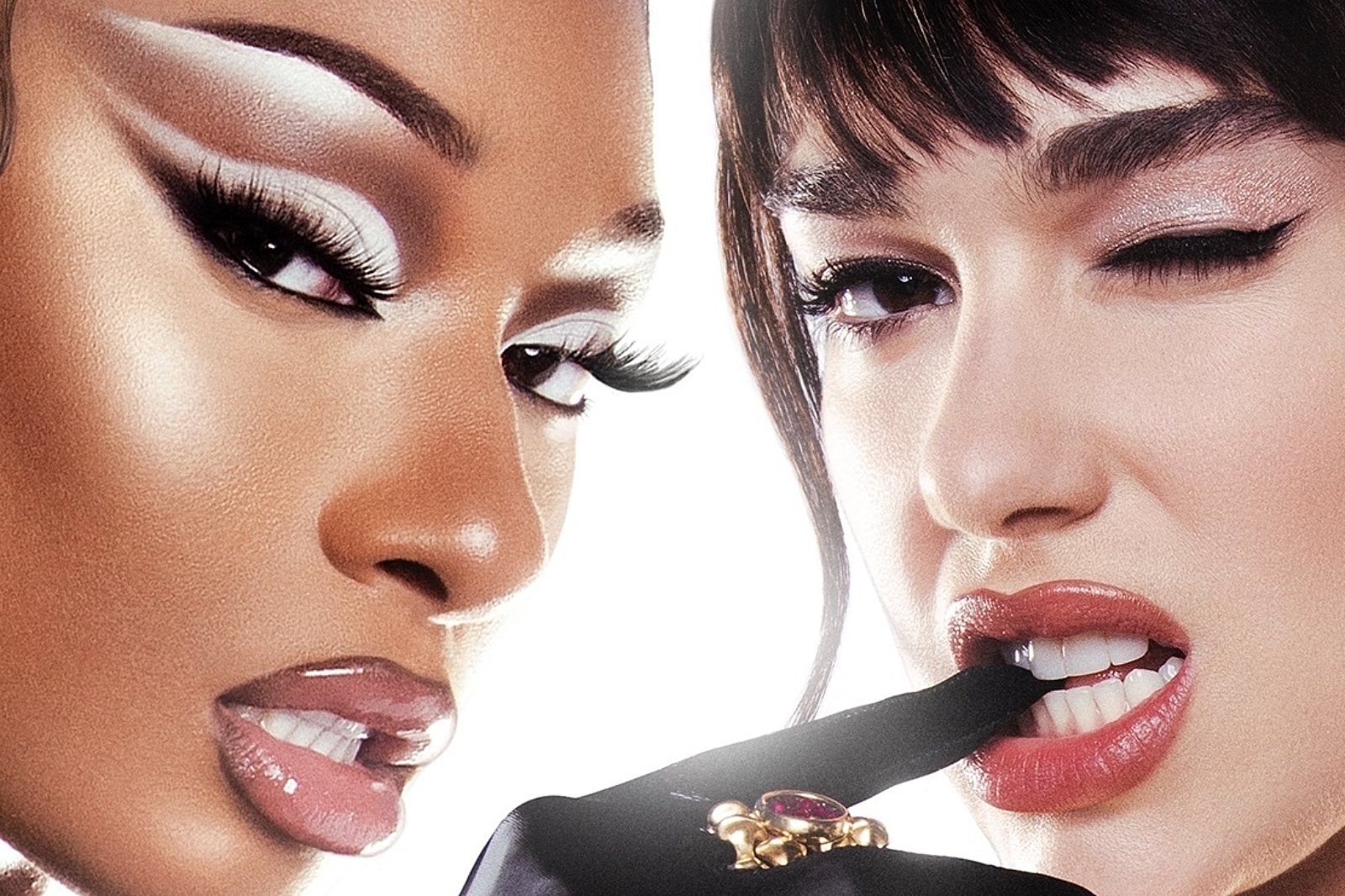 It's our weekly round-up of the biggest and best new songs this week.
Yes, readers, it's that time again. It's been another big weeks for brand new music, and we can't wait to share some of our faves with you. From gigantic pop collaborations - like the new 'un from Megan Thee Stallion and Dua Lipa - to welcome returns (hello Phoebe Green, Floating Points and King Gizzard & The Lizard Wizard!), there's something for everyone this week. There's even more new material from Florence + The Machine, as well as a huge reworking of Griff and Sigrid's recent track 'Head On Fire', with even more special guests - phew!
For those who'd like to take a deep-dive through all things shiny and new, see our Essential New Tracks playlist below; for more on our pick of the week's new releases, read on…
Megan Thee Stallion & Dua Lipa - Sweetest Pie
When Megan Thee Stallion was quizzed on new music earlier this year, she hinted that she was prepping a "fire" new collab and now she's delivered on that promise, linking up with pop frontrunner Dua Lipa for their joint offering 'Sweetest Pie'. A powerful new pop track from two of music's trailblazers, Megan's fiery flow perfectly matches Dua's vocals, as the two deliver a sexy disco-infused empowerment jam. Bring on Hot Girl Summer 2022! (Elly Watson)

Floating Points – Vocoder
Last year, Floating Points – aka Sam Shepherd – deviated from his usual path to create the stunning 'Promises' alongside free jazz saxophone legend Pharoah Sanders and the London Symphony Orchestra. A woozy, languid, near-ambient record, it went down as one of the most beloved records of 2021 and gained a Mercury nod. Maybe the shapeshifting Shepherd needed a palate cleanser after this, and new track 'Vocoder' is the polar opposite to last year's triumph. Tight propulsive hi-hats and thudding bass carry the unrelenting, heavy-as-hell track through its near-eight minutes. After we were treated to the most delicate iteration of Floating Points last year, here he goes harder than ever before. (Will Richards)

Sunflower Bean - Roll The Dice
"I just wanna win win win win win…" snarls Julia Cumming at the warped heart of Sunflower Bean's latest - part declaration of hopeful intent, part strangely jaded commentary on this mad game of chance that we call life. Simultaneously melodic and pleasingly gnarly (one of the New York trio's best tricks), the track is like a glam rock hangover: still packed full of fuzzy riffs, but with a woozy headache filtering around the edges. 'Roll The Dice' and roll on LP3. (Lisa Wright)

Griff, Sigrid, MØ and King Princess – Head On Fire
Griff and Sigrid's 'Head On Fire' was (and is) an empowering pop powerhouse of a track about lifting each other up not putting each other down, especially when it comes to female musicians. What better way to remix the track, then, than to add two more pop queens into the mix? With help from Denmark's MØ and New York's King Princess, this sense of togetherness and community is even stronger, and its chorus bursts in like the breaking of a dam. Just glorious. (Will Richards)

Phoebe Green - Make It Easy
Phoebe Green continues to reign supreme over the disco-bops-to-cry-to niché with latest offering 'Make It Easy', with its darkly pulsating synths and Green's constrastingly personal murmur above it. Her delivery is ethereal and achingly real, sounding almost on the brink of tears throughout – but the beat is an elastic, glitchy groove, at odds with the track's overall atmosphere. It's a captivating progression on Green's emotional journey, which grows more devastating with each release. (Ims Taylor)
Florence + The Machine - My Love
Back in the sad plummeting depths of 2020, the prospect of a musical future filled with pandemic laments seemed like a very real one. Thankfully most have chosen joy over moping and even when the lyrics are full of despair, as this latest from Florence + the Machine's incoming LP 'Dance Fever' shows, people have had the good sense to ramp up the fun elsewhere. Written as a poem during lockdown addressing writer's block and Covid-related misery, 'My Love' wraps all that in a pounding beat and skyward, characteristically massive chorus. It's pain, but make it party.

Everything Everything – Teletype
Everything Everything created parts of new album 'Raw Data Feel' by feeding an A.I. with information and forming lyrics from what it spurted out. Granted, that feels like a deeply unromantic way to write music, but on new track 'Teletype', the band – who have always had an endearingly wacky and futuristic makeup – manage to turn it into a skittering pop hit that can be enjoyed without being weighed down by its Elon Musk-y origin story. (Will Richards)

Pillow Queens - No Good Woman
The latest we hear from Pillow Queens' forthcoming album 'Leave The Light On' is simultaneously their richest and most restrained offering yet. 'No Good Woman' slows it down for a gorgeous, mournful wander through a bleak Sisyphian tale about being trapped in a loop of debt, backed up by melancholy guitars and desolate delivery. Somehow hopeless and hopeful – painfully cycling between the two – Pillow Queens' aptitude for storytelling both in lyrics and sound is as evident as ever. (Ims Taylor)
King Gizzard & The Lizard Wizard – The Dripping Tap
It's tempting to think that King Gizzard & The Lizard Wizard's absurd levels of productivity – they've churned out 20 (yes, twenty) full-length albums in the past decade – is becoming a cliched selling point and overshadowing the actual music. Sure, some of the 20 albums have been better than others, but, as we approach album #20 ('Omnium Gatherum'), the psych wizards are still as crazed and purposeful as ever. 'The Dripping Tap', the 18-minute first preview of the new album, is an unrelenting wig-out that is unlikely to attract in any sceptics but keeps Gizz devotees well and truly plugged in. (Will Richards)