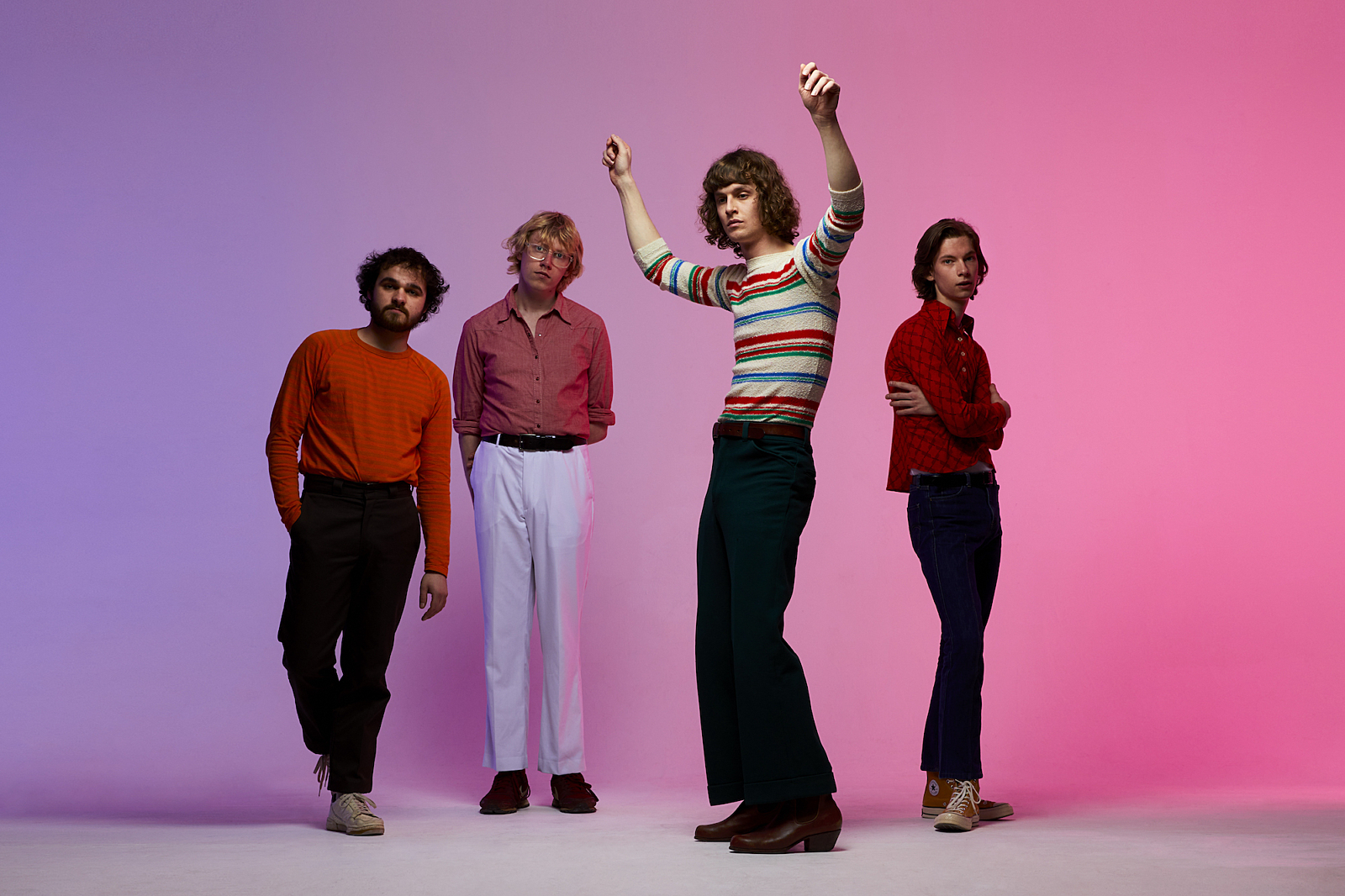 Photo: Lily Brown
Rockin' In The Free World: Buzzard Buzzard Buzzard
Welsh wonders Buzzard Buzzard Buzzard have always embraced a hop back in the musical time machine, but on debut 'Backhand Deals' they're straddling the past and present with a greater dexterity.
"There's this Slovenian proverb that says if you're trying to sit on two bar stools at once then you risk falling through the middle," begins Tom Rees. "And I think, in a way, that's perhaps how people perceive us. But I don't think that's the case. I think we're sitting on our own barstool, but perhaps it's just in the smoking area somewhere."
The bar stools that Buzzard Buzzard Buzzard have been hopping between since their inception could indeed be configured into a fairly unique formation for a band operating in 2022. When Tom spoke to DIY a couple of years ago, he professed that the band's debut LP would be comprised solely of "only really lovey-dovey stuff and then hell-or-death rock": an assertion that, at the time, seemed sort of plausible. Now, with 'Backhand Deals' finally out in the world, its actual contents is slightly less bipolar but still full of contradictions.
Buzzard are a band whose hearts lie unashamedly in the sonics of the '70s but whose lyrical head is firmly rooted in the present day; they're a band who, as the singer admits, are probably "too soft for the leather jacket guys but not soft enough for the Matt Maltese fans." "But hopefully we can be a bridge between the two worlds," he caveats - and, really, it's in the unlikely middle grounds that 'Backhand Deals' thrives.
Having previously fully leant into the self-professed rock'n'roll pastiche of 2020 EP 'The Non-Stop' and its Levis-eulogising lead single 'Double Denim Hop', when it came time to tackle The Big Debut, Tom decided it was time to really work out what he wanted his band to stand for. "There's a lot of fun in leaning into that sort of thing, but there's not a lot of longevity in it. So we thought, how can we create something that pulls from that pastiche that's always going to be present because I'm so obsessed with '70s rock, but brings it into the 21st Century a bit more? How can we confirm to people that it's happening now?" Maybe, we ask, he wanted to be known as more than just the man singing about durable fabrics? "I think there's some hardcore daddy issues in there deep down," the singer nods. "I just wanted somebody to take me seriously."
"The delivery system of good pop music is like inseminating a cow - the cow doesn't even know it's happening."
— Tom Rees
Seriousness, too, is an idea that the band dance around on their debut - addressing weighty topics such as capitalism and power abuse, but coating them in joyous riffs and the distinct, constant caveat that, at the end of the day, they're a band first and political commentators second if at all. "The level of political discourse that happens at a societal level informs the discourse that happens at a creative level, so at the moment everyone is very very serious about their opinion and that's mirrored in the music," the frontman suggests. "But the reason I love pop music so much is because the delivery system is so clean; I made a joke the other day that it's like inseminating a cow - the cow doesn't even know it's happening.
"It's especially interesting when you'd normally go and watch music to forget about all that stuff, when suddenly now you're going to watch music to reassess it all even more," he muses. "More and more, I'm going in harder on the fun thing: I think humour is a really important part of our music. Hopefully not in a Blink 182 way, but a really important part all the same. It's about encouraging people to have fun with these ideas instead of being serious about them all the time." The irony here being that Tom's insistence that his opinions be taken with a pinch of salt ("The worst thing I can think of happening is if someone took one of our songs and used it to inform their political outlook, outright") probably shows a greater nuance than any of the bands sledgehammering their points more brazenly home.
And in a strange way, that's an attitude that seems to sum Buzzard Buzzard Buzzard up nicely. 'Backhand Deals' is full of the kind of timeless melodies - a bit of McCartney piano here; a touch of Randy Newman sweetness there - that are more than worthy of being seen as songwriting of clout, but you sense the frontman and his cohorts would rather be having a laugh and soaking it all up than thinking too long and hard about their social standing. Tom is a music obsessive ("I could very easily have been one of those Lord of the Rings guys at home reading fan fiction, but instead I'm just Googling things about Steely Dan…") who also gleefully can't stop himself from making jokes at any available opportunity and their debut encapsulates both sides - plus a few more smarts than they might wilfully acknowledge - with aplomb.
They might be sitting out in the smoking area on their own, but pull up a stool - you'll be hard pressed to find more entertaining company.

'Backhand Deals' is out now via Communion.