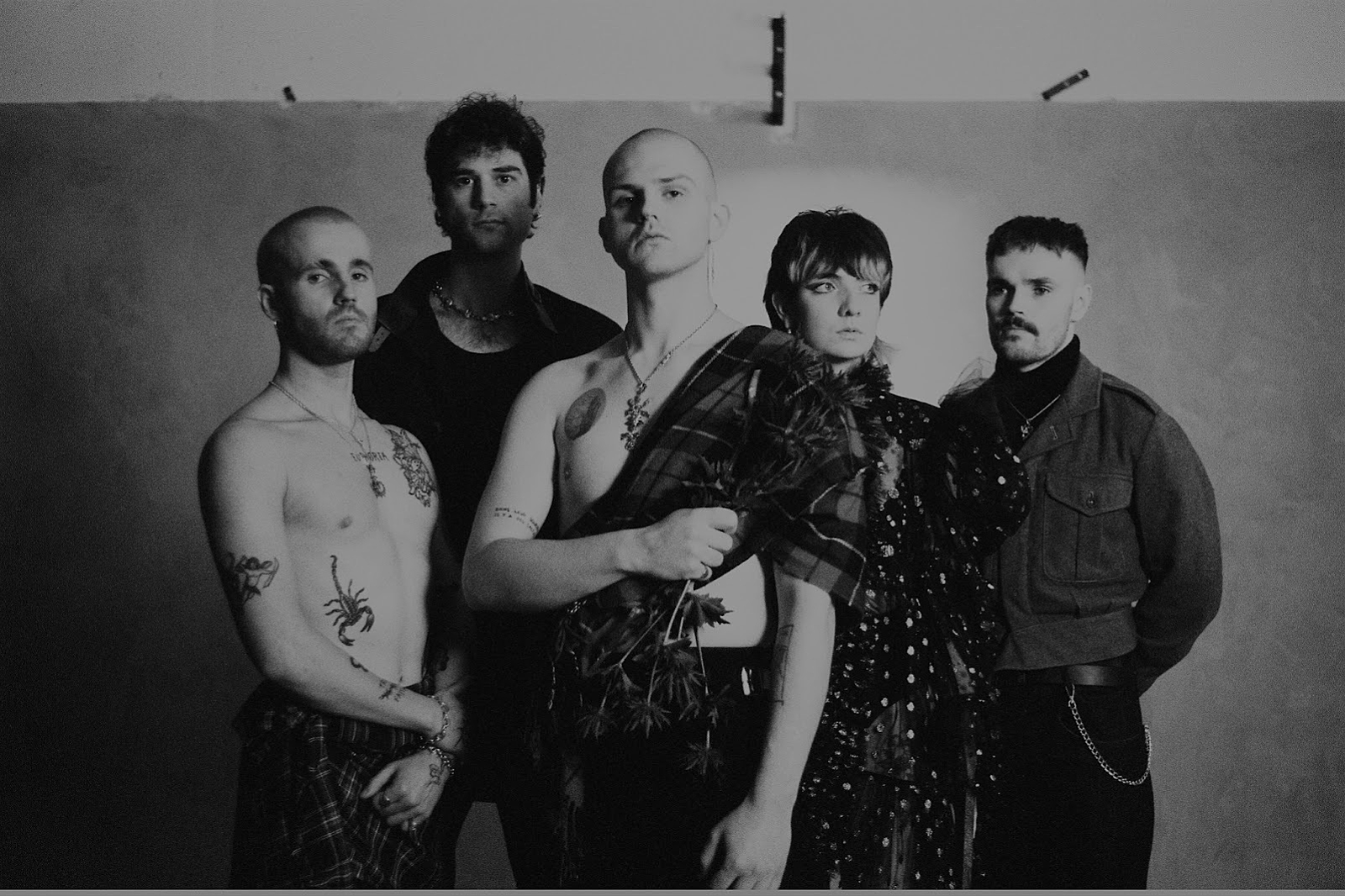 Photo: Oli Erskine
VLURE: "We've always really wanted to burst the bubble of what a 'post-punk' band should sound like"
Meet the Glaswegian quintet rewriting the rulebook on post-punk, and giving it a good dose of club culture.
To get a real idea of the evolution of VLURE so far, you've got to go back to the beginning. One glance at the Glasgow quintet's first creative output into the world - their visceral video performance of 'Desire', that was released back in December 2019 - shows a band already impressively fully-formed, the black-and-white clip showcasing their powerful first venture into dark post-punk. Yet it's clear that, even two years ago, they were just on the precipice of something.
"Over time, especially as the pandemic hit and there were no gigs, we managed to expand our sound and really give into what we wanted to be," explains frontman Hamish Hutcheson. The time away from regular social lives and live gigs saw the group instead decide to expand upon their already arresting sound, pushing further towards the dance and techno sonics that they themselves were listening to.
"Something we've always really wanted to do is burst the bubble of what a 'post-punk' band should sound like," nods guitarist Conor Goldie in agreement. "I don't think we're ever in a place where you can define what our sound is," Hamish picks up. "We want to continue to evolve and create new and exciting stuff. If it excites us, we feel, in turn, it can excite other people."
"If it excites us, we feel, in turn, it can excite other people."
— Conor Goldie
Inspired by the multifaceted sounds of the likes of Faithless, Underworld, The Prodigy and Nine Inch Nails, the five-piece - completed by Conor's brother Niall, alongside drummer Carlo Kriekaard and keyboardist Alex Pearson - have instead taken the jagged energy they first captured with 'Desire', and melded it together with pummelling electronics and throbbing synths to create something altogether more devious.
"Some of my favourite bands are people who've brought something new to the table," Conor says. "That's kinda what we're really trying to do; tell our story through what we're making without pigeonholing ourselves into a certain genre or holding ourselves to constraints."
It's on their debut EP that the feeling's best captured; last month's 'Euphoria' - nothing to do with the TV show, admittedly - feels like a kind of hedonistic fever dream, or maybe just a massive, sometimes existential, night out… "It's about going out, finding out who you are, what you want to do in this world, finding the people you love and learning how to treasure those people," Hamish details. "It's dealing with the turmoil that goes on in your head, and that existential ending of when you're waking up hungover on a Monday, and being like, 'Why did I do that to my body and mind?' But also feeling like it was absolutely class and you wouldn't change it for the world." Quite the universal feeling, then…