Grrls Aloud: The Linda Lindas
When their single 'Racist, Sexist Boy' went viral, The Linda Lindas staked their claim as the next in line to the feminist punk throne. 'Growing Up' finds the quartet making a whole lot more noise.
It's a normal day in the life of a fourteen-year-old. You go to school, you sit through freshman biology class. You go home, trawl through your homework, and get ready to go on tour alongside Jawbreaker and Best Coast with your all-female garage-punk band that has already been lauded by Bikini Kill, Paramore and Alice Bag. Normal, right?
Well, perhaps not. But it's a reality that's becoming increasingly familiar for The Linda Lindas: sisters Mila (drums, aged 11) and Lucia de la Garza (guitar, aged 14), cousin Eloise Wong (bass, aged 13), and family friend Bela Salazar (guitar, aged 17). The foursome were mostly playing new wave and post-punk covers when they were invited by Kristin Kontrol (of Dum Dum Girls) to play at all-women music festival, Girlschool LA, in 2018; when their performance of their song 'Racist, Sexist Boy' at the LA Public Library for AAPI Heritage Month went viral in 2021, however, everything changed overnight. To date, it's racked up over 1.3 million views on YouTube, and counting.
It's not hard to understand why 'Racist, Sexist Boy' got the attention it did. A blistering rager of a punk tune that clocks in at just under two minutes, it was written after a boy in Mila's class told her that he'd been instructed to avoid Chinese people. Upset, hurt and angered by the experience, Mila and Eloise decided to channel their energy into a song. "You are a racist, sexist boy / And to have really take the joy / Fake dance, shoot and destroy," snarls Eloise amid a riot grrrl-inspired torrent of heavy guitars and thundering drums. "We rebuild what you destroy," is their unapologetic message.
About a week after the video went viral, it was announced that The Linda Lindas had signed to Epitaph (Bad Religion, The Offspring), but the band's ascent had been bubbling for a while. Through Girlschool LA, the group were able to connect with female rock heroes such as Best Coast's Bethany Cosentino and Yeah Yeah Yeahs' Karen O, and were asked by legendary Bikini Kill vocalist and riot grrrl pioneer Kathleen Hanna to open for the band at the Hollywood Palladium in 2019, where they covered 'Rebel Girl'.
"I mean, for me, I've listened to their music and looked up to them my whole life," says Lucia of the experience today. "It's so amazing that they even know about us." "I grew up going to shows and listening to Best Coast," adds Eloise. "I never imagined that we'd be supported by them. Or even be in a band!"
"There are always going to be judgmental people who say we don't know anything, because we're young. But we do know."
— Eloise Wong
Music has never been far away from The Linda Lindas. Mila and Lucia's father is Grammy-winning producer Carlos de la Garza, who's worked with the likes of Paramore, Wolf Alice and Cherry Glazerr, while Eloise's dad co-founded the Asian-American culture magazine Giant Robot. The sisters even had the unique experience of having their debut album recorded and produced by their father. Written during the pandemic, the 10-track LP was put to tape during their summer vacation from school. "When we were little, music was right there," Lucia nods. "It was never out of reach."
The band's debut album is, very fittingly, titled 'Growing Up'. While grounded in the band's signature loud guitars, it draws from eclectic influences such as new wave and garage pop, threaded together by earnest lyricism. It includes a studio version of 'Racist, Sexist Boy', while other gems include a song about Bela's cat ('Nino'), quarantine blues ('Why'), and of course, what it means to grow up as a whole. "We'll sing about things we don't know… We'll show what it means to be young and growing up," Lucia sings on the title track. "When we get burned from jumping in the fire / We'll never tire 'cause we'll always find ways to fly higher." It's a reminder that The Linda Lindas, just like everyone else, are still trying to figure life out.
A common theme on the album is worrying about things the band can't control. What they can do, though, is make music as a form of catharsis, and remind their listeners - and the people around them - that they aren't the only ones struggling, and that you're never too young to start making a change. "It's hard trying to figure out how to say that, to talk about the issues we want to talk about while also reminding people that we're not perfect. Nobody is," says Lucia. "We're never going to hit an age where we know all the answers. We felt that because we were so young, there's nothing we could do, and that we had to wait until we were older to bring in a change. It helps when people reach out to us, like after the video went viral."
With their members being of Chinese, Mexican and Salvadoran descent, everyday racism and sexism is something all four musicians have already witnessed and encountered. The band credit their parents for encouraging them to become more aware of current events, and their politically-conscious and socially-aware mindset, at such a young age, is refreshing. Writing songs about their feelings of helplessness allowed them to reclaim some of their frustrations, they say, while also directly addressing wider problems in society.
"A lot of it started with the Trump administration," says Lucia. "We learned more every day. Something was always happening on the news, something that was out of our control. It would be this feeling of, 'What am I supposed to do about it?'" "You grow up around sexism and racism," says Eloise. "It's just something that we're around so much that it gets tiring. For me, there has to be something musically, like writing 'Racist, Sexist Boy', to get all of this frustration out."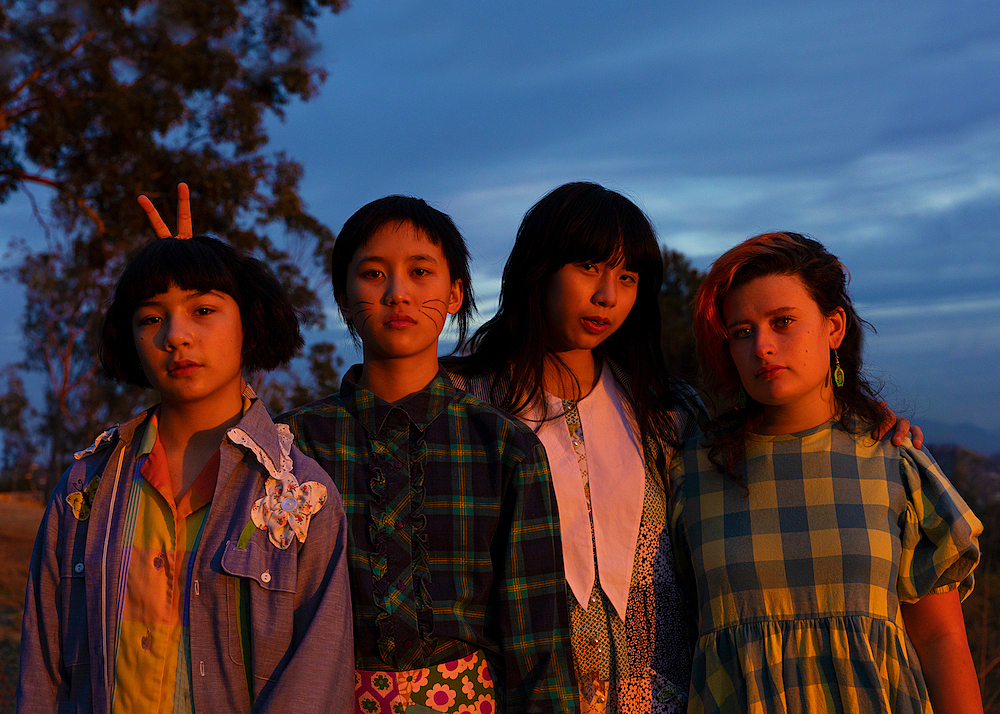 "There's a lot of people who call us 'cute' for talking about important issues, and for playing in a band. You wouldn't tell a boy they were cute."
— Lucia de la Garza
When we speak today, it is almost the one-year anniversary of the Atlanta spa shootings, where six Asian women were murdered. Anti-Asian violence has skyrocketed during the pandemic, with Asians being unfairly targeted as the scapegoats for the virus outbreak. All over the United States, there have been frequent incidents of Asians being assaulted and attacked by strangers, and even more going unreported by the media. The 'Stop Asian Hate' movement has gained momentum, but anti-Asian racism still runs rampant.
"It hurts a lot to see people denying that racism still exists," says Lucia. "There's no excuse for oppressing people. That shouldn't be hard to comprehend. Sometimes we feel this helplessness, but we need to stop and take a moment and reflect. We had a lot of moments to reflect during lockdown. I hope that the video increased awareness."
And yet, the band have to fight the double-edged sword of being lauded for their political awareness, while also being patronised for the fact that they're still barely teenagers. "There's a lot of people who call us 'cute' for talking about important issues, and for playing in a band," says Lucia. "We play shows, and they say, 'Wow, that's cute'. And we're like, well, we take music seriously and take these issues seriously. You wouldn't tell a boy they were cute! You would tell a band full of boys, 'Wow. You're so talented. You're so brave for speaking up about these issues'. It's cool when they think our outfits are cute and they think our style is cute, but it's not cool when they say it's cute that we play music."
Adds Eloise: "There are always going to be judgmental people who say we don't know anything, because we're young. But we do know. We're reminded of it, and we see it. We want to keep growing as the world changes."
Ultimately, for the band, it's about trying to make the world a slightly better place – one punk song at a time. "You have to take in the big picture," continues Lucia. "We know we're not going to stop things immediately; it's going to take time and effort. We want to put in the work, and we know that there are so many people who want to make where we are better."

'Growing Up' is out now via Epitaph.