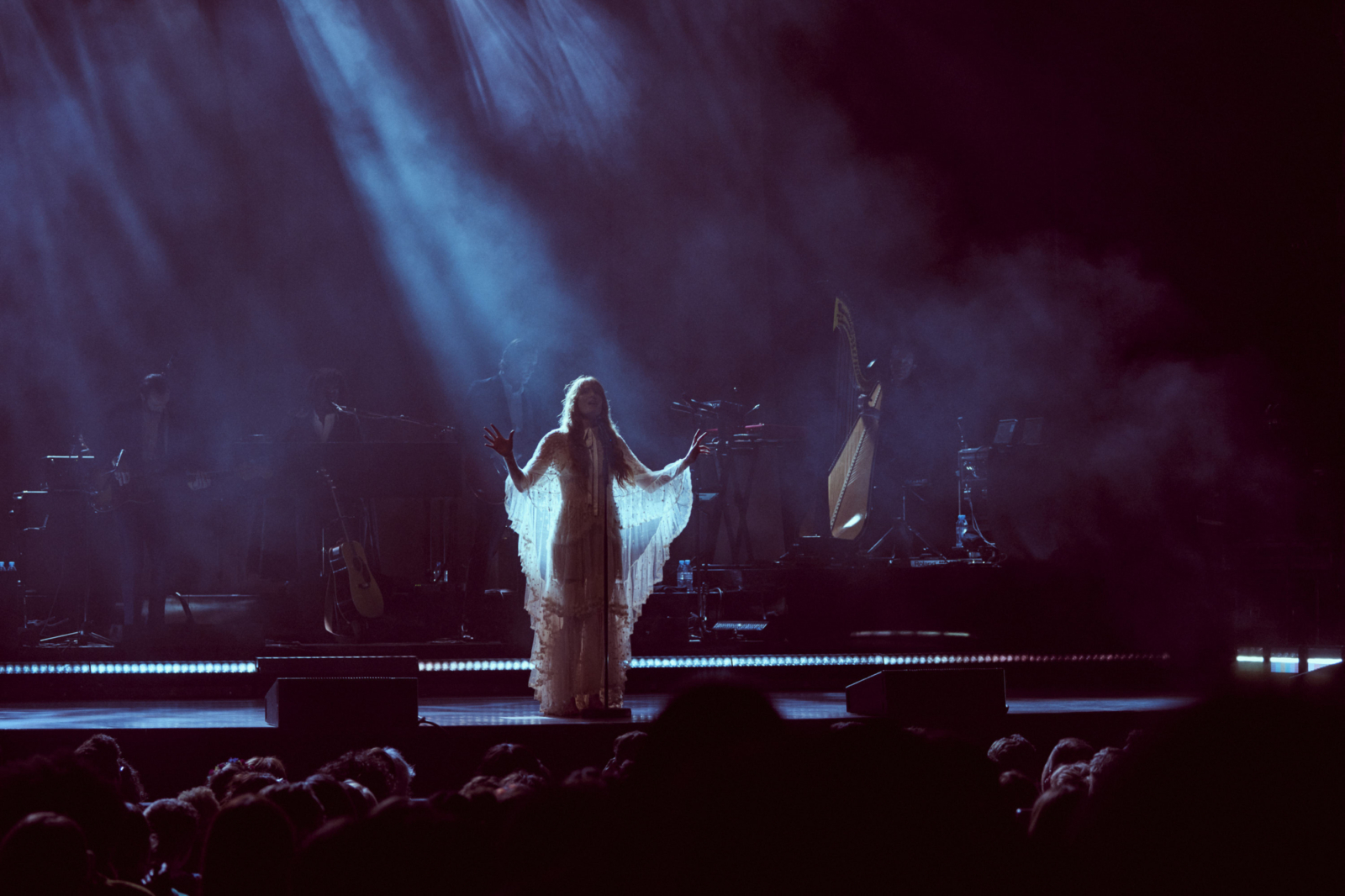 Photo: Lillie Eiger
Live Review
Florence + The Machine, Theatre Royal, London
19th April 2022
Stood barefoot in a flowing white dress and matching cape, intimacy brims through Florence's exhilaration to be back on the stage.
You'd be forgiven for thinking that tonight was like any other at London's Theatre Royal Drury Lane. Waiting for their bottle of wine to be decanted into two plastic pint glasses, a couple talk enthusiastically about this year's Olivier Awards – the theatre world's equivalent of the BAFTAs. Upstairs, an usher is recommending ticket holders check out the ornate bar behind them, explaining the long history of the impressive venue. But the Frozen set that usually dominates the modest stage has been cleared, replaced by a shimmering gold curtain that denotes the live return of Florence Welch and her ever-growing Machine.

It takes a total of one and half songs before most of the seated crowd are on their feet. Those still working out theatre balcony etiquette are offered their freedom when Florence demands stragglers stand up during a particularly energetic outing of 'Kiss With A Fist'. Florence + The Machine's stunning theatrics sit against a powerful punch that immediately outweighs anything released on record. Their excitement to be back runs through every drumbeat and guitar strum. In their most vibrant moments, Florence leaps from one side of the stage to the other, seemingly on a heartfelt mission to single out every mesmerised fan.

"How have you been?" one fan cries out from the crowd. "Sometimes I am OK, sometimes I am not" Florence replies. It's this duality that runs throughout each of the set's eighteen songs. Tonight's new tracks tell the story perfectly, from 'Free''s brilliantly crafted depiction of anxiety to Florence's self-described "spiritual breakdown" on 'Girls Against God'. She details the frustration she has felt stuck looking at the same four walls, and far removed from her cathartic outlet. "When trying to rage Holy War it looked a lot like staring at the floor," she sings, later going on to joke about how dramatic creatives can be.

But it's this drama that drives tonight's performance in the most perfect setting for it. The sheer joy of bold set opener 'Shake It Out' sits against the rolling power of 'What The Water Gave Me'. The ground-shaking thunder of 'Heaven Is Here' leads perfectly into the celebratory 'Spectrum'. The setlist itself is carefully considered, taking fans on an emotionally-charged journey through the singer's catalogue, and not afraid to leave a single moment out. A rare outing of fan favourite 'Never Let Me Go' is accompanied by a candid introduction; the songs she tries to push away are the ones the fans cling onto the most, Florence notes. Time away from the spotlight has allowed her to fully embrace all elements of her past.

Billed as an intimate show, for some it may have been difficult to really bring that vibe to a comparably massive theatre. Yet stood barefoot in a flowing white dress and matching cape, earnestly speaking of the fear she had the shows would never happen, intimacy brims through Florence's exhilaration to be back on the stage. Her rekindled love for her music is infectious. As she asks fans to put away their phones for the closing moments of 'Dog Days Are Over', encouraging everyone to truly live in the moment, it's undeniable just what a special moment this is.

Get your copy of the latest issue