Watch
Psychedelic Porn Crumpets share new single 'Acid Dent'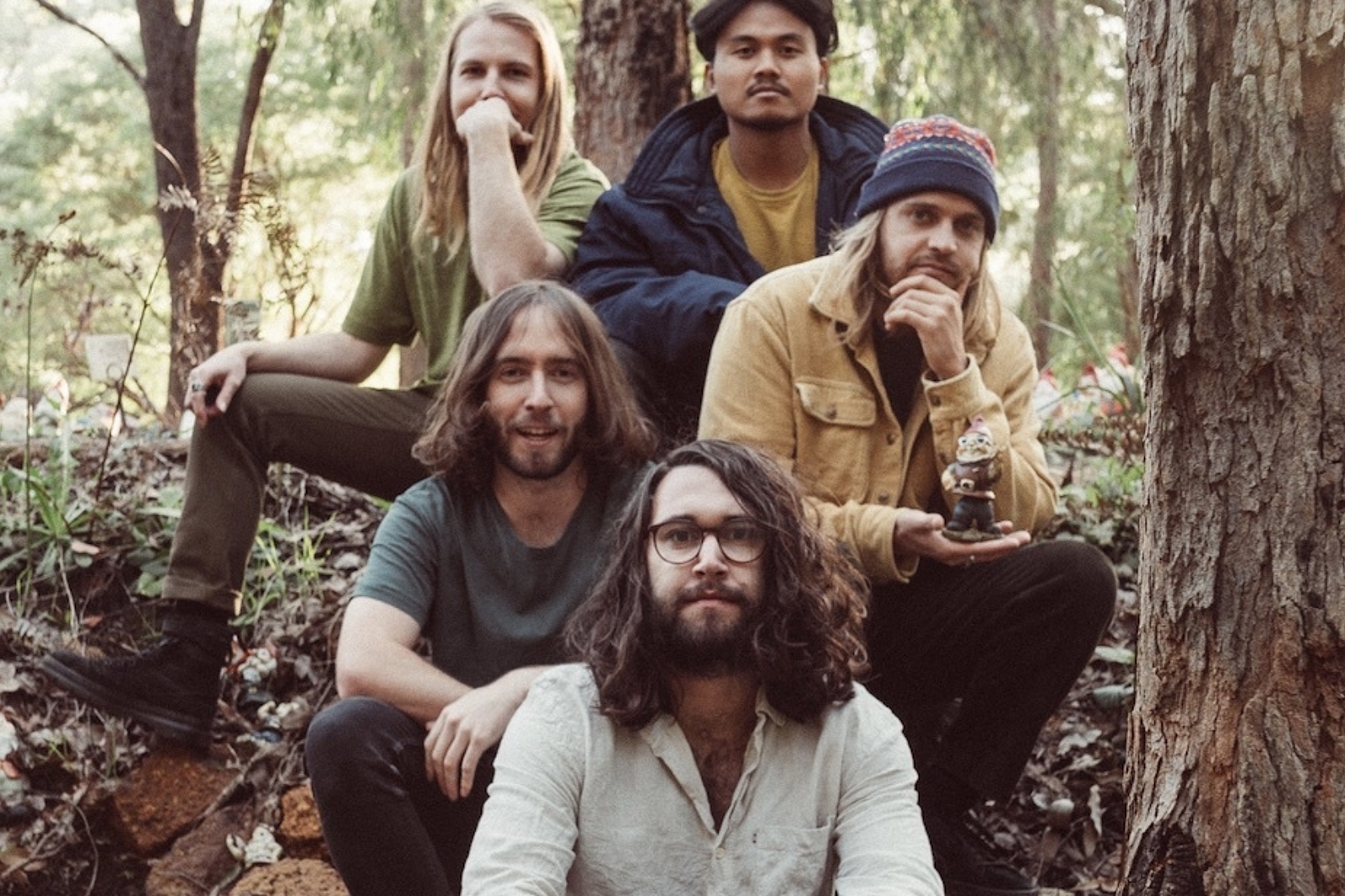 Photo: Tristan Mckenzie
Their new album, 'Night Gnomes', lands this Friday.
Ahead of the release of their new album 'Night Gnomes' on Friday, Psychedelic Porn Crumpets are sharing their latest single 'Acid Dent'.
"My goodwill 'Drugs are bad for you kids' song," Jack McEwan notes. "And to be perfectly honest they probably are. But good luck telling that to the youth of today I tell ya! It's not like that safe '60s pot we used to smoke. Not like the prescribed methamphetamine us '50s housewives were doing! Not like that Cretic Wine us Romans would devour.
"Every generation has their means of escapism and for some reason here in Perth, or at least when we were in our heyday you could purchase mushrooms and acid from any decent supermarket. So it's inevitable we're gonna be munching jumpers and chatting to fences in a few decades, but as for now, well… we've seemed to somehow milk a career out of it. Who'd have thought. But yeah, it's probably not going to end well, hence my newly appointed position on drug safety. Then again, someone also once told me, 'Hell hath no fury like a man who's pressed pause on his drug abuse', so now I'm slightly more perplexed as to where I stand. Anyway, good luck to everyone, enjoy yourselves but remember nobody wants to pick up your marbles after."
Check it out below.
'Night Gnomes' Tracklisting:
1. Terminus, The Creator
2. Lava Lamp Pisco
3. Dread & Butter
4. Bubblegum Infinity
5. Sherbet Straws
6. Night Gnomes
7. Bob Holiday
8. Microwave Dave
9. Acid Dent
10. In Dream, Out
11. Slinky / Holy Water
See Psychedelic Porn Crumpets live at the following dates:
AUGUST
11 – Hole44, Berlin
12 – Molotow, Hamburg
13 – TivoliVredenburg Pandora, Utrecht
15 – The Forum, Tunbridge Wells
17 – Brudenell Social Club, Leeds - SOLD OUT
18 – Rescue Rooms, Nottingham
21 – Junction 1, Cambridge
22 – Think Tank, Newcastle - SOLD OUT
23 – St Lukes, Glasgow - SOLD OUT
25 – Band on the Wall, Manchester - SOLD OUT
26 – O2 Institute 2, Birmingham
27 – Thekla, Bristol - SOLD OUT
29 – The 1865, Southampton
30 – Concorde 2, Brighton
SEPTEMBER
01 – Electric Brixton, London
02 – Norwich Arts Centre, Norwich - SOLD OUT
03 – Manchester Psych Fest, Manchester
06 – Le Maroquinerie, Paris
07 – Trix, Antwerp
08 – Vera, Groningen
09 – Doornroosje, Nijmegen
11 – De Muziekgieterij, Maastricht