Listen
Nova Twins release new single 'Puzzles'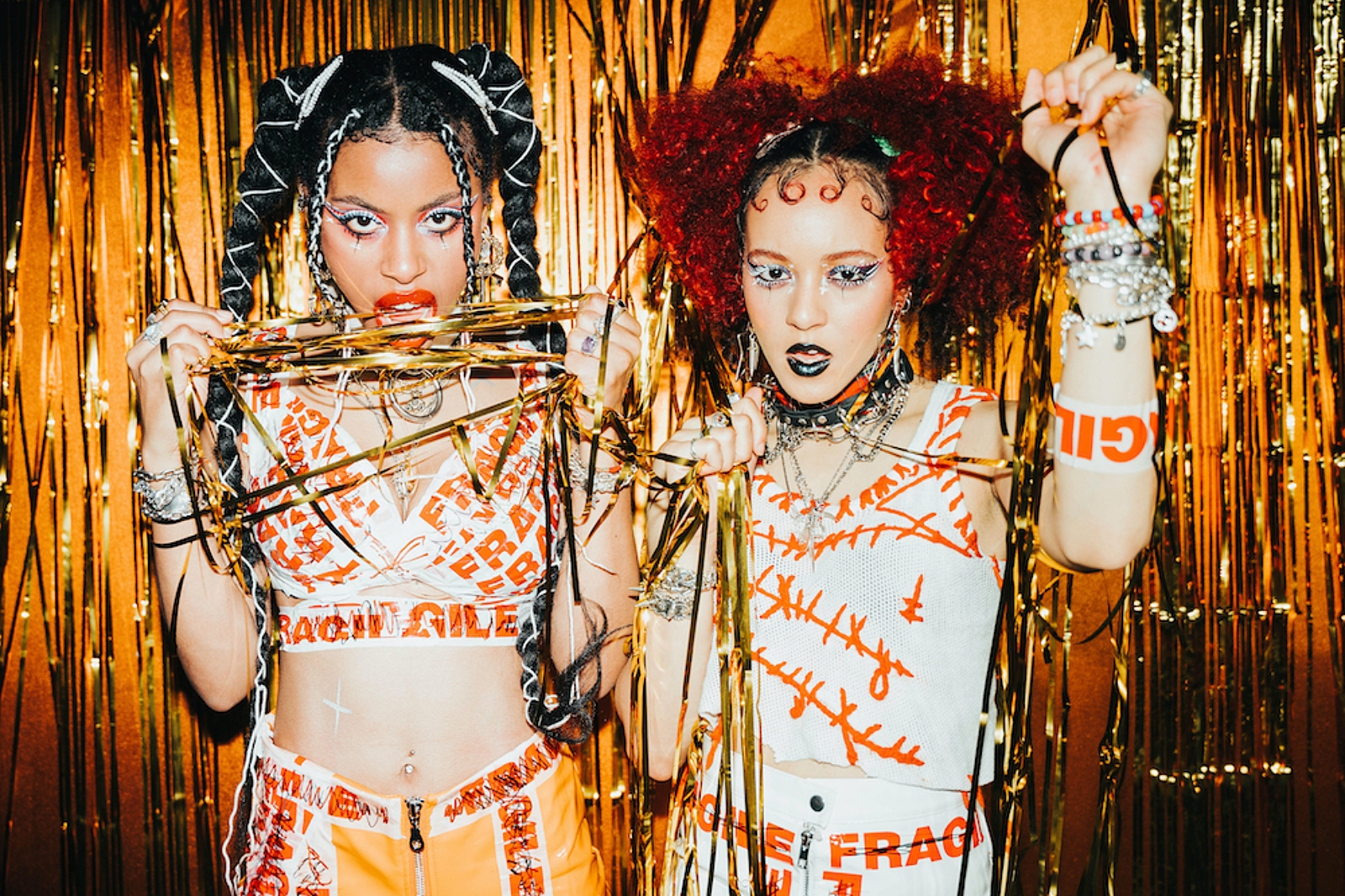 Photo: Federica Burelli
It's the latest taste of their upcoming new album 'Supernova'.
Ahead of the release of their new album 'Supernova' on 17th June on Marshall Records, Nova Twins are sharing their newest single 'Puzzles'.
"Inspired by the many sexy R&B songs we love, we wanted to make a heavy rocked-out version of a song that makes us feel powerful," the duo say. "It's always been fine for men to vocalise liking sex, so why can't the same rules apply to us? We're women, we should be free to explore what we like in our songwriting! A general Nova Twins theme is that we're always in control. When it comes to a track like this, we were always going to show our domineering side."
Check it out below.
'Supernova' Tracklisting:
1: Power (Intro)
2: Antagonist
3: Cleopatra
4: K.M.B.
5: Fire & Ice
6: Puzzles
7: A Dark Place For Somewhere Beautiful
8: Toolbox
9: Choose Your Fighter
10: Enemy
11: Sleep Paralysis
See Nova Twins live at the following dates:
MAY
12 Hamburg, Germany, Edel Optics Arena (Supporting Yungblud)
13 Brussels, Belgium, Forrest National (Supporting Yungblud
14 Amsterdam, Holland, AFAS (Supporting Yungblud
16 Munich, Germany, Zenith (Supporting Yungblud)
18 Milan, Italy, Carroponte (Supporting Yungblud)
19 Zürich, Switzerland, Halle 622 (Supporting Yungblud)
21 Vienna, Austria, Gasometer (Supporting Yungblud)
27 Derbyshire, UK, Bearded Theory's Spring Gathering Festival
28 Malta, Bring Me The Horizon & Friends - Malta Weekender
JUNE
03 Leeds, UK, Slam Dunk Festival
04 Hatfield, UK, Slam Dunk Festival
10 Dublin, Ireland, 3Arena (Supporting Yungblud)
17 London, Royal Festival Hall, Grace Jones' Meltdown Festival
23-26 Glastonbury, UK, Glastonbury Festival
30 Seinäjoki, Finland, Provinssi Festival
JULY
09 Cheltenham, UK, 2000 Trees Festival
24 Suffolk, UK, Latitude Festival
AUGUST
14 Köln, Germany, Blue Shell (Supernova Tour)
15 Hamburg, Germany, Hafenklang (Supernova Tour)
16 Berlin, Germany, Cassiopeia (Supernova Tour)
17 Prague, Czech Rep, Café V Lese (Supernova Tour)
19 St. Pölten, Austria, FM4 Frequency Festival
20 Biddinghuizen, Netherlands, Lowlands Festival
21 Belgium, Pukkelpop Festival
24 Edinburgh, UK The Royal Highland Centre (Supporting Rage Against The Machine) - SOLD OUT
SEPTEMBER
09 Malaga, Spain, Andalucía Big Festival
10 Madrid, Spain, Mad Cool Sunset Festival
OCTOBER
29 Reims, France, La Cartonnerie (Supernova Tour)
30 Paris, France, Café De La Danse (Supernova Tour)
NOVEMBER
01 Antwerp, Belgium, Trix Bar (Supernova Tour)
03 Amsterdam, Netherlands, Melkweg Up (Supernova Tour)
04 Utrecht, Netherlands, Tivoli De Helling (Supernova Tour)
05 Mainz, Germany, Schon Schön (Supernova Tour)
06 Zürich, Switzerland, Dynamo Werk 21 (Supernova Tour)
10 Glasgow, Scotland, St Luke's (Supernova Tour)
11 Manchester, UK, Academy 2 (Supernova Tour)
12 London, UK, Electric Brixton (Supernova Tour)