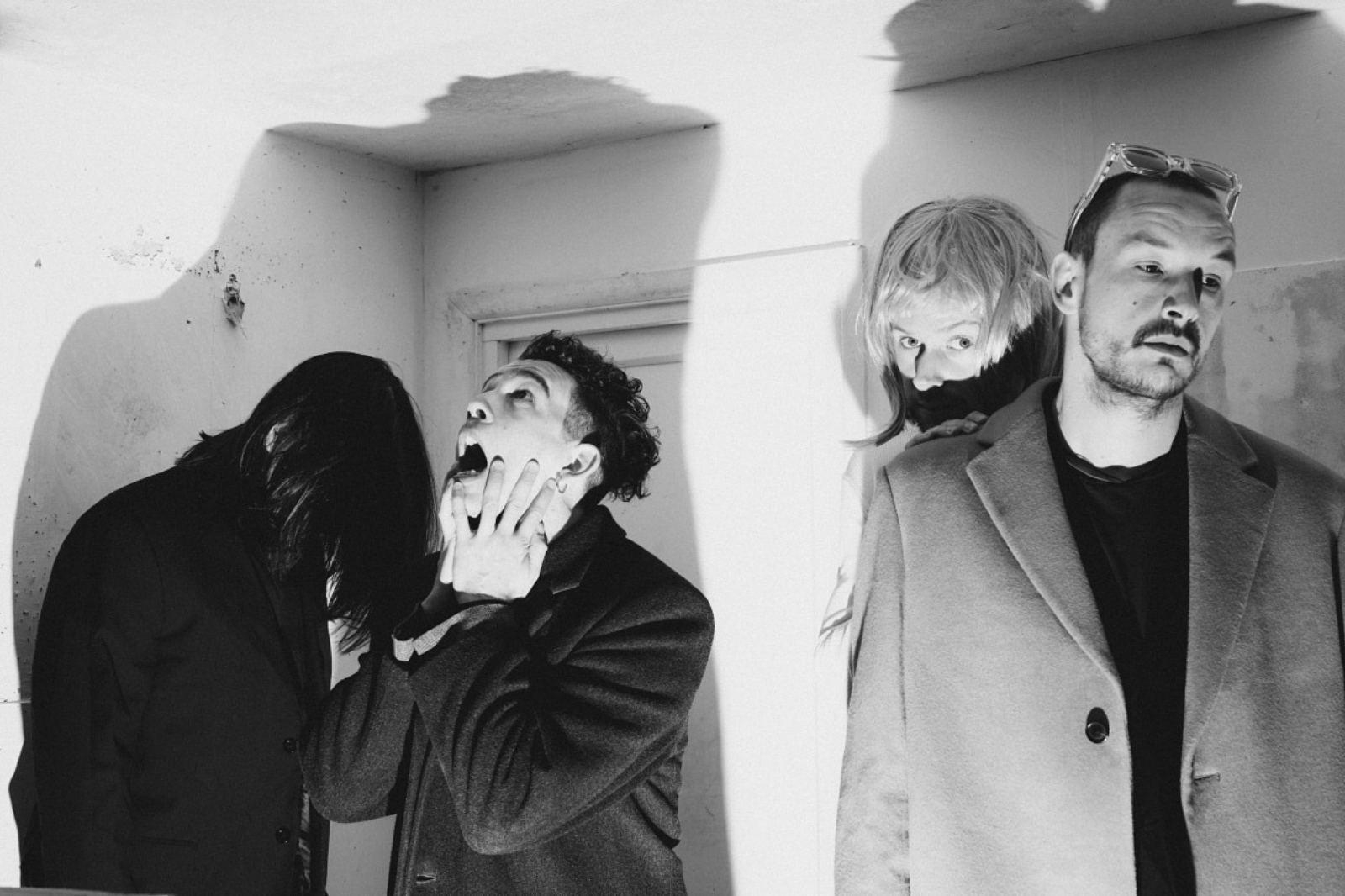 Photo: Jordan Curtis Hughes
Progress Report
Progress Report: The 1975
Social media blackout, outlandish claims and leaks from mum… looks like the boys are on the way back.
After remaining remarkably quiet for basically all of 2021, it took only four days of the new year before The 1975 announced that they were back. As always with Healy and co, there are endless cryptic messages, leaked intel and lofty ambitions being thrown about as we work out what to expect from the wonderfully inventive four-piece on their fifth album.

With live shows scheduled for August, hints from mum and an album described as "so beautiful" in the works, '22 looks set to be massive for '75. While we wait, here's everything we know so far about The 1975's fifth studio album. Meet us at the beach?
Another classic…
As of the end of 2020, there was little to no word on the band's follow-up to fourth album, 'Notes On A Conditional Form'. Like us, they were probably basking in a beautiful post-lockdown glow all summer, and we can't blame them. When cancelling a number of 2021 tour dates at the very start of the following year, the band made up for the inevitable fans' tears with some good news. "We're currently making a new album," they confirmed for the first time, with Matty adding in his own post: "I already love the new album we are making and I hope you will too. That won't be out for ages. Other stuff will be tho."
Then, last August, in typical Healy fashion, the frontman reiterated – with tongue firmly in cheek – that the band were currently "making another 'classic record'" while sharing a photo of his flexed bicep. There is little else to say…

"Part 5, day 1"
On January 4th this year, with Christmas leftovers still swirling around in our bellies, Matty Healy welcomed the new year by posting a video of himself in the studio with The 1975, strumming lightly on an acoustic guitar. "Part 5, day 1," the caption read, presumably letting fans know that the band were in the studio for the first day, and that work on album five had begun in earnest. Just call us Sherlock.

New York, New York…
The only new music we've heard from the band in the post-'Notes' era has come in the form of 'New York', a track Healy debuted when supporting Phoebe Bridgers at a Los Angeles show last October. The sombre acoustic track isn't confirmed to be on the new album yet, but is a suitably melodramatic taster of what Matty has been working on over the past few years.

We're not crying, you're crying
While 'New York' may be our only crumb of new '75 music at the moment, that doesn't mean that the boys haven't been giving us some hints of what's to come.
Uploading a picture to the 'gram last October with the caption "Please", Matty shared an image of what people have speculated to be the lyrics for a new 1975 song - "Just a friendly reminder but can we normalise that feeling when guys, I'm crying" - complete with the Dirty Hit catalogue number DH01242, so it seems (hopefully) legit.
Going dark…
For any seasoned 1975 fan, you know the exact bat signal that leads you to go on red alert for new music from the band. They go dark. As with every album campaign since 2016's second effort 'I Like It When You Sleep, For You Are So Beautiful Yet So Unaware Of It', the fun really starts when the band disappear from social media and delete all their accounts.
This time around, it happened on Valentine's Day (aww) and at the time of writing, they are yet to return.

Back on the road
A day after the band went dark on their socials, they announced their live comeback for their first gigs since 2019. As the social media accounts haven't returned following the news that they'll headline Japan's Summer Sonic festival in Tokyo and Osaka in August, we assume that the blackout is a precursor for something even bigger. Whether new music will arrive before August is anybody's guess, but at the very least we can expect to hear a decent slab of LP5 – whether it's released officially by then or not – at this pair of shows.
"So beautiful"
Though Matty has been joking about the "classic" nature of the record, and we've been treated to a live performance of one scratchy acoustic demo, we don't yet know too much about where album five is going stylistically. The only current hint – and a pretty vague one at that – comes from Dirty Hit head and band manager Jamie Oborne, who tweeted to fans in February: "I wish I could play you guys the new record. It's so beautiful."
His next tweet, two months later, then confirmed that the new record is the "realest."
Granted, it's not as if The 1975's new manager is going to say their upcoming album is their weakest yet, but still, signs are good…

Mum's the word
Across recent history – or at least since Twitter became ubiquitous – pop star mums have become a vital source of accidental leaks about when our faves are returning. Whether it's Matt Helders' mum telling the world that Arctic Monkeys were working on what would become 'AM' back in 2012, or Sky Ferreira's mum sending fans into a frenzy with news of 'Night Time, My Time's follow-up, we love the loose-lipped mothers.
Speaking of loose women, Matty's mum, Denise Welch, furthered speculation that the band are on the way back with new music sooner rather than later. Quoting a tweet from actor Rickey Thompson which read: "I NEED THE 1975 TO COME BACK," Denise simply replied with four thumbs up, indicating that said comeback is well and truly on.

While The 1975 themselves remain uncontactable on social media, those in their orbit have been dropping little hints as to the whereabouts of the band and what they're getting up to.
Actor Sanjiv Hayre dropped a big hint back at the end of April when he revealed that he had been filming scenes for a production at Sheerness Beach in Kent "for a very popular indie rock band."
Not content to just tease us, Hayre then gave the game away at the end of the thread, linking his appearance to The 1975 themselves.
Aside from the new album, one touted project in The 1975 Extended Universe that's not yet materialised is the long-awaited album from the boys' pre-1975 band, Drive Like I Do.
After promising that The 1975 would be reviving Drive Like I Do and releasing new music, Matty Healy took to Instagram in February 2021, saying that the band were "finishing DLID today," quickly adding: "It's not a full album you guys r crazy".
It's that time of year again. We all know that Healy and co. have an obsession with 1st June – we even dropped a new magazine on that date to announce their return in 2018 – and it seems that this year will also bring some surprises.
On his Twitter account on 15th May, manager Oborne shared a tweet from a fan account counting down to the date, hinting that we will indeed be given something new to devour in just a few days' time.
Check back here for any further updates on new music from The 1975, and if we run out of clues we'll just dial up Denise and get back to you.

Get your copy of the latest issue