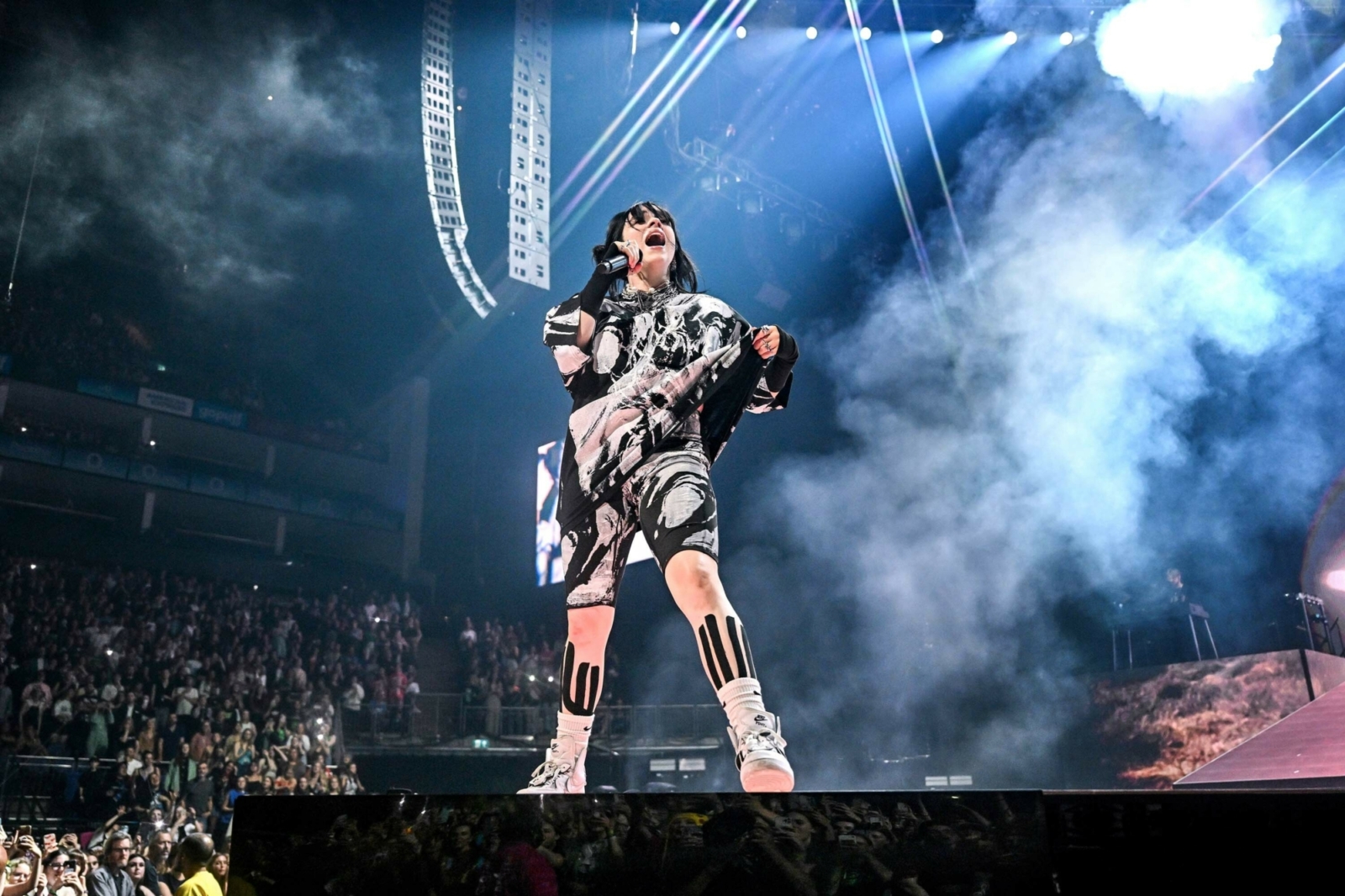 Photo: Samir Hussein
Live Review
Billie Eilish, The O2, London
10th June 2022
Her history-making Glastonbury headline set will surely be a walk in the park.
The last time Billie Eilish headlined in London, back in March 2019 at the 2,000-capacity Shepherd's Bush Empire, she hadn't even released her debut album. Three years later and with two flawless full-lengths in the world, the pop icon is greeted by a crowd ten times the size on the first evening of her delayed six-night run at the O2 Arena. The audience - many of whom have camped outside the venue - mostly consists of teenage stans who sport fluorescent green beanies and cargo pants as per their idol's signature fashion (and their parents).

Inside, the energy is electric. The instant the lights dim, thousands of phones rise into the air. When the 20-year-old sensation bounces up from beneath the stage, the screams are deafening. Opening with a pounding rendition of 'bury a friend', then bounding down the runway for 'I Didn't Change My Number', Billie commands the room effortlessly in all situations.

Depending on the vibe at any moment, she's equal parts choirmaster (with a heavenly ensemble of fans singing alongside her during 'idontwannabeyouanymore'), ringleader (getting everyone to kneel down and jump together for 'Oxytocin'), climate change advocate ("We've gotta do a better job of protecting this planet - and our people"), wellbeing coach ("Hug whoever you came with and hold each other's hand") and mental health advocate ("We're only having good thoughts tonight").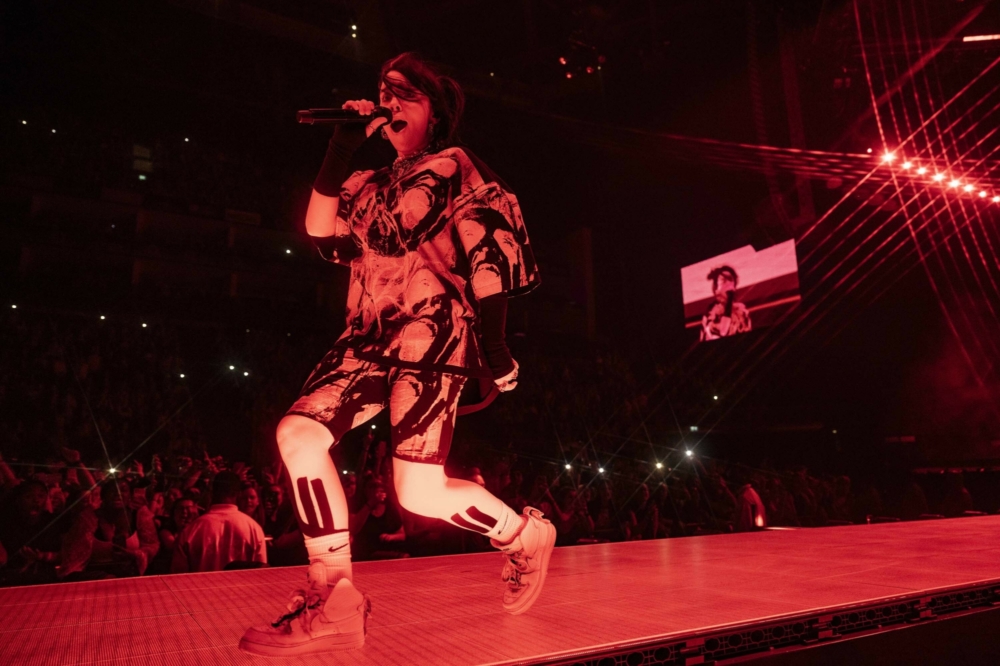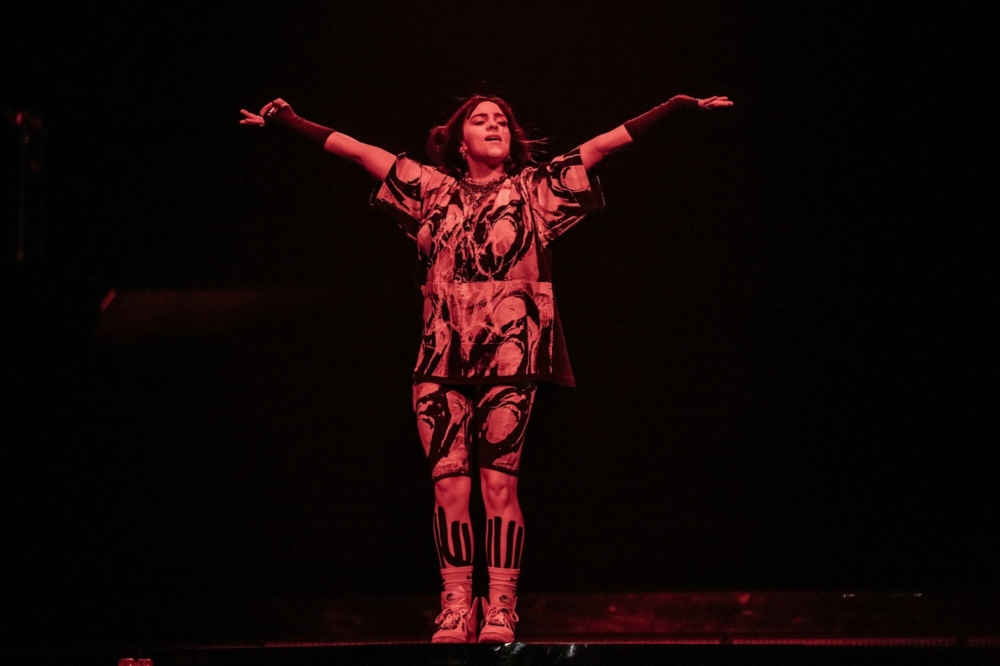 The visuals on screen - ranging from nightmarish ghouls to massive digital spiders - are equally as captivating as the singer herself. The sloped staging is effective, too, with her band (multi-instrumentalist brother Finneas and drummer Andrew Marshall) remaining on top while Billie cuts a menacing perched stance.
Although 'you should see me in a crown''s drop practically erupts, the set's quieter moments are just as powerful - like the slow dance of 'Billie Bossa Nova' and swaying 'I Don't Wanna Be You'. Most cutting, though, are her seated acoustic renditions of 'Your Power' and unreleased song 'TV', the latter performed for only the third time.
Contrastingly, there are big arena moments - like the confetti explosion after 'bad guy. But most impressive is when Billie soars over the crowd in a crane; after reappearing at the back of the room, the entire crowd flocks to her as if she's Jesus and they are her disciples. Lowered down to almost within touching distance for 'bellyache' and 'ocean eyes', it recreates the intimacy of those breakthrough tracks.
After heading back to the stage, Billie coughs during 'Getting Older'; a small imperfection that only makes her feel even more human and relatable - especially as old family footage depicts her happy childhood.
Closing with the stormy 'Happier Than Ever', which ends with an apocalyptic rock outro befitting of the thundery visuals, it's clear Billie is a once-in-a-generation rock star who really can do it all. Many have tried to imitate her style and sonic in the years since her breakthrough, but this singular talent is still in a world of her own. Billie's upcoming history-making Glastonbury headline set will surely be a walk in the park.

Get your copy of the latest issue