Live Review
Sam Fender, Finsbury Park, London
15th July 2022
If this is the outpouring of respect and adoration he can evoke still so early in his career, what comes next is going to be something truly special to witness.
Take a glance around Finsbury Park this scorching Friday afternoon and there's probably more black-and-white paraphernalia than North London has ever seen before; from decorated perimeter fences to flags waving in the sunshine across site, if anyone's in doubt as to which colours tonight's headliner has pinned to the mast, we're not entirely sure how. But it's a backdrop that sets up the night ahead perfectly; spirits are high and nothing's too precocious, despite the admittedly momentous occasion for Sam Fender.
Despite taking to the stage fairly early in the day, the crowd is already pretty packed out by the time Nilüfer Yanya appears to offer up cuts from latest record 'Painless' before a be-glittered Declan McKenna emerges for his own main stage set. Channelling the same giddy energy that he displayed at Glastonbury just a few weeks ago, things are delightfully chaotic for the 'Zeros' singer, who spends good chunks of his stage time rolling around the stage, and diving down towards the barriers. Luckily, he's not dependent on gimmicks; the glitzy rock'n'roll of 'You Better Believe!!!' and 'The Key To Life On Earth' sparkle alongside older tracks 'Brazil' and 'British Bombs'.
Though Finsbury Park's famed sound issues are rife during Fontaines DC's set - there's something particularly frustrating about seeing singer Grian Chatten pacing the stage in what looks like an antagonistic battle cry but sounds more like a polite whisper - you can still see that the love for the Dubliners is tangible. Now able to cherry pick from three albums, they're smart enough to steer a path through their rowdier wares, the twitching 'Televised Mind' and early clarion call of 'Too Real' instigating some early smoke flares from a crowd whose enthusiasm would barely be dampened if the band were performing solely in subtitles.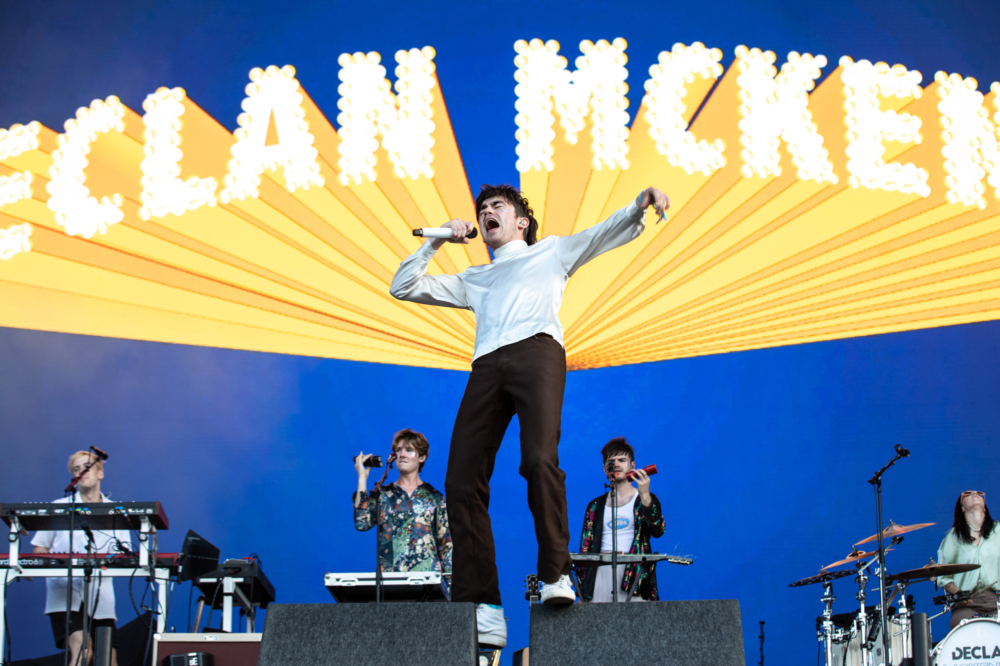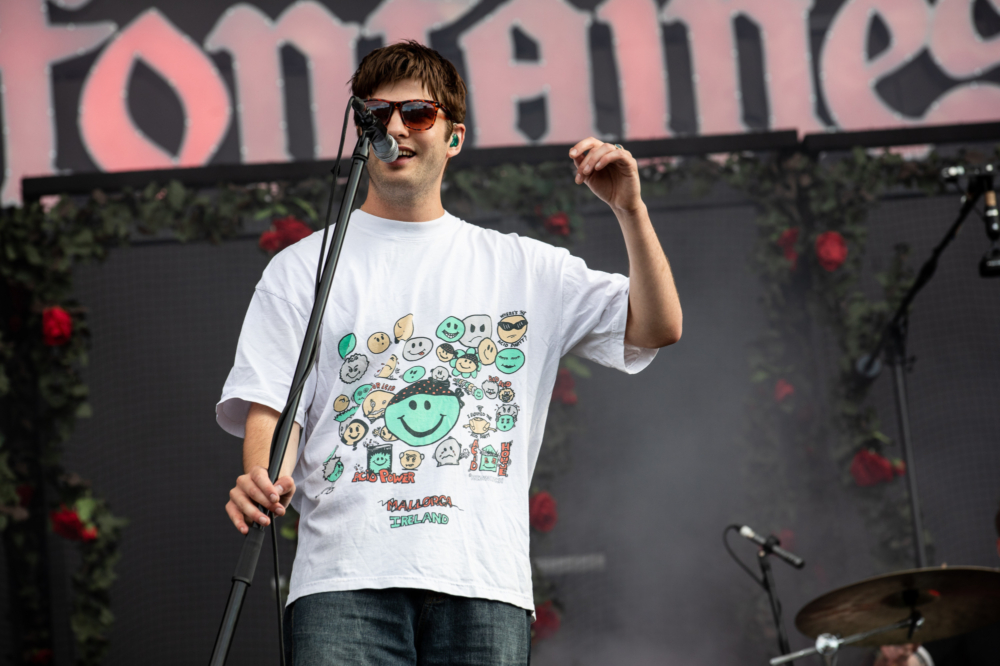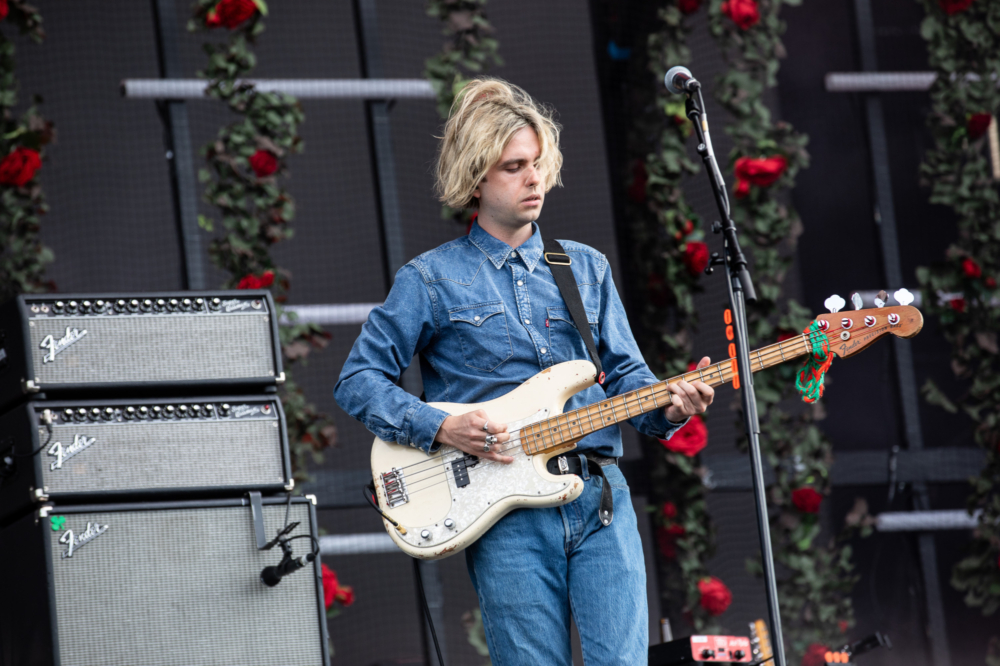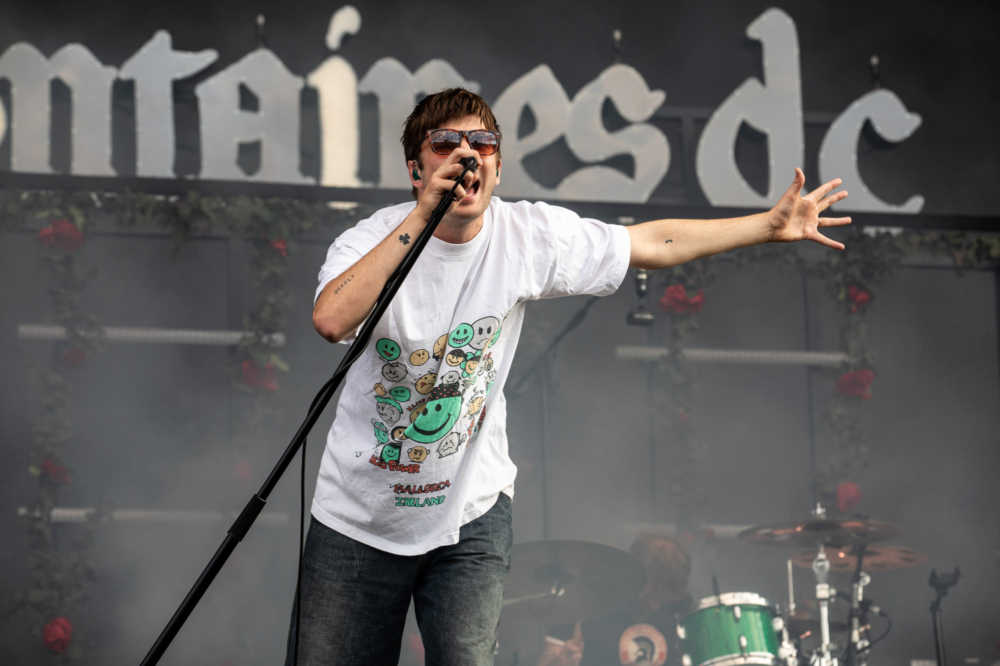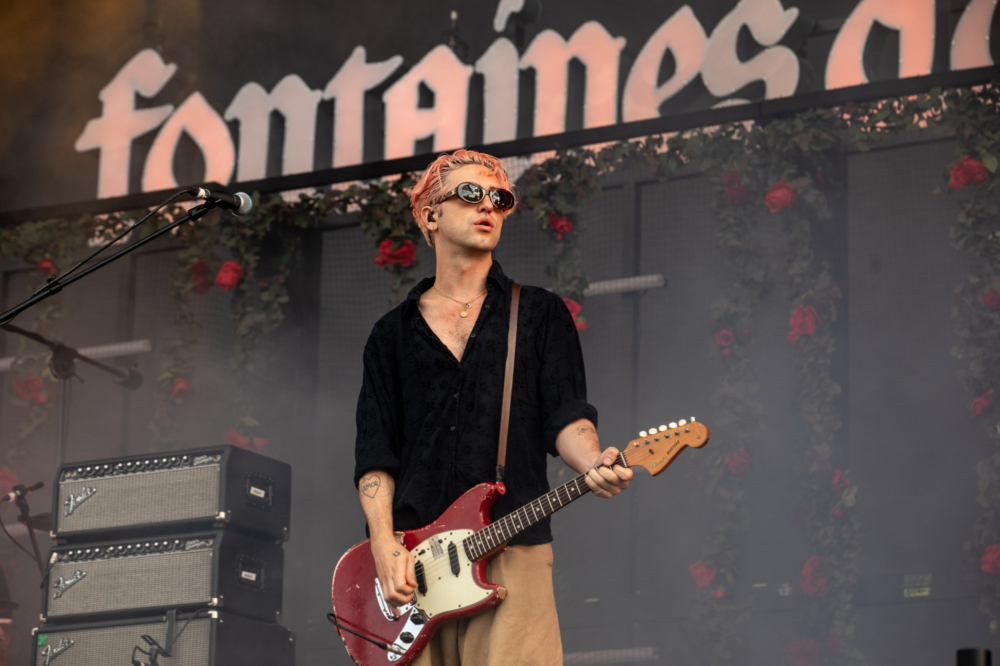 And then it's time for the main event: as huge flags rise up from within the crowd, there's a roar of anticipation that rips through the crowd as Sam Fender and his band step out on stage. To think that the singer still only has two albums to his name seems incomprehensible in the moment - even more so that he only headlined Wembley Arena back in March - as a packed out Finsbury Park (and all 45,000 of its punters) burst into song for the rousing introductory combo of 'Will We Talk?' and 'Getting Started'.
Having already played a handful of massive shows in the run up (second-to-headline on Glastonbury's Pyramid; a support slot for the Rolling Stones at Hyde Park; opening for The Killers at not one but two sold-out Emirates Stadiums), it's not as though these stages are unknown territory for Sam, but tonight - getting to play his own headline show - you get the feeling that this is history in the making. 'Hypersonic Missiles' cut 'Dead Boys' simmers with powerful emotion, while 'Spit Of You' and 'Get You Down' come packed with a mix of pathos and catharsis; a balance Sam is no stranger at mastering.
But there's levity too; the gnarly punked-up 'Howdon Aldi Death Queue' sees flames shooting out from the stage, while the swaggering 'Saturday' rallies the entire crowd in a staggering singalong. "Ya kna, this is a fucking honour, it's the best job in the world," he offers up before the heart-tugging 'Seventeen Going Under', and you know he means it. If this is the outpouring of respect and adoration he can evoke still so early in his career, what comes next is going to be something truly special to witness.