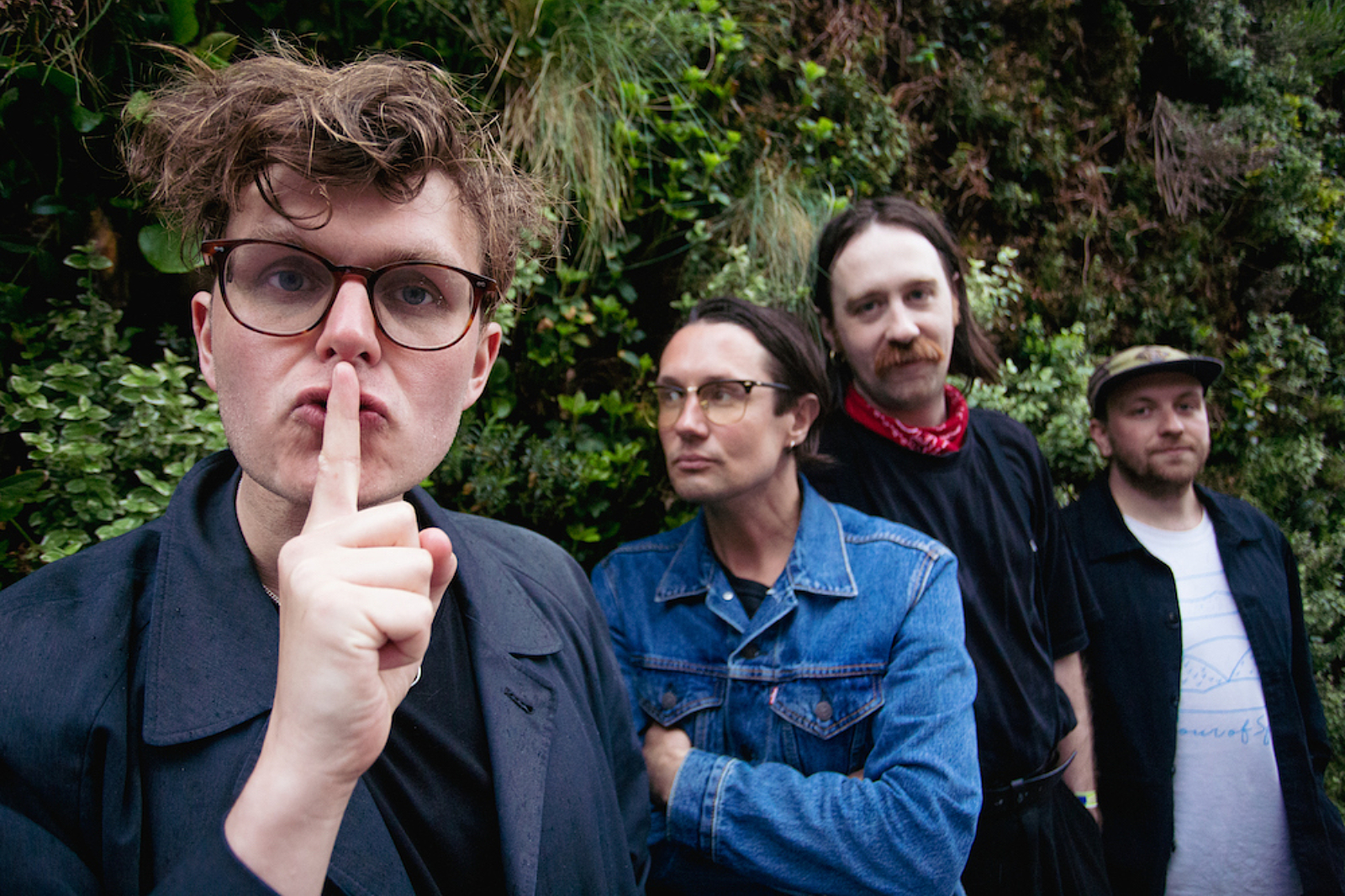 Photo: Jamie MacMillan
Interview
"We've stuck to our guns and been the idiots we are": Yard Act reflect on 'The Overload'
Shortlisted for the 2022 Mercury Prize with FREE NOW, we sit down with half of the Leeds' quartet to unpick its impact so far.
It seems perversely appropriate for a band fuelled by wickedly funny character studies and a keen knack for tapping into life's beautiful oddities that 'The Overload' - an album made on the hoof, during a pandemic, without having even played a gig together before - should be the record to turn the fortunes of the Yorkshire indie scene stalwarts that birthed it.
On one hand, Yard Act as an entity were fresh out of the box (narrowly missing out on a Number One when it was released back in January, their debut arrived barely two years after they formed). On the other, chief songwriters James Smith and Ryan Needham were seasoned pros, having spent the past decade playing the circuit and putting in the hours in other projects. Somewhere between those two ideas, then, came an album that was indebted both to experience and impulsiveness - the simultaneous product of years of graft and almost entirely winging it…
In the midst of their epic run of festival performances, we spoke to James and Ryan about their 2022 Mercury Prize with FREE NOW-shortlisted debut.
So it's been seven months since 'The Overload' came out…
Ryan Needham: It feels like it's been about four years…
James Smith: I think I've aged four years…
How have your lives changed in the time since?
Ryan: We've been so busy, we've not had time to dwell on it. I guess we've been using working hard as a bit of a distraction technique, but now we've started thinking about the last year and yeah, our lives have dramatically changed.
James: In January I couldn't really explain that this was my job, and I still felt a bit embarrassed trying to explain that in March, April when we were in the States. It's probably taken six months to accept that I work as a performer and a writer as a living and that it's fine and f**king hard work! We're very tired! But it's what we've wanted since we were teenagers.
How have you found the record's British humour and reference points have translated overseas?
James: In places like America you have the same language even though the culture's different, but even [in non-English-speaking countries], I'll be rambling between songs and everyone gets the intent and the ebb and flow of the conversation. It makes you remember that language is more than words and you can communicate through performance. People have got behind that whether they understand the nuance and the specific-ness or not. I'm glad we haven't compromised on any of that [humour] or watered it down. We've stuck to our guns and been the idiots we are - I think of us as not very cool, but people seem to think we're cool now… Little do they know…
Are there recurring things from the record that you find people say they've connected to?
James: The main one's been '100% Endurance': there's been some overwhelmingly quite moving stuff about that. I've had multiple people tell me that they're battling cancer and it helps them. It's funny watching it since January because the longer it's been out, since we released it as a single and did the Elton version, we've watched that song get more and more of a reaction than any of the others. '100% Endurance' is slowly overtaking even the big party mosh pit songs we've got now. I love the album, I'm proud of the album; I think it's fun and we worked hard on it and I agree with the things I've said. But I think '100% Endurance' is one of the songs you don't get to write very often.
"I think more people are learning that [artists] don't have to be these untouchable figures [on stage]."
— James Smith
And of course, Elton John hopped onto the recent new version of the track - which we like to think DIY helped will into existence when you spoke about dreaming of the collab in our Class of 2022 cover feature…
James: We willed it into the universe. It all began when we started playing 'Benny & the Jets' in the van every night when we'd leave the venue, that was the start of us conjuring Elton.
Ryan: That was the beacon that we sent into the night sky.
James: I can't thank him enough for being a part of it and supporting it. I think his version's really important because, between his contribution and the strings and the new production we did on it, it maybe hints at where we might go next.
Ryan: Who can we manifest in this interview? Maybe Damon Albarn, Gorillaz?
James: Damon Albarn or all of the Mercury shortlist at once, Live Aid-style.
What was he like to work with?
James: He was really easy going, dead laid-back.
Ryan: There was maybe 10 minutes of terror, of being like, 'That's Elton John and he's in front of me'. And then it's a cliché but he's dead down to earth - he just got behind the piano and played for four hours.
James: Since lockdown he's started collaborating with more people again and I think he's got a lust [for it]. He said he was learning from us which was… weird. He was taking on our approach and saying he'd never have done it that way which was why he liked sitting in on other people's sessions, because he's still learning. To be saying that still at 75 is testament to him as a writer and an artist. He just loves music - he put Nova Twins on absolutely blasting through the speakers and was headbanging which was pretty cool.
It feels like people have really been connecting, post-lockdown, to bands and albums that have a sense of humour to them. Do you feel like the timing of the release buoyed it in some way there?
James: It feels like there's a new wave - especially live - in terms of the interaction between the crowd and people on stage where there's a levelling. I think more people are learning that they don't have to be these untouchable figures [on stage] that they're not. Some people might say that's boring and they want the Sun Ra/ David Bowie/ Prince effect where you can't get close to the artist, but there's no pretence [to a lot of artists at the moment]; there's pretence to the music, because that's the art, but the in between bits… You can be multiple things in one performance and I think people like to deliver something that feels untouchable and then break that and become extremely human and personable with a crowd because it's that push and pull that makes life fun.
What do you feel proudest of now being able to reflect back on the record?
James: The fact it even happened at all! I think the album is a sketch and maybe how ramshackle it is is why people have been drawn to it. Yard Act weren't fully formed; Jay Russell [drums] wasn't even in the band when we wrote it; Sam [Shjipstone, guitar] recorded everything remotely, and we managed to create a debut indie-rock/post-punk record without ever having played in a room together. It was all just ideas that me and Ryan were throwing at each other. Now with the way the songs have evolved beyond the record - Yard Act is the four of us, and how we play it live [has changed] - it feels like everything's happened the way it should have. I'm just grateful that I made the album with Ryan and that we managed to piece it all together and keep the wheels on.
Brought to you as part of our media partnership with FREE NOW, the mobility super app!
Move to the music with FREE NOW and get 50% off your first 2 rides with code FNXDIY22

Get your copy of the latest issue