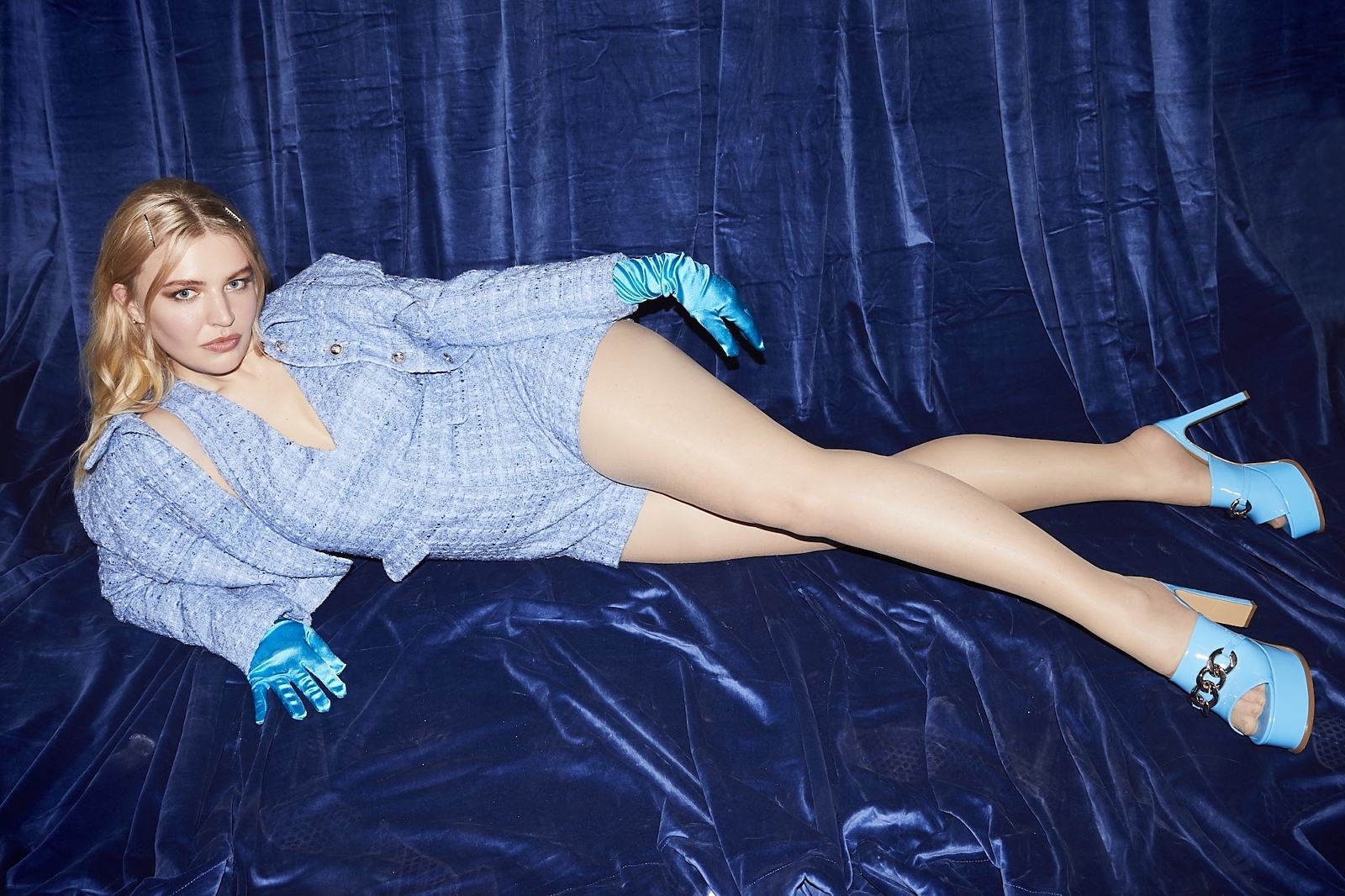 Photo: Olivia Richardson
Interview
"The stuff I'm banging on about on this record has opened up this gateway" - Self Esteem reflects on 'Prioritise Pleasure'
Ahead of the 2022 Mercury Prize with FREE NOW we caught up with Rebecca Lucy Taylor for a natter about her second record.
It's been one hell of a year for Self Esteem. Formerly one half of Sheffield indie-pop duo Slow Club, Rebecca Lucy Taylor had been quietly sketching out the blueprints for her brilliantly bold solo product for years before eventually taking the leap as a solo artist, and few records this last year have rivalled the seismic impact of her second album 'Prioritise Pleasure'.
From the close-to-the-bone mantras written across 'I Do This All The Time's slinking bassline (see: "Getting married isn't the biggest day of your life/All the days that you get to have are big") to the euphoric cry of self-acceptance that bursts out the heart of the title-track's glitching chorus, it's an album that takes the kind of vapid statement you could easily find plastered across an overpriced sheet mask in the name of self-care capitalism for a title, before cutting through to the messier core of what putting yourself first – flaws and all – actually looks like in practice.

When Rebecca Lucy Taylor first learned she'd been shortlisted for this year's Mercury Prize, she roared with joy: "I am so glad i don't have to think of a cute self aware way to hide my disappointment this time," she wrote on the 'gram. Ahead of the 2022 Mercury Prize with FREE NOW we caught up with RLT for a natter.

How did you celebrate being shortlisted for the 2022 Mercury Prize with FREE NOW?
It was so early in the morning, and we were travelling to some festival on the bus – and we had about three bottles of prosecco. Whey! It was about 11am by the time we ran out of bottles, and we were really feeling pretty wavy. It was a bit like bottomless brunch, but right before having to go back to work. I basically celebrated in the same way I'll celebrate on the night, which is too much fizzy alcohol.

And say you win it… time to get you a blue plaque in the Meadowhall?
Do you know what? They want to display my Glastonbury outfit! Honestly, I f**king cackled. Those hallowed halls were very profound for me as a kid.

What was it like wearing that outfit – which features a Madonna-style bra modelled on the Sheffield shopping centre – on stage?
Ollie, who made it, was like 'the sweat will go somewhere'. During the show, I thought I'd wet myself! I got off stage, people were popping champagne, and I was like 'I'm covered in piss'. About 40 minutes later I realised I just had a very stinky, sweaty bottom.

Does it feel affirming to have achieved this level of critical acclaim sixteen years into your career, completely on your own terms?
It's f**king great, but also I'm like, what's the backlash? I have this fantasy of being an underdog, like: 'I'll show you how often that actually happens'. And it has happened! It keeps overwhelming me and I keep worrying, but then I just have to do the same old shit where you go: stay in the moment, be in the present, be grateful for what's happened and just carry on. In a way, I've got backdated anger for how little I was listened to and how little I got to even have a quality of life, until now, within this industry. The shit I put up with and laughed off! It is affirming, and it is amazing, but it has brought up this mad grief.

"You can't expect women to make records that people think are good until… well, without a lot of f**king help, and until they've lived and learned and grown."
Your journey feels - unfortunately - quite unique in an industry which can sometimes feel very fixated on newness. Is that difficult to grapple with sometimes?
I haven't even touched the sides yet in even formulating my thoughts on how much airtime my age has got over the last 10 months [since 'Prioritise Pleasure' was released]. You can't expect women to make records that people think are good until… well, without a lot of f**king help, and until they've lived and learned and grown. I can only just make music with the autonomy and power that I now have because it has taken 16 years to learn how to quieten down, not only the industry and the general sexism and constant misogyny, but that background noise, and all those constant worries about female safety. The kids thing, the marriage thing, the stuff I'm banging on about on the record has opened up this gateway. Seeing that penny coming down, I'm like, am I a nightmare? Or am I just reacting completely reasonably to society?

When you're touring you must meet new fans all the time – is there a particular moment on 'Prioritise Please' that an overwhelming number of people seem to be resonating with?
"Don't be embarrassed that all you've had is fun" [from 'I Do This All The Time] has caught a lot of people, and sort of reassured them. It still really reassures me. I wonder if anyone feels the same about 'Hobbies 2'? On that song, I'm talking about this time in my life when I was busy and doing my shit, but I was always like: 'as long as I'm going around to some idiot's house to f**k them, I'm doing my life well'. I would factor in this completely soulless, useless relationship. I hope I'm through that phase. No one's ever told me that one resonates, so let me know if that's you!

Is there any particular response that means a lot to you?
My favourite one to get is from these older men. My MO [modus operandi] is to never be like, f**k you naughty boys, because ultimately we're all a product of a system that's worked for them. But I do love it when older men go: 'it's made me think a bit'.

Have you started to think about your next album yet?
A couple of songs are sort of going, and I've got a few more ideas, but I've noticed that if I've got an afternoon to myself, I don't go off and ingest other people's art like I used to – I just close my eyes and fry my brain with Love Island. I'm not really enjoying art at the moment, so I probably need to do that before I have any decent ideas. But there's time!

Though in some ways, Ekin-Su and Davide's relationship could be considered art…
Scholars insist! I mean, I screamed the house down when they won. I would do any favour for Ekin. Anything she needed, and more times than necessary.
Brought to you as part of our media partnership with FREE NOW, the mobility super app!
Move to the music with FREE NOW and get 50% off your first 2 rides with code FNXDIY22
Watch the 2022 Mercury Prize with FREE NOW 'Album of the Year' Awards Show live on BBC Four from 9pm on Thursday, 8 September 2022. There will be an exciting line-up of live performances from the shortlisted artists. Playing live are Fergus McCreadie, Gwenno, Jessie Buckley & Bernard Butler, Joy Crookes, Kojey Radical, Little Simz, Nova Twins, Sam Fender, Self Esteem, Wet Leg and Yard Act. Harry Styles will be represented by a filmed live performance. The programme will culminate in the announcement of the overall winner of the 2022 Mercury Prize with FREE Now for 'Album of the Year'.

Get your copy of the latest issue