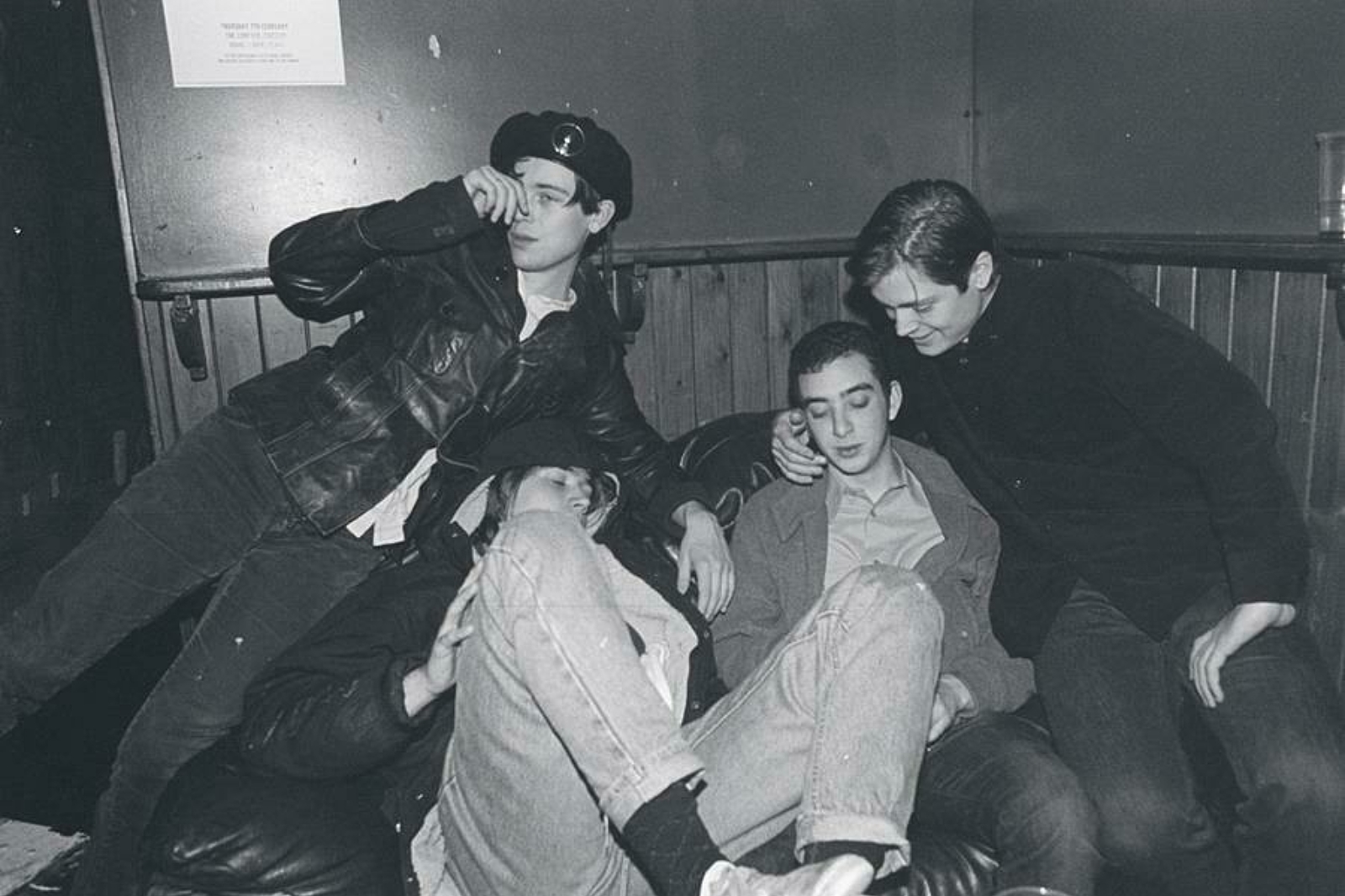 Photo: Kim Thue
Upbringing: Iceage
To celebrate the release of their new compilation album, drummer Dan Kjær Nielsen reflects on his musical journey.
With five studio albums out in the world, including their most recent release of 'Seek Shelter' last year, Iceage have shared a brand new compilation album made up of non-LP cuts.
Reflecting on the time between 2015 and 2021, 'Shake The Feeling: Outtakes & Rarities 2015-2021' finds the group revisiting B-sides, or "misfit children" as singer Elias Bender Rønnenfelt describes them.
In the spirit of reflection, Iceage drummer Dan Kjær Nielsen is the latest musician involved in our Upbringing series as he revisits his musical journey so far…
What was the first gig you ever went to?
I vaguely remember being taken to an amateur rap night at a local library or seeing my grandmother sing in a group but apart from that the first one that stands out might've been Bauhaus with goggles, pointy ponytails and all.
Were there a good supply of venues in your hometown?
As good as any larger city I guess, but for things sticking out of the ordinary they seemed to shift very often. There was an old squatted "Youth House" with punk and other freak stuff that was always extremely exciting, especially for an impressionable young kid.
What was the first song you developed an obsession for?
Probably one on my Michael Jackson VHS or something by Pet Shop Boys which my father played often. 'Hot Dog' by Limp Bizkit made me think I'd go straight to hell but I couldn't stop playing it, headphones clamped tight so nobody would hear.
What's the first song you ever bought with your own money, and why?
No idea but I was a big fan of Kiss before I'd heard their music. After action figures and comic books I finally got 'Dressed to Kill' thinking I was going to hear the wildest and darkest most evil descpicable music and was quite disappointed, almost lost my faith, till 'Rock and Roll All Night', the last track, came on and convinced me it was some real bad boy monster shit. The first one that sounded as cool as they looked, to my brain.
What's the story behind your first instrument?
I got a drum kit very, very late into playing, borrowing and breaking for years until I finally got a proper kit that the seller assured me was "filled with rock" and that I still play.
What's your worst musical habit?
Probably getting excited and letting that feeling control everything. I believe that's the right way to play but it can occasionally fuck things up.
What inspirations outside of music have an impact on your songwriting?
Everything really, I am very fascinated with all kinds of phenomena but I consider expression and emotion, in an array of shapes, at the core of it.
Tell us the best advice you've ever been given as a musician…
This surely cannot be the best advice but some years ago a friend put me onto tiger balm, dousing myself in it before playing, and I've done it ever since!
And if you could be in a band from the last two decades, which would you pick?
AKB48.
See Iceage live at the following dates:
SEPTEMBER
23 - Washington, DC @ Black Cat *
24 - Pittsburgh, PA @ Spirit Hall *
25 - Columbus, OH @ Skully's Music Diner *
26 - Detroit, MI @ El Club *
28 - Chicago, IL @ Empty Bottle *
29 - Minneapolis, MN @ Fine Line *
30 - Omaha, NE @ Slowdown *
OCTOBER
01 - Kansas City, MO @ Record Bar *
03 - Denver, CO @ Marquis Theatre *
04 - Boulder, CO @ Fox Theatre *
05 - Albuquerque, NM @ Launchpad *
06 - Tucson, AZ @ Club Congress *
07 - Mesa, AZ @ The Underground *
08 - Santa Ana, CA @ Constellation Room ^
09 - Los Angeles, CA @ The Regent Theater *
10 - Santa Cruz, CA @ The Catalyst Atrium *
11 - San Francisco, CA @ Great American Music Hall *
13 - Portland, OR @ Aladdin Theater *
14 - Tacoma, WA @ Alma Mater *
15 - Seattle, WA @ Substation *
DECEMBER
01 – Copenhagen, Amager Bio - Denmark
MARCH
24 – Bristol, Thekla - United Kingdom
25 – Brighton, Patterns - United Kingdom
26 – Nottingham, Bodega Social Club - United Kingdom
27 – Newcastle, The Cluny - United Kingdom
29 – Manchester, Yes - Pink Room - United Kingdom
30 – Leeds, Belgrave Music Hall - United Kingdom
31 – Birmingham, Hare & Hounds - United Kingdom
APRIL
01 – London, Oval Space - United Kingdom
* = co-headline dates with Earth
^ = with Object of Affection & Smirk

Get your copy of the latest issue