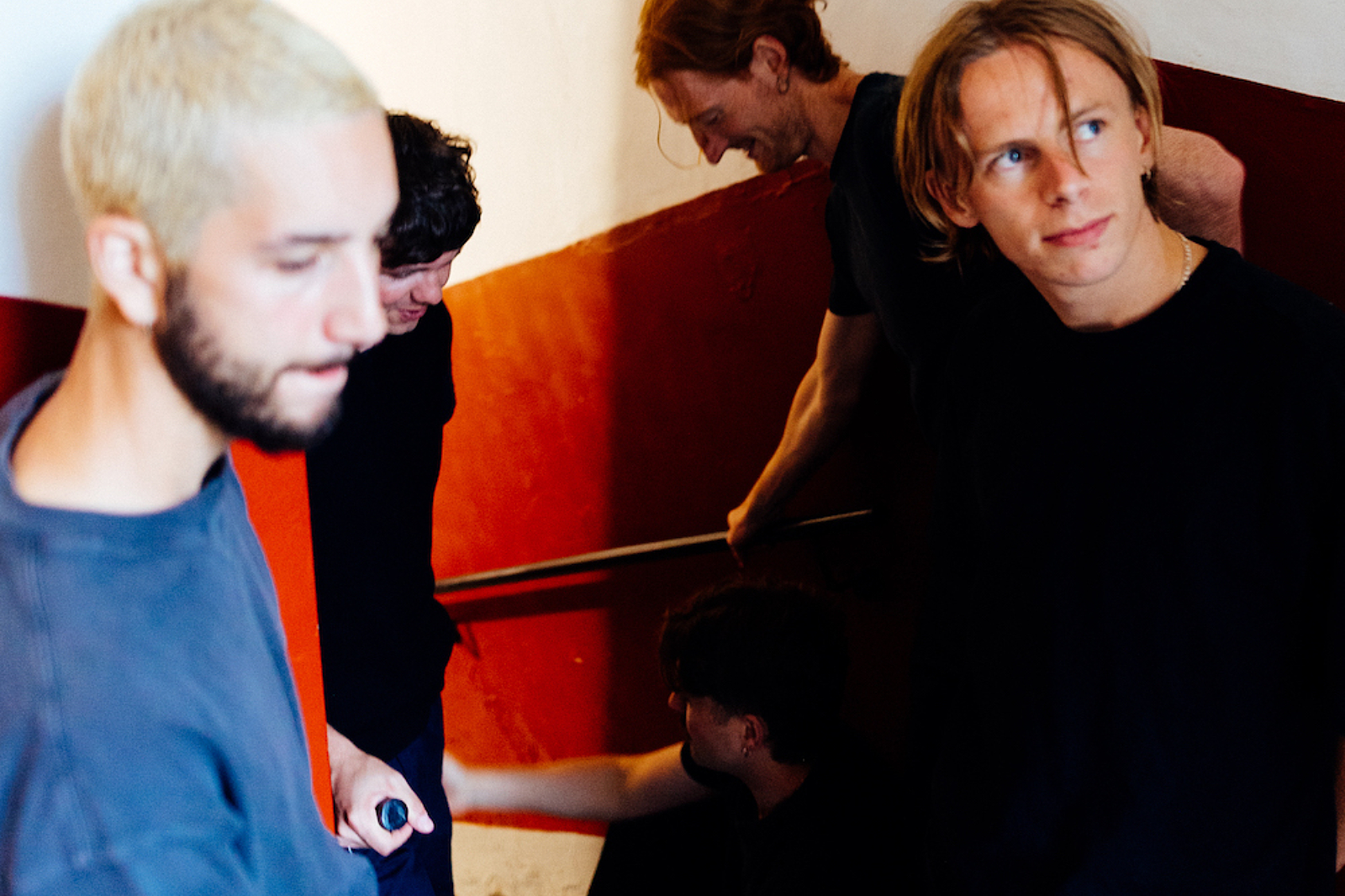 Photo: ROSIE SCO
Ahead of the release of their debut EP 'Pure Misery', we meet the Glasgow-based quartet.
Hello and welcome to DIY's introducing feature, Get To Know… getting you a little bit closer to the buzziest new acts that have been catching our eye as of late, and working out what makes them tick.
Recently we've met Irenegarry, Femes, Queralt Lahoz, best friend duo TOLEDO, rising multi-instrumentalist Tara Lily, and now we're introducing you to Glasgow-based newbies Humour.
Set to release their debut EP 'Pure Misery' on 25th November, and with a musical style that flows between post-punk and indie-pop, we catch up with frontman Andreas Christodoulidis to find out more about them.
Describe your music to us in the form of a Tinder bio.
Hardly ever on this 🤷
DM me on instagram @humour_music
post-hardcore approaching middle-age,
not looking for anything serious.
Swipe left if you're under 6 foot.
What's your earliest musical memory?
It was probably watching Jesus Christ Superstar repeatedly on video when I was around 7. Also asking my mum to buy me 'Better Dayz' by 2pac and the Limp Bizkit album on CD around the same time.
Who were some artists that inspired you when you were just starting out (and why)?
We listened to a lot of American bands doing something similar to what we wanted to do, like Protomartyr and Preoccupations. That was mainly for the spoken-style vocal which appealed to us, but which we kind of moved away from in favour of more screaming-style vocals. Bands like Title Fight, La Dispute and Turnstile were a source for that. Kurt Vile and Aldous Harding were definitely a source of inspiration for their playful and surreal vocals and lyrics. I think for what the instruments do, we're inspired by a more varied list of artists - basically everything we've ever listened to and enjoyed.
You're from Glasgow! What do you think of the music scene there at the moment?
We're actually intruders in Glasgow – 4 of us are from Edinburgh and 1 from Perth. We really like it, there are lots of small venues and lots of people keen to fill them up. I think an important thing about Glasgow is that it has a good mixture of venues. You can follow artists at every stage from the small, sweaty venues right up to the massive ones here, which is something you can't do in every city. I think that probably has an impact on musicians just starting out. Another good thing is that the city's not too big, you get to know a lot of the bands and artists that you like. It's a good place for us.
Are there any other artists breaking through at the same time that you take inspiration from?
We've played with some really good bands already. Folly Group and Do Nothing are two of our favourites. We listened to them a lot when we were just starting out, so playing with them was really exciting.
Who would be your dream collaborator?
This is tricky. I think we'd ruin a lot of other people's songs. Maybe we could create something quite hellish with Gilla Band? Some sort of back and forth between and Irish and Scottish vocals. Freak people out a bit.
Musically or otherwise, what are you most looking forward to this year?
I think we're most looking forward to the release of our EP with So Young Records, which is called 'Pure Misery' and will be out in full in November. We've been working on these songs for a while, and it'll be great to finally have them out in the world. We've also got some dates in Europe scheduled which will be a first for us.
If people could take away one thing from your music, what would it be?
It would be great if people can take some meaning from the lyrics and form an idea of what the songs are about. The accompanying sketches I've done for our first two singles are supposed to sort of help with this (on the artwork and in the lyric videos), but there's a lot of different ways they could be interpreted. We'd be happy if they left you feeling quite unsettled, however you interpret them.

Get your copy of the latest issue