Watch
Sorry share new single 'Closer'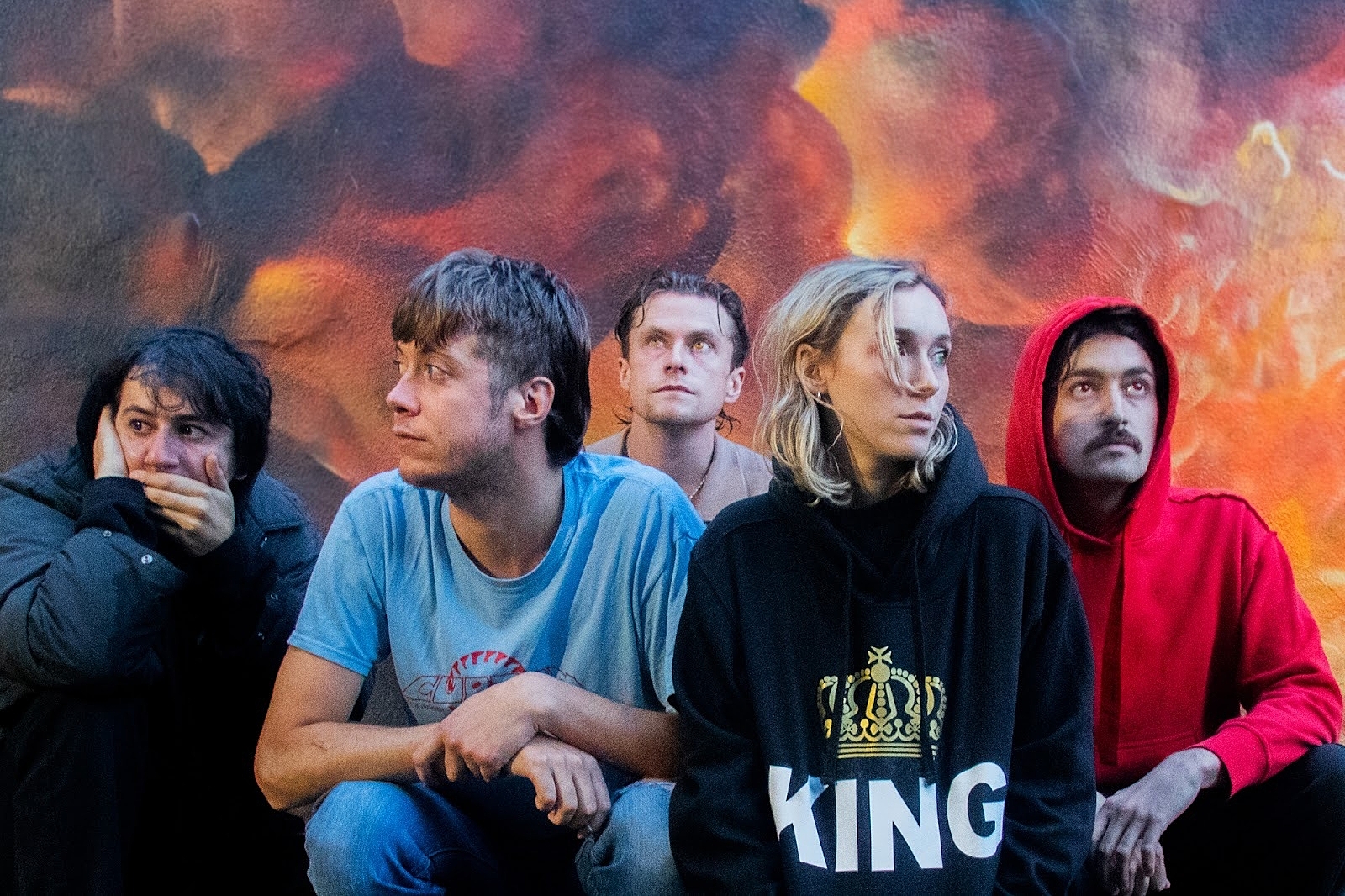 Photo: Felix Bayley-Higgins
Lifted from their upcoming second album, 'Anywhere But Here'.
Ahead of the release of their second album 'Anywhere But Here' this Friday, 7th October, on Domino, Sorry are sharing their latest single 'Closer'.
"The lyrics in Closer came quickly in one gulp, it felt as if I was talking through quite a few people that had hurt me and me hurting people too," the band say. "It's about the person that we are made into sometimes by experiences or desire, and the shame that comes with that. It also is about addiction and the circular spiral of its pattern, rotating and returning.  We wanted it to sound like a  song  from a NYC band in the noughties and the sound developed from there."
Have a listen below.
'Anywhere But Here' Tracklisting:
1. Let The Lights On
2. Tell Me
3. Key To The City
4. Willow Tree
5. There's So Many People That Want To Be Loved
6. I Miss The Fool
7. Step
8. Closer
9. Baltimore
10. Hem of the Fray
11. Quit While You're Ahead
12. Screaming In The Rain
13. Again
See Sorry live at the following dates:
OCTOBER
06 | Banquet, Kingston
07 | Resident, Brighton
08 | Pie & Vinyl, Southsea (matinée)
08 | Rough Trade, Bristol
09 | Truck, Oxford (matinée)
09 | Relevant, Cambridge
10 | Rough Trade East, London
13 | Urban Spree, Berlin
14 | EKKO, Amsterdam
15 | Pop Up, Paris
25 | Chalk, Brighton
26 | Metronome, Nottingham
27 | Brudenell Social Club, Leeds
28 | Stereo, Glasgow
29 | Academy 2, Dublin
31 | Fleece, Bristol
NOVEMBER
01 | White Hotel, Manchester
02 | Electric Brixton, London
08 | Johnny Brenda's, Philadelphia, PA
09 | Elsewhere Zone 1, Brooklyn, NY
11 | DC9, Washington, DC
12 | Local 506, Durham, NC
14 | Aisle 5, Atlanta, GA
18 | Mahall's, Cleveland, OH
19 | Ace Of Cups, Columbus, OH
20 | The Garrison, Toronto, ON
22 | Empty Bottle, Chicago, IL
23 | 7th Street Entry, Minneapolis, MN
27 | Wise Hall, Vancouver, BC
28 | Barboza, Seattle, WA
29 | Doug Fir, Portland, OR
DECEMBER
01 | Rickshaw Stop, San Francisco, CA
02 | Zebulon, Los Angeles, CA
FEBRUARY
07 | Le Grand Mix, Tourcoing
08 | Stereolux, Nantes
10 | Petit Bain, Paris
11 | AB Club, Brussels
13 | Bumann & Sohn, Cologne
14 | Paradiso Tolhuistuin, Amsterdam
15 | Molotow Skybar, Hamburg
16 | Musikforeningen Loppen, Copenhagen
18 | Kantine am Berghain, Berlin
19 | Cafe V Lese, Prague
21 | Bogen F, Zurich
22 | Belezza, Milan
23 | Covo Club, Bologna
25 | Le Sonic, Lyon
28 | Sidecar, Barcelona
MARCH
01 | Wurlitzer Ballroom, Madrid
02 | ZDB, Lisbon