Where The Heart Is: Big Joanie
Exploring ideas of connection and roots via their most sonically progressive work yet, Big Joanie are twisting punk to their own mould.
The notion of home, in all its myriad forms, is one that's been at the forefront of Big Joanie's minds in recent years. From a more practical standpoint, having built the foundations of their career in London, now two-thirds of the trio - guitarist and vocalist Stephanie Phillips, and drummer Chardine Taylor-Stone - have uprooted to life outside of the M25. "You just feel so displaced as a millennial, especially in big cities like London, not having somewhere you'll be able to lay down roots and feel connected to, not only [in terms of] having a roof over your head, but with the local area and having a community," says Stephanie. "It can throw you off and really destabilise you. You just keep getting priced out and have to move further and further out. I was in Catford when I was last in London – moving any further out, you might as well just move out of London."
"London is an amazing city – you can meet great people, there's great opportunities, but I think there comes a point where, unless you're on a banker's salary or you've got some inherited wealth from family, you're forever going to be living as if you were 25, which is what it was starting to feel like," agrees Chardine. However, while the band (completed by bassist Estella Adeyeri) were thinking about where they wanted home to be, they were also contemplating what that concept truly meant.
Big Joanie's second album, 'Back Home', witnesses them thinking out loud about it all, often with a profound sense of longing. The delightfully warm indie-punk of 'In My Arms', for example, is addressed to the feeling of home as if it were a love interest, while the introspective groove of 'Insecure' is laced with a sense of angsty envy for the sense of home and stability others have found. Elsewhere, 'I Will' takes a sharper approach, glistening with the spirit of resistance against what Stephanie describes as "the callousness of landlordism".
The idea of home, however, gains another dimension when you're part of a diasporic community, as all three members of Big Joanie are, and this viewpoint is crucial to the message that their choice of title is designed to reflect. "As we're all children of migrants, the idea of going back home means so many different things," explains Stephanie. "We were all born in Britain and so technically Britain is our home, so the idea of going back home could mean going back to your home town. But also, when our parents and grandparents talk about 'back home', it's another country, somewhere in the Caribbean, somewhere in Africa.
"That home they talk about isn't necessarily a home to us because often we've not been [there] or haven't been for years. I don't know the language, don't know the culture. It's about trying to find a home in a world where your home has been taken away from you or changed, or you've been torn away from it to the point where you can't connect with it."
"As we're all children of migrants, the idea of going back home means so many different things."
— Stephanie Phillips
The trio began piecing together 'Back Home' in 2019 with a week-long residency at Sage in Gateshead during which around half the album came together. The second half would take another two years to finish due to a lengthy, pandemic-enforced break, however a couple of songs were written in the interim including darkly folksy opener 'Cactus Tree' and the more experimental, Omnichord-led 'Count To Ten', which afforded Stephanie a creative break from working on her book, Why Solange Matters.
Big Joanie's career had a slow-burning start; despite forming in 2013, their breakthrough only came in the form of debut album 'Sistahs' in 2018. But since then, the trio have built a distinctive and acclaimed voice, winning support from riot grrl legends such as Bikini Kill and Sleater-Kinney as well as modern punk heroes IDLES. Now emboldened to think bigger, the band set about making their second album even more ambitious, building on the sounds of their debut while also bringing in radically new elements to the mix.
"We wanted to be able to use more than just our own individual instruments. We could go into the studio and actually use the studio and become more than just our individual parts," says Stephanie. It allowed 'Back Home' to blossom into the most eclectic punk record that's emerged from the UK in years, full of sonic plot twists with splashes of synths, drum machines and the aforementioned Omnichord.
The end result is no less punk, mind - even if these aren't the usual sorts of sounds that might crop up in a record associated with the genre. Indeed, punk wasn't always about the three-chord, rough-and-ready DIY template we might think of it as today. "When you think about the early punk scene, it wasn't so musically monocultural at all," asserts Chardine. "You'd have The Clash and the Pistols and what have you, but then you'd have more experimental [bands], people playing with experimental sounds. It wasn't just about three chords, jumping up and down and cursing about something. It's about an approach and an attitude and what we say onstage and offstage, and what we do in our own lives as well. Someone can sound like the most punk-by-numbers band, but then I wouldn't call them a punk band if they're talking absolute bullshit."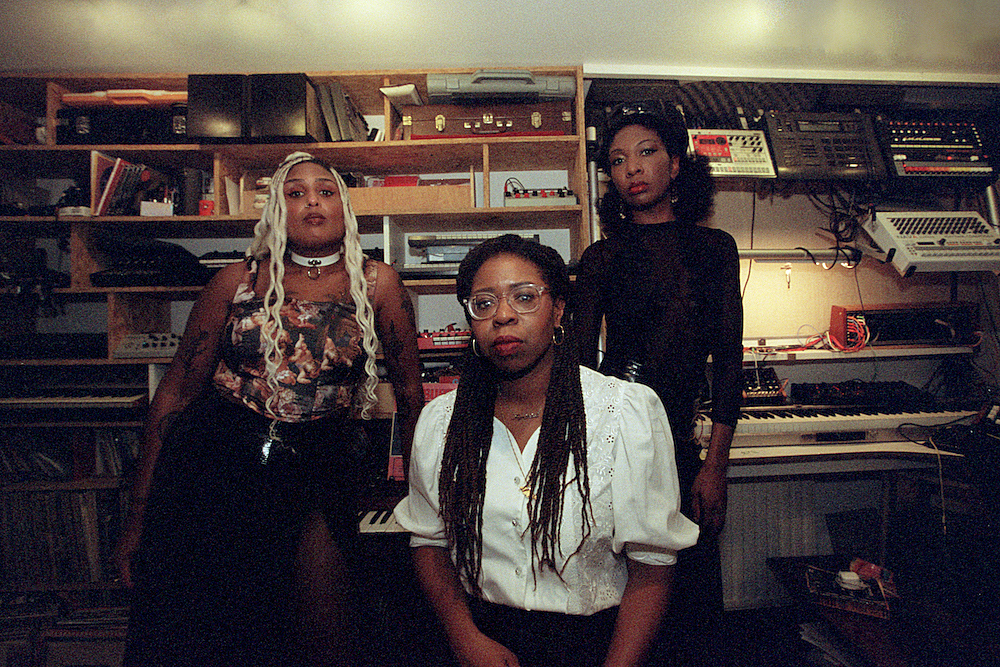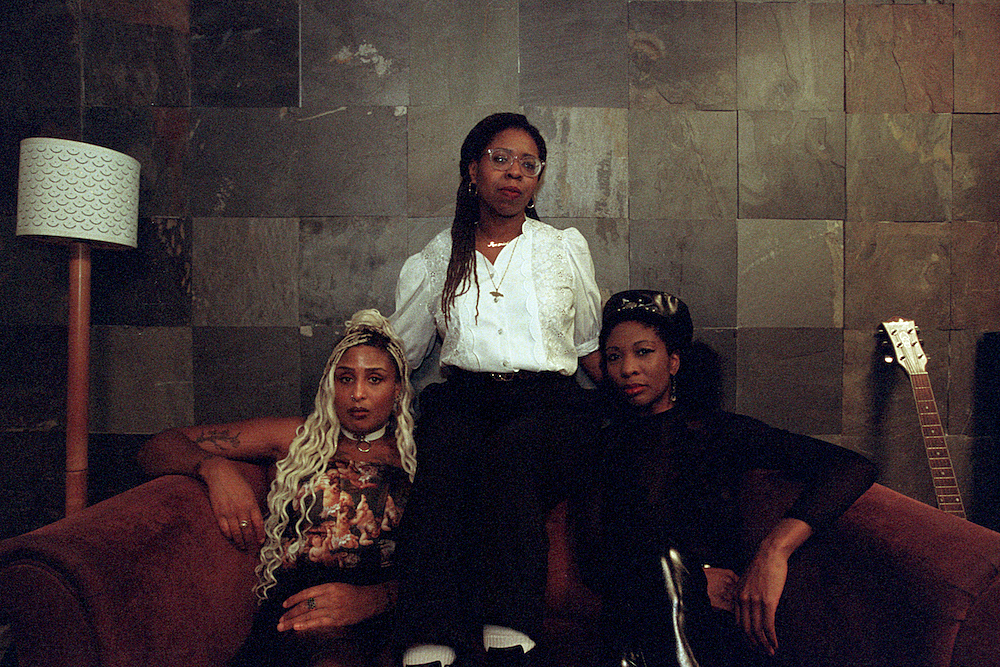 "Someone can sound like the most punk-by-numbers band, but I wouldn't call them punk if they're talking absolute bullshit."
— Chardine Taylor-Stone
Naturally, Big Joanie lead by example. Stephanie has written extensively on topics such as race and gender in punk, alongside other genres such as indie and jazz, while Chardine was the vice chair of the Musician's Union Equality, Diversity and Inclusion Committee and is currently working on a book about Black feminism. Meanwhile, Estella is part of the collective that organises Decolonise Fest, alongside Stephanie, and also works on programmes like Girls Rock London and First Timers Fest, where Big Joanie made their original live debut.
"It seemed a no-brainer to be part of those communities, where you're paying it forward in a sense and enabling other people to have access to those opportunities," Estella says. It's particularly vital in a time where the arts are considered unimportant, and careers in the creative industries are treated by the government as a glorified hobby. "It wasn't even necessarily a conscious decision [to be a part of it]," she continues. "Somebody has to do it, otherwise how are the next young people going to know how to start bands or where to try a new instrument?"
Plenty of artists are happy to talk. When it comes to tackling the scene's problems, it's a natural first step. Few of them, however, go quite as far as Big Joanie in taking action against the injustices they speak of. And when there's no action to back it up, it's easy for well-meaning words to feel hollow.
"There's a lot of stuff going on at the moment with men in bands talking about mental health and feminism, which is really good," says Chardine, "but I'm also just a bit like, you could have just listened to women in the first place. Why does another bloke need to tell you to treat women well, or to give women space, for you to start thinking about it? Then when you start pressing [for change], it's like, 'You're saying this, but are you actually putting it into practice?' A lot of them aren't."
Big Joanie, however, aren't just talking the talk. They're a band who embody this ethos of progressive change in everything they do and they're here to carry punk forwards.

'Back Home' is out now via Daydream Library Series.