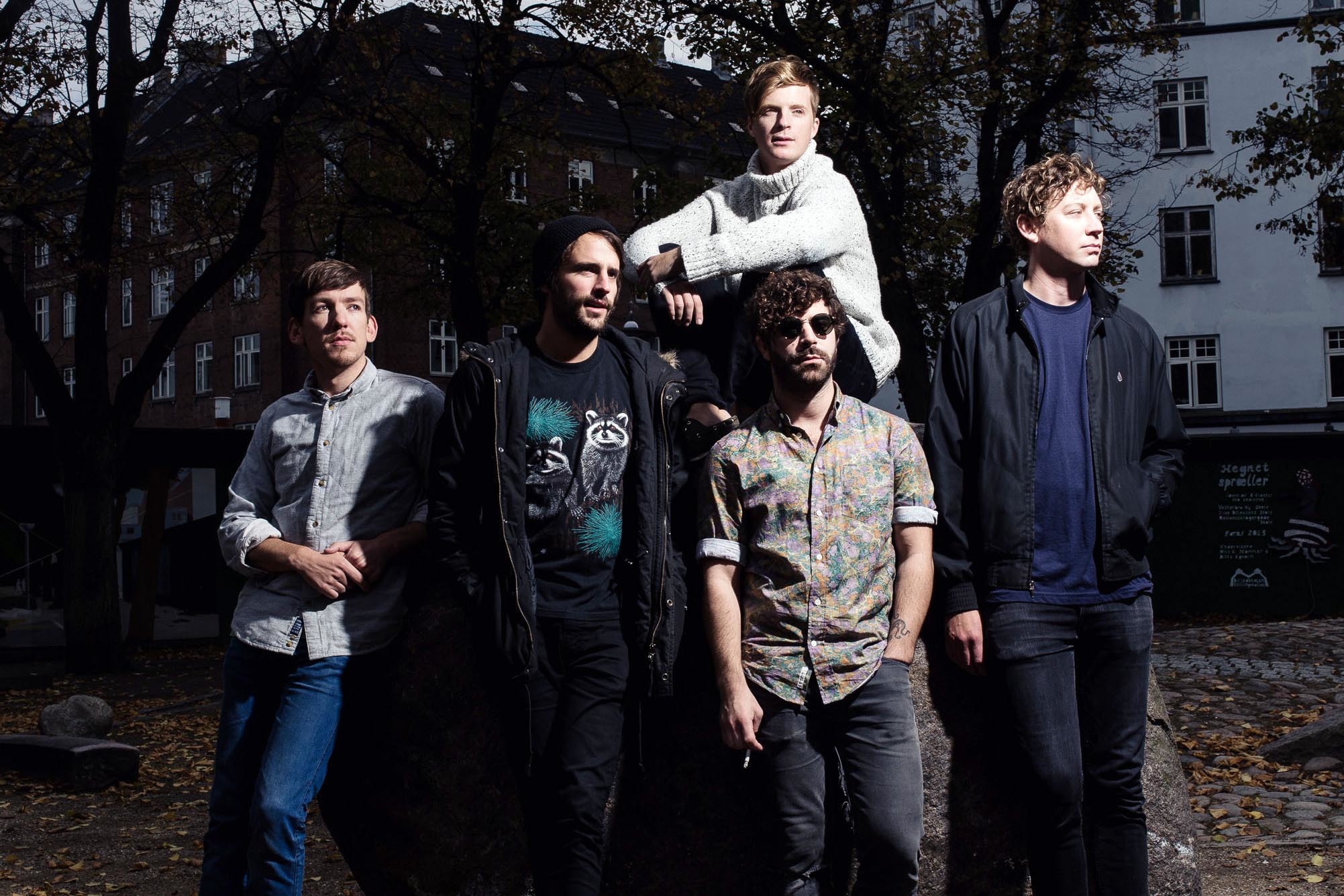 Cover Feature
Foals: "No Matter What We Do It'll Still Sound Like Us"
2013 witnessed several groups taking a vital next step and seizing what was theirs for the taking. None more so than Foals: DIY's Band Of The Year.
2013 witnessed several groups taking a vital next step and seizing what was theirs for the taking. None more so than Foals. Their biggest, best album to date; selling out shows in seconds; becoming festival headliners. This is what makes them DIY's band of the year.
After everything that's happened over the last 12 months, what kind of band do Foals want to become?
It's not as if they're at any sort of crossroads, where there's a right and a wrong answer. All signs point ahead. But there's still a difference between the group that fled an Oxford scene to make something more 'fun' and the band that could, feasibly, be headlining every festival under the sun given a year or two.
'I can't predict what kind of record we'll make next. It might self-sabotage some potential to become bigger,' says frontman Yannis Philippakis from Copenhagen, midway through a world tour that's coming face-to-face with sold out audiences and nothing but.
He makes the claim months on from the release of 'Holy Fire', a third album that went big - really big, at times - but did so by taking risks. It's in the band's DNA to do exactly that. What was once sharp, abrasive but inclusive rock opened its arms a whole lot more. It welcomed in countless new fans. Most importantly, it gave Foals a taste of something even greater - that next step.
'There's some stuff that happened this year that's weird and that's new,' Yannis admits, referring to sunset shows at Reading & Leeds, a headline slot at Latitude, the band's highest charting album to date. There's more to come. He senses it as much as everybody else does.
'I would like to headline Reading,' he starts. But there's a nagging sense in the back of his head, something pulling him back. 'At the same time I'd like to think that this desire wouldn't affect the creative process, like inwardly.
'If we headline Reading that'd be a childhood dream. It'd be freaky. But I'm not gonna go sit and fucking like, pre-meditate something. I know better than that.'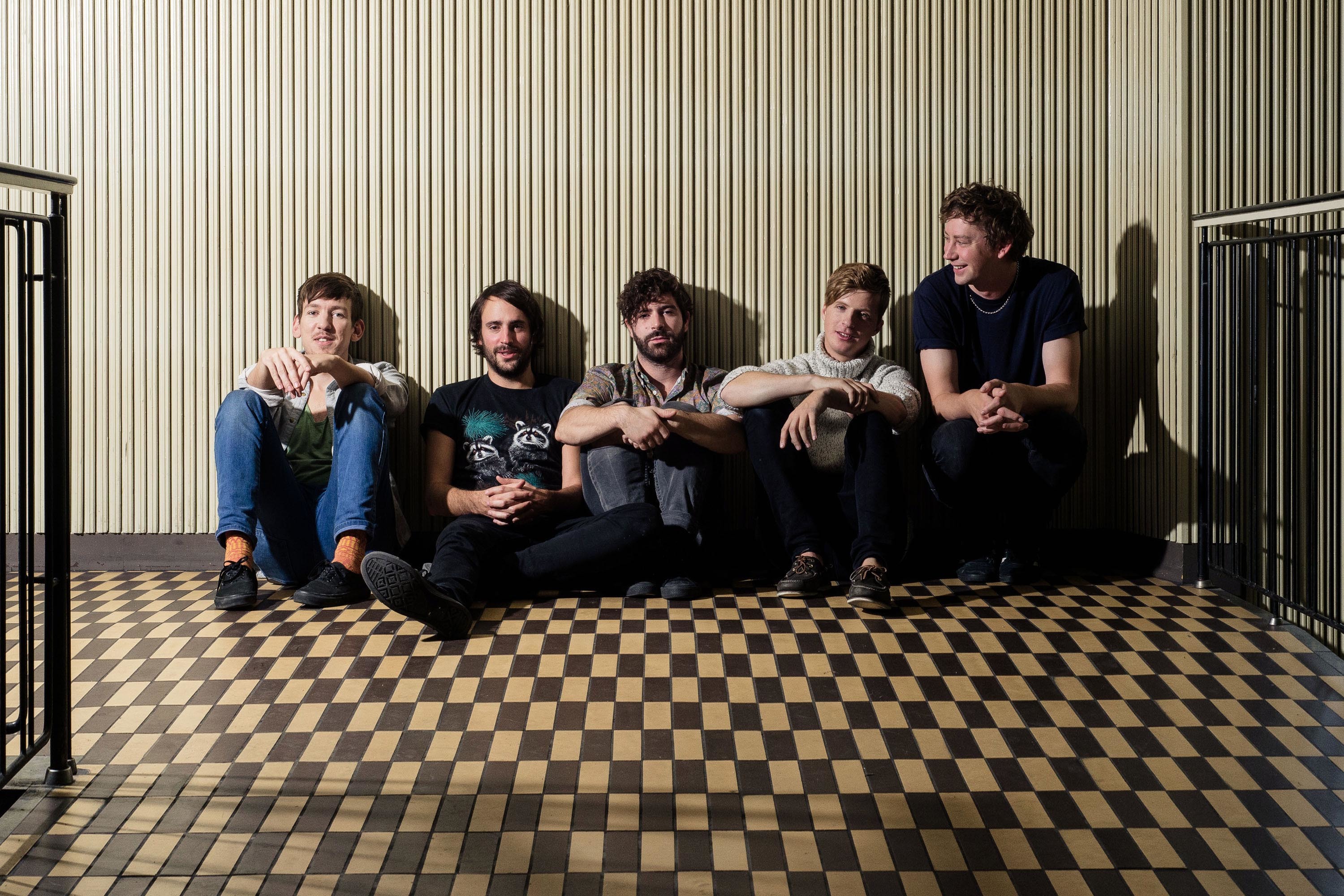 "If we headline Reading that'd be a childhood dream. It'd be freaky. But I'm not gonna go sit and fucking like, pre-meditate something. I know better than that."
Yannis Philippakis
The 'We're not content with something sounding alright.' Foals of 2005 barely relates to the band out there today. Splitting The Edmund Fitzgerald - a project at the heart of an Oxford scene Yannis renders as being 'masturbatory and earnest and worthy' - he wanted to 'rebel.' This was achieved through songs that went for the jugular, squeezing hook after hook into three minutes' worth of pure, untamed energy. Not much has changed in this sense. If it was 'music that didn't collapse under the weight of its own expectation, the weight of its own pretension' back then, that's still the case today.
But something's stirred. Yannis is a lyric-writer for starters. What began as a rhythmic, non-sensical yelp has since morphed into a voice with character, delivering words that carry a message. 'There's almost a responsibility to make the lyrics mean something to a 15 year old in Hull or some kid in Malaysia,' he sums up. 'I feel safe when things are blurred. But I didn't want to do that - I thought it was cowardly.'
'Holy Fire' goes big by defying everything Foals used to be. Ambiguity is chucked to one sorry side. Yannis sings about family, setbacks, genuine experiences, so that a listener 'can take something from the song… Then, we we play live, the show becomes a communal feeling. It means everything to someone.'
They've also changed by learning from their past mistakes. One of these very mistakes was focusing on the damn things in the first place. Perfectionists trip over themselves, sometimes. When Foals strike gold today, they run with it headfirst, whereas before they'd be pondering, pacing round in circles. 'We understood the problem that we've had before - a lot of them were our own problems,' explains Yannis.
On 'Antidotes', the band infamously had a 'fall-out' with producer Dave Sitek, when the TV On The Radio guitarist sent back some mixes of the debut that the then 'buzz band' weren't into. Sitek's since been quoted and credited several times over by Yannis as a big factor behind shaping the Foals standing here today. 'It's maybe been too easy with hindsight to lay it on someone else's doorstep. We're a difficult band to work with…
'We're paranoid, there's a perfectionist streak and we're ambitious… We're not content with something sounding alright.'
During the recording of 'Holy Fire', it took producers Flood and Moulder to put these fretting so-and-sos in their place. The band wouldn't be told when the mics were on, or when to go for the jugular. '[They] were the adults in the room. They knew how to work us.'
Before, Foals were a group that'd pore over the tiny details. Not that this has done them any harm, except maybe to their own collective sanity. Today, they're a big distance away from a group that Yannis renders 'closed-minded' and 'neurotic.'
'[Back then] I'd let the little Woody Allen in my brain run riot and try and micro-manage everything. Over time, I've learnt the advantages of having things unsaid and allowing chaos to enter the frame; to have the process guided by something that comes from the heart rather than the head.'
Chaos runs riot when Foals play live. They didn't exactly emerge sporting stoney faces and feet rooted to the floor, but something's transformed in the past few months. Their Glastonbury set came off like a crowning moment, where disorder on stage translated to the crowd like never before.
'When we 'We're a difficult band to work with.' play live now, I feel like we're playing better than ever before,' says the frontman, all confidence. Live, a sense of instinct plays out. There's no pre-formed plans, no structure, no 'playing the same set every night.' If a Foals show gives into any kind of routine, it's in the pre-gig build. 'We all get pretty worked up before we play… We don't do a sudoku, eat a granola and then go on stage. We get in a mental space that I think leads to the shows having that kind of intensity.'
While each member will writhe around, stir and strut to their more assured sound, Yannis himself occasionally goes one step further. The stage becomes long gone. He'll end up in the crowd, on a balcony, hanging off a chandelier if such an act takes his fancy. He's fearless.
Nerves are a thing of the past, with one exception: 'I get nervous if I'm on a high balcony and I'm realising at the time that I have a death wish. That's when I get a bit weirded out.'
Big bands come to the fore when they make the most of grand occasions. Think Biffy's outstanding Reading headline set, think the added showmanship of a rejuvenated Arctic Monkeys. If this ridiculous 2013 could be remembered for anything in particular, it'd be the bands that saw something for the taking and grabbed it. Foals have gone that extra step. Yannis in particular comes across like a real frontman, a performer who could act the way he does in front of 100 or 10,000 people - it wouldn't matter.
He cites nights in Oxford at a venue called The Wheatsheaf. There'd be shows that defined themselves on 'a feral energy'. For Yannis, 'it was a bug that bit me.' Considering this tale and the way he darts about giant venues - he could be compared to rock music's very own Spiderman…
This daredevil split-personality hasn't come out of nowhere. 'It's not because they're big shows - I like to make each one a big spectacle…,' runs the thinking behind it. 'I like the physical contact of that kind of thing. I enjoy frontmen like David Yow from the Jesus Lizard. I used to like this band called Oxes from Baltimore - they used to run around the venue with wireless guitars; they'd be playing outside. Those were the bands that I looked up to growing up.'
For all of 2013's standout moments, Foals don't entirely owe their big time to this latest album. Witness any of their colossal sets and a song like 'Two Steps Twice', from debut 'Antidotes', will arch over the others. 'Inhaler' might sound like the loudest thing played at any festival, but older triumphs play catch-up. Foals still sound like Foals. That might be the exact reason why things have taken such a gigantic turn this year.
'We'd been told by someone [earlier this year] that no matter what we did, we'd still sound like ourselves,' says Phillipakis. 'If the five of us make music together, no matter what we do it'll sound like us.'
Few groups can attest to that. Even though 'Holy Fire' is a scattered beast, each of its songs in wildly varied territories, there's no question about who's behind it all.
There has been the odd curveball. They 'liked the way that 'Spanish Sahara' freaked people out', sending early 'math-rock' to one side with one softly-spoken second album centrepiece. 'Holy Fire' itself comes off like a record trying to avoid being pegged in. 'Providence' is a song on the loose, a chainsaw-wielding terror. Two songs later, closer 'Moon' boasts sleepy, muted guitars, seeing out the last of the '…Fire"s embers with gorgeous ease. Foals could go acid jazz, house or hip-hop - they'd still sound like themselves.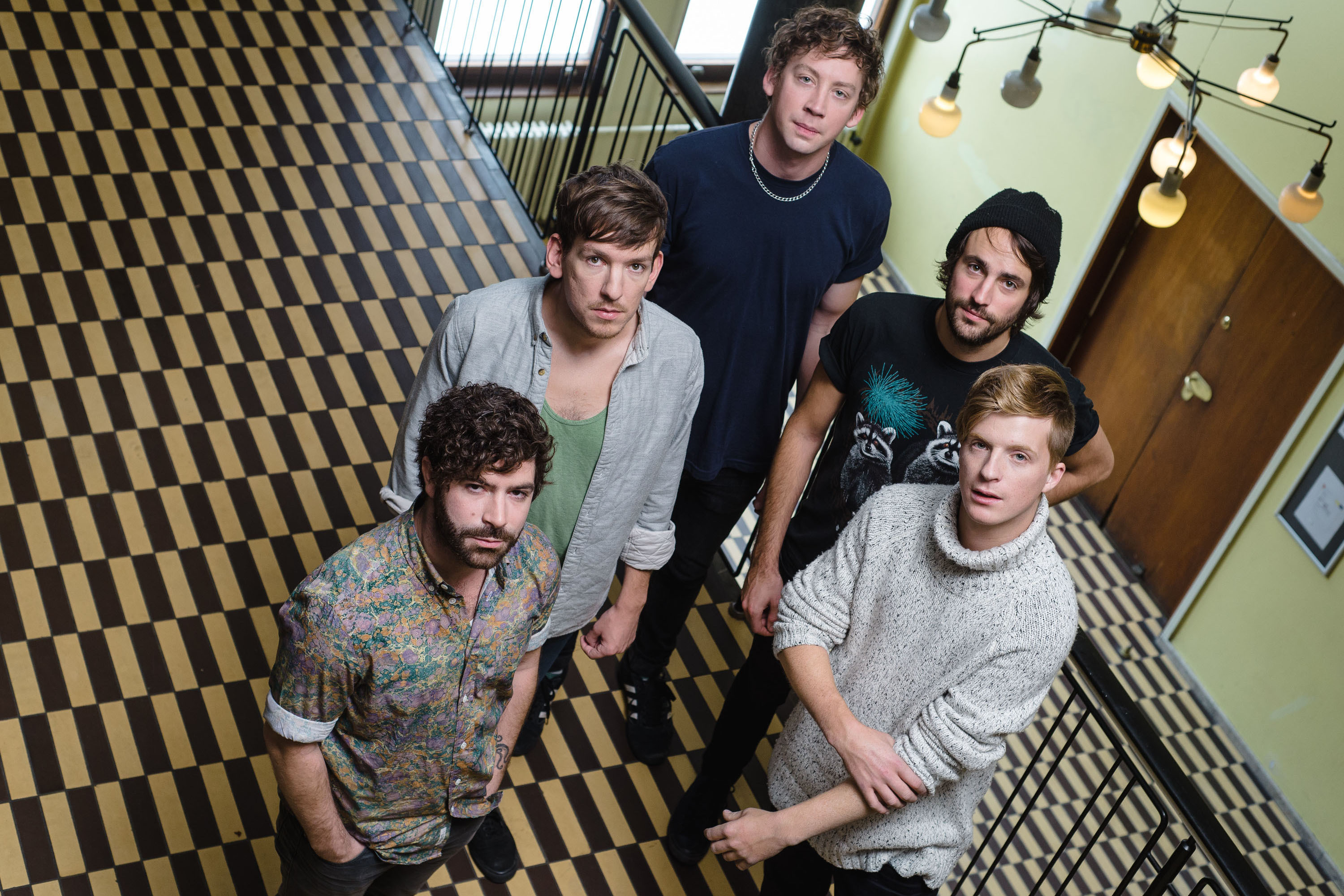 "If the five of us make music together, no matter what we do it'll sound like us."
Yannis Philippakis
From Oxford to the present day's world tours, they're a group made up of the same people. The goals that brought all five together still stand. Settling differences and seeing their early ideas explode into fruition, there is one thing they've completely escaped: The hype tag.
It's difficult to think of a band - guitar-based or otherwise - who've faced the kind of attention that first swept up a post-'Hummer' Foals. Skin soundtracks, Sitek, Sound Of… - it was all theirs for the taking, and just as much theirs to bugger up.
'We weathered that storm', agrees Yannis. 'We're lucky to have outlived it. It can take a lot of bands down.' Indeed, in the immediate aftermath of 2005's heyday, few guitar heavyweights kept their status in the following years. Again, this survival routine Foals stick to comes from the sense that no-one else out there - pretenders or otherwise - sounds anything like them. 'It feels like we've created our own space,' Yannis claims. And he's right to think that.
Behind the 'I'm not gonna sit and fucking like, pre-meditate something.' grander sound, the live ferocity is the same self-professed 'difficult' group of people. Perhaps that's what they always needed to be, to get this far. Today, Yannis still speaks up and out against all kinds of targets. Under the firing line: Careerist bands; an 'insidious, obsequious mentality that's infiltrated some aspects of guitar-based music'; 'rich kids who just wanna be famous and cool and then the music comes third on the list of their priorities'; 'backing tracks' and 'fucking binary codes' some bands play to. 'Algorithms. That's not what made Jimi Hendrix a great live performer.' There's still that bite in everything he says, a belief that his band are doing things the right way.
As musicians and as people, there's actually not a great deal that's shifted in the Foals set-up. If that's the secret to bigger things it's a pretty difficult one to stick to, in practice. Somehow these guys have stuck to their cause.
When faced with a million options, in the end it doesn't really matter which one Foals take. A 'big' band - in the conventional sense - isn't what Yannis and co have ever aspired to become. When decisions come their way, they'll do what they've always been used to doing: Be themselves and aim for anything they've yet to conquer.