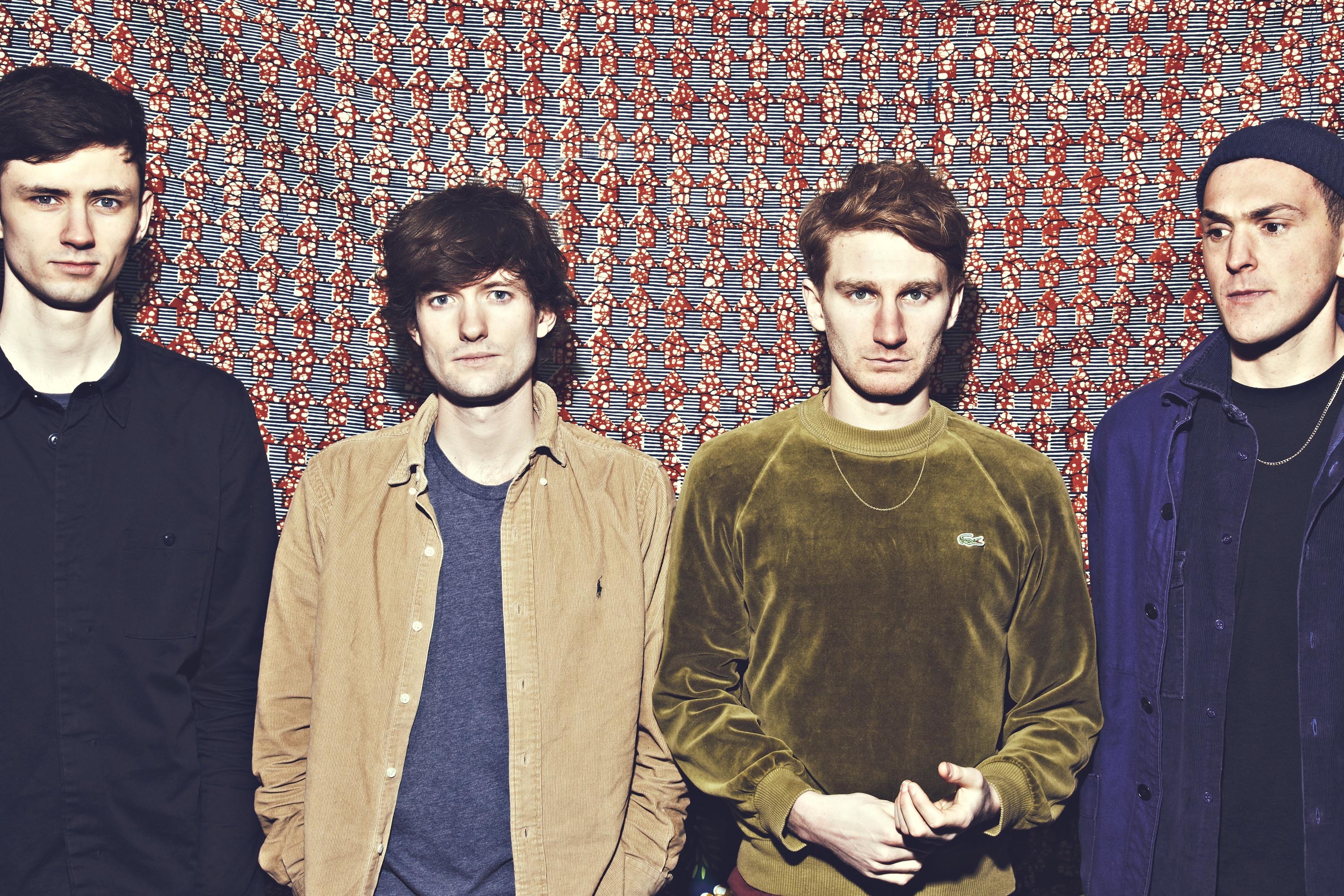 Interview
Glass Animals: "A Lot Of It Is Stream Of Consiousness"
This Oxford band's rapid ascent was never halted when they accidentally ate St. Vincent's dinner. Things are looking up, though.
With warm, woozy beats and seemingly mystical songwriting, Glass Animals are a band that liquify genre boundaries. That might sound cliched, but this music isn't quite rock, R&B or electro. If anything, it's sultry late-night storytelling that slithers between all three. But there's not an all-encompassing word for that. Recently signed to Paul Epworth's new Wolf Tone label (the mastermind producer behind Adele, Florence & The Machine and Bloc Party), these four Oxford boys just arrived back from SXSW as one of the most talked-about British exports.
"[We met] at school when we were about 13," remembers Dave Bayley, the band's disarmingly soft-spoken front man, speaking before the band's return to these shores. "We were the only four guys at school who were into slightly leftfield music, finding new bands, and sneaking out to go and see in-store shows… that's how we bonded."
After a few years of musical experimentation through Myspace-publicised bands, they turned their backs on the slowly building buzz to concentrate on going to university. Joe Seaward, the band's drummer, studied anthropology in Brighton while the other two members - Drew MacFarlane and Edmund Irwin Singer (both multi-instrumentalists) - studied music.
"I spent a lot of time around psychiatric patients, they just have these really amazing, really strange stories that stick with you."
Dave Bayley
"My studies were pretty much opposite to anything to do with music," acknowledges Bayley, who studied neuroscience. Disparate backgrounds could easily have weaved their way into songs the Oxford group currently sport. "I think it definitely contributed to the lyrics… I spent a lot of time around psychiatric patients, they just have these really amazing, really strange stories that stick with you. I think some of those come through in the words of the songs."
There is an abstract madness to Bayley's lyrics, closer to rap or poetry than anything else. The band's latest single 'Gooey' includes sinuous whispers of "peanut butter vibes" and "icky gooey wombs" – it's enough to make anyone wonder what exactly goes confectionary-centric activities go down in the studio. "A lot of it ends up being stream of consciousness, it's really weird - I'll just be nodding off late at night, about to go to bed, and I'll just get a couple of sentences in my head that flow really well and have a cool rhythm to them," says Bayley. "It tends to be late at night, or sometimes first thing when you wake up, when you're in the kind of sleepy daze, and slightly conscious… that's a good time for ideas to come."
"The visual aspect is really important to us," Bayley affirms, "we've had a really big hand in making our artwork so far." In terms of artists that have been inspirational, it's "Klimt, Dali… artists that use lots of detail, lots of layers [and] transport you to different worlds. That's another thing I like in music - if it can kind of take you to another land while you're listening or looking at it."
NEED TO KNOW
+ A debut album, 'ZABA', is out this summer - since the early days Glass Animals' sound has sharpened up. "We were a little bit nervous as to what our mums would think," jokes Bayley about the band's early days.
+ On their recent tour with St. Vincent, Bayley managed to eat Annie Clark's dinner on the first night. "She was a little angry for maybe half a day - but we're cool now."
+ Frontman Bayley was born in Massachusetts, raised in Texas. "It was a good place to grow up as a kid, lots of forests and places to jump and spin."