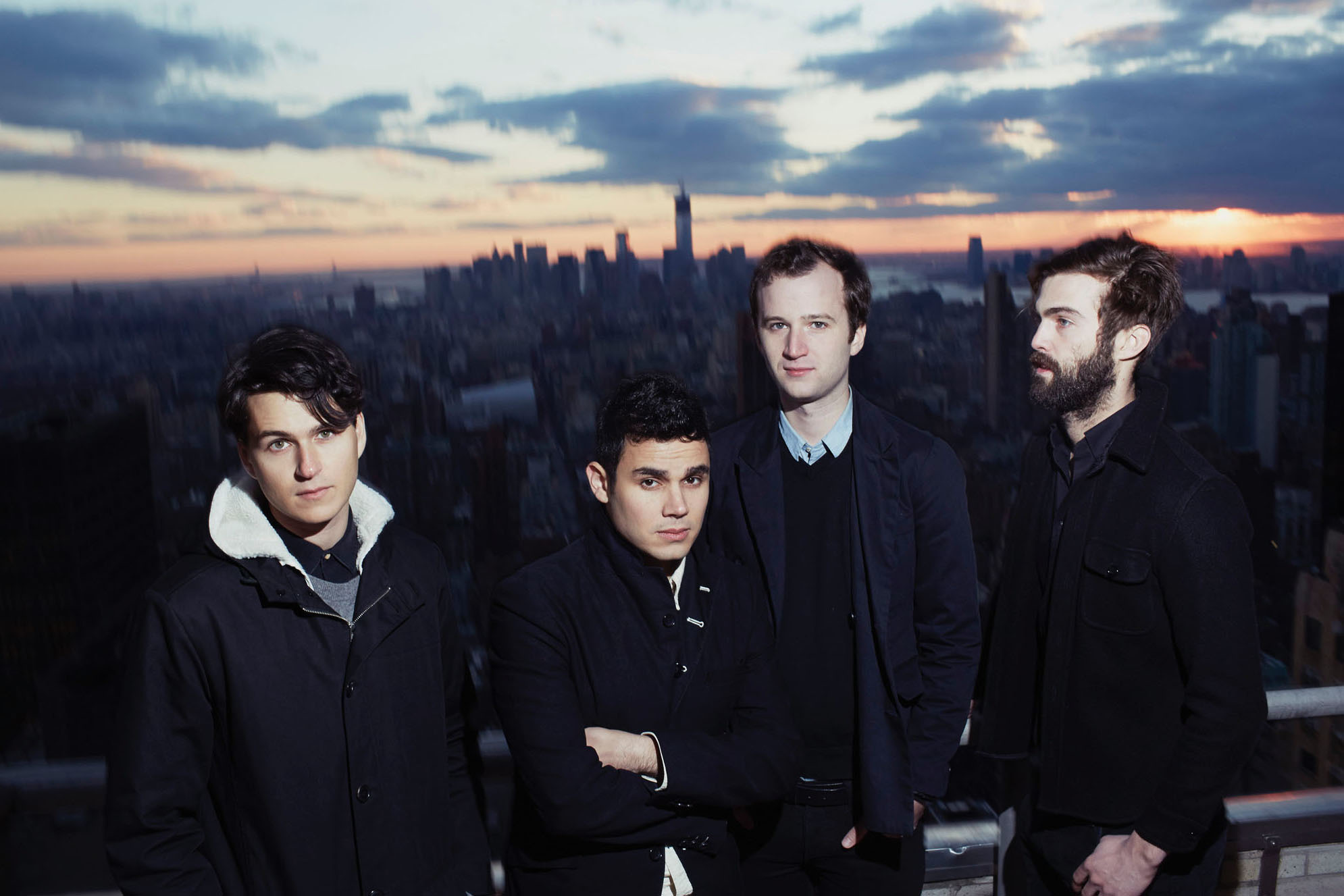 Interview
Vampire Weekend: "We're In Our Own Universe"
Products of the Big Apple, Vampire Weekend ponder the influence of their hometown.
I love New York. A phrase which wouldn't be such a cliche if it weren't true. Who'd have thought the then-broke city's 1977 advertising campaign would've become one of the world's best-known pop culture icons, emblazoned worldwide on baseball caps, t-shirts, hoodies…
Musicians and the Big Apple have gone guitar-in-hand since rock'n'roll began. The CBGBs of Blondie, the Ramones, Talking Heads, Television; LCD Soundsystem and their DFA brethren; The Strokes, Yeah Yeah Yeahs and the scuzz-rock resurgence of the early 00s; The Velvet Underground and the Max's Kansas City conveyor belt; The Beastie Boys; Bob Dylan. Ryan Adams and his spookily-timed release of 'New York, New York' in 2001. Pick an era, and there'll be an artist whose works are synonymous with the streets of the Empire City.
Add Vampire Weekend to that list.
The cover for the band's third, and latest album, released back in May, features a black and white image, taken by New York Times photographer Neal Boenzi in 1966 from the Empire State Building looking south across a Manhattan besieged by smog. That, and the record's title – 'Modern Vampires Of The City' are wholeheartedly evocative of Gotham; a version of the city popularised by Batman, all noirish intrigue, darkness, introspection. Double A-side single 'Diane Young' / 'Step', the first two songs to be unveiled from the album, were paired with a photograph of a burning Saab car; in the distance the city skyline and Manhattan Bridge are clearly visible.
It's hardly a surprise, of course. Three of the four members - vocalist Ezra Koenig, drummer Chris Tomson and bassist Chris Baio - were born in the city, Koenig and Baio recently having discovered they were even born in the same hospital, just months apart (keyboardist / producer Rostam Batmanglij was born and raised in Washington, DC). They met while studying at Columbia University, on the Upper West Side of Manhattan. It was only natural the city and its environs would seep into the foursome's collective consciousness; even if their music doesn't sound very, well, New York.
Koenig readily admits the connection. "In a lot of people's estimation, our music doesn't particularly sound like what you might expect New York music to sound like," the verbose frontman ponders, wearing, almost comically given the band's preppy reputation, his sunglasses on the collar of his jumper, and espadrilles without socks. "So it's cool that the association just really comes from us.?
"How do I define myself as an American? Because as much as there might be an impulse to run away from it at times, you really ultimately are. You can only grow up in one place."
Ezra Koenig
If 'Modern Vampires Of The City' is Vampire Weekend's most New York album yet, it's also their most American. References to baseball; the city-dropping road trip of 'Hannah Hunt'. And while the influence of their 'homeland' might have seeped in unannounced, this time it's something the quartet have evidently given more than a few thoughts to.
"There are some people who are real 'all-American' types," he says, "but that's not me. I'm not, like, some total white bread football player type. You have this vision that that's what a 'real American' is, or that's what the old, clichéd American is. But then you realise that not that many people are like that either. And you start to think, well we're not from any other country, so what are the parts of American identity that are important to me? How do I define myself as an American? Because as much as there might be an impulse to run away from it at times, you really ultimately are. You can only grow up in one place. Unless your Dad's a diplomat or something." He laughs. "But none of us did!"
When asked which of New York's many artists resonate the best with Vampire Weekend, Ezra's answers are not the most immediately obvious. "It was definitely rap that I felt most associated with New York," he explains. "Wu-Tang, Beastie Boys, A Tribe Called Quest. The city was such a part of what they did. The Beastie Boys constantly referenced different parts of their life; Wu-Tang created this whole mythology out of Staten Island and Brooklyn; A Tribe Called Quest also constantly referenced where they were from and gave it this New York sense of humour and wit. They all made albums that captured some sort of manic energy of the city. They're all very different from one another, but that's the type of s**t that gives New York its reputation. Because just being a big city doesn't mean anything culturally."
If there's another overriding theme running through 'Modern Vampires Of The City', it's about coming of age; whatever age that might be. Where the self-titled and 'Contra' were buoyant, joyous; the sense of invincibility that comes with youth; this time there's the faint whiff of a ponderous resignation. 'Diane Young' as the pun it is. The removal of wisdom teeth.
"'Mature' just makes me think of softcore porn, or something like that!"
Ezra Koenig
"I've been hesitant to describe the album as 'mature' or 'grown up'," Koenig admits, "just because I don't really like the connotation. But I also like the idea that every album is reflective of when we made it. When you're in your late 20s, early 30s, are you grown up? It's a personal question that everybody has to define for themselves. But certainly you must be in a different place than when you're in your early 20s. I like the idea that it [the album] would reflect where we're at now.
"And also, when you think of it," he continues, "more than anything, people described our first album as 'collegiate'. That was a big part of the story, and for obvious reasons; there's a song called 'Campus', we met at college. But you just try to imagine us, like, trying to rehash that on every album? It would be ridiculous. Nobody would like it." He laughs. "'Mature' just makes me think of softcore porn, or something like that."
2013 is – as we're barely more than half-way through – somewhat of a boom year for records. If they're thinking about number four, are they doing so with half an eye over their collective shoulder? Koenig says not. Well, not really. "We're kind of in our own universe," he explains, "we've never felt particularly connected to other rock bands or indie bands. Not because we hate on them – we hate on some of them [he laughs, refusing to name names "of course"] - but mostly because we started our band at college, and have always been very DIY, like Rostam's the producer and also in the band, everything's come from our own little world.
"It's the process of figuring out how you can take that feeling and do something cool with it that's difficult. So everybody's been listening to 'Yeezus' for the past couple weeks obsessively, and it gives you an exciting feeling just to know there's somebody who's pushing themselves so much to make new s**t. So you get this feeling that you really want to start coming up with new ideas. And the dangerous part is the easy way which is to be 'let's get some f**king distorted synths and start rapping over it.'
"Odds are, that probably wouldn't be that good for Vampire Weekend. But, you know, sometimes you just have to try. But how does inspiration become a concrete thing? That to me is basically what making an album is. All the trial and error, trying to produce in yourself that excited feeling that you get from listening to other stuff, but doing it in a way that feels right for you. So to be making music when other people are making great music is exciting, and is inspiring, but it doesn't make it any easier to do your own thing."
Vampire Weekend's 'Modern Vampires Of The City' is out now via XL Recordings.