Album Review
Young Knives - Ornaments From the Silver Arcade
4-5 Stars
Young Knives most uplifting - and arguably best - work yet.
There's plenty of colour evident in the new Young Knives record, that's for sure. There's a 'silver arcade' in the title; there are multi-coloured platforms visible in the album artwork; and of course, the music is perhaps their most colourful to date. There's brightness and vibrancy everywhere you look, and this effect is compounded by the fact that the inventive Leicstershire trio (Henry Dartnall, Oliver Askew and He Of The Unusual Nickname, Thomas 'House of Lords' Dartnall) have gone and made an album on which they simply cannot be pinned down and pigeonholed.

If someone were to ask what 'Ornaments From the Silver Arcade' sounded like, before hearing it, the least they could do is not expect a succinct answer, because when discussing this album such a thing is very difficult to come up with. This band don't really sound like 'themselves' anymore, and in this they've taken quite a risk. The new record has plenty of surprises in store for the fanbase - a fanbase that will, on the evidence of the eleven songs featured here, grow exponentially very soon indeed. If there are any songs here that sound distinctly like Young Knives, they are 'Love My Name' and 'Everything Falls Into Place'. The former is the lead single, and the cynics among you might say that it's their 'safety net' song. It's an effective introduction to the album, but it's misleading all the same.

The first indication that we no longer find ourselves on 'Terra Firma' - more terra incognita than anything else - is 'Woman', a song that has its foundations in a funky bass line and a summery riff, with percussion and brass brought along for the ride. The lyrics show a different side of the band too. They're known for their sense of humour but not so much for lines like this: 'Woman, go home/ Draw your breath, you're alone / Draw the curtains and start the show / Drape your body in sequins and gold'. An infectious 'la-la-la' chorus arrives a little later. Sounds like they've learned to have fun again after getting all serious for 'Superabundance'.

There are plenty of other indications of this throughout the album. We wonder how Henry Dartnall was able to deliver vocals for 'Running From A Standing Start', because it sounds like his tongue must have been firmly lodged in his cheek when recording that particular song: 'There's a new dance called the sway-low / You can do it how you please/ Lunch-time Lucy loves to watch me do the coochie on my knees'. Surprised? You should be, and there's even more to come, in the form of what might just be the most immediate song they've ever written. 'Sister Frideswide' is simply fantastic, and it's obvious they have a hit on their hands. It swaggers along, telling the story of a nun forced to choose between religious devotion and sexual attraction: 'She fell in love with the boys from the town / They keep calling / … She's got a yearning and it's burning a hole in the back of her mind'. Did we mention the sense of humour is definitely back?

Sounding like nine or ten different bands over the course of an album is hard work, but every song here is of a high standard. Where 'Ornaments…' truly shines, however, is in its final three songs - well, technically speaking it's 'final two songs', as 'Silver Tongue' and 'Storm Clouds' go together, seamlessly transitioning from one into the other,and this unexpected turn keeps the listener on their toes. Regardless, the two work superbly well together. 'Storm Clouds' sounds like something Klaxons might have written back when they remembered how to write decent melodies, only somewhat heavier-sounding.

It's left to 'Glasshouse' to finish things, and it finishes them extremely well. Pulsing synth bass and razor-sharp guitars underpin a set of imaginative lyrics: 'In the glasshouse, the official greenhouse choir know their lines'; 'She's my daughter, she's the apple of my eye / Hear her laughter, fills me up like shepherd's pie / Don't ask me why'. The song boasts a rousing finale and serves to drive home the fact that, through this album's many twists and turns there runs a streak of brilliant inventiveness. They've found some reasons to be cheerful again, and the result is their most uplifting - and arguably their best - work yet.
More like this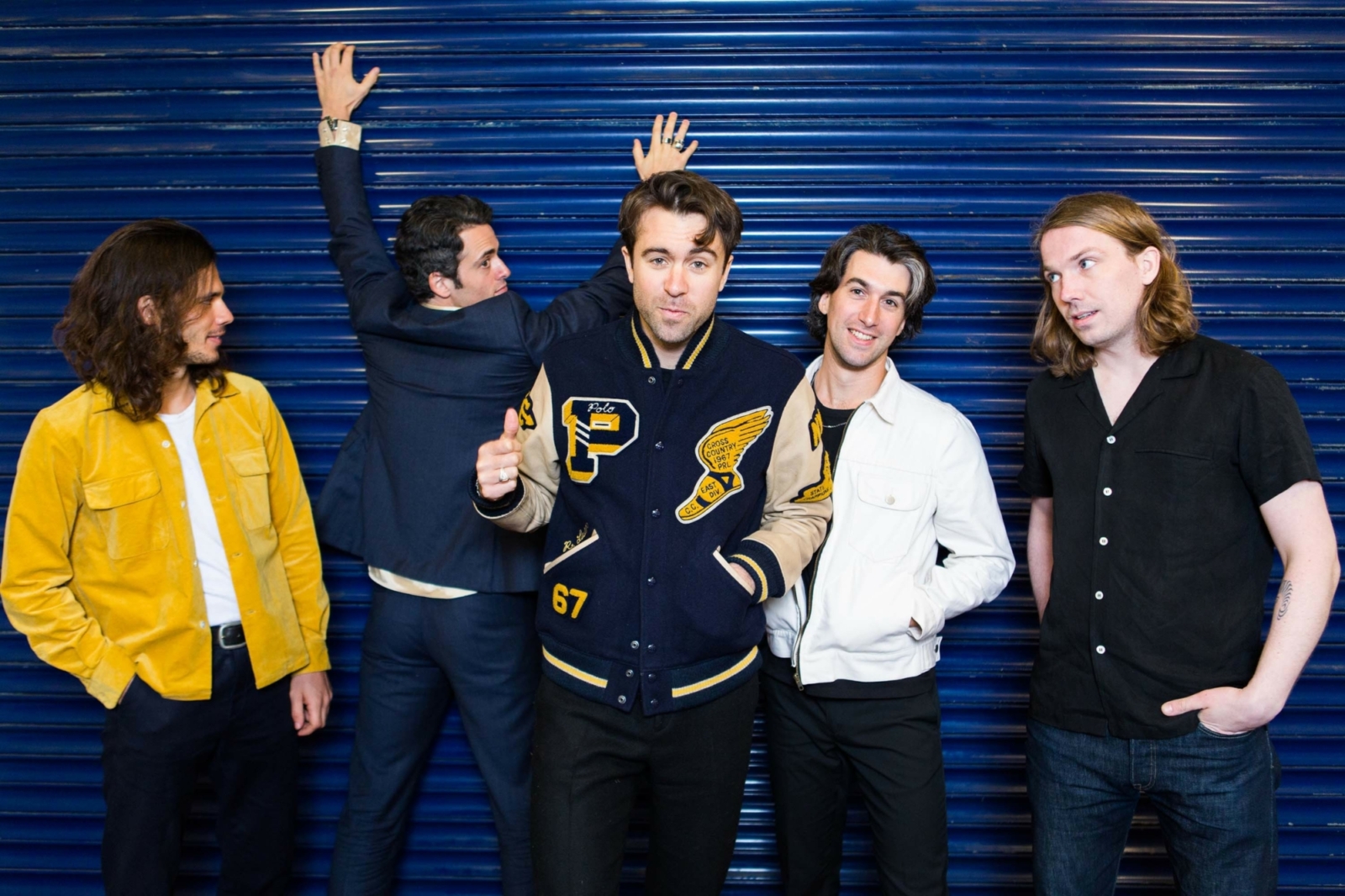 The biggest and best tracks of the past week, rounded up and reviewed.