Festivals
Goat Girl talk European shows & Tomavistas festival: "We're chomping at the bit to play overseas"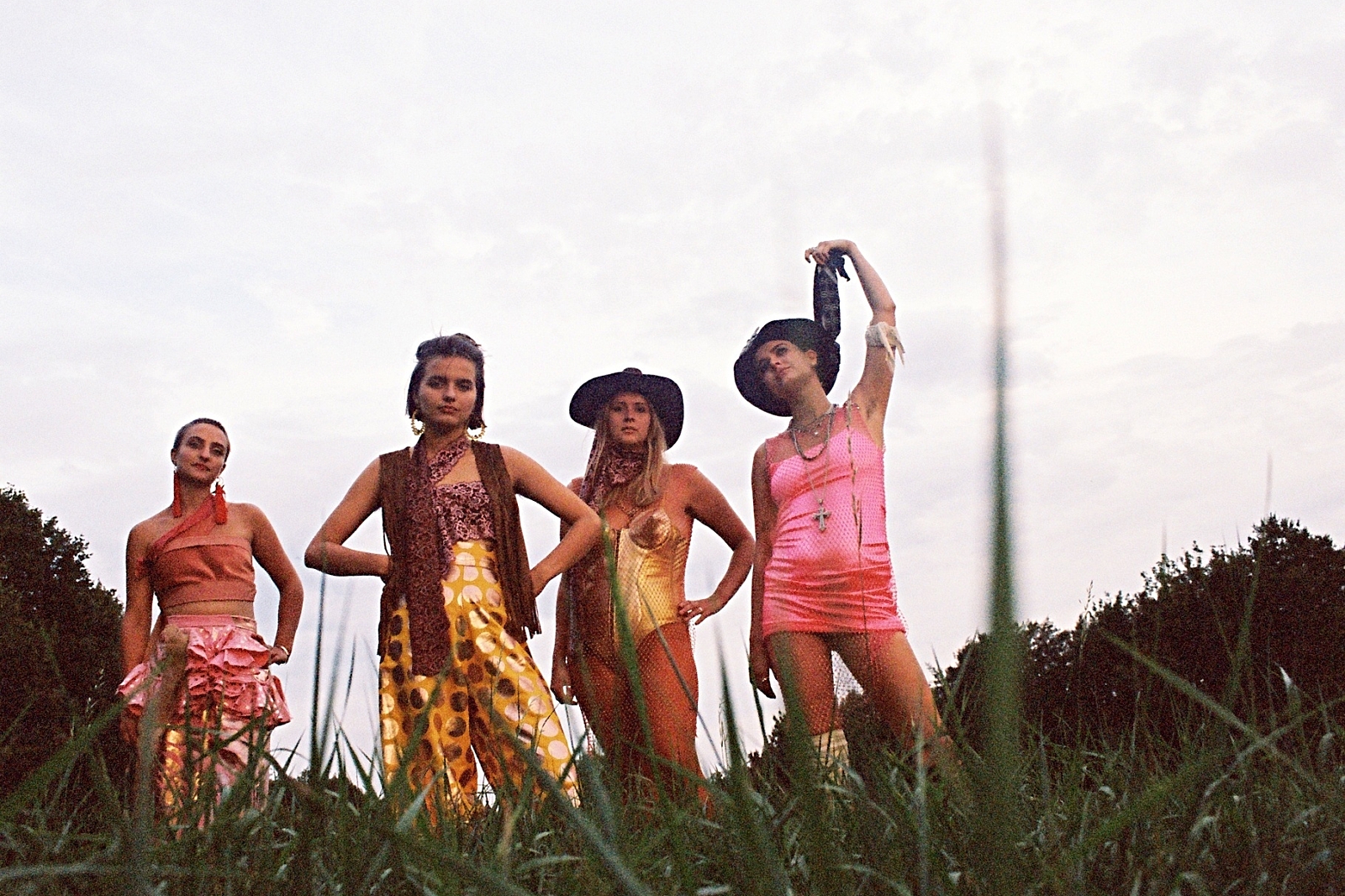 Ahead of the quartet's trip to Madrid this month for Tomavistas festival, we wanted to find out what's new in their world.
The fields, venues and resorts across the Iberian peninsula have long been festival staples, thanks to their (usually) sunny disposition across the summer months - and Madrid's Tomavistas is set to continue that trend, when it kicks festival season off with a selection of well-established names this month. Longtime favourites of DIY Shame, Goat Girl and Jungle sit alongside veterans Suede, Slowdive and Jarvis Cocker's outfit, JARV IS… across the festival's three days.
It's been a whirlwind year for Goat Girl since they graced the cover of DIY's February 2021 issue, not least supporting Sam Fender in arenas nationwide, and being announced to play actual-bloody-Knebworth with Liam Gallagher himself.
Ahead of their trip to Spain this month - which should be similarly biblical - we decided to have a catch up and discover exactly what's new in their world right now.

What's new in the world of Goat Girl?
Lottie: We just went on a writing trip to Cornwall where we demoed lots of potential album three songs which is very exciting. Since then we've been touring, playing some pretty insane gigs with the likes of Sam Fender and Foals, so we're all feeling very positive at the moment!
You've recently completed an arena tour with Sam Fender - how was that?! Getting to shout "Hello Wembley" and it be factual and not comical must have been quite the moment?!
Holly: It was an incredible experience that has really benefited us as a band. Getting to play big stages and being able to play to such a broad and varied audience was a really positive and refreshing thing for us. It forced us to up our game and it felt really exciting to be part of such a huge production. We received a lot of really positive messages from younger fans, which felt particularly humbling and of course, getting to come out and say "hello Wembley" is something we'd only previously dreamed of. It was surreal and overwhelming in the best way possible.
…and it's not too long before you're headed to even bigger stages - most notably Knebworth with Liam Gallagher. What are your favourite songs of his?
Holly: It's hard to fathom playing even bigger shows than the ones we've just done, but we're excited and up for the challenge. Being offered the opportunity to do it is pretty mind blowing, so we're ready to grab it with both hands and shout along to 'Wonderwall' till the cows come home. I'll definitely be singing along to 'Live Forever', 'Don't Look Back in Anger' and 'Champagne Supernova' if he plays those. I'm looking forward to checking out his new stuff as well.
There can't be much left on the Goat Girl wish list, can there?
Holly: A tour bus, haha! We're not quite there yet, but it's a dream of mine to travel whilse horizontal… I find it really hard to sleep in the splitter. Joking aside, we're really excited about the way things are going, looking forward to working on new material and being as creative as possible around that, creating our own worlds for the music through visuals, live shows etc and sharing that with people. There's a few festivals on our wish list like Primavera that we'd love to play and we'd love to soundtrack a film at some point.
You're heavily involved in the campaign to save the Ravensbourne Arms in South London - can you tell us a bit about that, and why it's important?
Lottie: Yes! I recently joined the Sister Midnight team to help with their project to start up Lewisham's first community-owned venue. We ran a crowdfunder that successfully raised over £250k, alongside lots of events where we've had the likes of Horsey, Porridge Radio, Grove - and of course Goat Girl - perform. We've also got lots of very exciting events coming up so keep your eyes peeled on ours and Sister Midnight's socials!
I've been a big fan of Sister Midnight since they started up their little independent venue in Deptford, where friends and I became regulars. Since Covid and consequently the closure of their venue (among many others), we've all felt a real need to protect our venues and spaces where communities can reside, because, more than ever, we need each other. Whether it's for physical support or just a wee chat! It feels so important to have spaces that are sustainable in their fixtures, so to have a not for profit project that is run and owned by the community seems like the necessary next step. Being part of the project is so beautiful. It's affirming to know that there is a strong desire among the community for a creative space that isn't dictated by the pockets of private landlords! It's the future!
The next Sister Midnight event is at Fox and Firkin for Sister Midnight's 4th birthday party, on 23rd June.
Finally getting to gig in mainland Europe must also be exciting, after being forced to postpone your earlier tour (and the whole not being able to travel for years, obviously) - what are some things you're looking forward to about it?
Holly: We're chomping at the bit to play overseas. It's been so long for us. Like you said, it was a massive shame not to be able to go ahead with the European tour, but we're hoping that it'll be all the sweeter when we finally get there. Looking forward to the warmer weather (in some places), food, always! We've been making more of an effort to sightsee and fit in activities on tour. For me it's been climbing, Lottie skating, Ellie's most likely to be found in the botanical gardens and Rosy loves a mooch around the local charity shops, so more of that probably.
After packing sun hats, factor 50 and water receptacles of choice - what are some essential things that get you through festival season?
Holly: Vitamins or berocca, cooler bag, air mattress, portable camping stove, sunglasses, sun hat, walking shoes, sliders, yoga mat, bog roll. Taking a trip to the massage tent is also a game changer.
Read More