Can Jay-Z's Tidal really create a "fairtrade" music industry?
Last night Jay-Z hosted the most awkward press conference in history to announce his new streaming venture Tidal. Now the waves have settled, we've got some questions….
Last night a group of incredibly famous, wealthy musicians all gathered on a stage. One by one they walked up to a table, and signed a piece of paper. It was all a bit of a shambles. Madonna made a valiant attempt to resolve an old feud, and went to shake Deadmau5' hand at one point. She landed an awkward chest stroke instead. Régine Chassagne, meanwhile, could be clearly spotted mouthing "what's happening," at her Arcade Fire bandmate and husband Win Butler. The group's assigned spokesperson Alicia Keys certainly gave it her all during her presentation; even, for some bizarre reason, quoting philosophy from Nietzsche. "All of us are up here are saying… wow," Keys beamed. Really, though, nobody on that stage seemed to know what the "wows" were in aid of, apart from winging themselves a small profit-share in a fledgling tech company.

Hasn't this been done before?

Earlier this year Jay-Z bought the Swedish music streaming company Aspiro for $54m - that's a cool £36 million pounds. Aspiro has been trying its hand at the lossless-quality stream market for a while - the High Fidelity strap-line that Jay-Z is proposing is really nothing new. So far Tidal's attempts have been royally outstripped by Spotify's premium audio option, and Sonos' Deezer Elite service. It's currently struggling to carve out a space in the market, which is only getting more crowded by the minute. Neil Young's already tried to get in on the act with Pono (a sort of 'HD' mp3 player) and Apple could also be planning to mount their own high-quality streaming option after their takeover of Dr Dre's Beats. In other words, it's a fierce techie marketplace that Tidal is entering. By offering the likes of Rihanna, Madonna, Usher, Kanye and Alicia Keys 3% stakes in the company, Jay-Z is hoping that his venture will have something different going for it; extreme celebrity endorsement.
Tidal's revamp started out with the hilariously overblown sincerity of one of Bono's humanitarian ventures - although to cut Bono some slack where it's due, at least his money is actually claiming to go to a charitable cause. As the big launch approached, Rihanna, Nicki Minaj and others changed their profile pictures to eye-watering hues of cyan as demonstrations of solidarity. #TIDALforALL started circulating as a hashtag. "Together, we can turn the tide and make music history," tweeted all of the company's new stakeholders, like nonchalant, robotic parrots.

The premise of Tidal is that the artists will become the "Avengers" of the industry. They will finally command the royalty rates that they truly deserve, and they will have more creative freedom and ownership over release. Subscribers' ears will be caressed by the sweet sound of high fidelity audio, 'curated editorial' and exclusive media content, all for the sweet sum of $19.99 dollars a month. And, if that's too much money to fork out, there's a lower tier deal without high fidelity streaming, for $9.99. Tidal is for all - if by all, Jay-Z is indicating the kind of people who happily fork out $6 on a bottle of mineral water. In fact, he highlighted premium water-quaffers as the target audience himself, in as many words. Let's be real here for a second - lots of people are perfectly happy with the free water that comes out of the tap.
It's true that this tap mentality needs to change, and there also needs to be a new music model that supports fans and artists alike. Spotify - for all its curbing of the file-downloading generation that came before it - is not necessarily the answer; as things stand, it simply doesn't pay out enough in royalties to keep everyone happy. The current formula, which takes into account Spotify's company revenue, total streaming figures, label ownership percentages, and various other influencing factors, usually results in an average payout of between $0.006 and $0.0084 per stream. That money has to be split between performers, record labels, managers, songwriters, and so on.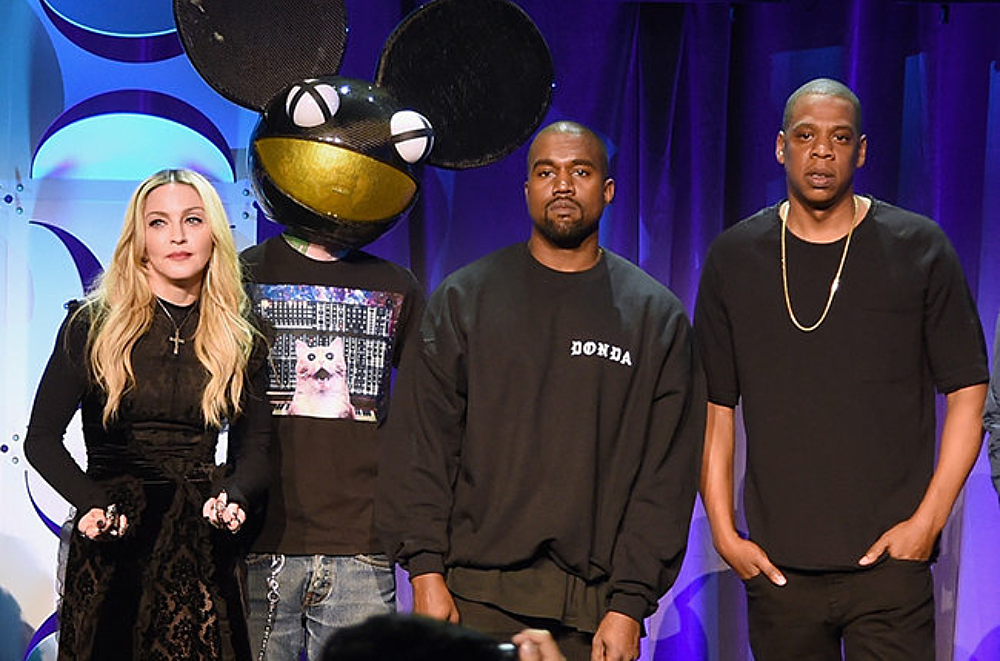 Just who is it really for?
However you look at it, Jay-Z, Beyonce, Kanye West, and a whole host of multi-millionaires all standing on stage making their heartfelt case for more royalties for 'The Artists' - all the while putting the sole financial burden on the fans - appears as the symbolic equivalent of wringing hands in synch like Bond villains, and naturally people are skeptical. When Tidal says "The Artists," after all, the implication from last night's launch is that it really means the elite. Chart-toppers like Madonna - who has a net worth of $800m - and Coldplay's Chris Martin - who released the second biggest selling album of 2014, 'Ghost Stories' - aren't exactly hard-up, to put it very mildly. That leaves some pretty hefty questions - one being why the full details weren't revealed last night.
Will a gang of 19 year old teenagers from Aberystwyth recording punk EPs in their garage get the royalties that they deserve through Tidal, for instance? Since Tidal is also proposing an expansion out into merch sales, will an aspiring MC from Lewisham eventually be able to use Tidal as a platform to sell physical mixtapes for a slice of extra income? If the answer to either of those questions is yes, then that can only be a positive change. The potential danger with all of the other forays that Tidal wants to explore, though, - curated editorial, exclusive video content, live streams - is that it'll fast double up as a promotional playground for the chart toppers to hawk their latest single, and majority of the real revenue will go straight into their back pockets.

It was all jovial fun and games last night, as Usher cheerfully ducked to avoid Deadmau5' gigantic ear; Chris Martin chuckling away to himself in the background on Skype as Madonna tried to get on top of the signing table. Rihanna and Nicki Minaj might've been chatting away like old friends, but what happens on the day that RiRi decides to put out a new single on Nicki's release date? Could we see a situation where Cash Money Records and Roc Nation get into a bidding war for Tidal column inches, or a dramatic act of sabotage by either artist? They are both company shareholders, after all. Equally, what's to say that Arcade Fire won't receive preferential amounts of coverage and visbility over rival bands? Just how unbiased is an editorial platform that can be directly influenced by the very artists that it curates? How transparent will Tidal be when it comes to earmarking editorial content that focuses on artists with a vested interest in the company?
Jay-Z calls his end-vision a "fair trade" music industry, and if Tidal really does become a large enough venture, of course it'll force the streaming industry as a whole to reevaluate what it pays out in royalties to musicians. As Jay-Z put it himself "when the tide rises, all the boats rise." Look past the utopian talk, slick adverts, and big promises to change the world, though, and Tidal's wave washes up more questions than answers. If last night's ludicrous press conference proved anything, it's that the dialogue around streaming is still raging, and there's still not a definite solution.

Get your copy of the latest issue