A year of firsts
2016 saw a whole bunch of new and exciting breakthroughs, from Partybaby laying a golden path to the future, to grime finally getting the gongs it deserved.
And so, that was 2016. Bit of a rotter, wasn't it? Never mind, eh?
Hold up, though, because amongst all the death and steady decline of civilised, loving society, some wicked things happened. It was a year defined by game-changing moments, some of which were undoubtedly for the better. From the breakthrough of incredible new bands, right through to the whole gang getting together to attempt to shift 2016's dreary state through charity knees-ups, there's been plenty to smile about after all.
Below, we round up a whole bunch of the best. Bring on 2017 - in the words of semi-popular 90s pop prats D:Ream, "things can only get better". Isn't that a nice thought?
Bands don't often roar into life quite like Partybaby. Their debut single 'Everything's All Right' stormed out the gates in 2015, leaving a lasting impression, but this year saw the California dons take the helm like never before.
Debut EP 'The Golden Age Of Bullshit' is a revelation. An anthemic, endearing first work, it finds Partybaby writing their own mythology from the off. A collection of tracks destined to be held dear for decades to come, it's closer 'Overload' that proves Partybaby's genius. Melding together the highlights of the preceding seven tracks, it drives home their unifying words to live by 'til they're ready to etch permanently onto skin. New release 'Versions' takes that mantra one step further, deconstructing and then reconstructing 'The Golden Age Of Bullshit' 'til it takes on a mesmerising new form. It's anyone's guess where Partybaby will go next, but make no mistake - 2017 is theirs for the taking. (Tom Connick)
Girls Against changed the agenda
Since forming just over a year ago, Girls Against have gone from strength to strength, pinning purpley-pink badges on the lapels of countless bands, taking over Reading & Leeds Festival big screens, and drawing attention to a pervasive issue in the music industry. Setting out with the aim of stamping out sexual assault and harassment at live shows, the organisation – set up by five teenagers fed up with feeling unsafe at gigs – has been a visible presence throughout 2016; providing a safe space for victims of harassment to find support, raising awareness of assault at gigs, and fighting to end it altogether.
The 1975, Royal Blood, Spring King, Sundara Karma, INHEAVEN, Wolf Alice, and tonnes of other musicians (too many to list, in fact) have rightly championed Girls Against since it first formed. As well as continuing to raise awareness of the issues with harassment at concerts, the group is now working alongside venues, live promoters and security contractors in putting together a new gold standard document of guidelines and suggested policies for gig venues. There are currently eighty (and counting!) Girls Against reps around the world spreading the word, too and their first year in existence just looks like the beginning.
Catch up with the DIY interview with Girls Against here. (El Hunt)
Adele got the wellies out
Remember the introverted Adele who said she'd never play festivals, not on your nelly? The same Adele who watched Kanye West from side of stage as recently as last year and, in her own words "crapped my pants" at the size of the crowds? Us neither.
Striding out to headline Glastonbury's Pyramid Stage this year with a hearty cackle and an astounded cry of "fuckin 'ell!" midway through her first song, she even had the chops to open up with 'Hello' and everything, turning one of the world's most famous stages into a rowdy night out with everyone's best pal Adele. Mixing her ubiquitous ballad-belters, lyrical sincerity, and flawless vocals with the sort of potty-mouthed cussing that would make a sailor look positively prudish, Adele's milestone moment was exactly as you'd expect; unlike any other Glastonbury headliner, ever. Yanking randomly selected audience members onto the stage for a quick chat, complimenting a security guard on his likeness to East 17's Brian Harvey, and gleefully necking ciders at side of stage, Adele might have played the long game in finally taking on a festival, but when she finally took the dive, it was triumphant.
Also, as a side note - give Adele her own stand-up comedy show, asap. (El Hunt)
Foals brought it all home
They finally did it. After grafting away down the road in Oxford in their earliest years, Foals' appearance at the top of the Reading line-up was a homecoming like few others could ever contend with. Proof that the 'future headliners' question no longer needs an answer, they kicked down the doors for a flood of new bill-toppers. The first of The Squad to take the plunge on the UK's biggest platform, there's little doubting that the likes of Tame Impala, Alt-J, Wolf Alice and co. will join them in years to come. (Tom Connick)
The Japanese House got an extension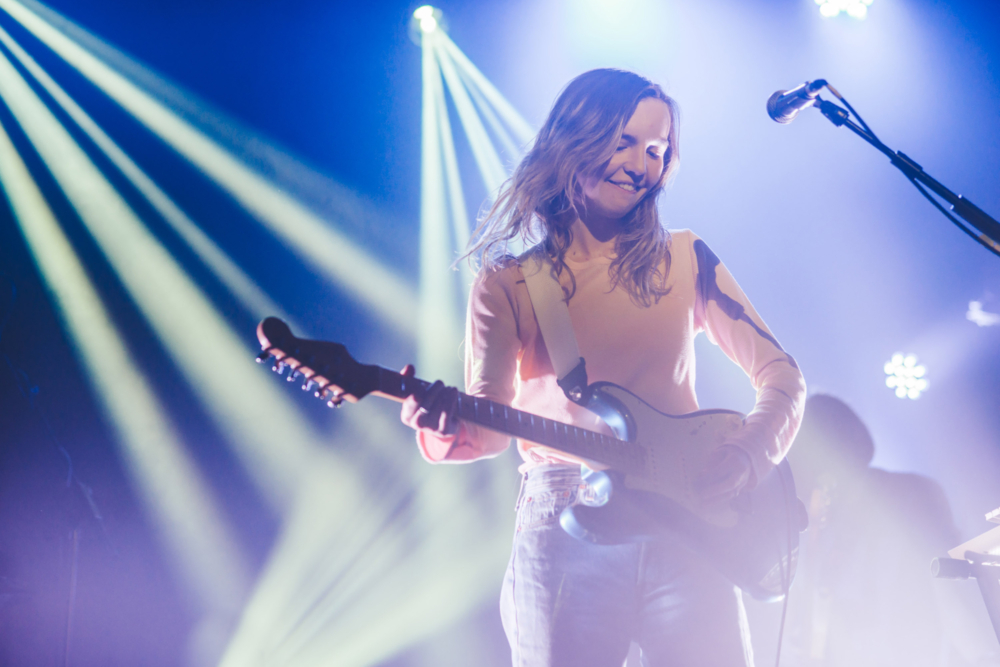 It's been a massive year of transformation for The Japanese House. Making her first steps while hidden behind a cloak of elusive stormy skies last year, 2016's seen Amber Bain stepping out from behind her curtain of wizardry, and shining brighter for it. She's long been pals with The 1975 – the band's George Daniel co-produces much of her music – and back in the day, fans of The Japanese House's androgynous, manipulated glitch speculated that it might be a secretive Matty Healy project. Perhaps eager to prove otherwise – or more likely, ready to take the world in a thunderous storm – Amber Bain binned off introversion, and hit the road with her long album title loving mates, taking her dark, murky pop to cavernous arenas.
The Japanese House that headlined London's Heaven following that The 1975 arena tour was visibly a different beast, wielding guitars like vicious weapons, and battering the room with cranked up and tangibly bolder new material from her 'Swim Against The Tide' EP. Capable of commanding the largest stages going, while making her songs feel like close-up conversations, the only way is stratospheric for Amber Bain. In time she'll likely be returning to those same arenas – as a headliner. (El Hunt)
Grime finally gets the gongs
They took their bloody time, but at long last, hoity toity awards shows caught up with what's really going on. Skepta taking home the Mercury Prize was a defining moment not just of 2016, but of modern youth culture as a whole. Years of hard slog and being pushed to the side were wiped clean as a speechless Joe Adenuga took to the stage, surrounded by a crowd of his nearest and dearest, mum and dad included.
With the BRITs looming (and rent-a-bore Rag 'N' Bone Man their first pick), all eyes are on February's ceremony to right some controversial past wrongs - #BRITsSoWhite, anyone? There's no denying grime's all-encompassing influence anymore - as the bling starts to roll in, it's finally reaping the rewards it's deserved for so very long. (Tom Connick)
#sadlads infiltrated the mainstream
The #sadlads are everywhere. And bored of being reserved to introspective records for late night sobs, 2016 saw them conquering the pop sphere.
As if James Blake's own ascent wasn't enough, he made his mark on Beyoncé's 'Lemonade' (turns out Blue Ivy is a huge fan of 'Forward') and ahuge chunk of Frank Ocean's 'Blonde'. On the latter, cult Philadelphia songwriter Alex G found himself strumming chords on 'Self Control' and 'Seigfried'. While most of Ocean's mystery is built from fan-stirred rumours, nobody saw that partnership coming. And at the close of 2016, Tame Impala's Kevin Parker became a certified, fully-fledged pop magnet. He'd flirted with that world before, through Mark Ronson collaborations, but few expected to find him in the studio with Lady Gaga or the recipient of a Rihanna cover. (Jamie Milton)
Kanye West brought shape-shifting to the album format…
Apps update every second, old LPs are remastered and repackaged and it's easier than ever to hit the edit button to hide online hiccups. Changing albums in real time is just a by-product of 2016's trigger happy tinkering. Obviously it took someone like Kanye West to oversee that change.
'The Life of Pablo' is the album that was never finished. Even in its build up, songs like 'No More Parties In LA' were uploaded to Soundcloud, deleted within a couple of minutes and re-uploaded in slightly rejigged form. Most artists claim to have dozens of versions for separate songs (Frank Ocean's 'White Ferrari' apparently has 50 different forms), but Yeezy was willing to display his edits in public. Once his warts n' all triumph finally came out, it continued to change. One second, fans were acquainted with the madness of 'TLOP', the next it decided to show another side.
So, is this the dawning of a new age for albums? Not quite. Barely anyone can draw the attention of Kanye, where tiny edits warrant their own headline. If a new kid on the block decided to scrap their debut single a dozen times, heads would stop turning. But in challenging the idea of albums being an end product, disused by the time they're released, Kanye added another feather to his legacy cap. (Jamie Milton)
… and King Gizzard and The Lizard Wizard got loopier than ever.
Take a peek into King Gizzard and The Lizard Wizard's weirdo world and there's no telling what you'll find. They've taken on everything from mind control to spooky forest folk, but 2016 saw them treat the world to 'Nonagon Infinity', a seamless, endless album that loops forever and ever and ever and ever and ever and yeah, you get the point.
Others have had a pop at the infinite loop, to varying degrees of success. Spoon plonked an infinitely looping groove at the end of 'Ga Ga Ga Ga Ga''s vinyl release, while everything from The Beatles' 'Sgt. Pepper's Lonely Hearts Club Band' to Pink Floyd's seminal 'The Wall' and Brontide's debut album 'Sans Souci' ending the same way they begin. King Gizzard were the first to go the whole hog though, 'Nonagon Infinity' a seamlessly looping album, without a discernible end point. Whack it on repeat and it will literally never end. You'll be hearing it forever. It'll still be going this time next year. At your wedding. At your funeral. In the afterlife. There's no escape. Until you press stop, obviously. With five records incoming from the Aussie mad lads next year, though, lord only knows what madness they'll cook up in 2017. (Tom Connick)
The Squad got together for an incredible cause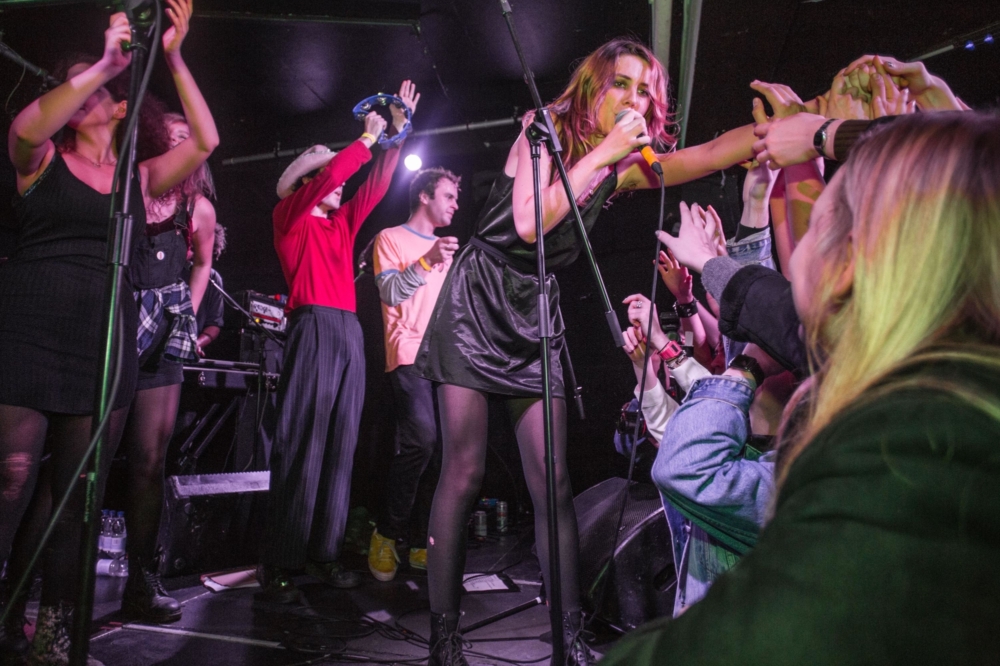 About time, too. Earlier this month, indie heroes joined forces for a good cause, raising money through Bands 4 Refugees with sold out shows at London venue Kamio. For the first time ever, we finally got to see Years & Years' Olly Alexander, Wolf Alice's Ellie Rowsell and Black Honey's Izzy B Phillips sharing a stage. There's absolutely no reason why it can't happen again. Can we have more of these Cyndi Lauper covers, please?