We're Not Worthy! Looking ahead to Glastonbury 2022
Ahead of the festival's eagerly-awaited return, we chat to IDLES, Yard Act, Jelani Blackman, girl in red and Turnstile…
Of all the gaping holes in the summer calendar, there have been none more keenly felt over the past two years than the end of June void in which Glastonbury should have been. Sure, last summer's Live at Worthy Farm stream was about as good as the slew of trapped-at-home gigs got, but no amount of hazy dawn Stone Circle VTs and sweeping shots of the Pyramid Stage's metal carcass could replace the reality of a long weekend spent at The Greatest Place on Earth.
However now, 24 months after its 50th birthday party was originally planned, on 22nd June Glastonbury will be throwing open its gates once again for the reunion to end all reunions. Think that first frosty post-lockdown pub pint tasted good? Imagine drinking that, but with one of The Actual Beatles.
So full of good vibes will Pilton be, the Eavises could probably have booked Rishi Sunak reading out your new gas bill and it would still have been a memorable party. Thankfully, they've gone several steps better and phoned up, as ever, an array of the greatest acts in the world to grace their hallowed stages. We caught up with a few of them; turns out they're just as excited about the weekend as us.
Mark Bowen, IDLES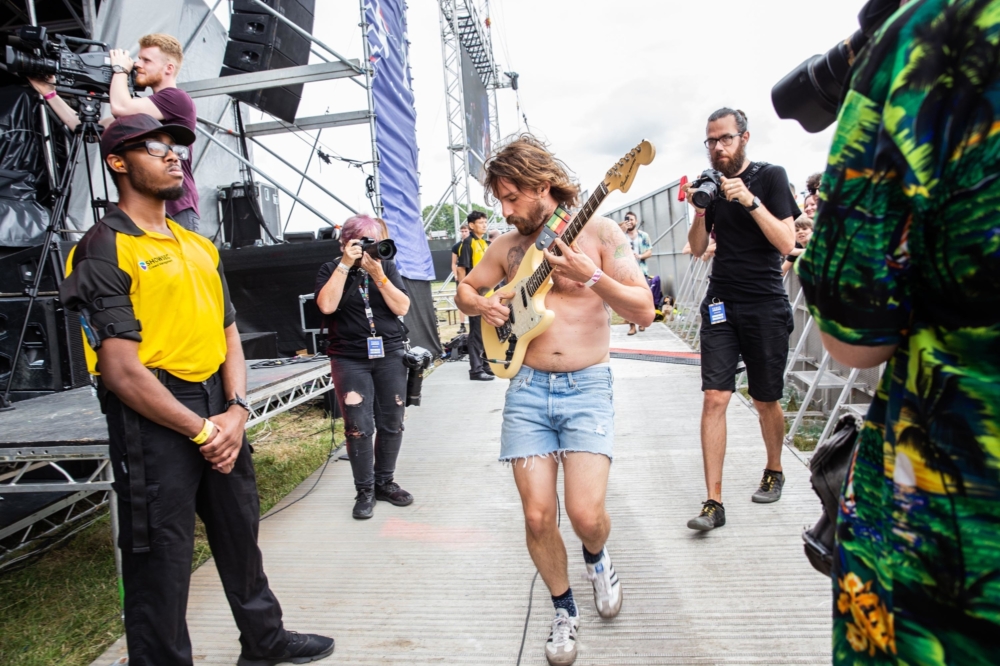 Last time you played Glasto it was a pretty massive, emotional set on the Park stage - what are your memories of that moment?
There was an energy in the air just before we went on that ignited when we went on stage; I could barely hold my pick, could hardly look at the others or the audience, lest I spontaneously combust or collapse in a pile of tears. It was the summation of a lot of things that day. We'd barely had time to catch our breath in the two years before it and I think that was the first time it really hit home what had happened for the band and what was going on around us. Glastonbury is a very special event for this band; it's fulfilling a lifelong dream getting to play it, let alone have tens of thousands of people singing your songs back at you. I hope we showed everything it meant to us that day and ever since.
What is it for you that makes Glastonbury such a magical place?
I've been going to Glastonbury with Dev, Joe and Jon since 2008 and there is no denying there is an energy to that place that you feel nowhere else. Everyone loosens up, becomes more open, expresses themselves more them-ly, appreciates more about the world around them. It sounds like woo woo nonsense and I would have put it down to being primed by all the, ahem, hedonism, but when we went there for the livestream in 2020 it still had all that energy. Aside from that, it's 200,000-odd people in a field celebrating life with a backdrop of the best bands and music in the world at that point. It is the best place on earth.
You've had two albums out now since last time you played. Aside from the obvious change in setlist, how do you feel IDLES have changed as a live entity in that time?
So much has changed, I think there's a depth and a power to the band that's come from those two albums that really feeds into the live show. All the chaos is still there but there's a prowess and a renewed vigour and belief that's making our shows better and better.
We decided a while ago that we wanted to become the best live band in the world and since coming back after lockdown that has (slowly) become a reality. We're the tightest we've ever been and in this band that allows us to be rawer, more chaotic, more present along with that. Our festival shows are always mayhem and we owe it to our audience to take that even further, which we will.
For the first time Glasto-attendee, have you got any insider tips?
My advice is don't make too many hard and fast plans, all the best stuff happens spontaneously and in places you least expect it. Speak to as many people as you come into contact with; everyone seems to be willing to chat and listen at that festival, you learn a lot.
Strummerville campfire is my favourite place, especially around 5-6am when it's all died down a bit and there's just odd stragglers about. You'll meet some really lovely weirdos.
James Smith, Yard Act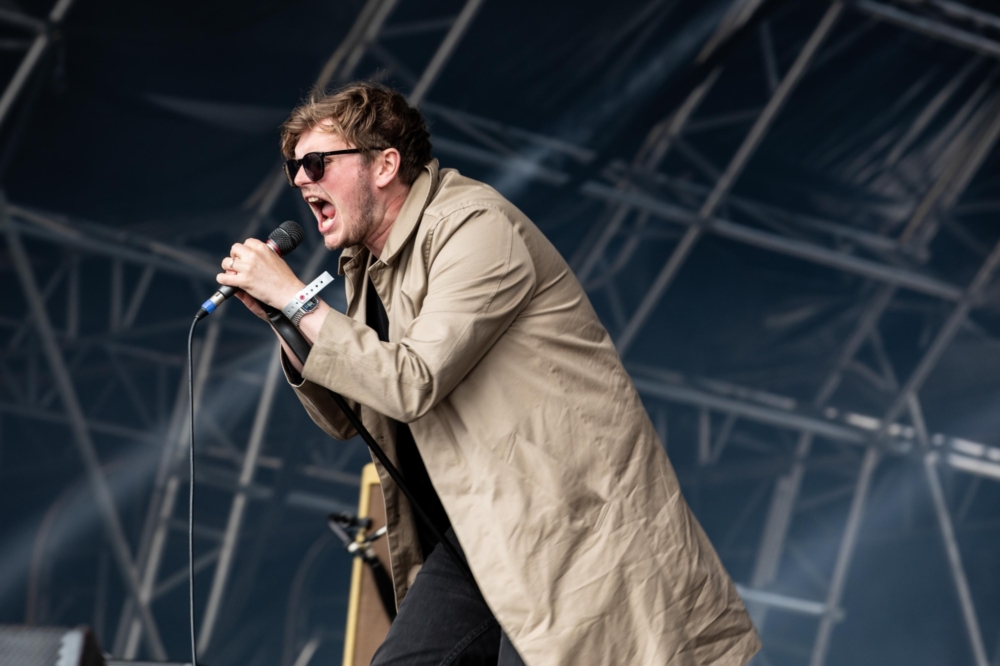 This is Yard Act's first time playing Glastonbury and you're straight into headlining the Leftfield stage - what was the reaction when you got that call?
We thought it was really cool they thought we were a good fit for that stage. I'm always up for blurring the lines and joining the dots between all forms of culture, whether that's art or politics or whatever else, so I'm really pleased we're sharing the stage with activists and cultural figures as well as other top musicians.
Have you been as punters before?
None of us have ever been. It's a long way from Leeds. I've seen it on telly though - I always get eight beers and a massive bag of crisps and watch it for ages.
Who else do you want to catch over the weekend?
Kendrick. The rest is for the gods to decide.
You're going on at the same time as Paul McCartney - why should people watch Yard Act instead?
Because looking at our tour schedule for the rest of the year, we'll be dead before he is.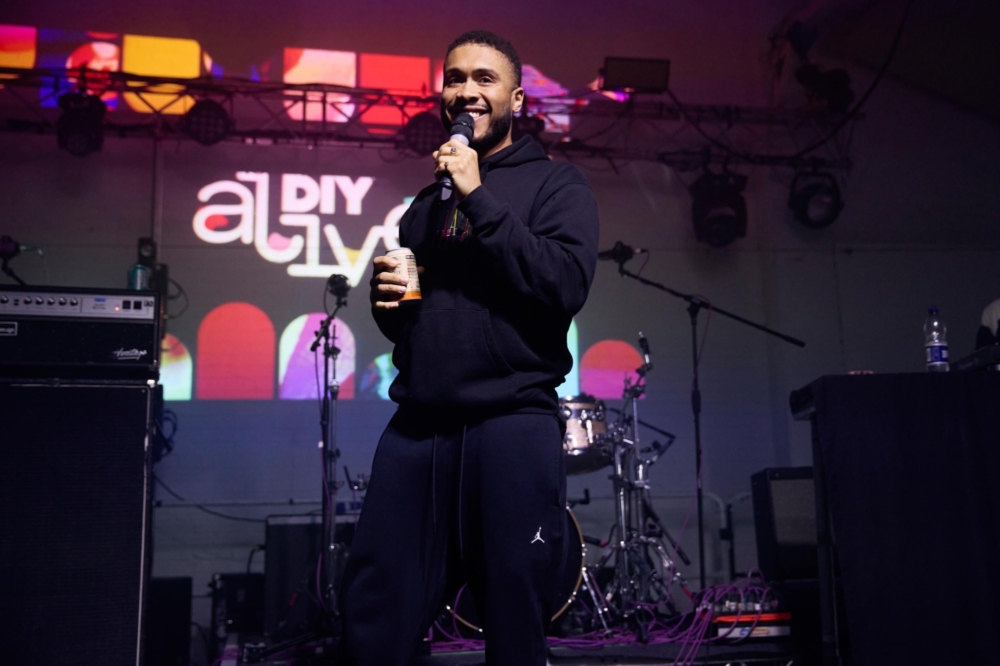 Your Glasto announcement post said that it's been a dream of yours to play - why do you think Glastonbury has such a special reputation?
It's just a special place in general. The energy and size is unmatched, it's kind of the pinnacle of where you wanna perform if you really love playing music live.
Have you been as a punter? What are some of your memories?
I have been as a punter, I probably have fewer memories than I should because I had a very good time! My overriding memory was how much everyone was in a good mood, the vibe was just like pure freedom.
You're currently on tour, how is your live set feeling at the moment and what can people expect?
My live set is feeling hectic, I love it. Everywhere I've been the energy has been so strong, it's amazing to be touching base in all of these places and getting such a positive response.
Who else are you planning on trying to catch over the weekend?
The list is too long but highlights are gonna be Kendrick Lamar and Burna Boy because I've wanted to see them for a while in a festival setting and not in a stadium. Also Diana Ross because she is a legend and the atmosphere for her set is gonna be insane.
Can we expect any new material in your set this year?
Yeah definitely, I've been playing my next single for a while and the reaction has been really good, I'll 100% be playing it at Glasto.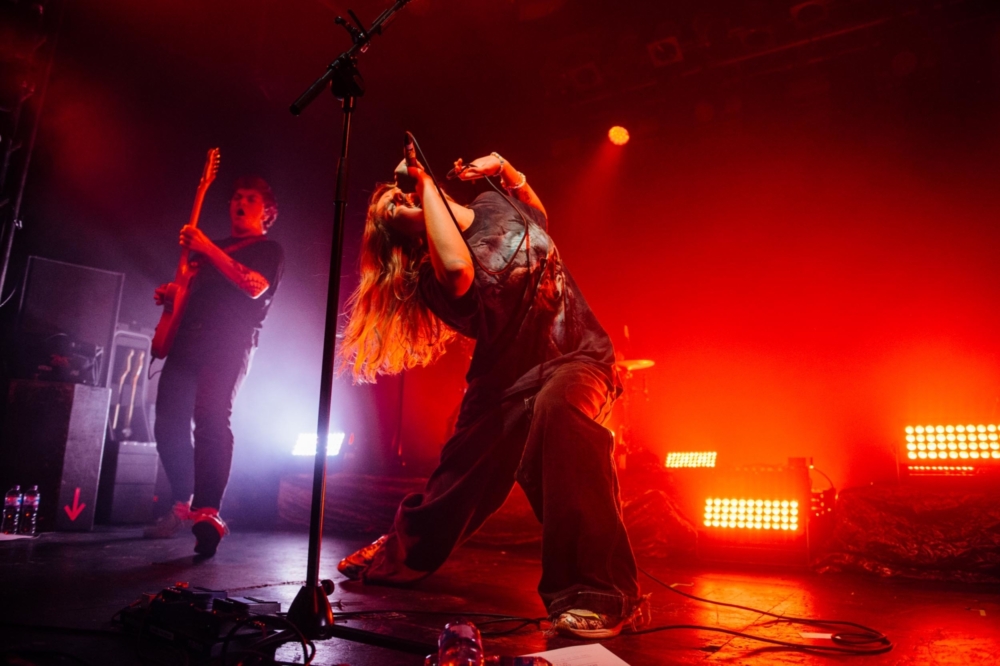 This will be your first time playing Glastonbury! What are you most excited about?
I hear it's one of the best festivals in the world so I'm just really excited to have a beer, walk around, see some cool shows and chill out! And obviously play my show!
Is the festival as famous in Norway?
It's not really that famous in Norway, I've just heard about it after a few years of being an artist. I hear the catering is trash [we can neither confirm nor deny these rumours… - Ed], but it has the best crowds!
You've been touring solidly this year, how do you think your live show has grown during that time?
I think we all play better, and we have cooler visuals and a cooler lighting rig. Overall just having a bigger team around me makes the live shows better.
Can we expect any new material in your set? If so, can you give us a teaser of what that might entail?
Who knows! I have this little idea that I like to show around, but I can't promise anything…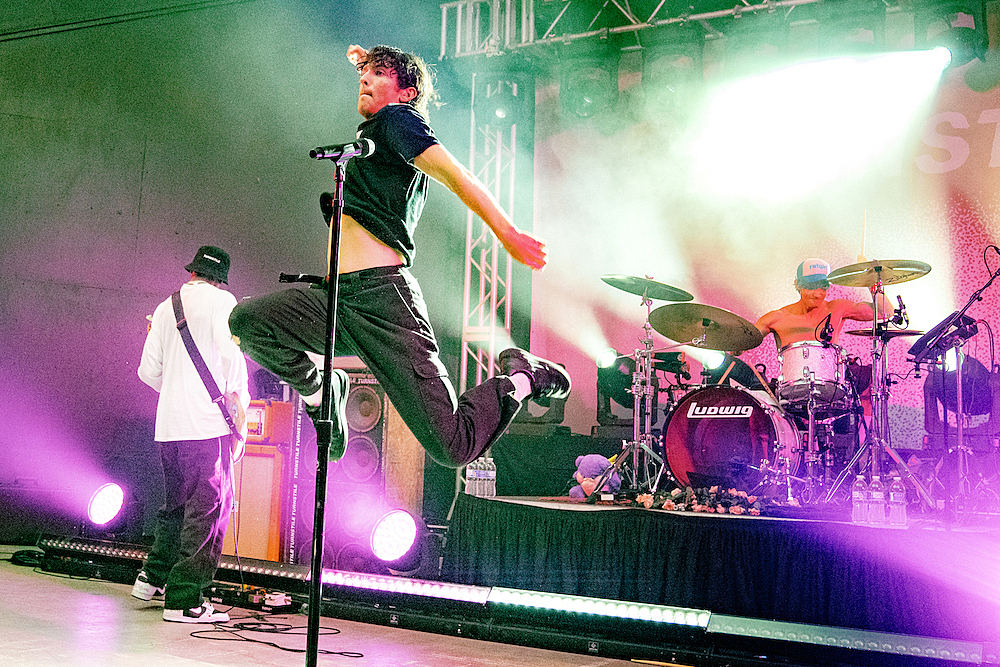 It's been a huge year for you since the release of 'Glow On' - have you felt the shift within the band?
I think I've felt a shift in music in general after the last few years. It's a confusing but exciting time to be making and playing music. We're lucky to have any part in it.
The band / audience communion at your shows has become a really celebrated thing - what do you hope that people get from a Turnstile live show?
There's no saying what someone will take from a show. For some people it's a night out, for others it's a much needed outlet to express themselves. Whatever the takeaway is I hope it feels good.
After a couple of years out of the ring, what's been the most satisfying thing about getting to return to the stage?
Getting to play new music in places we've never been, meeting new people and seeing familiar faces that we hadn't seen in so long.
Traditionally, hardcore is considered as a genre that exists in smaller, more kinetic spaces but over the course of your career so far, those spaces have gotten much bigger. How has that challenge been?
I think we celebrate things feeling new, and not feeling stagnant or repetitive. Growth is something that I feel is a forward motion, not always an upwards one. I feel the challenge is embracing new experiences and opportunities, and letting that be a part of the growth.

Get your copy of the latest issue