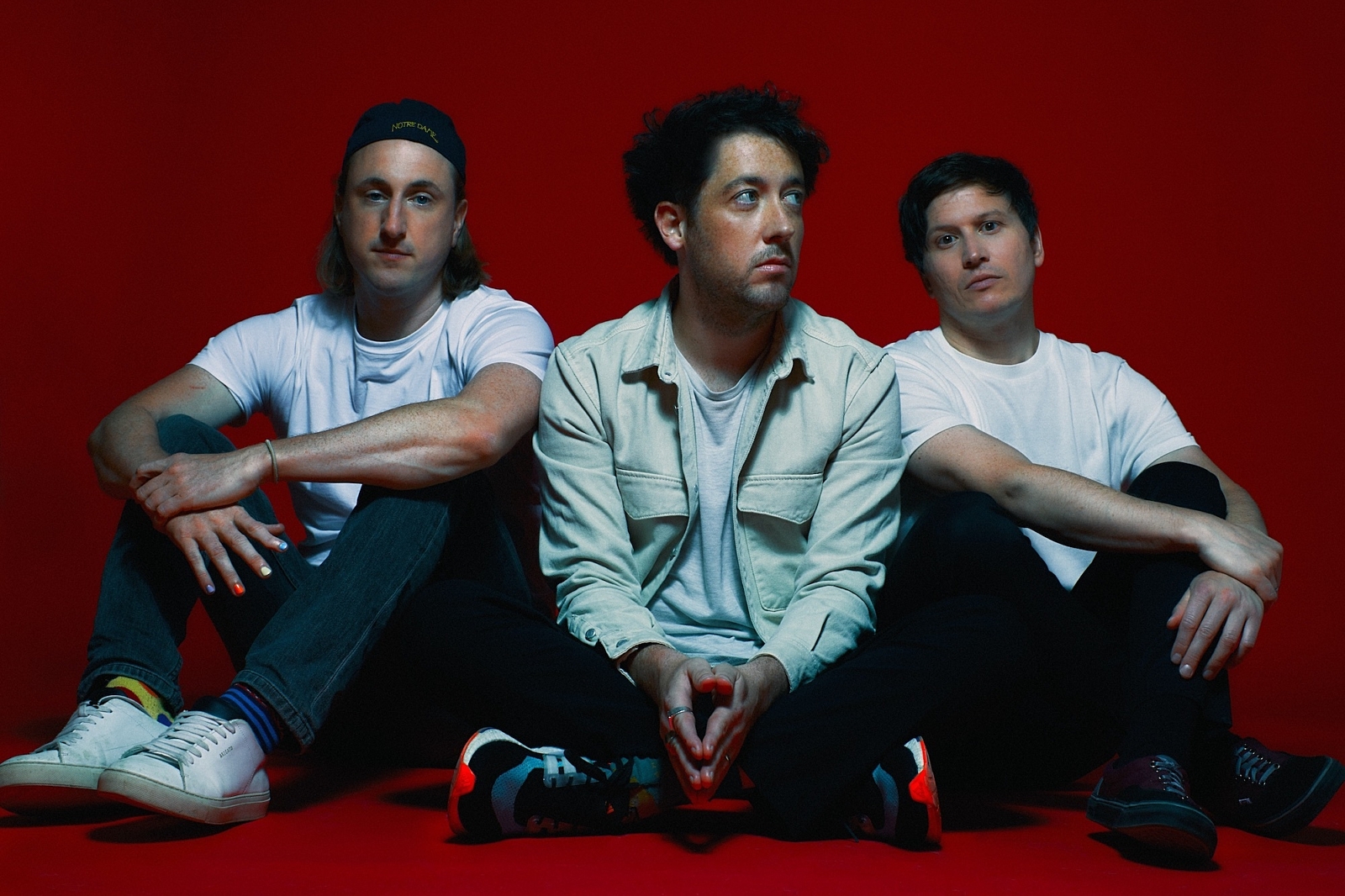 Photo: Tom Oxley
The Wombats take us through 'Fix Yourself, Not The World'
The band give us a track by track run-through of their fifth album.
Ahead of the release of their fifth studio album, 'Fix Yourself, Not The World', tomorrow, we asked The Wombats to give us a track by track run-through of their newest record!
Recorded remotely with frontman Matthew "Murph" Murphy in Los Angeles, bassist Tord Øverland Knudsen in Oslo and drummer Dan Haggis in London, Murph described the process as "pure madness, to be honest".
The new LP follows 2018's 'Beautiful People Will Ruin Your Life', and you can discover how it came to being below…
Flip Me Upside Down
'Flip' has this James Murphy sound system feeling to me in it somewhere. We tried to replicate that in other parts of the album as well. But 'Flip Me Upside Down' is like a 150bpm, hammer it home and get people excited about what's to follow on the album.

This Car Drives All By Itself
'This Car Drives All By Itself' is kind of a metaphor for "maybe we're not as in control of our lives as we think we are" and time and entropy are pretty fucking powerful things. It all came together and I'm so proud of that song.

If You Ever Leave, I'm Coming With You
'If You Ever Leave, I'm Coming With You' the first song that got me mega excited about what was going to happen and became the fulcrum of the album in a way. It was like "we've got to write songs as good as that, 10 more times". I guess it's more synthy than I thought it was going to go, there's hints of The Weeknd in there as well. But yeah, that song idea was something that was kicking around years ago, I was just looking for the right place to use it, that place came along drenched in synths. Which was not something I was planning on for the album, but it worked out.

Ready For The High
It's a bit of a mad song sonically, going from this 90s grunge stuff into full Blur - 'Universal' brass for the chorus. Well I say 'Universal', that's what I wanted it to be. Like I'm not sure if we actually achieved that but I'm happy with what we achieved anyway.
Method to the Madness
I think 'Method to the Madness' is a really special moment for us on the album and a moment for us as a band really. It's very different for us and I'm really happy that we can push ourselves to those places, as well as coming up with the odd 'banger' here and there. I hate that word but it makes sense.

People Don't Change People, Time Does
I had this idea in my mind of this actress moving to LA. LA is like this city of shattered dreams but still so much optimism and I just had this idea of this girl moving to LA pursuing an acting career and then it slowly drifting away in front of her eyes. And then I think sonically that was certainly the most "Death Cab-y" song. I think that kind of song is quite a comfortable place for us, and we're good at that.

Everything I Love Is Going To Die
Wrote it in my studio, here in lockdown. Another lyric that I had floating around in my notes for ages trying to find the place to use it and I got excited by this 80s Flock of Seagulls vibe it had, especially in the demo. But then we pushed that a little bit further in the recording. It's a liberating song about being present and appreciating what you have.

Work Is Easy, Life Is Hard
It's hard to talk about that one. It's definitely the most political song I've ever written and I don't want to delve too deep into but it was just at a time where I felt that lockdown was making everyone fucking crazy and we were losing certain concepts that had proved very good for us as a society in the past and social media turned to shit for a while.

Wildfire
Stone Roses, Ian Brown with brass. Yeah, that's about it.
Don't Poke The Bear
I think we just wanted to do something heavy that just revolved around bass and drums, and we did.

Worry
'Worry' is a fun take on where my mind can go if I'm not trying to take care of it and getting a little bit OCD. Like only putting the volume on my TV or car radio to multiples of three. When I start doing that I'm like, "Ahh ok, you might need to go and work out or do some yoga or something because then you're entering into a very strange realm, a realm that you've been in before and we know you don't like it there." Yeah, and that one's got a bit of spoken word at the start which our producer was really angling for and I was a bit like "Ooh, is that too much?" And then I just thought "No, fuck it, let's see what happens."

Fix Yourself, Then The World (Reach Beyond Your Fingers)
It was kind of this My Bloody Valentine wall of noise. It was never really a song, it was just this thing that happened. But I also wanted to call it that to take the edge off the actual album title itself. And there obviously is so much we can do as a group and as individuals. I wanted to take a little bit of the heat off the album title so that people don't think I'm something I'm not.


Get your copy of the latest issue