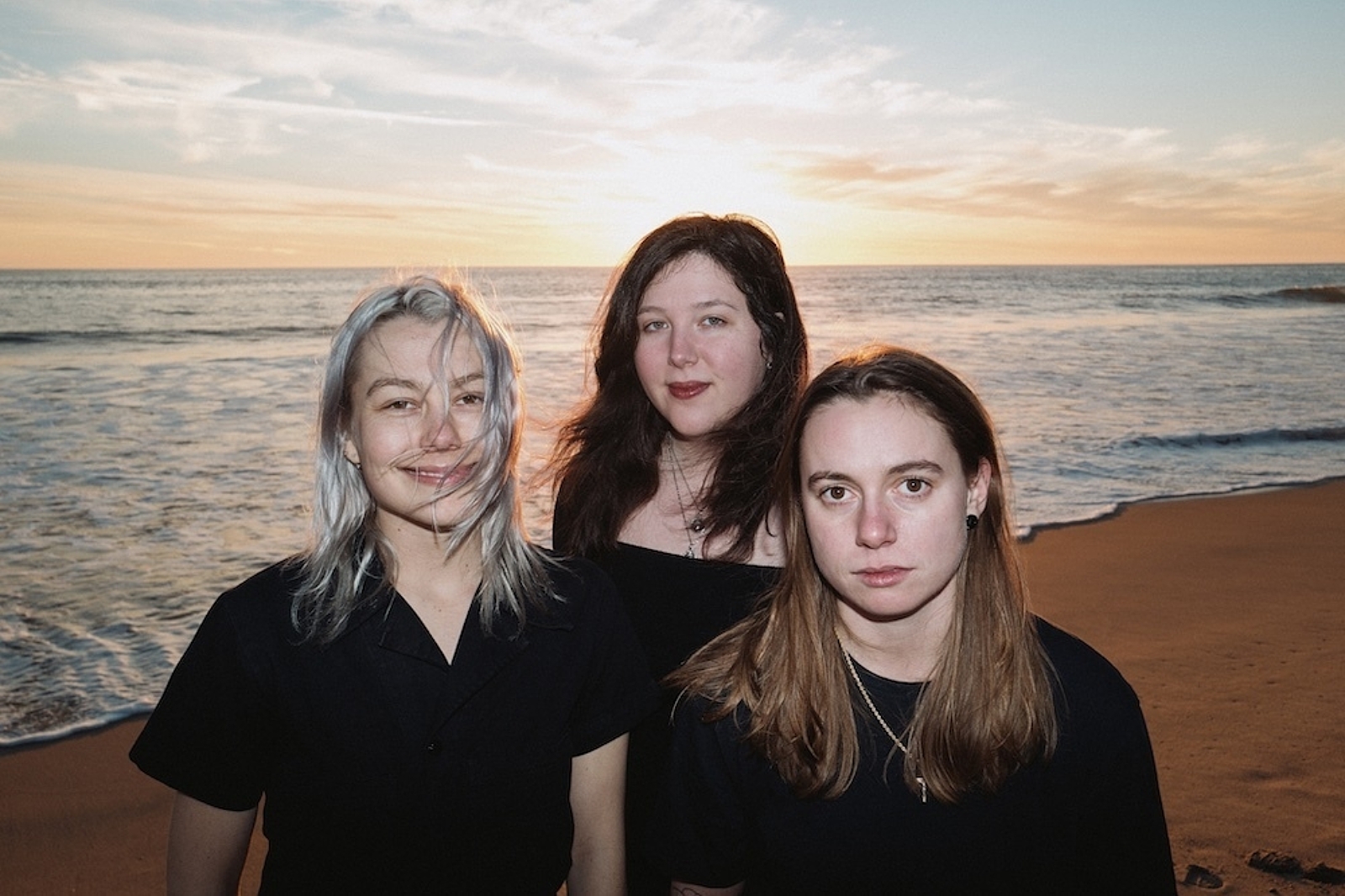 Photo: Harrison Whitford
Tracks: Boygenius, Arlo Parks, The National and more
Our pick of the biggest and best new tracks released this week.
To paraphrase Niall Horan, Thursday was a busy week for us - especially if introspective indie is your bag - with not only boygenius detailing a debut album, but Arlo Parks and The National among those opting to announce new releases alongside brand new songs. There's also new Fall Out Boy on the way, as well as newbies from Matt Maltese, CMAT, Yaeji and much more.

To update your eyes and ears, see Essential New Tracks below. For words on our pick of the pops, read on.
Boygenius - $20
Nearly five years since their last release, boygenius - Phoebe Bridgers, Lucy Dacus and Julien Baker - have continued to carve out their own independent successes, and one of three newly-released collaborations, '$20', sees them at their most formidable yet. A wry assessment of middle-American life, '$20' is a non-linear, exploratory track that allows each member to voice their contributions to the band, featuring hair-raising yelps from Phoebe, Julien's interstitial harmonies and Lucy's sweet explosivity. A pitch-perfect return. (Alisdair Grice)
Arlo Parks - Weightless
If tender indie pop is being sought, Arlo Parks is surely one of the first ports of call. Debut album 'Collapsed in Sunbeams' was awarded the Mercury Prize in 2021, and the singer-songwriter continues where she left off with 'Weightless', the lead single from forthcoming second album 'My Soft Machine'. "Cardamom and jade as your eyes screamed," she begins, but the song's crowning moment comes with the bridge as Arlo sing-speaks before a final rendition of the chorus. Is one of our finest talents moving up yet another level? Quite possibly. (Adam England)
The National - Tropic Morning News
The first taste of the band's forthcoming ninth studio album, 'First Two Pages of Frankenstein', 'Tropic Morning News' is a departure from The National's trademark sound, possessing more of an electronic tinge, backed by a persistent beat that brings to mind NYC near-neighbours, LCD Soundsystem. It's a lively five minutes that is a warm and encouraging welcome back to one of the best-loved acts around. (Christopher Connor)
Matt Maltese - Driving Just To Drive
One doesn't require the passing of a test to understand that the concept Matt Maltese describes here in the title track of his forthcoming fourth album: 'Driving Just to Drive' could surely only ever be an indicator of reaching a very specific combination of boredom and despair. True to its word - and to Matt's now signature sound - it's a prettily sad number, the tender piano and Matt's smooth vocal washing over as if a sonic soft blanket, both echoing and soothing its titular mood. (Bella Martin)
Yaeji - For Granted
Yaeji's underground alt-house-meets-trap straddles the unique dichotomy of being both minimal and maximal – it's fun, inventive and bold, with enough restraint that everything feels incredibly intelligent. It's no different on 'For Granted' the lead from upcoming debut record 'With A Hammer', strengthened by its spiritual similarity to shyly melancholic early-noughties pop. It's Y2K-style maximalism sounds straight from an early noughties iPod ad conveyor belt, and with a superbly fun and surprising drum and bass outro (a structure reminiscent of Lady Gaga's 'Sine From Above'), 'For Granted' is both familiar and deliciously fresh. (Otis Robinson)
Fall Out Boy - Love From the Other Side
Is it 2005 all over again? Not only are Fall Out Boy back with their first music for five years, but their guitar-driven sound of old has returned too. 'Love From The Other Side' is a big, warm, nostalgic hug of a track, but its production is shiny enough for it to feel thoroughly modern. If the off-kilter experimentalism of 'M A N I A' wasn't quite your cup of tea, 'Love From The Other Side' is more than enough to reignite your love affair with this band. (Emma Wilkes)
CMAT - Mayday
Within the first 10 seconds of CMAT's latest, a cowbell dings. She's carefully perfected her bubblegum-pop-cum-country-bumpkin whimsy, all wrapped up with Irish charm. It's enough to make 'Mayday' – a track about climate change – a little less scary. With classic quips like "Mississippi's underwater too / But all that I M-I-S-S is you" and clap-along beats, 'Mayday' is ultimately more fun than bleak. The world might be burning, but CMAT is going down in style. (Mia Smith)

Whenyoung - Shame Train
The fourth track to be released from the Irish now-duo's upcoming second album 'Paragon Songs', 'Shame Train' is an instantly catchy slice of dark pop. "Get it away from me / No shame" sings Aoife Power with passion and force, tackling her anxieties head-on for an invigorating listen. It's one of Whenyoung's more electronic-based tracks, and it's certainly an effective direction for them to take. (Adam England)
Art School Girlfriend - A Place To Lie
Though Art School Girlfriend largely finds herself billed amongst more indie-leaning line ups, the music that Polly Mackey makes under the moniker is increasingly of the dappled, electronic and quietly euphoric kind that should find her taken under the wing of the dance-heads. 'A Place To Lie' - though filled with emotive, plaintive vocals - come underpinned by beats that are basically ambient techno, raised up in its climax with a dramatic sweep of strings. Her first new music since her 2021 debut album, it sounds like an artist fully getting to grips with their musical identity. (Lisa Wright)
Fenne Lily - Lights Light Up
It's easy to get lost in the beauty of Fenne Lily's music, with her lilting voice and pristine acoustic arrangements. 'Lights Light Up' is all finger-picked guitars, soft drum brushes and an understated bassline - in others hands, it might devolve into background music. But Fenne grounds it in vivid, sensory descriptions of time and place - even bringing the lyrics back to "the same room where I learned about the cancer" in its staggeringly vulnerable fifth verse. (Tom Williams)

Get your copy of the latest issue