It's been a long and bumpy road for Kojey Radical but, with long-awaited debut LP 'Reason To Smile', the multi-hyphenate Londoner is finally ready to come good on all the potential.
"I remember we was so broke," Kojey Radical begins in his gravelly, amused London accent, tall frame bent back against a small chair in his hotel room. "We split a £3 pizza. A £3 Italian pizza we split between like, five people, because we had no money." He's recounting a time back in 2015, as he worked on the visual concept for the track 'Bambu' with Northampton creative duo The Rest (now best known for their collaborations with slowthai). It's one of the many moments in his career when failure and success rubbed up tight against each other; when Kojey - also known as Kwadwo Adu Genfi Amponsah - sat in what seemed like defeat yet might have also been on the verge of global mega-success.
Today, DIY is meeting him over a video call as part of the promotion for his newly released album, 'Reason to Smile'. According to almost everyone, Kojey is (once again) on the cusp of greatness. But this, as he later puts it, is not his first rodeo. The promise of something better has long been dangled, realised to a certain extent sometimes, and then snatched away, only to resurface just when he thought it was all over.
"I started my music journey with the thought in my mind I was already a failure," he begins to explain. Having studied at the London College of Fashion, he finished by writing a book in his final year. "And I had an idea for a soundtrack to accompany this book. And I decided, OK, I want to do this. So I've gone to my lecturers - I was studying Illustration and Creative Direction at the time - and I've gone to them and said, "I've made some music, and I'm gonna hand it in, and you're gonna mark it like illustration and art'. And they said, "We're not, and you will fail if you do that'."'
He did it anyway, and presumed he'd failed his degree. However, deflated but not deterred, Kojey posted the EP that came from that final project, 'Dear Daisy', on SoundCloud. It quickly gained traction, and had soon scored him a big enough audience to allow those feelings of failure to begin to recede. "Virality was a lot smaller back then, it took a lot less to go viral, you know? So, I'm enjoying the fruits of that labour, and the summer comes to a close, and my boy gives me a call like, "Are you going to the end of year show?'
"I quickly put on a jumper, some jeans. Everyone else was dressed to the nines - I didn't get the memo," he continues. "So, I go, and my lecturer's there. She comes up to me smiling, all, "Oh so glad to see you, you did so well'. I said, "What you mean, did so well? What you talking about?' She said, "Check the results'. So, I checked them, and I've ended up getting a first. I finished top six, I can't remember if it was in my class or the university overall, but I did really well. And then life began."
"
I started my music journey with the thought in my mind I was already a failure.
From there, life began to unfurl in its own twisting, turning way. The video for 'Bambu' ended up getting Kojey signed as a director, while an early tour supporting Young Fathers would prove life changing: an inspirational moment to hammer home the importance of a strong work ethic and, integrally, the idea that not all music that finds a popular audience is pop music. "It forced me to never consider changing for a mass audience; to just do what you wanna do, consistently," he nods.
He left the tour focussed and determined, ready to share a burning rage with the world. The political tracks he wrote in this period saw him labelled as a socially-conscious spoken word rapper. "But that wasn't really me," he explains. "I mean, I came from spoken word, which was conscious, but that's not my personality trait. I'm a normal person, you know what I'm saying?"
Then, all of a sudden, the tides began to turn. "The industry starts fucking with me a little bit more. I'm on the Hot for 20-something BBC list or whatever. Radio was starting to support. But I'm inexperienced and have a severe lack of music. I'm getting all this attention and this love, and I can't reciprocate it. You get this rush of, "Oh it's there; he's there; Kojey's right there; he's on the cusp of whatever the fuck'. But I weren't ready so it went away."
Undeterred, Kojey plugged away, soon returning with 2016 EP '23 Winters'. Gigs were booked all over the world as he approached another tipping point for success. But just as soon as the pieces started to fall into place, things swerved again. "People started dropping off, I started battling with mental health and anxiety," he explains. "Life on the outside's going amazing but I'm slowly fizzing out. I'd made [his 2017 release] 'In God's Body' by that point, and I was about to drop it, and the manager I had at the time left. They took me to a café and talked me through plans for the next five months and ended the meeting with, 'I quit'. They ended the meeting so I could do it by myself. Then my best friend who helped me put the 'Bambu' video out died. I was like, I'm done. I'm done with music. I was ready to quit."
But he didn't. A collaboration with German filmmaker Hito Steyerl on the visual art project Power Plants was eventually shown at the 2019 Venice Biennale and, later in the year, the 'Cashmere Tears' EP followed. Then, just as that was about to explode, the pandemic hit.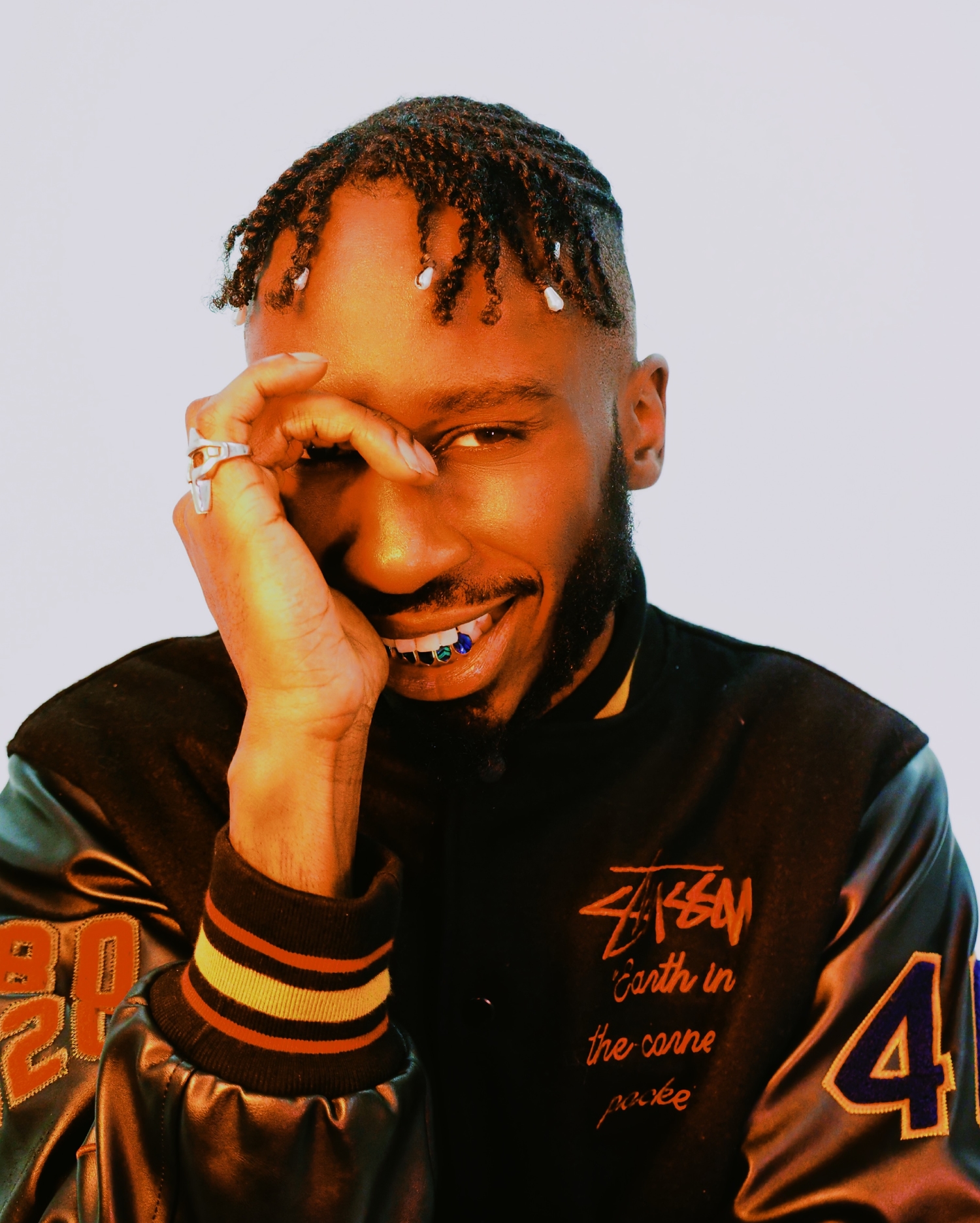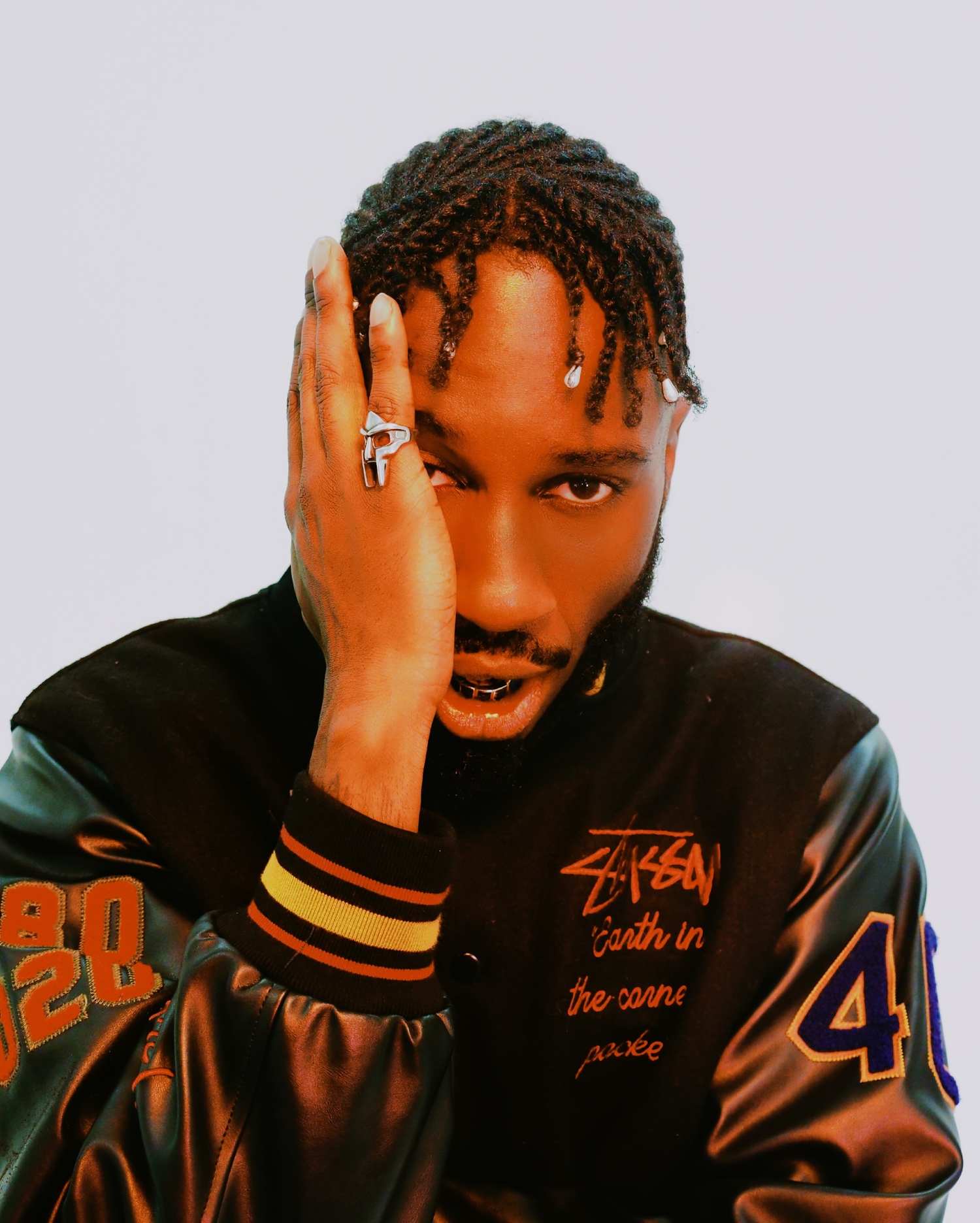 "
The more music I put in the world, the more I have the chance of being [a lifeline] for someone else.
At his mother's house, early into lockdown, Kojey was surrounded by his old belongings. "And I get kinda stopped in my tracks you know?" he suggests. "I sold the biggest shows I'd ever had. My career, my tour, was sold out, music was bubbling. And everything stopped and I realised I hadn't really sorted my life out. Things had been moving really fast since 2014, so I had to figure out what I was going to do. And it sort of led me to 'Reason to Smile'."
His long-awaited full length debut, he offers up, is a homecoming, infused with his mother's voice and the sense of returning to himself, at last. "With this album, one of the things that was happening for me in my life was becoming a dad. And in the process of being a new father you're trying to figure out where you fit into the whole dynamic, you know? You're kind of useless, apart from just being there for the mother of your child. But what is required from you is you're just there. Whether you're there to be a punching bag, or just be an ear. You're trying to figure out how important you are in this process while watching the mother of your child be the most important part of this dynamic. And then I'm writing this album, and I just end up writing what I'm going through, what I'm thinking."
Having played the album to a friend, they then suggested the obvious missing feature was his mother. "So, I took her to the studio," he recalls. "She came with four pages of words written down, and I took it off her, I took the pages off her, I was like, 'fuck that' and we sat down and just spoke. And we cut it up and put it down together. But it kind of ended up making sense because my mum's voice always reminds me of being home. Even if it's being in your room as a teenager not wanting to speak to no one, but still knowing the sound of what it's like for your name to be called from downstairs. Do you know what I'm saying? Certain things take you right back there. Things now are moving so fast, you kind of need those reminders of home."
Suggest to Kojey that now, after so many false starts, it feels like he really is on the cusp of mega success this time, he just laughs, waving a hand dismissively at the screen. "It's one of these cliché things, but people say to me, 'Your music saved my life'. I'm realising that there's certain songs that came to me at times in my life, and they became the most important songs to me. The more music I put in the world, the more I have the chance of being that for someone else."
He leans forward. "I was speaking to someone yesterday who was saying they wanted to sing along to 'Can't Go Back', but she wasn't able to because she was crying so much. Her brother had just killed himself, and she was listening to that track every day because it was one of her brother's favourite songs. For my music to be that involved in anybody's life is crazy to me."
A short silence descends, as Kojey contemplates the journey. "I'm just grateful in the end, because what started out as an experiment has ended up being: my life."
'Reason To Smile' is out now via Atlantic.