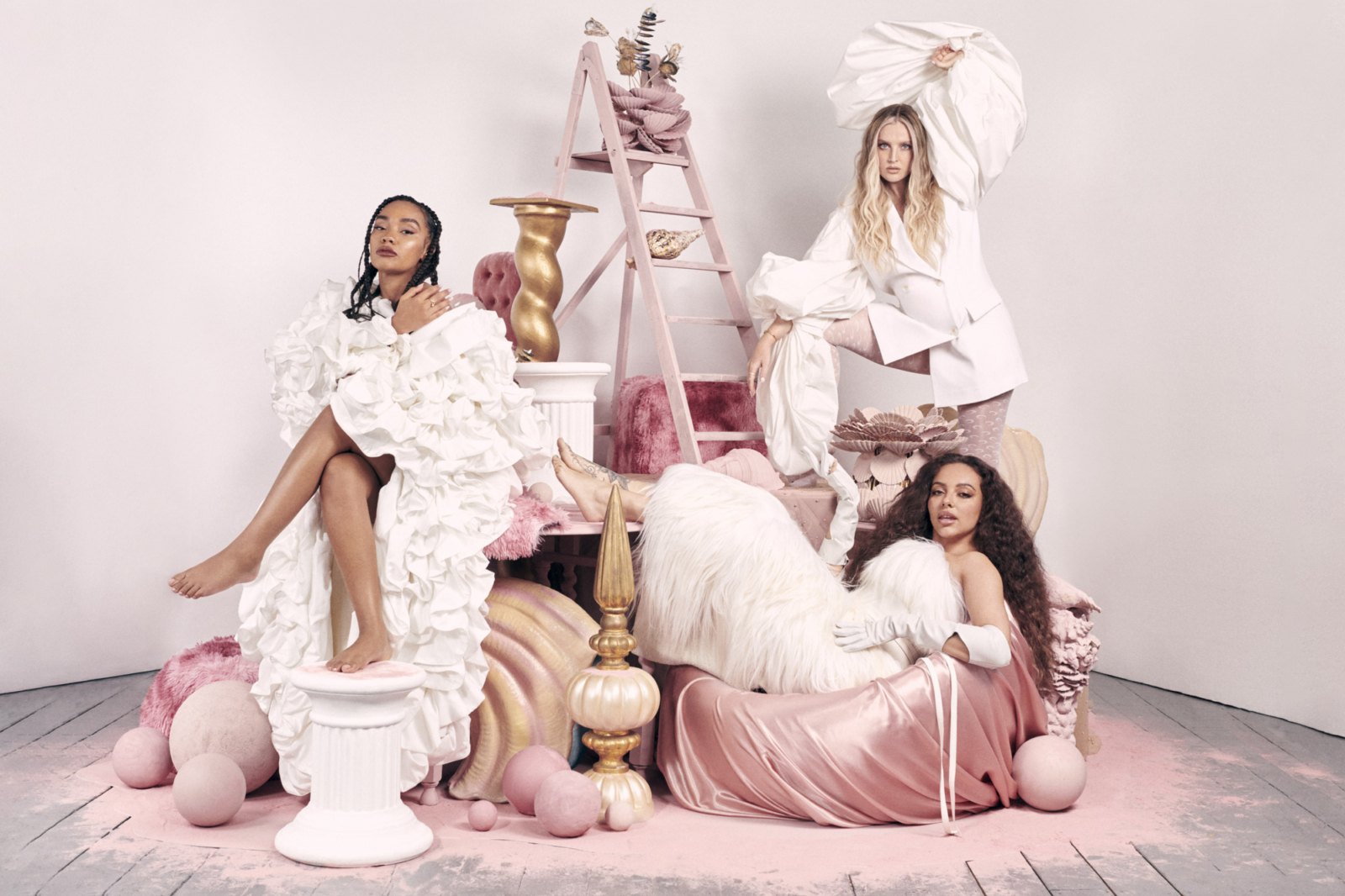 Little Mix: The Magic Number
Ten years into the game, Little Mix are still at the peak of their creative powers. On the eve of their greatest hits, they talk pop, pressures and the perks of pissing off politicians.
Little Mix aren't just a girl band: they're a girl BAND. Ten years in, with six studio albums, 27 singles, 100 award nominations and an ever-growing army of fans around the world, the now-trio consisting of Jade Thirlwall, Leigh-Anne Pinnock and Perrie Edwards have cemented their position as one of - if not THE - defining pop groups of our generation. They are songwriters, performers, activists, allies, mothers and businesswomen. And yet over the years, they have spent an inordinate amount of time defending all of the above.
"When you come from a show like The X Factor, it's always assumed that you're puppets who just go on stage and are told what to do," says Jade. "But from the off, that really was not the case for us. The fact that we've stuck around for 10 years suggests that maybe we're doing a good job…"
With their lives tied up in celebrity, fans have often been frustrated with the way that Little Mix have been portrayed in the press. As one put it on Twitter, "There is more to Little Mix than their dogs, boyfriends and lockdown activities." And so, on the eve of the release of greatest hits album 'Between Us', there will be no tabloid discussion: no babies, no boyfriends, no fabricated beef. For DIY's zoom call with bonafide pop royalty, we're getting stuck into the proper stuff; what it takes to thrive at the very top of the pop game for a full decade and still enjoy each other's company.
You know how the origin story goes by now. In 2011, four working-class girls - Jade, Leigh-Anne, Perrie and Jesy Nelson - auditioned as soloists for The X Factor, wide-eyed and utterly unprepared for what was to come. They didn't make it through as individuals, but were put together by the alchemic eye of girl group legend Kelly Rowland, endearing the nation with their colourful pep. When they were crowned victors, they were catapulted into the whirlwind of public perception, clinging to one another to survive the storm.
"We were so lucky in that we just clicked, didn't we?" reflects Leigh-Anne. "We were so young, I think we needed each other. When we first sang together, it was just like, wow. This is going to be something big."
"Honestly, I can't imagine I'd have been able to do it at that time on my own," agrees Jade. "I think we knew very early on that we wanted to be the band we would have liked growing up. We had The Spice Girls, TLC, Destiny's Child, but it'd been a while since there'd been a group with that sort of female empowerment. We set certain boundaries for ourselves from the off; there wasn't going to be a lead singer, and we collectively agreed that the sound would be pop with a bit of R&B. From the beginning, we were very much all on the same page.
From the sugary harmonies of 'Wings' to the badass choreography of 'Sweet Melody', it's difficult to think of many female pop groups that have felt quite so balanced in their collective growth. Each girl has had her fair share of stand-out outfits, high notes and extra-curricular engagements, and it's been the same with songwriting; from the very beginning, they've all gotten stuck into the creative process of their music, crafting heart-rending ballads and party bangers with equal finesse.
Nonetheless, when they won Best British Group at the 2020 Brit Awards - the first girl group in history to do so - numerous rock'n'roll types lined up to have a pop, including Noel Gallagher. Claiming that the band were "not even in the same fucking sport" as Oasis, Noel Gallagher denounced their win, bemoaning the denigration of 'real' music. In customary fashion, Jade used an appearance on Never Mind the Buzzcocks to provide a now-legendary clap-back: "It's a shame really, as we are definitely the most successful girl group in the country, but he's not even the most successful performer in his family."
The memory of her one-liner raises a smile, but Thirlwall remains frustrated. "It always tends to be the men that are in those very instrument-led bands; the industry as a whole is very much led by older white males," she begins. "From the off, there is that assumption that women can't do it as good as they can. It's such a weird stigma; it took me and Leigh-Anne six years to get a publishing deal as songwriters, because people just wouldn't believe that we could possibly write. Just because you don't have a guitar, doesn't mean that you're not capable of sitting in a session and forging brilliant pop music. Which is what we do!"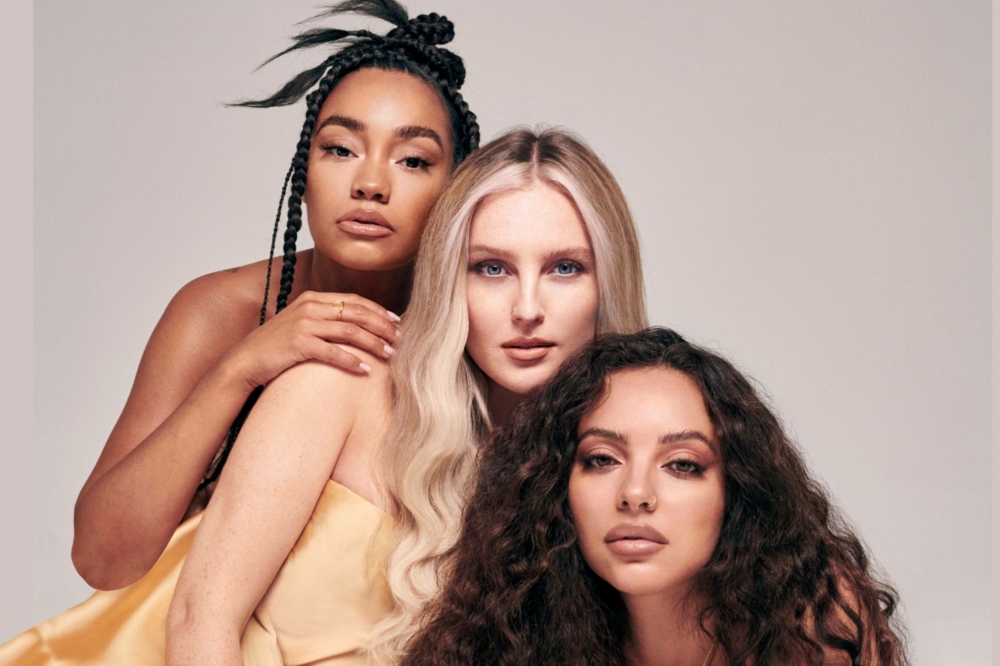 "
We've worked so hard, and we are trying to make things shift in the industry. We want to keep changing people's opinions.
— Perrie Edwards
Though female pop groups have always faced sexism, Little Mix's formation in the age of Twitter may have given them a rougher ride than those who came before. Right from the off, they tried their best to defend themselves (see 'Reality', a takedown of gossip mag culture that didn't make their debut album), but when they parted ways with Simon Cowell's Syco in 2018, it allowed them to finally tackle a multitude of issues head-on. Into the firing line came the speculation over their creative autonomy, the scrutiny of body image, and the snide suggestion from panto villain Piers Morgan that the burgeoning sexuality of their dance routines invalidated their 'role model' status, setting a bad example to their young fans.
"You kind of have to laugh at it, because it's just the biggest yawn ever," says Jade. "For us, half of the reason why we wear leotards or those sorts of costumes is for comfort - when you're doing a two-hour stage show, you're sweating your tits off! We've always batted off those opinions, because we want to show other women that you can be empowered by your own body, however you want."
Bolstered by the fourth-wave feminism of the digital age, these songs took on an even more direct route. While 'Salute' and 'Shout Out To My Ex' had long proven their ability to write a girl power bop, the release of 2018's 'LM5' marked a serious step up for the group, constructing a mature sound of deeply personal disclosure - the body positivity of 'Strip', the self-love of 'Joan Of Arc' and the fan favourite 'Wasabi' chock-full of immaculate middle-fingers ("The shit the papers write about me / I fold it up like origami").
Not breaking the fourth wall so much as actively demolishing it, 'Not A Pop Song' (from 2020's 'Confetti') proved itself to be a further moment of cathartic release, tackling the Cowell break up with comedic panache.
"We always let the music do the talking," nods Jade. "I feel like we've never really been seen as controversial artists, and that song is all about how we're not trying to prove an edgy point. We are what we are; we're pop artists, and we're not going to apologise for that, because we're the best at it. It IS a pop song. Lap it up huns!"
Unsurprisingly, they haven't heard a peep from the man himself. "No, no. But there's no bad blood," Jade demurely confirms. Nonetheless, she can't seem to resist another Buzzcocks-esque moment of sass... "To be fair, we hardly ever saw him throughout our whole career. We only popped round his house a few times for a free dinner, do you know what I mean?"
"Stooppppp!" exclaims Leigh-Anne, torn as the others collapse into groaning laughter. "But yeah, he does do a great roast dinner."
"
It took me and Leigh-Anne six years to get a publishing deal as songwriters, because people just wouldn't believe that we could possibly write.
— Jade Thirlwall
Though they apologise for their exhaustion - "We did 17 interviews yesterday!" - the natural charisma and good humour of Little Mix reminds you that they really are a genuine friendship group, albeit one that is perhaps holding back just a little more than normal in the name of diplomacy. DIY, like many others, have been specifically asked not to probe about their ex-bandmate, and the reasons are obvious; though Jesy Nelson left the group on seemingly supportive terms in late 2020, things have soured somewhat of late, with the new soloist embroiled in accusations of blackfishing, of being complicit in shade-throwing via the medium of Nicki Minaj, and of claiming - repeatedly - that she is no longer on speaking terms with her ex-bandmates. For a group whose 'us against it all' message seemed central to their appeal, it's been a difficult time for Mixers who don't want to pick sides.
To their credit, Little Mix's three remaining members have remained tactfully quiet, but did confirm in a recent interview that, prior to Jesy's departure, concerns about blackfishing were aired in a "friendly and educational way". Nonetheless, their line-up change is an unavoidable part of their history, and though much of the press cycle has centred on Jesy - her mental health, her departure, her ongoing dissatisfaction in the group - things can't have been easy for the remaining three. Has there ever been a moment where they've thought actually, we don't want to do this either?
"100 percent," nods Perrie. "I think we've all been there at one point or another. There was a period of time where I literally came home every night and cried and didn't know what was wrong with me. I think it's just tiredness; it's getting overworked, it's feeling like you can't escape. You can't switch off from being in Little Mix for a week and not have any shit thrown at you."
Vocal about her struggles with anxiety, Perrie has learnt to let her bandmates in. "Just getting things off your chest – I can turn around and say, 'I'm really struggling, I don't know if I can do this', and as soon as they say 'Babe, we get it', I feel better. I forget sometimes that I'm not in this on my own. Everything we experience we experienced together for the first time, and we've got each other to cry on and make everything better. The good always, always, outweighs the bad."
"I think what I really love about the three of us is that we've all suffered in some way, but we always make sure that each of us has that opportunity to tell our story in the right way," says Jade. "Whatever we're going through, we make sure that nobody's feeling like their problems aren't as important as the next person's. So yeah, obviously a big change has happened to us, but this year has been mostly a celebration. A decade in this industry without a break; not many bands can say that. We've had a real shift in energy this year of just feeling at peace with each other; we want to praise each other and celebrate each other's wins no matter what happens in the future, and that's such a lovely feeling to have."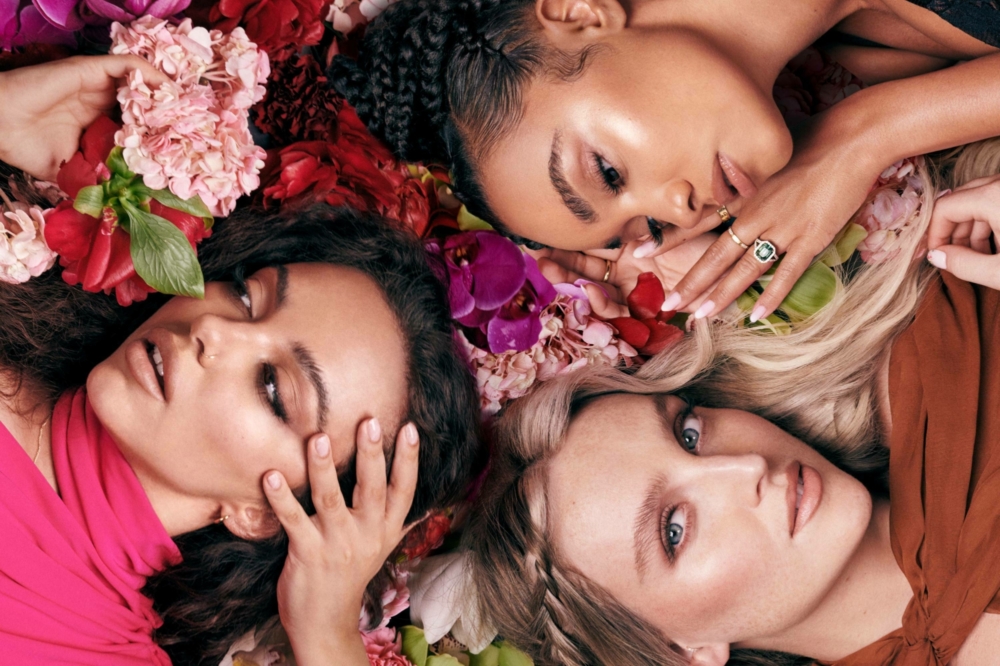 "
[Politicians] are scared because we've got a flurry of young fans who can be taught to speak out when they see something that's not right.
— Jade Thirlwall
If 'no matter what' chat all sounds a bit ominous in the air of splitsville rumours, fans shouldn't be too worried just yet. All three girls are clearly committed to being each other's cheerleaders, a generosity that often extends outside of themselves. Jade's advocacy for LGBTQIA+ rights has long been documented, but the whole group is activist-aware, displayed most recently with Leigh-Anne's powerful documentary on the politics of race in the music industry. "There's still a long way to go, but so much is changing that I never would have thought possible," she smiles. "Things do feel hopeful."
Societal issues aside, the trio do truly seem as if they're in a contented place. When it came to putting the Greatest Hits together, they kept things simple, only adding extras that truly felt right. "When we got in the studio we didn't put any pressure on it: the new songs are literally more of what people love from Little Mix," says Jade. With so many hits to choose from, a few oldies have inevitably been retired; "'Oops' can get in the bin for me – no offence," confesses Perrie, while Leigh-Anne is happy to bid 'Change Your Life' adieu; "Only because I was made to talk on it, and I just can't help but cringe at myself every time. Sorry!"
Though the various highlights of their decade together could fill countless photo albums, they return to the BRITs win as their collective pinnacle; an emblem of exactly how far they'd come as a group.
"When the three of us walked on that stage, I looked next to both girls, and was just like, we've fucking done it!" says Jade. "We've got through so much, we're stood here, the three of us, and we're being told by these credible people in the industry, FINALLY after 10 years, that we're worthy of this award. I know that when you're dead and gone nobody's arsed about what's sitting on your mantelpiece, but for me, it felt like it was a message to the industry to be like, 'This is amazing, but it's been too fucking long.' There have been so many great moments, but that one in particular, it felt like time just stopped."
"Us three on stage next year on tour, I think that is going to be the moment where I look around and think, wow," says Leigh-Anne. "I feel so whole personally; I've come so far in myself, but also to be able to look at us and think TEN. FLIPPING. YEARS! Like, we've done THAT, you know?"
"We've worked so hard, and we are trying to make things shift in the industry," agrees Perrie. "That's what we want to do, keep changing people's opinions. And you know," - she lapses into a mock-Australian accent, a classic of the Little Mix vernacular - "We just want to keep making the world a better place!"
"
I've come so far in myself, but also to be able to look at us and think TEN. FLIPPING. YEARS! We've done THAT.
— Leigh-Anne Pinnock
To borrow an iconic pop phrase, Little Mix's future is still very much unwritten. They've been keeping themselves busy; babies, 30th birthdays, a clothing brand for Perrie and a new project for Leigh-Anne - The Black Fund - that allows her to support Black charities and community groups. On the musical side of things, Perrie won't rule out the idea of Little Mix dabbling in some pop-punk ("Olivia Rodrigo and the whole comeback of that sound – that's right up my street!"), while Jade has been lending her songwriting chops to K-Pop, working with nine-piece girl group Twice on their mini-album, 'A Taste Of Love'.
"One thing I do love about K-Pop is that it is unapologetically pop, and the culture respects and uplifts that idea," she says. "There's no judgement of how a song should behave; you can write a pure pop song, be really playful with it, and those bands praise it and enjoy it. It's not too far off what we do - just maybe a bit more tongue in cheek at times."
Wherever their musical journey takes them next, one thing is very clear; Little Mix are very much leaning into their power. Growing from girls to women, the path of resilience that they have carved out for themselves has undoubtedly made it easier for other artists to follow, knowing that you can be a success without dampening your voice in the process.
"For a very long time, we were terrified," says Jade. "It's scary when you don't feel educated enough, and when you're a pop star, people sort of assume that you should just do your job, be a pretty face and shut the fuck up. If you're in an interview and you say one wrong thing, that's what people latch onto. The aftermath of that is quite daunting and it puts you off saying something again, but as life moves on and as you mature and you educate yourself more and more, you build up this resilience to that sort of bullshit."
Though numerous men have tried to take Little Mix down over the years, they have only served to bolster them further. "The first time I spoke up properly on Twitter, it was to do with the Syrian airstrikes. The onslaught of grief from male politicians - instead of making me shit myself, it literally made me be like, fuck you," Jade laughs. "It sparked something in me; I know why you're scared, and I know why you're trying to belittle me, and it's because you know that we've got a flurry of young fans who can be taught to speak out when they see something that's not right.
"I think all three of us have had those kinds of moments along the way, where we've found the strength to speak out," she continues. "I think we're at a point now in our careers where we have finally gained that respect to do so. It definitely took longer than it should have, but you know, here we are!"
And here is where we hope Little Mix stay: funny, fierce, empathetic, honest and, frankly, a whole lot truer to themselves than many of their critics. They've made it this far, so what's another ten years? However long we get, theirs is a pop bubble that we never want to burst.
'Between Us' is out 12th November via RCA.