The Great Debate 2022
Goat Girl, Phoebe Green, Jelani Blackman and Willie J Healey discuss what went down this year…
And now the end is near, and so we face the final curtain of 2022. And while, in a wider sense, the year will be remembered as a political and economical conveyor belt of shit, when it comes to music, hey - it was pretty fun tbh! So let's focus on the latter with a little help from our friends: Goat Girl's Lottie and Ellie, Phoebe Green, Jelani Blackman and Willie J Healey.
In classic end-of-year style, we gathered them for a cuppa and a conflab, to discuss their personal highs and some of the year's biggest musical talking points. Over to them, then…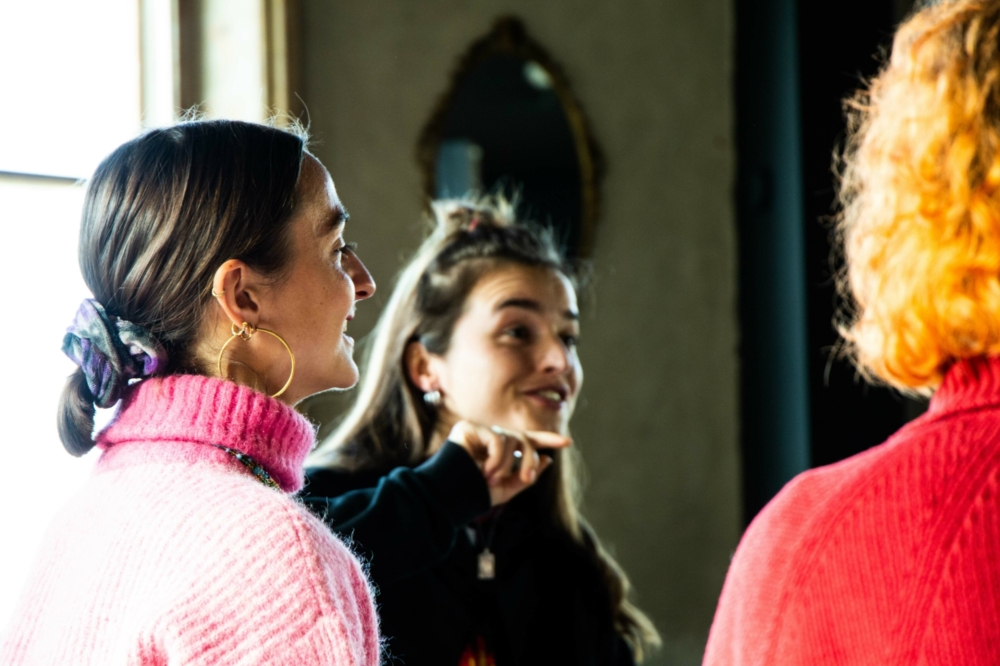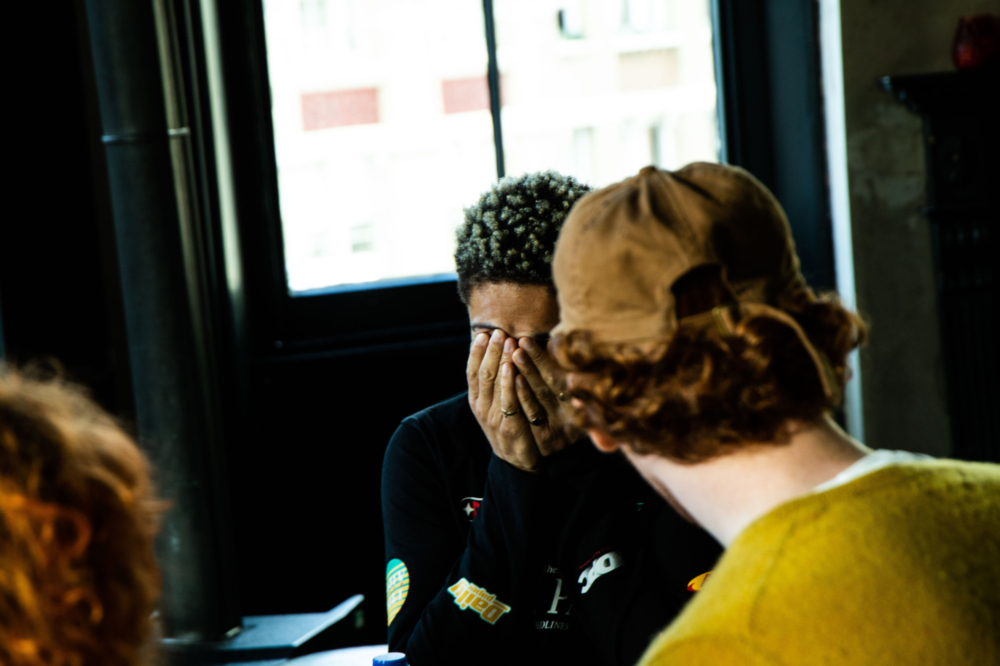 "Asking for photos is so stressful, I don't know how people do it."
— Jelani Blackman
So guys, let's kick things off nicely with your personal highlights from the year.
Jelani Blackman: I played Glastonbury for the first time! I played three times in Shangri La, Rum Shack and in the drum'n'bass bit.
Willie J Healey: I went for the first time this year and really loved it even though I was staying in a one-man tent and had to get changed outside the tent - that was a bit of an oversight… I haven't been to that many festivals…
Jelani: It's the best one. You know how some programmes only get good on the third series cos they've worked out their kinks? That's how I feel about Glastonbury. It's got better every time I've gone because you get used to it.
Phoebe Green: The first time I went was with my parents so I've definitely figured it out more since then…
Have you had any mad Glasto moments while at The World's Greatest Festival™?
Willie: I went to see my friends in IDLES play and they asked if I wanted to get up and sing a song with them, which was 'All You Need Is Love'. They pulled me out and I sang it but I really ruined the song; I hadn't realised they all had in-ears in, so I went out and they handed me a microphone and I couldn't hear anything in front of this really big crowd.
Jelani: That sounds like a set up.
Lottie, Goat Girl: That's what happened to Stormzy when he headlined Glastonbury, part-way through he couldn't hear anything and he had to feel the rhythm through the stage and just go with it.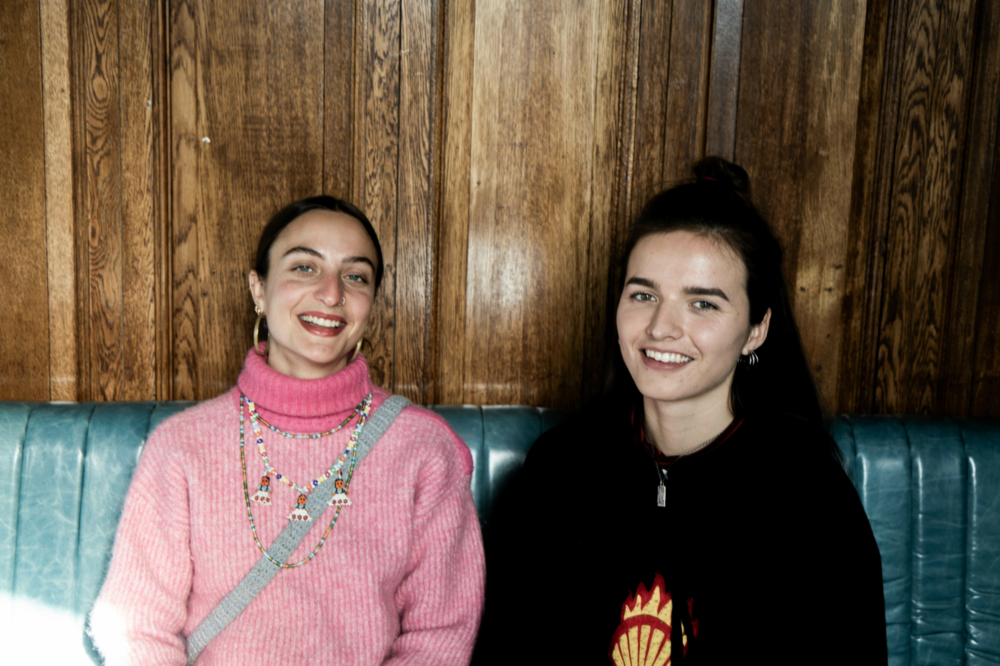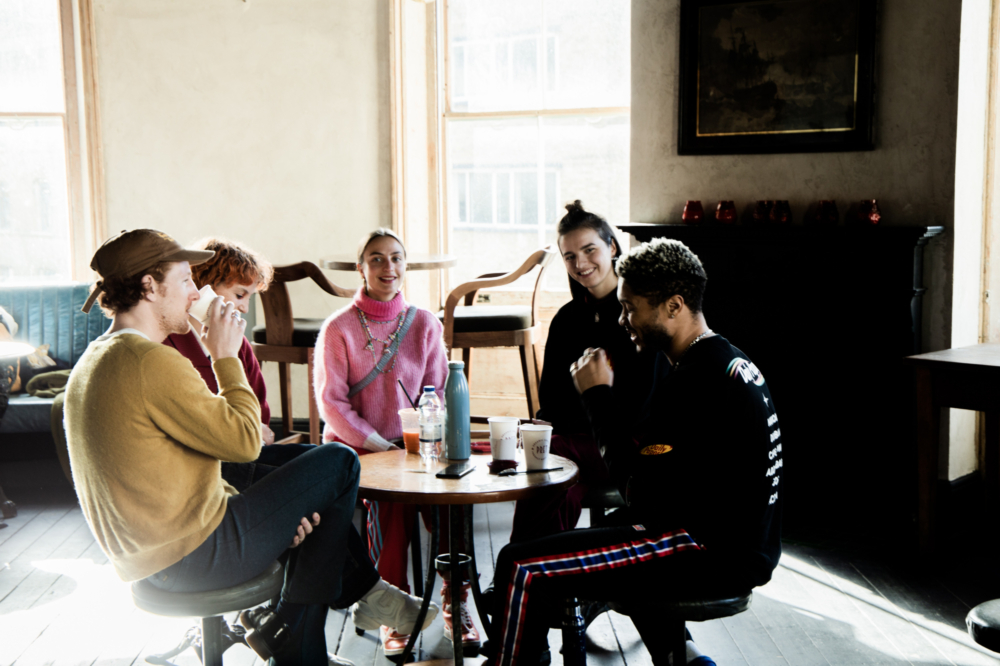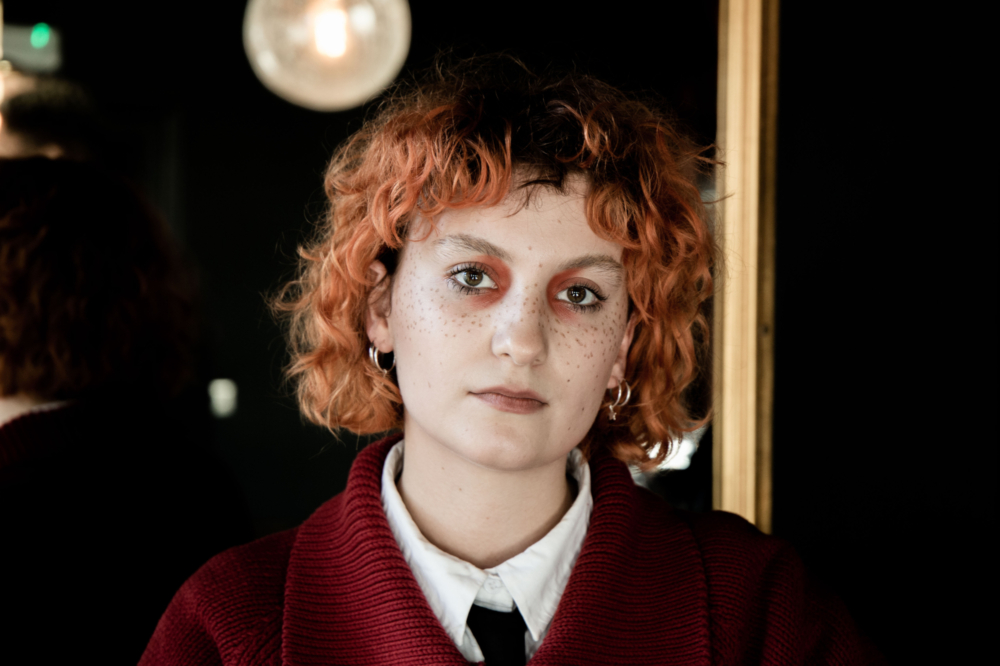 "As an artist, what you wanna hear more than anything is that you've changed someone's life for the better."
— Ellie, Goat Girl
Willie, we heard a certain Mr. Jamie T hopped on stage with you at your recent London show…
Willie: It was pretty cool! Jamie is someone I loved when I was younger, and then I met him and he leant me this drum machine in lockdown and I wrote a whole album using it. I wrote this song for him as a joke and sent it to him and he asked to sing on it. It was all really silly, and he got on stage with us recently; it was sweet because he looked quite nervous. I was there thinking, this is quite mad. 14-year-old me would have probably shat my pants to think that Jamie was gonna be there.
Who would be people's dream collaborators?
Phoebe: James Blake would be mine, I think.
Jelani: I'd like to get Kendrick on a track.
You've already sung on a track with Gorillaz - that's a dream, surely?
Jelani: Yeah, they saw a track that I did and reached out. It was sick. I didn't want to think about it until it was definitely a thing but the moment it clicked was when we played the O2 Arena and we did the soundcheck and there was this guy on the left just vibing. Gorillaz' band set-up is 15 people, and then for the O2 there were 20 people coming out as features. In my dressing room was me, slowthai, Slaves and this other guy, and I asked him what he was up to and he was like, 'Oh, I did this tune back in the day called 'Clint Eastwood''. Like, that was one of the first raps I ever learnt! The younger me was losing my shit!
Has anyone else had any similar pinch me moments this year?
Lottie: We were lucky enough to support my favourite band ever, Metronomy. The first album they put out was very inspiring to me; it's him making all these different beats out of found objects and it's very DIY and lo-fi sounding but with some banging tunes. We supported them and I was just at every soundcheck, at the front for every gig, singing all the words back.
Willie: Did you get a chance to tell them?
Lottie: At the afterparty I went up to Joe [Mount], but you can't ever be cool, can you? You can't keep it in how much you adore someone.
Ellie, Goat Girl: But as an artist that's what you wanna hear more than anything, that you've changed someone's life for the better. We played with Patti Smith as well. We didn't chat for too long but she was like, 'Ah man I can vibe to this'. So that was cool that she liked us. And SHE asked US for a photo!
Jelani: Asking for photos is so stressful, I don't know how people do it. I've only done it once when I went up to Wiley, but there was a whole queue of people and it took me so long because I was waiting and by the time I got there he said no, so I just had to sit down like, cool cool…
Phoebe: Did that change your view of him a little bit?
Jelani: It changed my view of myself…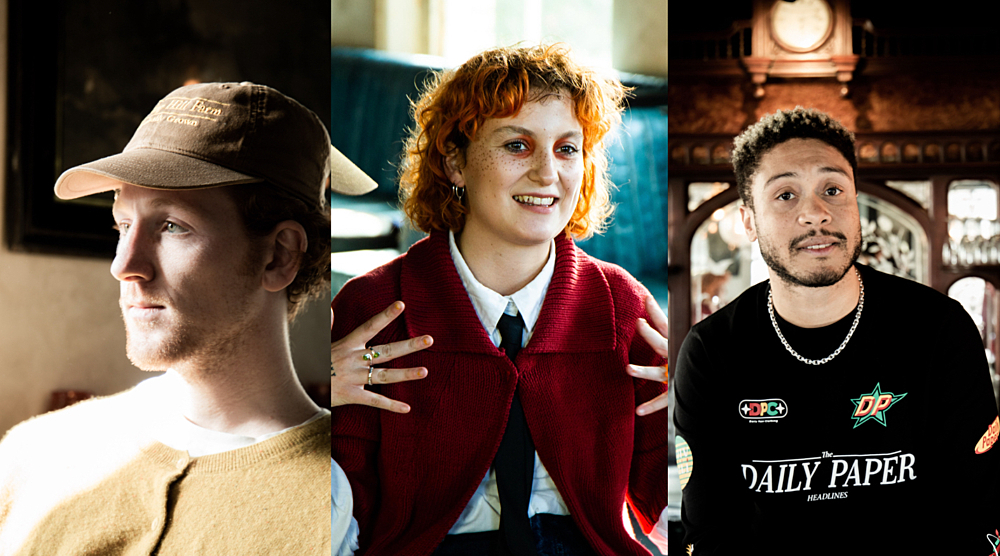 "14-year-old me would have shat my pants to think that Jamie T was gonna be at my gig."
— Willie J Healey
One of 2022's standout superstars is Self Esteem - how was it touring with her Phoebe?
Phoebe: Not that I've ever been egotistical, but I think it's made me detach from my ego when I perform so much more. I'm way less concerned about appearing perfect and being an 'artist'. I really enjoy connecting to a crowd and seeing people take the piss out of themselves if something doesn't go exactly as planned. The way I write, I use a lot of humour to hide behind how vulnerable things are, so seeing another artist like Self Esteem do that is really reassuring.
Lottie: We have those moments - not moments, pretty much all the time - of fucking up, but I think it's really nice when that happens and you give a little look to your bandmate and say something silly into the mic. It makes it real and not this polished thing that I don't think we'd ever want to be.
And segueing to the other side, the masters of modern indie mystique Arctic Monkeys are back with 'The Car' - what do we think?
Willie: The guy I recorded my last album with was part of making 'The Car', so when I was recording with him he was playing me mixes of the new Arctic Monkeys album.
Jelani: Ohhhh it's called that, I was like, have they got a car on stage?!
Willie: I remember my initial reaction was like, I really respect this because there aren't really obvious, classic Arctic Monkeys singles on there and I think, even if you don't like it, as an artist you respect it because it's kind of bold and there's longevity to that. I do like it too, though!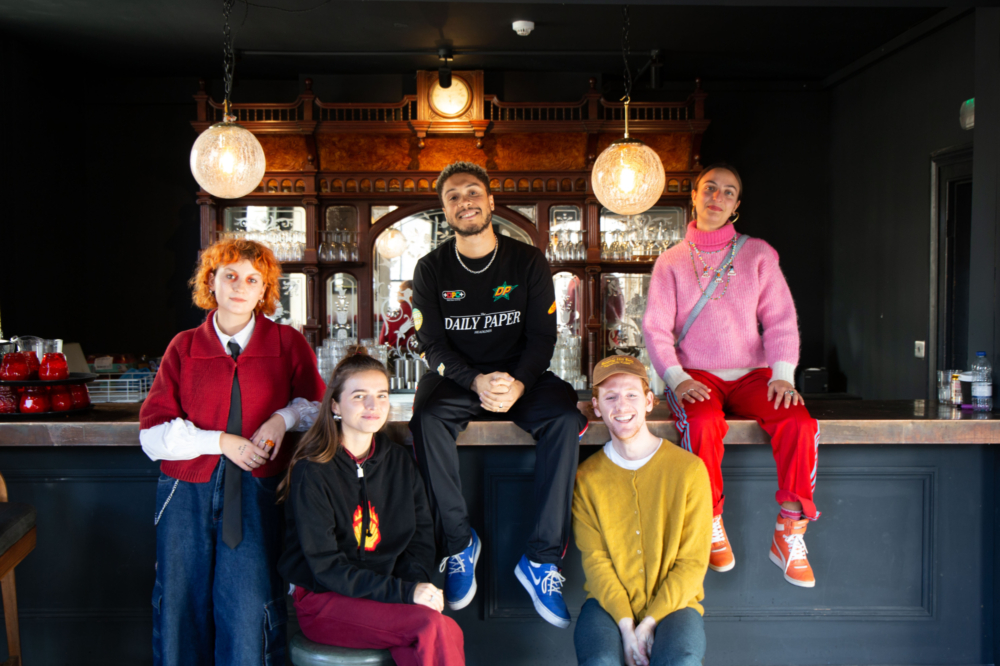 "I really enjoy connecting to a crowd and seeing people take the piss out of themselves."
— Phoebe Green
What's the dream trajectory for an artist do you think?
Jelani: I think about it a lot, and for me it always comes down to, what do you feel like you owe your audience? Whether you owe your audience anything or it's you indulging your own creativity and where it meets in the middle.
Phoebe: I'll respect an artist more if they're willing to lose fans in order to represent themselves authentically at the time. I'm a massive fan of Tyler, the Creator and I really love how he will switch it up all the time and create a world around each album where the visuals and everything are this whole package.
Ellie: All that's constant in a band is the people in it making the music, so you just have to be truthful with yourself about what you create.
Lottie: I like it when artists just do whatever the fuck they want to do and be bad, whatever 'bad' is. I love bands that sound shit - not shit, but bands that are not there to be pandered to, who are weird and rhythmically off and strange.
Phoebe: When it comes to external validation, that's when it's gonna be hard to maintain because what people like changes with trends and trends are so fucking fickle. As long as you back it, I think that's the main thing.
Jelani: I only suffer when I have expectations of something and they don't happen, but that's the same with other people too. Like with being late, if you've known me for five years and you still think I'm gonna be on time, that's on you!
Lottie: People always think we're gonna be late and we're so punctual. What's that about? I think it's sexism. 'Don't you need a man to tell you where to be?' People can't believe it when we can just do our jobs and be really good at them.
And finally - what are our Albums of 2022?
Ellie: I like Greentea Peng's record.
Phoebe: I love the Jockstrap album and also the MUNA album which isn't that new but it's still this year.
Willie: For a while I hadn't listened to Black Country, New Road and I saw them live and was like, 'Wow, that's why everyone's talking about this band because they're amazing!' So probably their new one.
Jelani: I've been listening to the Wet Leg album - I saw them at SXSW and that album's vibes.

Thanks to The Old Blue Last.
Read More