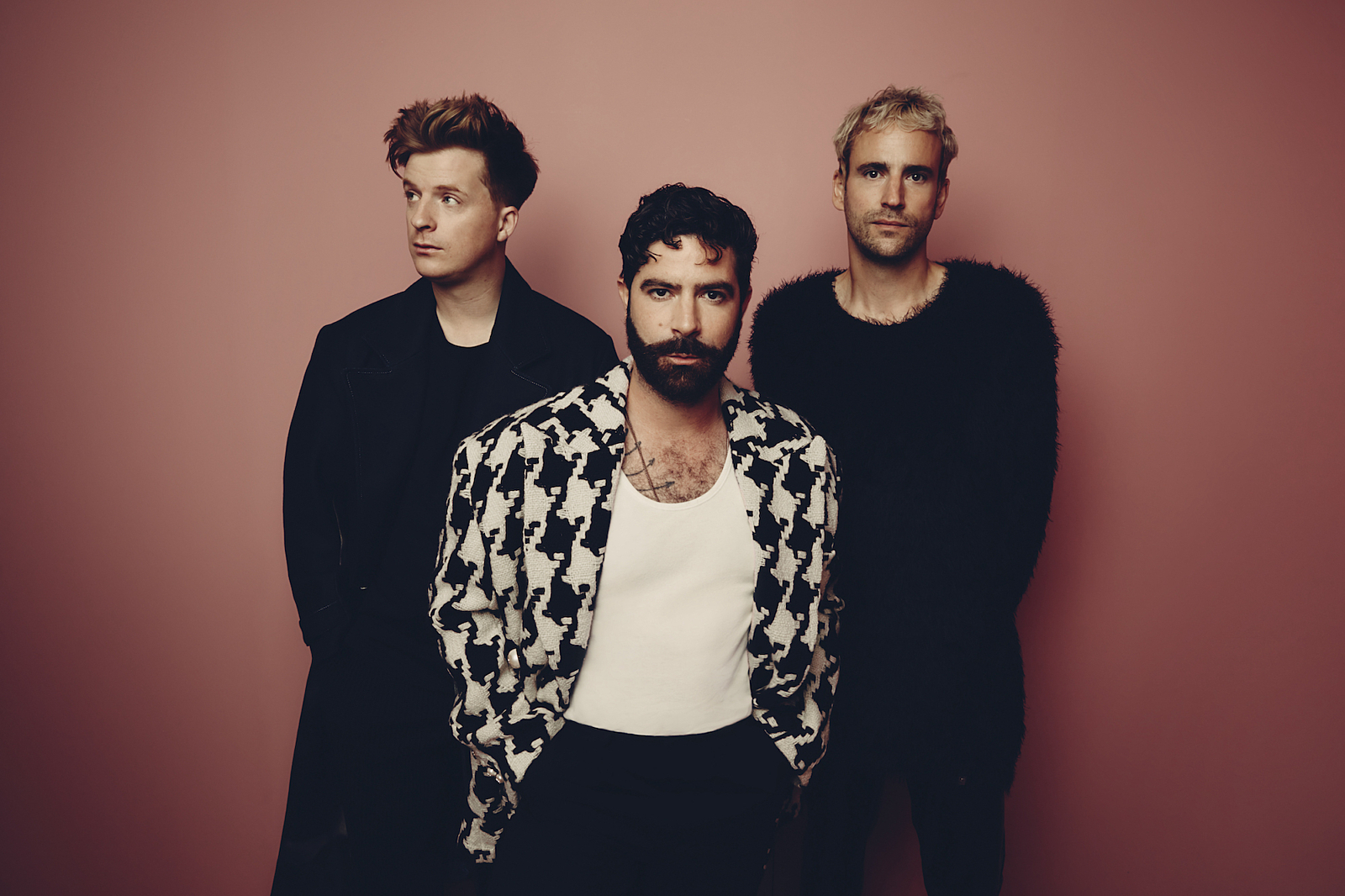 Photo: Edward Cooke
Albums of 2022: Foals
Ain't no party like a Foals LP7 party, as the now-trio gear up for an album aimed at harnessing the hedonism of life once more.
We're not saying that Yannis Philippakis is some sort of crystal ball-gazing clairvoyant, but by the end of Foals' 2019 two-part opus 'Everything Not Saved Will Be Lost', the band were documenting an imagined apocalypse that would soon become a lot more tangible.
"It's a kind of out of body experience where you're leaving behind all the mess; there's a sense of inescapable fate to it, where you're wanting to pass on into a place that's away from all this," he theorised to DIY back then of closing track 'Neptune', approximately six months before leaving behind an all-too-real communal shitshow was at the top of the world's to-do list.
For Foals, however, their go-to reaction was to once again look forwards. As despair and confusion reigned supreme around them, the band re-congregated, deciding to make a follow-up that would be fuelled by the desire to embrace what would come out the other side. Bunkered down and looking towards Album Seven, their MO would be to create the soundtrack for a reunited world who'd made it through the wilderness and were now firmly up for some good times.
"When I was daydreaming when we were writing, I was imagining people coming together at a club or at a festival, and I wanted to engineer the music so that it was for full physical potential - to be played live and for it to be raucous," Yannis enthuses. "There's a riotous element to this record I think, and an ecstasy to it.
"I think the level of party in some of these songs has never been seen before from us. I think it's gonna be the Foals record you can put on and it will just decimate the party you're at, in a good way."
"I think the level of party in some of these songs has never been seen before from us."
— Yannis Philippakis
Foals themselves are now a party of three. Though keyboardist Edwin Congreave's departure was only announced after a celebratory headline set at London's All Points East last summer, the band's forthcoming release was written entirely between Yannis, guitarist (and now keyboard player) Jimmy Smith and drummer Jack Bevan. "I think it's fair to say that the musical nucleus of the band has always been the three of us," the singer notes, "and we're definitely not enjoying losing members but it still feels like there's vitality and purpose to the three of us making music together, so as long as that's there then we'll continue."
And if funk-strutting 2021 single 'Wake Me Up' is anything to go by, then Foals look set to fully come good on their promises of exuberance, excitement and some seriously hefty vibes. Coming out of a double album that tackled weighty end-of-days themes via a combined 20-track expedition, the singer states that their impetus this time round was to veer left and make something more straightforward and lean. "We tend to contradict ourselves in some ways from record to record, so we'd talked about trying to strip it down and write something that was really concise and cohesive and simplified; we were talking about dance music basically and we wanted to really marinade in the more 'up' side of the band," he explains.
"Not all of the songs share the same funk or '80s bassline vibe [of 'Wake Me Up']; there are a couple of tracks that share DNA with it, but overall the record is full of energy. There are different ways to dance on a dancefloor, but the main thing was writing music that was uplifting in some way."
Having spent a lengthy time in their London writing room attempting to create their way into a more positive place, away from the "grey heaviness" that was all-pervasive, now 2022 is when Foals get to see if their predictions will come true once again. With a massive rescheduled UK tour including four sold-out nights at London's Olympia finally kicking off in April, and a summer of festivals ahead of them, it's the perfect time to unleash a record steeped in boisterous, communal fun.
"What propelled us to write the type of songs that we'd written over the past year was this feeling that, between the three of us, we can conjure up an imaginary reality through our songs for a number of hours in the day," says Yannis. "And then at the end of that, these songs will endure and they'll be real pieces of optimism and sunshine and fun that will then interact with the world when it reemerges. It was therapeutic for us to write like that and it was fun, but we also knew that at the end of it we'd have a document of this time when we were waiting for the world to be able to come and be a part of it."
Read More