Keeping It Real: Amyl and the Sniffers
On their second record 'Comfort To Me', Amyl and the Sniffers' firecracker frontwoman is going "pure 100% concentrated Amy".
Amy Taylor has been living a double life. On the one hand, she's frontwoman to Amyl and the Sniffers, an ARIA-winning punk band, shadow-boxing on sweaty stages the world over. And on the other, she's a model for Gucci, in demand for catwalks and fashion shoots, gracing the cover of magazines. What's it like squaring those two disparate worlds?
"It's pretty bizarre", Amy explains, "especially if you zoom in to all the Gucci stuff. It's a whole different world for all of us. It's made me very aware that life is full of bizarre opportunities and occurrences, and exciting things happen constantly."
Exciting and bizarre things seem to happen to the Sniffers more than most. Until recently, there was no overarching mission, just four friends having as good a time as possible while playing music: a band with a self-appointed "vibe technician". "That's my contribution within songwriting", Gus Romer, their bassist, laughs. "Just vibes."
However, like the rest of the world, their vibes were then swiftly checked. The quartet went from relentless touring in 2019 to enforced silence in 2020, with a bleak hometown precursor to the pandemic happening mere months before. From November 2019 to January 2020 (the height of Australian summer), Melbourne was subjected to "really gnarly bushfires". "We were wearing masks because of the smoke before COVID was even a thing," Amy explains. "We spent summer having to wear masks outdoors sometimes, thinking that that was the end of the world - and then the end of the world came, in March."
The band moved in together, locking down in a house with "sick-green walls". It's a picture that you can imagine rattling between boisterous fun and a pack of caged tigers. "Ah, a bit of both," drummer Bryce Wilson answers. "Hated it, loved it." "We're pretty comfortable with each other," Amy explains. "We're like a family: we love each other and feel nothing at the same time."
The enforced solitude meant that the band had nothing to do but write, and Amy found herself with the time to really consider lyrics for the first time. "The first two EPs were very spontaneous. The first one was written just on the day we recorded it," she laughs. "I guess I've just grown up a lot over the last year. Learning a lot about the world and how fucking dumb it is."
"I've grown up a lot over the last year, learnt a lot about the world and how fucking dumb it is."
— Amy Taylor
You get the sense that this period has affected more of Amy than just her writing style. She seems to have a purpose, a confidence in what she's saying, that wasn't there before. "[It's] not that I've ever not been confident, but I've found a different kind of confidence. I understand myself and how I think a bit better, so I can express myself a bit better," she starts to explain. "I struggle to articulate myself in conversation, but in a song I can get across a feeling or a thought better."
After climbing the walls for three months, the band broke out of solitude to hammer the album into shape at somewhere called 'Nasho'… "National Storage!" Amy hoots. "It's just a big warehouse where we practice, where we [finished] the album." The Sniffers teamed up with Nick Launay on production this time, fresh from producing IDLES' 'Ultra Mono'. There was only one problem: he was isolating in LA.
"It was hard, just navigating communication [with] someone overseas," Bryce recalls. "Particularly in America; that's drastically different daylight hours to us." Were the band staying up late into the night on call to Launay? "It was like, put your suggestions in at the end of the night. Then read them first thing in the morning to see what he's done to them, and listen again." Sounds like a nightmare. "Nah. Compared to the last album, which we recorded in Sheffield in a pretty frantic two weeks, this was a breeze."
The lyrical content of 'Comfort To Me', meanwhile, feels like a marked step up for Amy. In the past, she's rarely strayed from typical punk fare, but the Sniffers' second for Rough Trade is far more autobiographical than before. "Any time I've written lyrics, I've always tried to keep it authentic to who I am at that time. And so [previous albums were] equally as authentic, but [I was] finding my feet," she says. "Whereas this time, it's just straight up. Pure 100% concentrated Amy."
She relays details of her childhood, most notably on closer 'Snakes' where she recalls working at "the IGA" - a reference lost outside of the southern hemisphere. The band argue as to the acronym ("International Grocers Association! Wait, not International. What's the 'I' stand for?") before deciding on Independent Grocers of Australia. "It's just a chain of supermarkets," Bryce caveats. Amy grins: "That was one of my first jobs. So it's just a nod of my hat, because I feel if people have context into that, they'll understand me more." She pauses for a second. "Also, I just like representing. Like fuck yeah, if I wasn't doing this for a job, I'd probably just be working at a supermarket, and that's dope too!"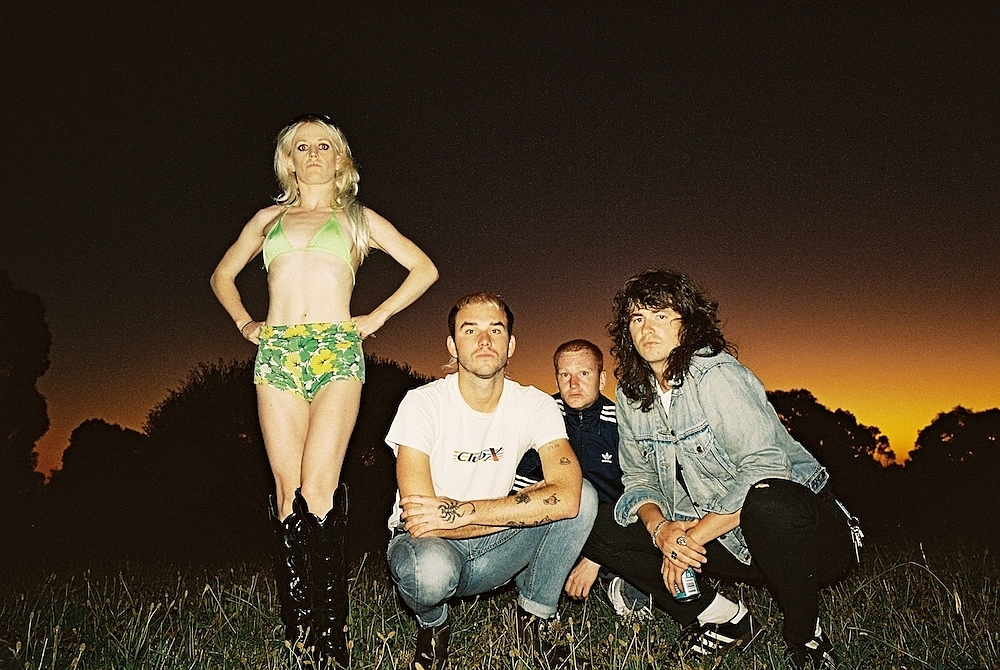 "We're like a family: we love each other and feel nothing at the same time."
— Amy Taylor
Tied Up In Notts
Amy Taylor has a particular affection for Robin Hood's hometown.
On 'Nudge It', Amy's collaboration with Sleaford Mods
"They reached out to me! I'm a big fan of both of them in a very intense way. I remember [seeing] them for the first time, I was walking around a festival and I could hear this music, and I was like, 'What is that? That's so dope!'. I was by myself and I was like, 'Fuck, this is the sickest thing ever!'. Jason told me later, 'Yeah, I remember seeing some weird fluffy blonde person going ham on the front row'."
On Jason's willingness to say it like it is
"I feel like they're lovely, but I also strongly believe that if Jason didn't like you, he would let you bloody know. Which is the perfect person to be, he's just honest. The fact that he looks at shit and goes, 'That's fucked', is so dope. Judgment's a good thing, because if you don't get judged, then you don't get better. And he makes people better."
On Nottingham Drum & Bass MC Bru-C
"You know who else is from Nottingham? Bru-C! I know all of the lyrics to 'Inhaler', part one and part two, off the top of my head! Off the top. All those crews - slowthai, Bru-C - they're just fucking wordsmiths. They're literally like geniuses to me. That's what I listen to."
Amy's spirited defence of an unshowy background that some stars might brush under the carpet is indicative of her other new preoccupation as a lyricist: politics. The lyrics to 'Capital' don't land far off the mark of, well, Marx. "I sent the album to Jason from Sleaford Mods, because he's one of the only people I trust in the music world. I sent it to him and Joey from [King] Gizzard [and the Lizard Wizard], and that was pretty much it," she enthuses. "Jason was like, 'Sounds like early Marxism', which was huge."
The singer's newfound embrace of politics is one she's had to wrangle with internally. "I was talking to somebody about it, and I said, 'I don't know if I should try and make a political song, because I'm not that educated and shit. I don't want to say the wrong thing'," she recalls. "I felt all those things. And then he was like, 'Well, your opinion matters too. Because you're not wrong, you're just delivering it differently. That's valuable. If politics is only left for the highly intelligent and highly educated, then that's when we'll get fucked over.'"
Amy interrupts her train of thought when she notices her bandmate has drifted off screen. "Are you OK, Declan? You look fucking passed out!" Declan sits up. "Yeah? I'm just playing my guitar." Amy sighs. "Put it down. You're on mushrooms again aren't you?"
"Dec did an interview last week on mushrooms, and told some lady that we're the best band in the world," Amy eye-rolls, as Declan interjects: "I'm not on mushrooms now actually. And you forgot that I said with a lighting person and some pyrotechnics, THEN we'd be the best live band in the world. You ignored all that!" he laughs, getting into gear. "Amy, I'm only going to be able to grow as big as the lid that you put on me. When I'm on the top, I'm gonna be pulling you up."
'Comfort To Me' may well be the album that sends Amyl and the Sniffers careening into the mainstream, and if it does, you can be sure that they'll be pulling all of us up with them.
Read More