'Mon the Sniff: Amyl and the Sniffers
Aussie punks Amyl and the Sniffers leave a trail of sweaty carnage wherever they go. We meet the band in Hamburg and try to keep up…
Amyl and the Sniffers are a musical battering ram, a caterwauling cyclone of a band. This month, their self-titled debut finally lands: an even harder, more relentless listen than the sensationally scrappy 'Big Attraction' and 'Giddy Up' EPs that already amassed them a devoted following. But it's the feral live sets that the quartet unleash night after night on the road that have really earned them their fearsome reputation as one of the most uncompromising bands around.
A motley crew of punks, moshers, metalheads and miscellany hovering eagerly in Hamburg's dark and dingy Molotow bar, a haven in the city's stag do and strip club-heavy Reeperbahn district, are next in the firing line. It's here, later on tonight, that frontwoman Amy Taylor will be scrambling atop the stage rigging, whipping mic leads and goading her crowd, tongue out and eyes fixed in a manic, petrifying stare. Behind her, guitarist Dec Martens, drummer Bryce Wilson and bassist Gus Romer summon the scorching ferocity of '80s hardcore punk and the freewheeling, fiery riffs of AC/DC in equal measure.
Amy is almost as manic off stage as she is on it. "Holy fuck, we're in Hamburg! Holy fuck, I just got a free Fred Perry shirt! Holy fuck, there's free tea in this room!" she exclaims backstage before the show, when asked how she's finding the tour. She's bristling with energy as she pours shots of vodka and hands them eagerly to bandmates, journalists, venue staff, and their long-suffering tour manager, but insists "I'm pretty grounded! I know when to get fucked up and when not to." The Sniffers don't seem to concern themselves with the cold art of establishing a narrative - they'd rather just enjoy the ride and let the stories write themselves.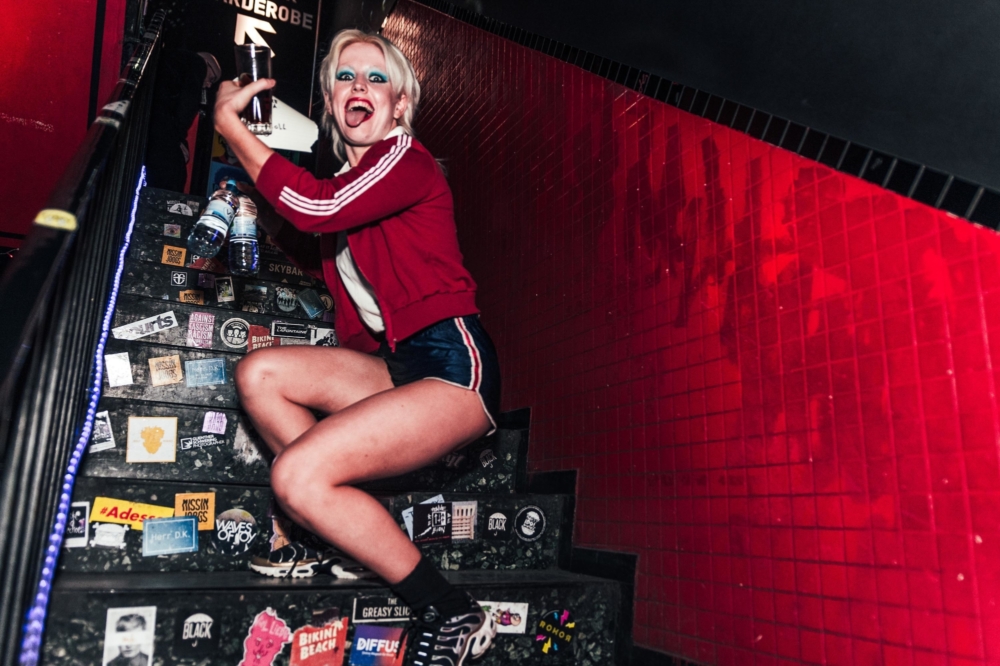 "I'm pretty grounded! I know when to get fucked up and when not to."
— Amy Taylor
2018 was essentially one non-stop tour for the band, travelling to the other side of the world and back to capitalise on the early hype of their EPs. The sheer speed of this ascent to fame meant that they were left a little overwhelmed, Dec says, perched on a windowsill. "It was pretty much like being thrown into the deep end with it all. We were still learning what sort of toll it takes on your body and your mental health, constantly moving and touring and performing every night."
It's to be noted, however, that the guitarist makes these declarations of newfound maturity with a glazed, hungover stare into the middle distance. "I got back to the hotel at 9.30 this morning. Just… doing drugs," he shrugs.
His point is not that he's realised he needs to tone down the excess to cope with the stresses of constant touring, he says. More like the opposite. "I've definitely stepped it up a little bit now that I know what it takes. I feel more comfortable being able to go out and party a bit more. I had this epiphany the other day that the van won't leave without me."
"Fucking yes it will, cunt!" Amy steps in. "I drink every night now, I didn't last tour, I get sick really easy and I didn't want to get sick. But this tour I've realised I can be sick and I can play, and it's not gonna kill me!" She's had her fair share of ailments - a viral infection that sent another vocalist to hospital when the two of them shared a mic, and a grizzly 'parrot beak' tear in her leg she sustained onstage, where fractured cartilage gradually hooked away at the innards of her knee joint. "I mean we still did gigs, but we had to cancel the first week…" she says as a fond grin begins to stretch over her face. "I dunno, I like the pain, it makes you feel alive!"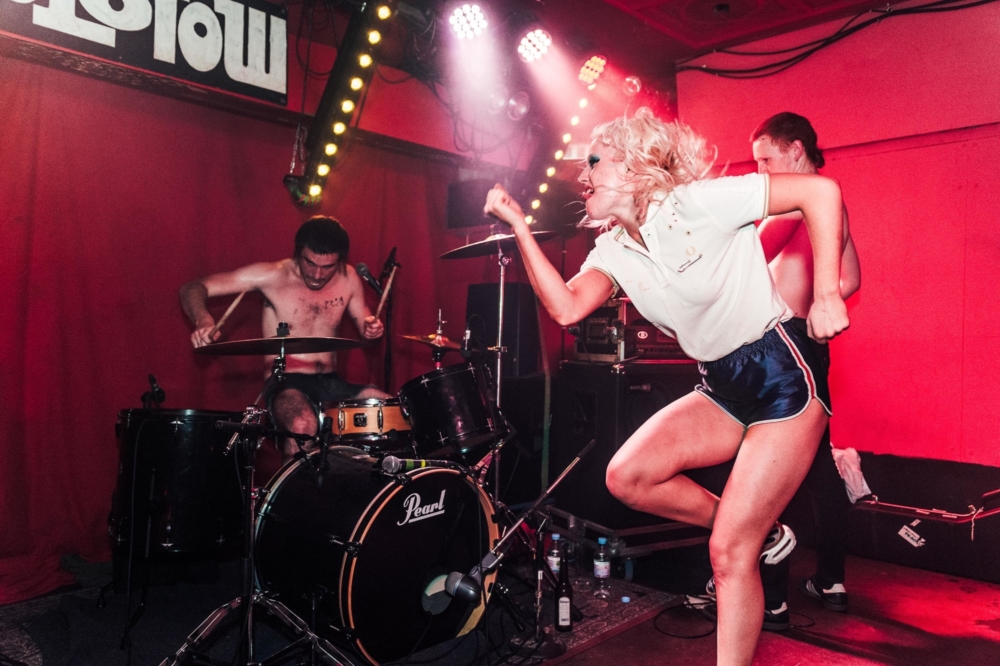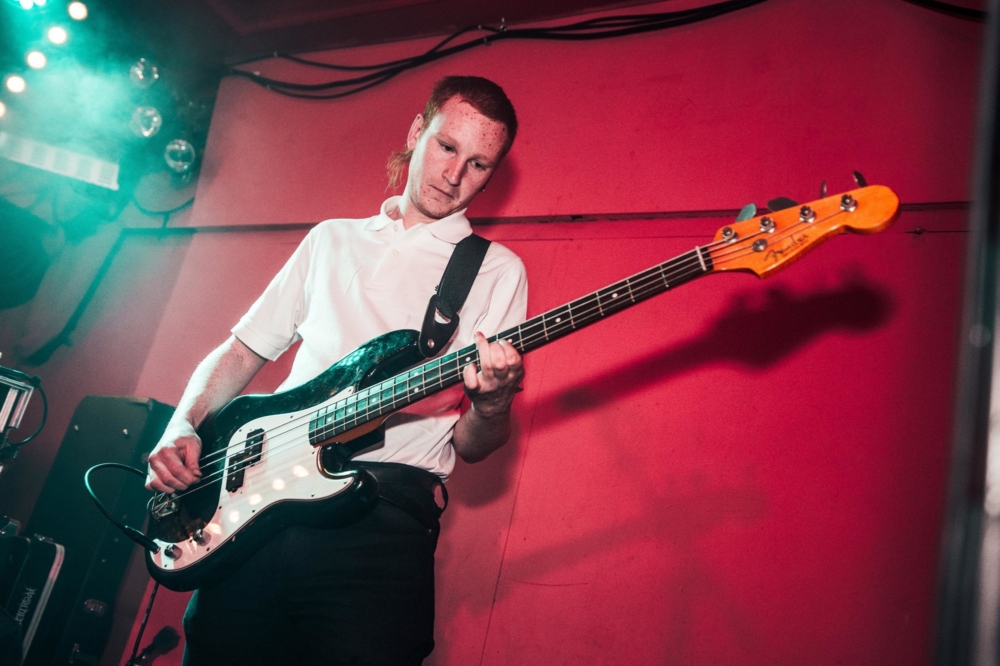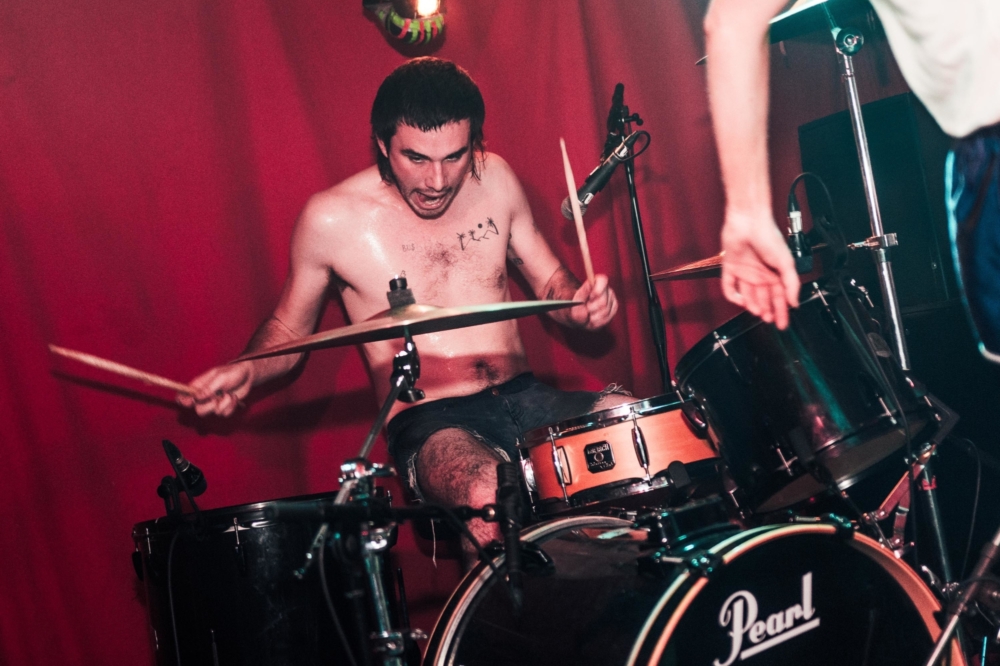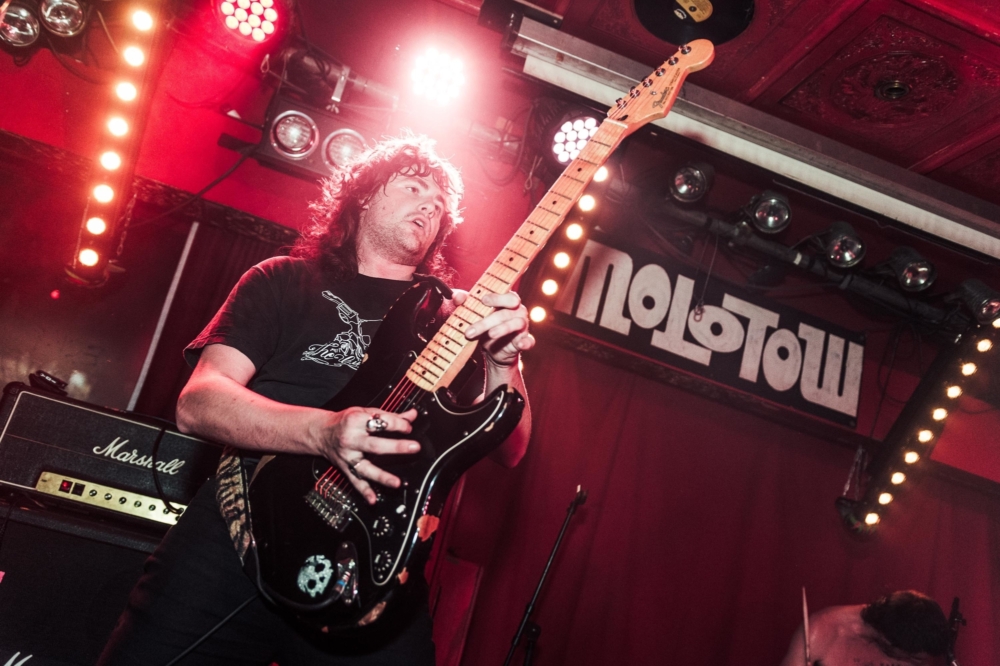 "I've definitely stepped it up a little bit now that I know what it takes. I feel more comfortable being able to go out and party a bit more."
— Dec Martens
Though Amy's volatile charisma and raw, endless energy made them explosive from the outset, Amyl and the Sniffers have also had to put in the graft. "Amy was such a good performer from the get go, just to keep up and keep my spot in the band I had to get good at guitar," admits Dec. "So I practised a lot, just to make sure that we had more than one strength, or at least there wasn't a weakness."
Their album, for example, is more coherent and direct than their EPs. Amy's lost none of the brash humour that made 'Big Attraction' and 'Giddy Up' so enjoyable, but on their next release she demands to be taken more seriously. She demonstrates the full extent of her ambition, and of her abilities, lifting the Sniffers' vicious brand of rock 'n' roll from scrappy punk to something more cohesive and breathlessly exciting. The riffs have got tighter, and she seizes the opportunity they present.
Tonight, the live set is chaotic, but never out of their control. After ten seconds, the crowd are banging their heads, but it's not quite the pandemonium we've come to expect. As Dec spins a rollicking guitar solo halfway through opener 'Monsoon Rock', Amy spots that the fuse has yet to be lit, and duly launches herself amongst them. If no one else is going to start the mosh, she seems to think, it might as well be her. She's only in the audience for a few seconds, but the damage is done.
That short burst of energy is enough to put the Molotow instantaneously at her beck and call. "Get rowdy! Get rowdy!" she barks like a military general over a simmering hardcore bass line before 'I'm Not A Loser'. This is not just chaos, but chaos helmed by an absolute master of her craft.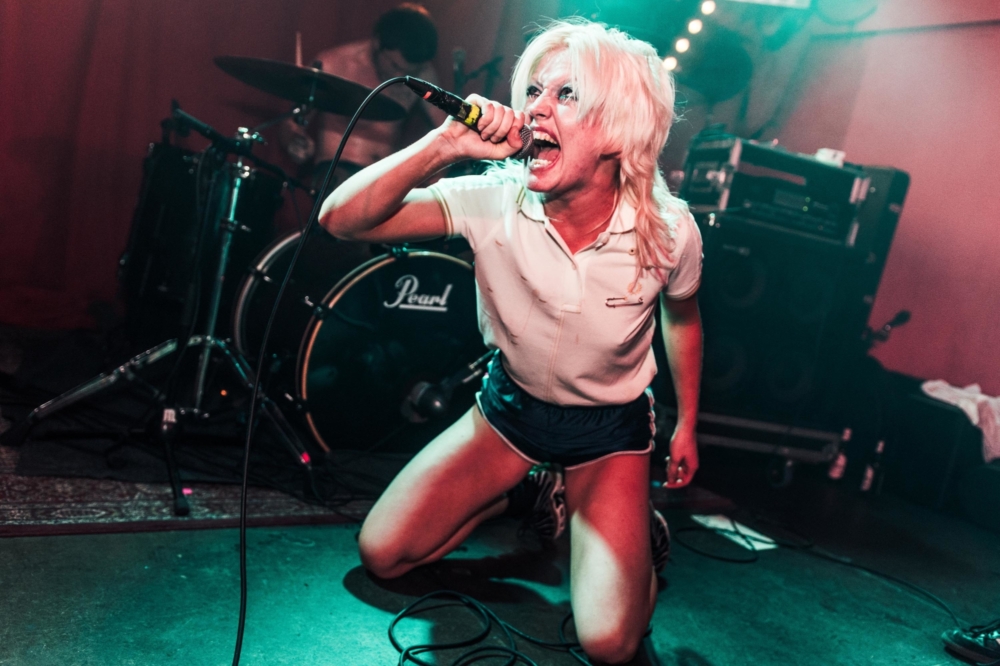 "It's not ADHD, I'm just full of beans, full of life!"
— Amy Taylor
An hour later backstage, bassist Gus lies drained on a couch, drenched in sweat with an arm slumped over his forehead, while Dec sits tired but content as he smokes a cigarette and tells the story of the time he and drummer Bryce were thrown out of their own gig for fighting each other. Amy, however, is just as manic as she was before the gig, pouring more and more shots of vodka and playing us her favourite Aussie punk bands on Spotify.
"They fucking stranded me!" she laughs of their previous mid-show ruckus. "I just had to start rapping. Gus was in the audience, I asked if anyone could come up and drum so he came up and started drumming, then some drunk cunt came on guitar. So that was fucking shit! It went on for ten more minutes, ten minutes of fucked up noise with me fucking rapping over it, while those two are getting kicked out by security."
Is there a root to her endless energy, we ask, as the singer continues to rule the room? "I'm just an energetic person!" she says, almost offended by the question. "It's not ADHD, I'm just full of beans, full of life! When I was working at the supermarket, I was on the deli, they asked me to do the cash register once and I was shitting myself like 'that's the scariest thing ever, I'm gonna fuck up!' After I did it all I wanted to do was the cash register cos I was like, 'Hell yeah, this is sick! I get to serve people, scan their fucking bread!' It's the same with this band: you get scared of shit and think 'Why is someone talking shit about me? Why is this review so bad?' But then you think, 'Fuck yeah, that's sick! Scan that bread!'"
'Amyl and the Sniffers' is out 24th May via Rough Trade.
Read More