Exorcising their 'Home Demo(ns)' on their new mixtape, these new Domino signees are far from your average rock band.
It's not often that a band on the verge of announcing their record deal decide to drop a full demo collection, but if there's one lesson to learn about Sorry, it's that they're not ones to conform. And so that's exactly what they did: just a day ahead of unveiling their signing to Domino, the London four-piece unleashed 'Home Demo(ns)' .
Sitting down the day following its release, the band are yet again palming off the routine. Shunning the fancy lattes of an East London cafe for a litre of coffee drummer Lincoln Barrett brought along himself - in a huge pickle jar, nonetheless - Sorry are a ramshackle, ridiculous but first-rate bunch.
Two early singles from this year - 'Drag King' and 'Prickz' - marked the band out, and 'Home Demo(ns)' continues this promise, a thirty minute lo-fi offering that pays no heed to polished recording techniques, the next step from a band who have a frightening amount of material up their sleeves.
"I like it when rappers release mixtapes," guitarist Louis O'Bryen begins, "because it's free and a massive mix of styles and doesn't have to be totally linked." Vocalist Asha Lorenz continues: "It's really nice to be able to release the scrappier stuff, because although we'll release cleaner songs and singles, it's the underneath works that show what you're really about."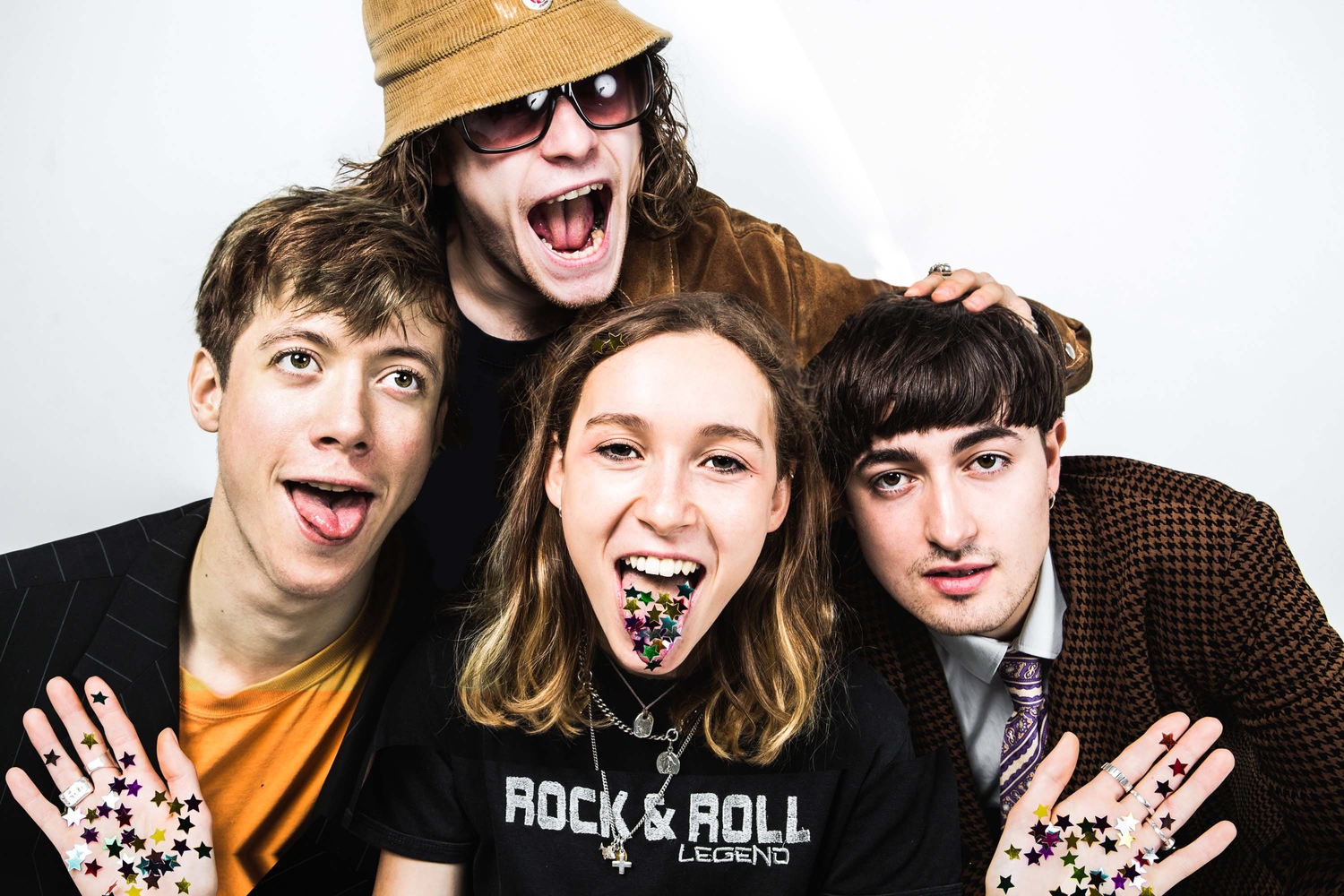 "I love rock music but I don't particularly want to be a rock band."
— Asha Lorenz
Brought together from both older tracks and a handful of songs written in the three months preceding its release, 'Home 'Demo(ns)' is also heavily visual, with accompanying clips an integral part of Sorry's make-up. "It's only when the visuals and the songs come together," explains Asha, "that the whole story gets told."
Adding to that pair of early singles, the "collection" shows a greater depth to the band, and marks a bit of a step away from the raw live shows on which they made their name. Trip-hoppy beats sit underneath slow, acoustic guitars - a world away from the coarse form they've taken on the stage around London and beyond over the past year.
"We're trying to bring the demo side of things and the live show closer together," Asha says, while Lincoln agrees the band are working on "toning down" their live rollercoaster after months of grabbing everyone by the throat at sweaty gig after sweaty gig. "It's so easy to be a rock band, especially when playing live," Asha continues. "I love rock music but I don't particularly want to be in a rock band," she concludes, almost cracking a smile while looking down at her t-shirt, which reads 'Rock & Roll Legend'.
"I think it's stupid to hold too much back."
— Asha Lorenz
Having cut their teeth at venues across London, the days of Sorry playing on every bill going are over, but the streamlining of their choice of shows is allowing a greater creativity to go into the experience, with a headline show at Corsica Studios also featuring poetry readings and an art exhibition. If 'Home Demo(ns)' wasn't enough to show the melting pot of styles that the band present, their next steps look set to allow eclecticism to run free.
Unsurprisingly, the idea of a full-length album is already fully in their minds - "That's the point where you can think it through properly and consider which songs go on there quite carefully," confirms Asha - but that doesn't mean they'll be keeping their cards close to their chest.
"I think it's stupid to hold too much back," she says, looking towards a handful of new singles that will land ahead of a debut. "As soon as you write a better song than the last one, you'll think the last one is rubbish, but that shouldn't mean it doesn't get released and heard. We want everything to be out there."
Read More
Featuring King Gizzard & The Lizard Wizard, IDLES, Tkay Maidza, Sleater-Kinney and more.