Neu Class Of 2019: Amyl and the Sniffers
Causing hedonistic chaos wherever they land, Amyl and the Sniffers are the mullet-sporting Melbourne punks who just wanna have fun.
It's 10:03am at a boxing club somewhere on the outskirts of Sheffield and Amyl and the Sniffers are in trouble. This time, it's not the quartet's fault – we're shooting today at the venue of a sportsman who really, really values time-keeping – but it seems fitting that wildcard singer Amy Taylor and her band of Melbourne misfits are the ones who'd inadvertently wind up pissing off the most punctual man in the north. Since day one, it seems, the band have existed in a kind of reckless bubble that started off as a glorified piss-about and has now landed them as one of the most hedonistic, fresh new punk outfits out there. "I just love chaos, I guess…" she decides later in the day. And chaos seems to love Amyl and the Sniffers.
The origin story of the band couldn't be more spontaneous if it tried. One day in 2016, at "around 4pm", Amy remembers, the four pals – completed by guitarist Dec Martens, drummer Bryce Wilson and bassist Gus Romer – got back to their shared flat, set up some gear that they had knocking around from other projects and wrote and recorded a few songs in a night. One of their friends mixed them, Amy whipped up some artwork, decided on a name and the next day, Amyl and the Sniffers were born. "We really didn't think about anything at all. We literally just picked up shit and just went for it," she shrugs of the band's less-than-corporate beginnings. "I'd not done any music before, but I used to go to lots of shows, like five shows a week, and when I was heaps younger I used to go to hardcore shows. I guess I just thought I could do it better."
The point, says Amy, was to have something to bring to the table at the "house parties and shed shows" that the friends all used to frequent – raucous, DIY gigs with bands called things like Drunk Mums and Dumb Cunts all getting sweaty in pleasingly shitty small rooms. From that first EP (entitled 'Giddy Up') of scratchy, short'n'sharp garage rock – its four songs clocking in at just seven minutes in total – the band got their first gig. "There weren't many people there and we fucked up heaps, but it was so fun and the best thing ever," the singer enthuses. "We covered four songs because we had no songs to play and then the bartender [took the piss] because we only played for 15 minutes. But it's nice when you start something new and you haven't figured it out yet; the exciting part is learning and working out what you're doing."
However, despite the singer's complete novice status, it became pretty clear pretty quickly that the pint-sized punk was pretty good at this kind of thing. If you've caught one of Amyl and the Sniffers' incendiary sets across the UK and beyond this year, you'll likely have been party to the kind of mad, thrashing scenes that rarely surround bands on their first outings abroad. Amyl shows are not ones to go quietly into the night. "Because I grew up on hardcore and punk shows where it was just a load of sweaty dudes punching each other, I really love the crazy energy where everyone's pushing each other and going for it," she says. "I love the fucking chaos of when it's crazy. I'm onstage how I would be if I was at a gig that I really loved." And so word started getting out about this vital new bunch of maniacs unleashing songs about being losers and getting their bikes stolen, and the gigs became more frequent and all of a sudden what started off as a bit of a laugh had taken them to the other side of the world with a record deal offer from Rough Trade. "It's pretty fucked up!" Amy laughs. "But in the best possible way."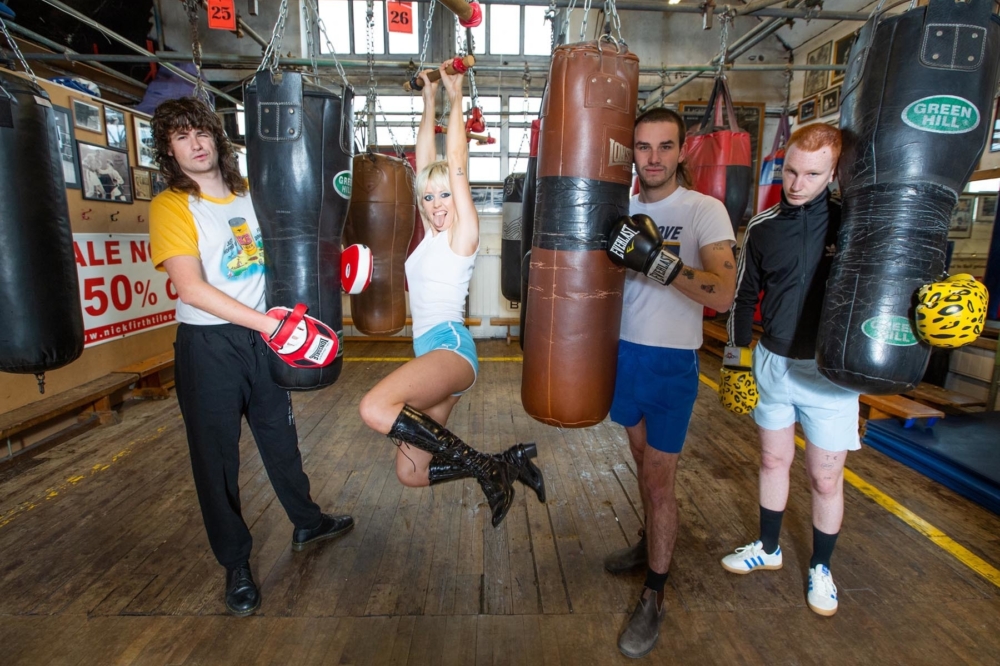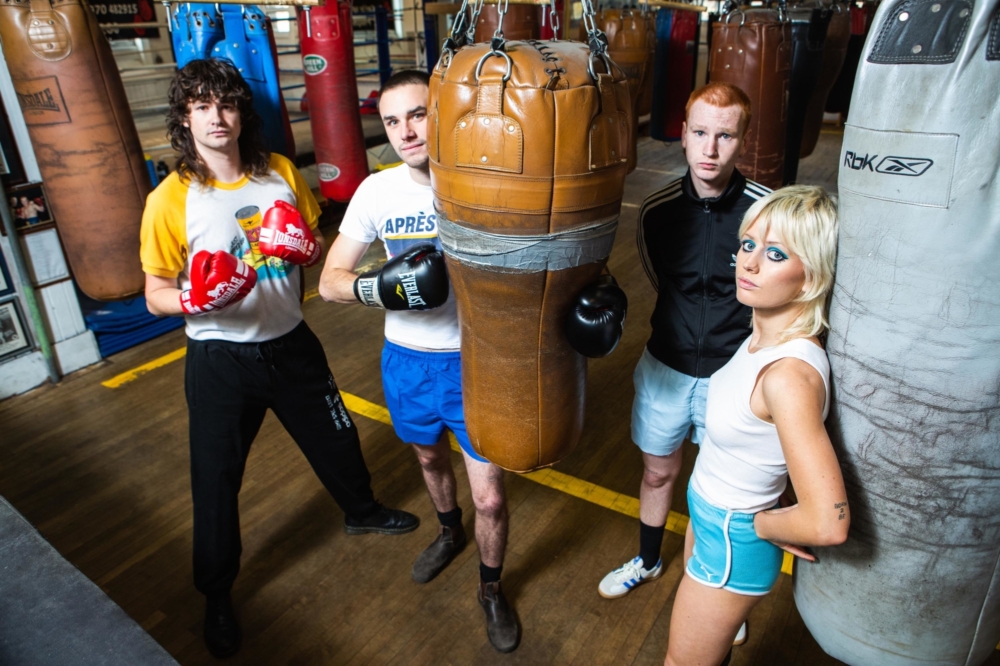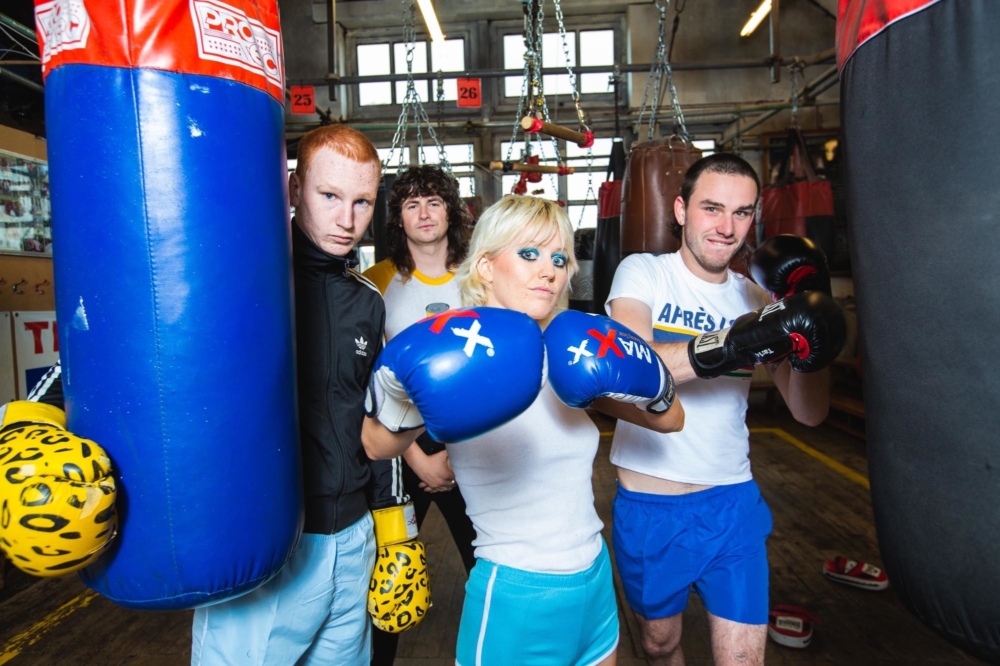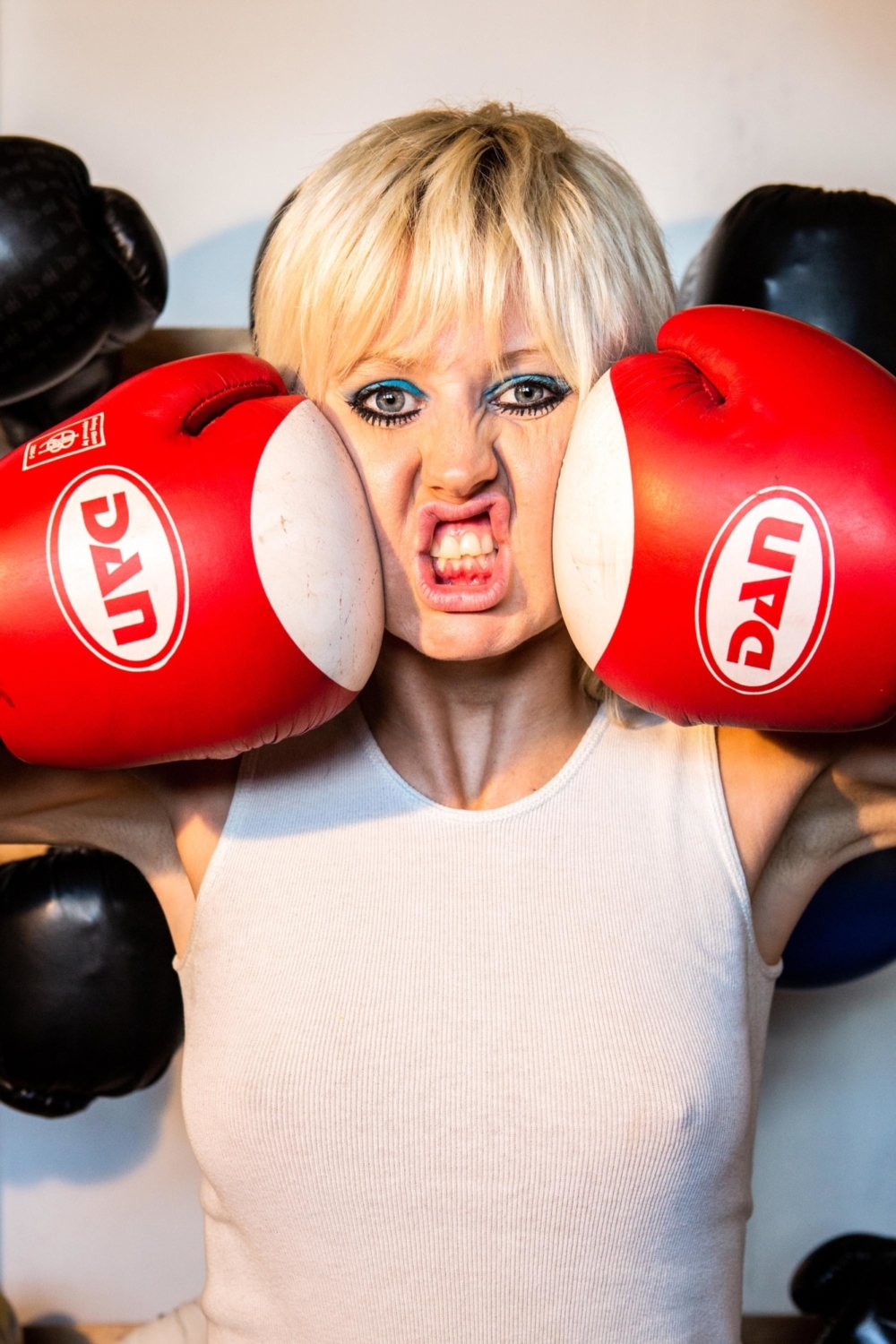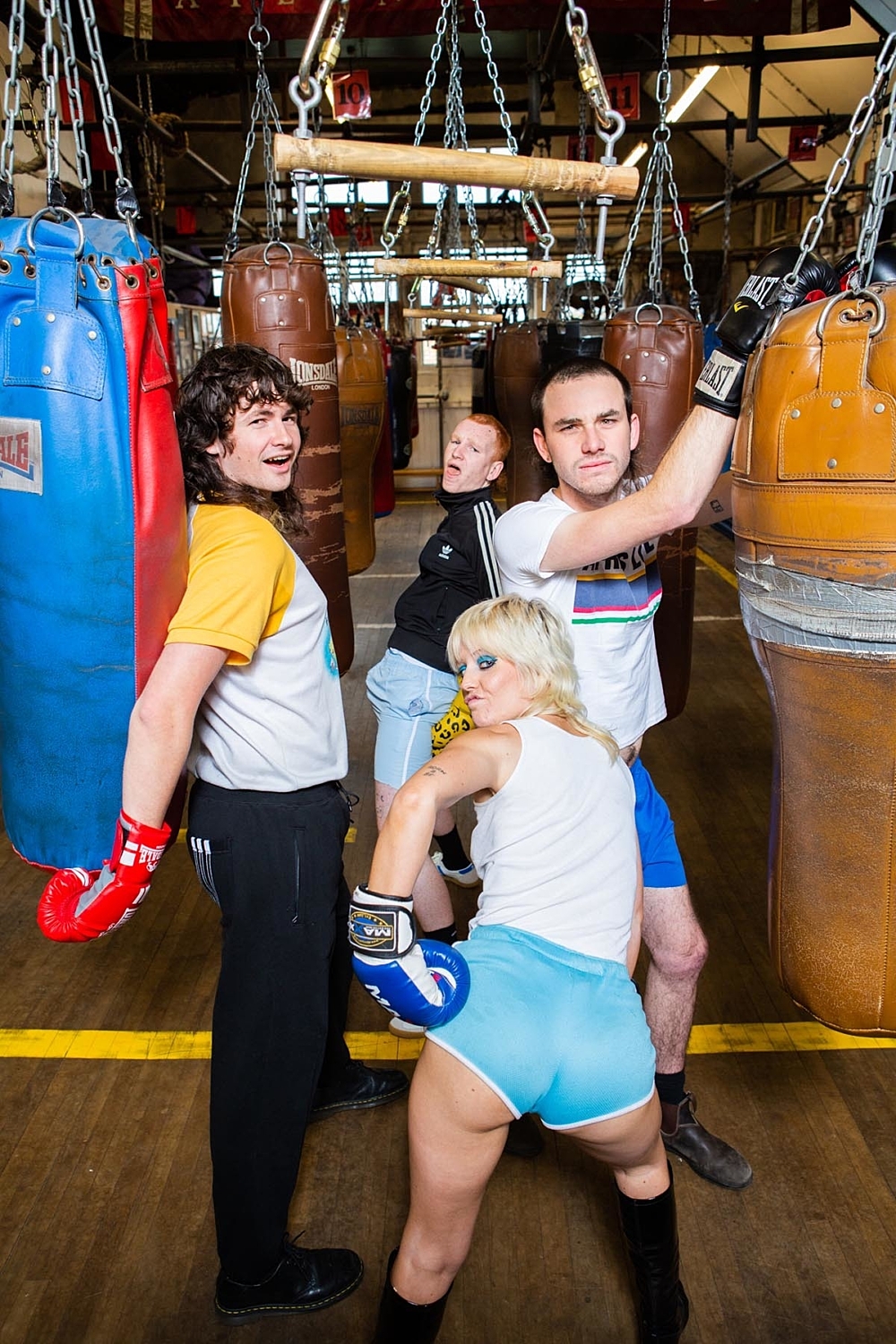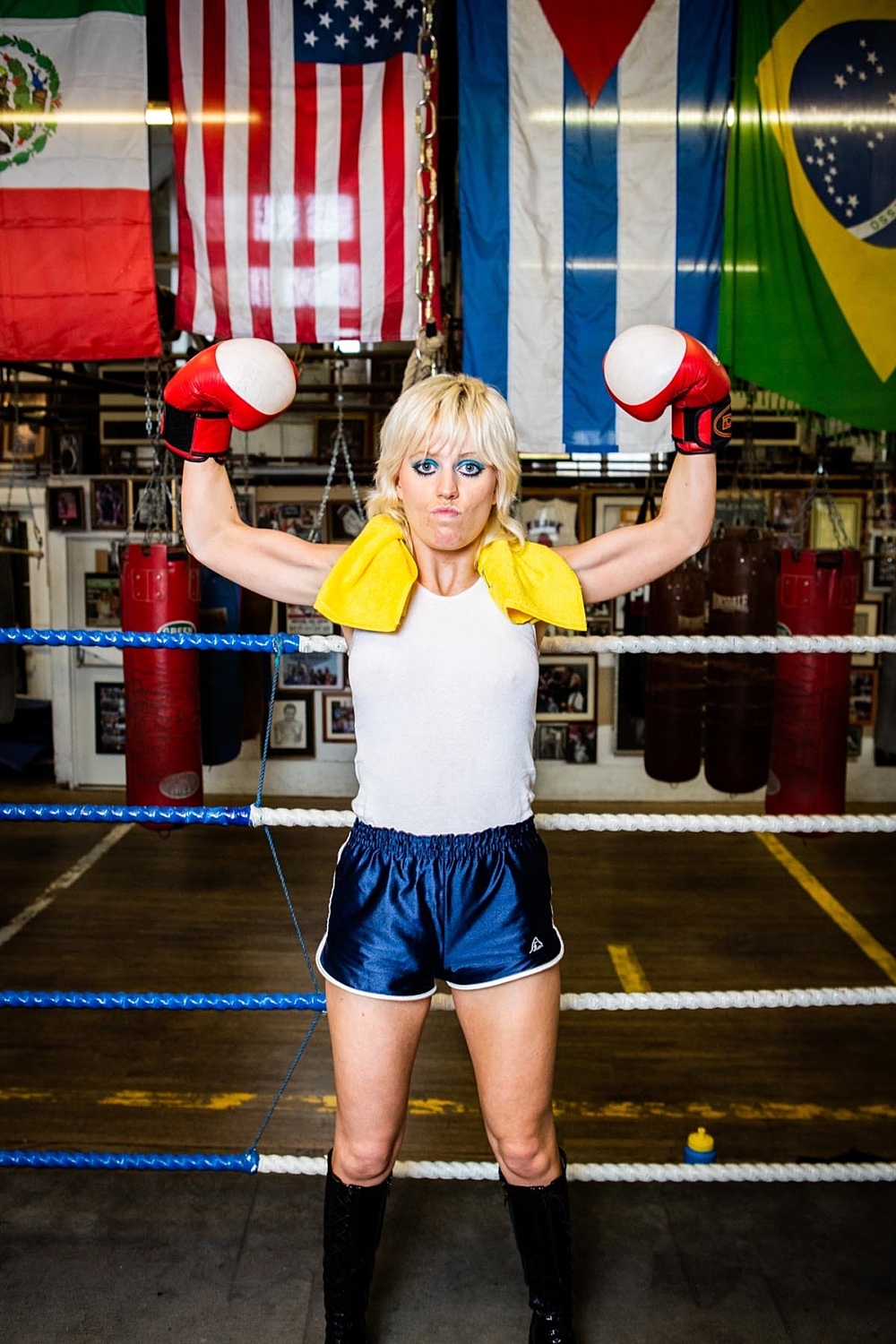 "I grew up on hardcore and punk shows where it was just a load of sweaty dudes punching each other."
— Amy Taylor
Fast forward to the present day, and the reason Amyl and the Sniffers are dodging punches in Sheffield is because they're currently recording their debut album. In a proper studio for the first time, with producer Ross Orton (who sat at the helm of Arctic Monkeys' seminal fifth effort 'AM'), it's safe to say things are a bit different this time around than in the 12-hour living room session that formed their first release. However, a bit of extra cash thankfully doesn't seem to have polished up the band that much. "This is the first time I've heard [the new songs] recorded because when we play them live it's just noise, so I think they're kind of more rocky?" answers an amusingly unsure Amy when asked about the new material. "Every other thing we've just recorded live – we'll play it once and hope for the best. Whereas this is [slightly more professional], but we're still trying to sound live because that's what we are more than anything."
Influenced by the garage rock scene they grew up around, as well as "bad Aussie rock'n'roll from the '70s and '80s: the classic Top 100 hits that your parents would listen to," theirs are tracks that channel a different kind of punk to the influences touted around from their US and UK counterparts. Filled with a funny, unaffected bogan brattiness, Amyl might claim to sing about "everyday experiences", but they do it in a way that seems more feckless and uninhibited than most. Take 'I'm Not A Loser''s claim of "My friends may think that I'm a cunt / But I pay the rent on time every month" by way of example. Led Zeppelin, it is not.
Perhaps unsurprisingly, their magnetic, madcap outlook is one that's lead them down some strange paths during their travels already. "In Australia most of the people I meet are pretty similar to me, but overseas you meet these people where it's like, how are you real?! But I fucking love nutjobs," Amy enthuses, her speech picking up pace with each memory. "There was this awesome guy in LA who owned this studio. We went up there and he had a taser, and he was showing us this taser and telling all these stories about how he'd had half his brain taken out. His house had all these weird dead animals in test tubes; it was insane. He was just pointing this taser at me being like, 'I don't fuck around!!!' It was awesome." Do you think, we suggest politely, that maybe you attract some of life's more curious inhabitants? "Oh yeah, I seek out the weirdos," she laughs. "I think I put it out to the world that I wanna hang out with weirdos and I end up finding the craziest people ever. I'll probably end up getting killed, but it's kind of funny I guess. I'll have to finish the record so I have a legacy…"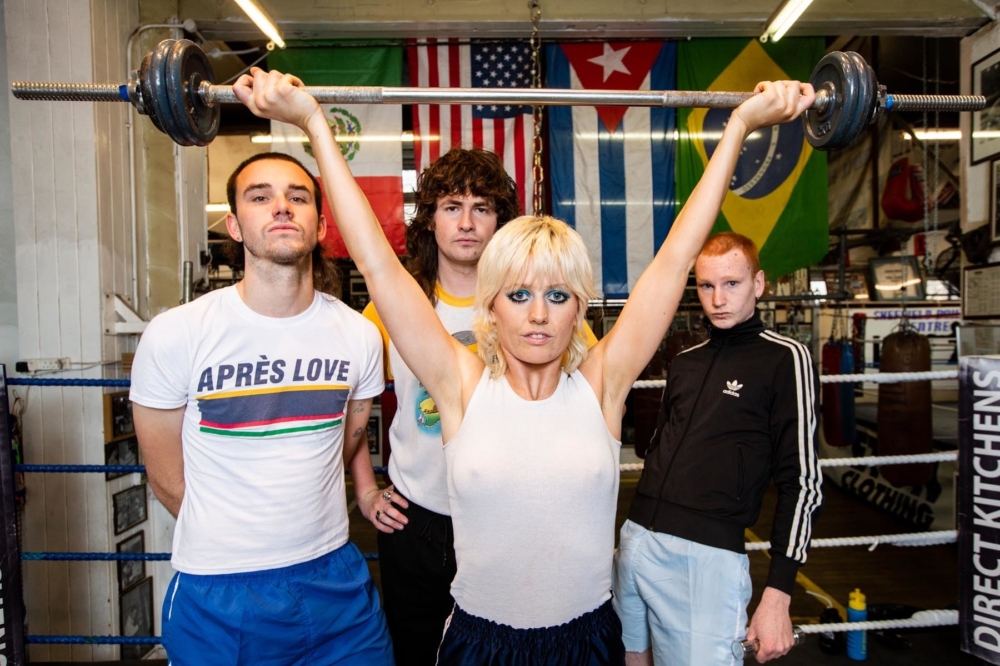 "I seek out the weirdos."
— Amy Taylor
If the idea of Amyl and the Sniffers and their taser-toting pals zapping into the wider consciousness seems a weird one, then the likelihood of this lot selling out for radio play and stadium tours is pretty much slim-to-none. Currently, they're enjoying the mad six months that's seen them sign deals all over the world, but they're nothing if not grounded about the whole whirlwind of being a Bona Fide Buzz Band. "People think it's glamorous being a musician but it's like, man I'm still eating toast! It's literally the same!" Amy laughs. She's got an analogy, too: "It's interesting because people make up their mind about you before they know you now; it's like a crazy social experiment. But I guess it's the same as if you were working at a supermarket stacking shelves and then you got promoted to manager. It's not like your environment's changing 'cause it's just doing what you do, but it feels like growth."
It's an endearingly low-key comparison, but there's nothing repetitive and mundane about this lot's day-to-day, right now. From crash-landing at The Great Escape this spring, to selling out their first raucous tour on these shores later in the year, to now returning to lay down the inevitably-incendiary nugget that'll form their debut long player, Amyl and the Sniffers have charged through the UK, leaving a path of sweaty, boggle-eyed destruction on every trip. They may not have particularly lofty ambitions themselves, but luckily the world is setting them for them. "Being on stage is like meditation; it's the only time when I'm present," nods Amy of her newfound career.
If this is what getting zen looks like in 2019, then lord help us all…
Read More