Neu Class Of 2019: King Princess
After the whirlwind success of viral first single '1950', Mikaela Straus is pushing forward and ready to become a pop star on her own terms.
When King Princess' '1950' was released earlier this year, Mikaela Straus underwent a moment that most of us will never understand: the strange and disorientating experience of having thousands of people know who you are, almost overnight. The track, also the first release on Mark Ronson's label Zelig Records, explores the idea of unrequited love through a queer lens. Just days after its release, it gained huge traction online after Harry Styles tweeted a lyric from the song to his 32 million followers. Today, it stands at over 160 million streams on Spotify. Not bad for a first move.
"Wow, it's been really intense," Mikaela says breathlessly, taking stock of her year on the phone from her parents' home in Brooklyn. "I'm super proud but it's also been really challenging in various ways… But I feel like I'm ready."
Not one to rest on her laurels, after '1950' King Princess quickly came through with her self-produced debut EP, 'Make My Bed' - a five-track alt-pop release that alternates between punches of heartbreak and cool indifference. Then, she followed it up with recent single 'Pussy Is God', taking a more upbeat tact and celebrating queer love via religious imagery.
"Well, I don't know if you can tell," she begins with a laugh, "but I was the kind of kid that was like, 'This is happening! I like girls!' I think it's super dangerous to think that because of being gay you have to think extra about the way you make your art, because it might fucking hurt someone's feelings that you wanna sleep with girls. Like, no! Fuck you! It's a personal choice [to use gendered pronouns] but I think if you feel like music sounds like somebody went in and sterilised it and was like, 'Nope! Too gay!', that sucks. It fucking sucks, and no one wants that."
"It's the perfect time for us to galvanise and fucking make our art."
Like many people whose success comes seemingly out of nowhere though, King Princess had been grinding away, perfecting her craft for many years before anyone took proper notice. Now based in LA after attending uni there for a year and dropping out to concentrate on her blossoming music career, Mikaela grew up in her sound engineer dad's home studio in Brooklyn, which has received visits from the likes of Arctic Monkeys, The National, Missy Elliot, Sia and more over the years. "For me that was the best thing that could have happened because it just gave me the room to play around with instruments and be in the studio," she explains.
A childhood spent with musicians traipsing in and out of the house sparked an early interest for the singer and it wasn't long before Mikaela was doing backing vocals on her dad's projects and meeting with labels about launching her own music career. She even turned down her first record deal at the tender age of eleven, sensibly deciding to wait it out until she knew what she actually wanted to sound like and who she wanted to work with.
"I think if you're a kid in a business setting or even just a setting with older people, you're asked to form who you are before you even know and it was definitely like a game of catch-up. I could communicate when I was young and I could talk a big game, but I think I grew into it with experience. I was like, ten years old in the studio, you know what I mean? But I'm still playing catch-up, honestly."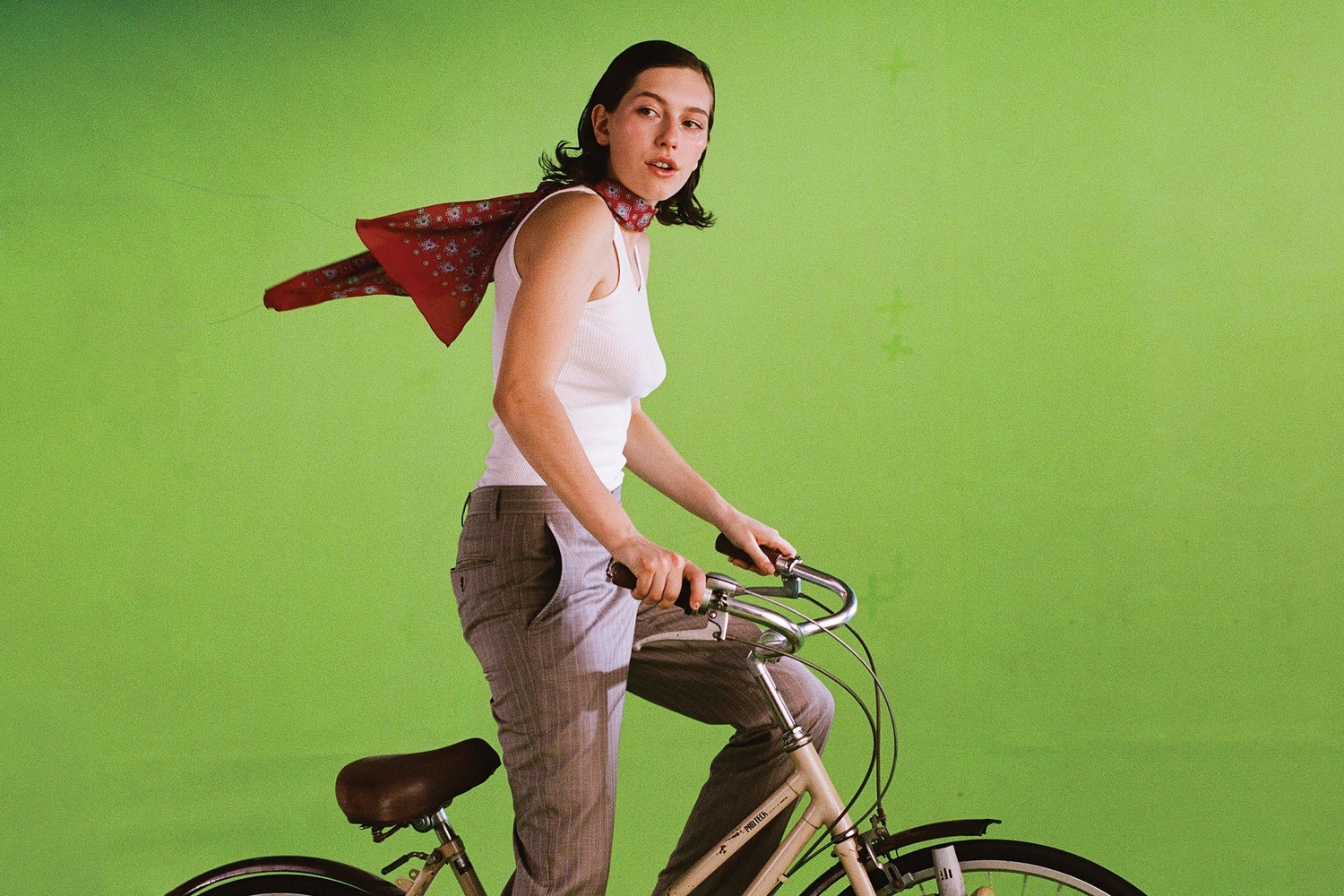 "Listen to yourself, listen to the people you love."
Having been around the industry for so long, it's easy to forget that Mikaela is still just 19. On one hand, she's ecstatic and hopeful about her future career, filled with a confidence often reserved for those a few years older; on the other, her background means that she retains an air of cynicism when it comes to business.
"I think the biggest lesson to understand is that business is savage and [you need] to surround yourself with people that take your experience in the industry seriously," she affirms. "So many bands would make amazing records in my dad's studio that would never come out. They wanted to put their fucking music out, but somebody said no. It's just so stupid. Listen to yourself, listen to the people you love, don't listen to people that think that you're this XYZ [commodity] that'll be profitable."
A career as a musician may never be easy, but there's never been a better time, Mikaela explains, to do what she's doing as a queer woman. "I think it's happening in a really beautiful way. It's the perfect time for us to galvanise and fucking make our art. We've got this motherfucker in office, everyone's upset," she enthuses, "so let's fucking do this shit! This is the time! This is the renaissance! We need to fucking make our queer art, because we'll piss the most people off right now and that's good!"
All hail King Princess.
Read More
Popular right now
Featuring James Blake, Romy, Marika Hackman, yeule and more.