Class of 2023: Crawlers
With a dedicated army of fans and millions of streams under their belt, it might still be early days for this Liverpudlian quartet, but right now, it feels like there's no stopping them.
Ask Crawlers how to sum up the past few months and one word immediately springs to mind. "Chaos," says guitarist Amy Woodall straight off the bat, "but good chaos!" To say that the quartet - completed by vocalist Holly Minto, bassist Liv Kettle and drummer Harry Breen - have had a successful year would be to do them a bit of a disservice. From signing to Polydor back in January, through to their 'Loud Without Noise' mixtape debuting at Number One in the Official Rock & Metal Chart just weeks ago, 2022 has been packed with the kind of pinch-yourself moments (huge festival slots, supporting childhood idols, sold-out shows across the globe) that most young artists can only really dream of.
It's a feeling that's really hammered home at their most recent London headline show. Originally scheduled to take place at the Scala in King's Cross, but soon upgraded to the larger-capacity Islington Academy, there are frissons of excitement in the air as the band take to the stage. A chunk of fans have brought along banners to hold aloft, while others throw handmade gifts through the crowd; hours before doors opened, the queue was spilling out onto the streets. Before playing their huge hit 'Come Over (Again)', meanwhile, Holly dedicates the song to a couple who she spots in the audience that got engaged during the song at a previous show. Throughout the night, there's a palpable sense of adoration and dedication, and it's clearly a sensation felt by both sides.
"Our fans are really special," enthuses Holly, when we speak to the band a few weeks on, during a rare day off between shows in Europe. "I'm not even joking to you, we had to get a trailer for our tour van because we have so much stuff that fans give us. The fact that they not only bought the ticket to come see us, but they've spent time drawing us or making us presents, making banners… It's so cute because it proves how much they really like us." "Yeah, it's strange because that was once us doing that," adds Liv. "And now it's people doing it for us. It's a very, very strange feeling."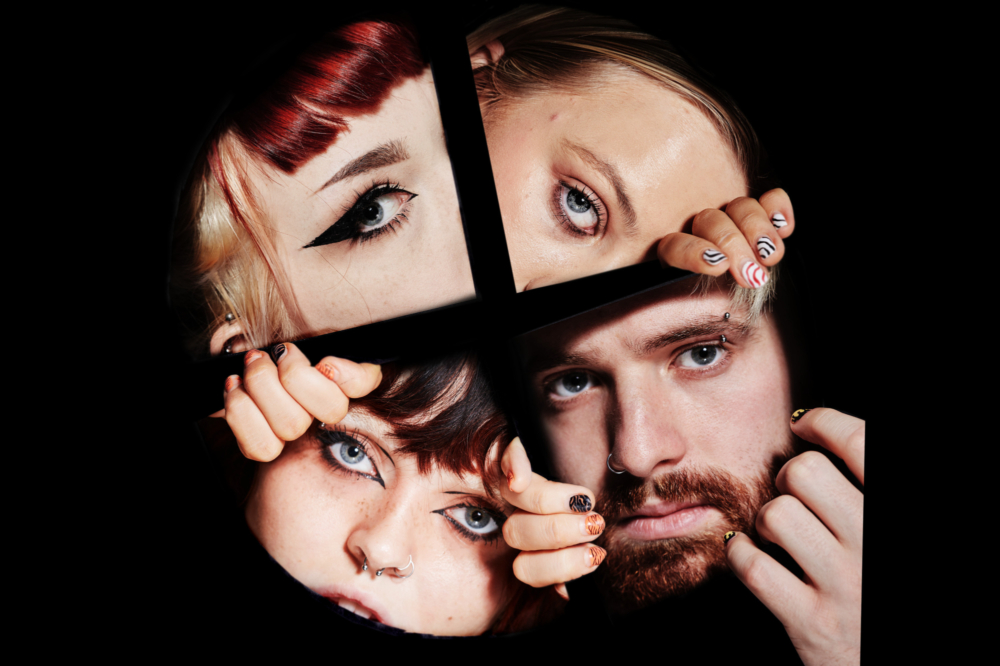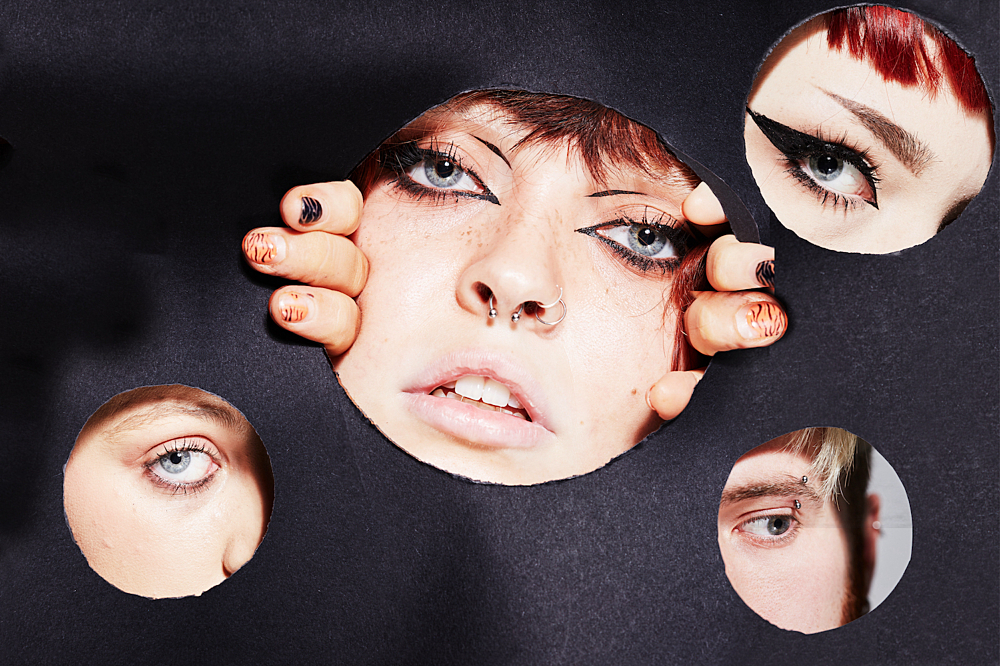 "We had to get a trailer for our tour van because we have so much stuff that fans give us."
— Holly Minto
While it was back in 2018 that foundations were first laid for the band (Amy and Liv played music together in school, before Holly met Liv in college and things clicked into place), it was in the second half of 2021 that Crawlers' ascent really picked up pace. Alongside the release of their debut self-titled EP came the aforementioned 'Come Over (Again)': a scorched offering that transforms from its intimate, acoustic-backed introduction into a blistering crescendo of emotion. Written after a particularly difficult period for Liv, the track would not only become their masterstroke (over a year on, it's had almost 40 million Spotify plays) and a TikTok trend all of its own, but it's helped to usher Crawlers' music into a new and even more personal space.
Take their mixtape, for example. Across 'Loud Without Noise''s six tracks, the quartet delve into a myriad of influences and emotions, pulling from across the alt-rock spectrum to create an ambitious set of songs that still feel intensely intimate. Alongside the gnarly grunge of 'Fuck Me (I Didn't Know How To Say)' comes an exploration of consent and sexual identity; tales of gaslighting and manipulation are backed by the industrial-esque chorus of 'Too Soon'; 'I Don't Want It''s driving guitars and gang vocals delve into the idea of trying to change yourself just to impress another.
"There was a really distinct moment where I think we were in a hotel and I was looking at Amy, and I said I think I've got the name for the mixtape," Holly explains regarding what exactly they hoped the MO of the mixtape to be. "I was like, 'Loud Without Noise', which is a lyric from 'I Can't Drive'. But if you listen to 'Hang Me Like Jesus', I mention something very similar: 'Turn up the noise, so I don't have to think'.
"All of the ideas are things that go on in the anxious brain of a person, and all the things that we try to distract ourselves from," she goes on, "whether that's heartbreak, whether that's mental illness, whether it's trauma, whether that's politics. [With] all those things nowadays, especially for Gen Z - and us as older members of Gen Z - the way we react is we'll go, 'OK, I'm just gonna blare music or scroll on TikTok and Twitter and hope that I don't have to feel these things anymore'. That kind of summed up every little thing on the mixtape for sure."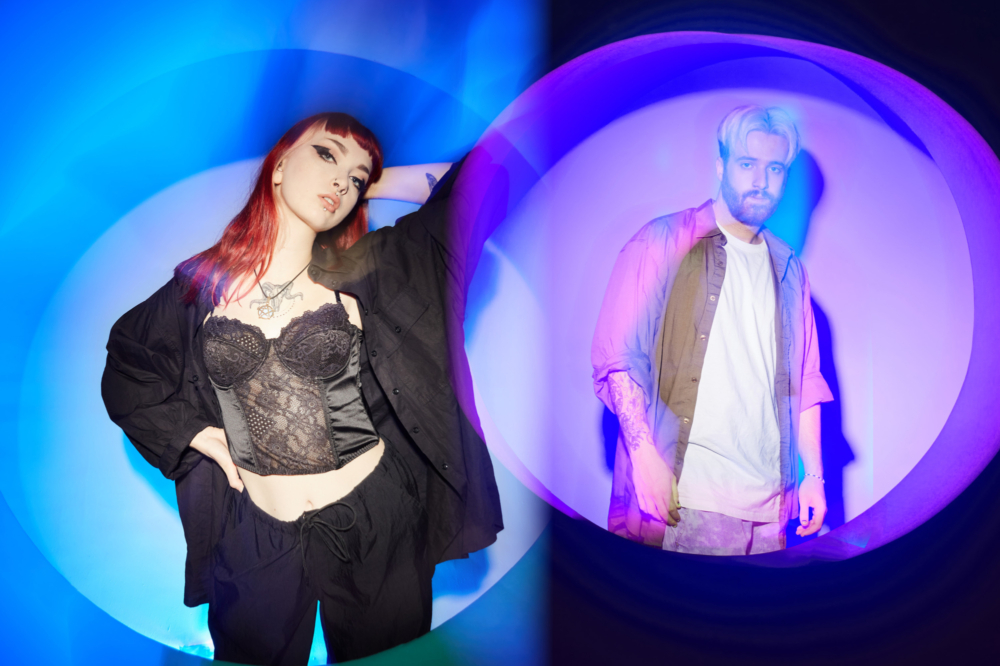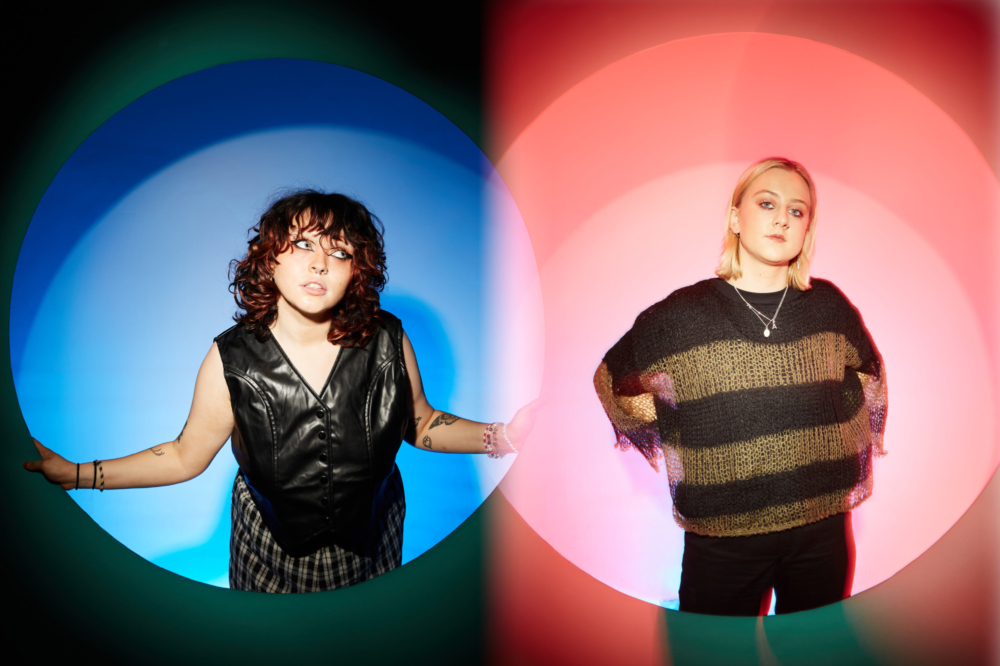 "All of the ideas are things that go on in the anxious brain of a person, and all the things that we try to distract ourselves from."
— Holly Minto
It's this frank and open approach to creating music that's seen the band's fans grow ever-closer to the quartet over the past eighteen months. "I think with alternative music," Holly begins, "nobody is a casual fan. It's their world and that's what's so crazy, because that's exactly how we were as kids - with My Chemical Romance, The 1975, with bands we really looked up to as individuals. They were our whole worlds, so the fact that some people are putting us in that position is scary, but that they love our art so much is really nice."
"The alt-rock scene is very [unified] anyway," Liv picks up. "When you find your little group of - I don't know, I want to say misfits - other people that you resonate with, you hold on to that. And even if years later you're not listening to the band every single day, you might hear their song on the radio or in a bar and it throws you back to that time where you were like, 'Oh, I found people who are like me'. I don't think that ever really leaves you."
And while their music admittedly does sit nicely alongside the current renaissance of emo - after their stint supporting My Chemical Romance in Warrington this May, they "had a lot of elder emos" coming to shows, says Liv - it's also their ability to open up conversations around the very present concerns of young people that's become an appeal. Their openness isn't just resigned to their songs; the band also use their social platforms - most often, TikTok - to discuss everything from identifying as queer, experiencing panic attacks and misogynistic industry rumours, through to highlighting outfits fans have chosen to wear to their gigs.
Hoping to use all of their outlets to create a community of their own ("a scene we never had," Liv says. "It's really, really special to us that more and more people are finding it and can carve out their own little space in it"), their message of acceptance and overcoming trauma is one that seems to be truly resonating with those listening. "We've been meeting fans a lot recently, and hearing how many of them connect to our songs because of what they're about," Holly says. "[We] write about what we're feeling, whether that's an observation or whether that's something we're going through all the time, and [having] people who relate and carry their own stories with our songs is the most important thing."
It can, however, become a double-edged sword. While Holly refers to writing lyrics as "a form of therapy" for themselves, hearing firsthand accounts of how the band's music has helped people can take a different kind of toll. "I think it's getting a bit harder now as we're getting a bit of a bigger fanbase," she nods. "This is heavy stuff, you know? That's why, for recent gigs, I've been talking about recovery and how I don't want to romanticise the things that we're singing about.
"We are just a band and we aren't the people fixing our fans or anyone who listens to our music," Holly continues. "They're the ones doing their own journey of their own mental health and recovery, and we're so proud of all of them." "That's the thing: they pull from themselves," adds Liv. "They try to place that on us, and it's like, no, we didn't tell you to get up and keep going. That was you. They don't give themselves enough credit for how strong they really are.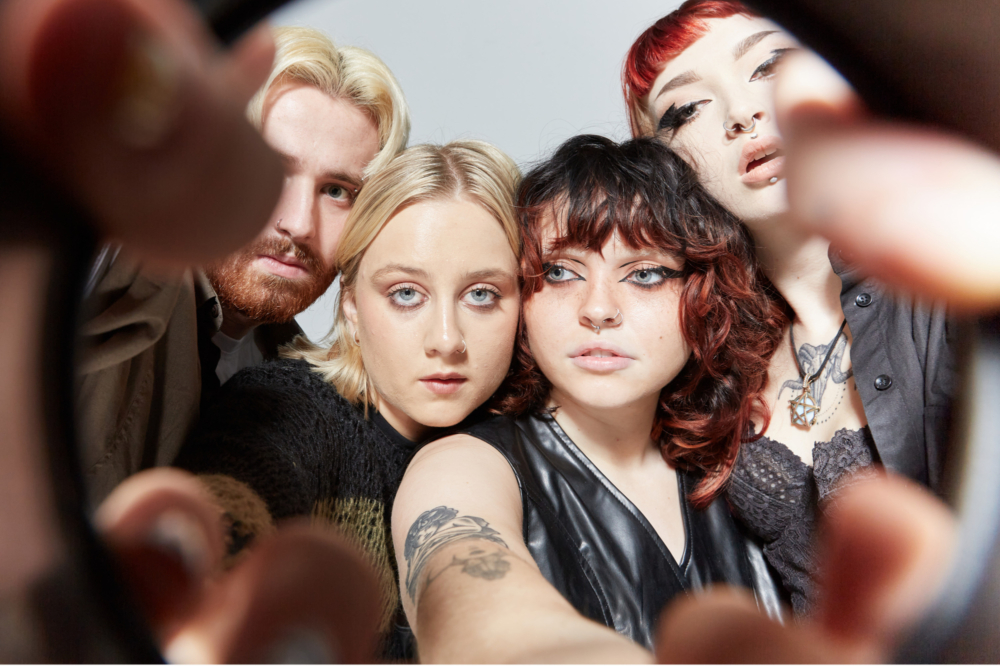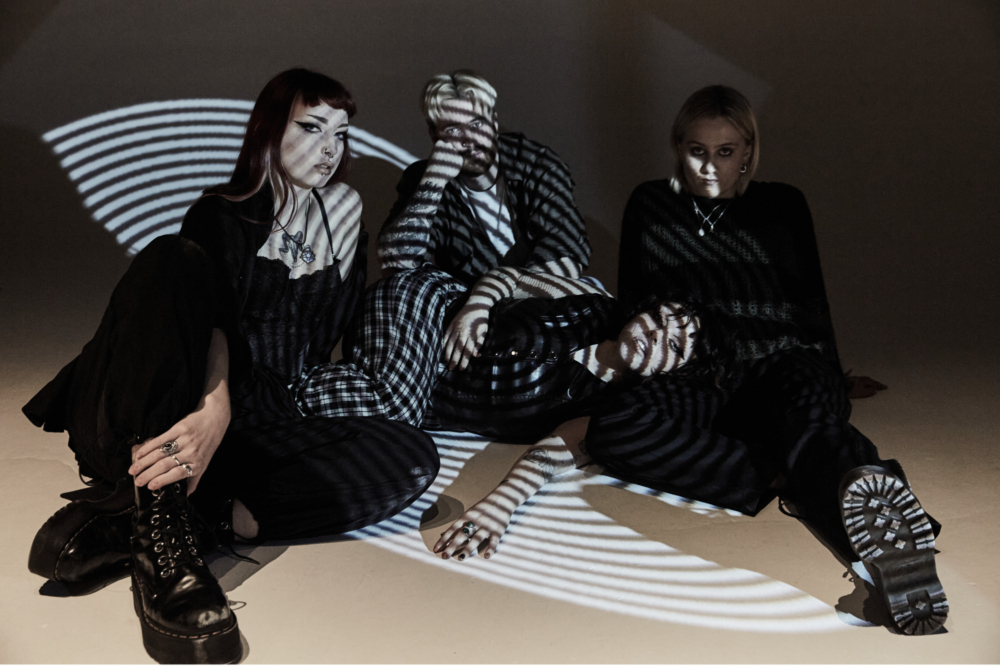 "[Charli XCX] is our motivation for getting up in the morning, no joke!"
— Holly Minto
With their crowds growing bigger with every show ("Over the summer, we've noticed different people are starting to pay attention to us," Liv comments), it seems little wonder that Crawlers' list of objective outside achievements is beginning to increase too. And while, of course, few bands ever release something with the hope of charting well, there was a certain level of satisfaction that came with their mixtape's success.
"It was pretty mad," Amy admits. "We make the music for ourselves, but when we were told that it could chart, we were like, 'Well, if we're gonna go for it, then we'll really go for it'." It paid off, not only landing them the aforementioned Rock & Metal Chart top spot, but also reaching Number 22 in the Official Albums Chart too. "We didn't realise it was Number One in Rock & Metal until later in the evening," laughs drummer Harry Breen. "Someone texted me and I was like, '…guys, apparently, we're actually Number One! What the fuck?!" To celebrate the achievement, his mum has promised to get a tattoo. "She didn't specify whether it had to be the Official Chart," he jokes, "and this said Number One so… that's good enough!"
Harry's mum wasn't the only woman keeping a watchful gaze over the record's success, either. On release week, the band took to their TikTok channel to share a special ritual, in which they lit candles around a printed photo of Charli XCX and chanted the chorus of her iconic single 'Vroom Vroom' while holding hands, in an attempt to summon the chart spirits. "She actually commented on our TikTok!" exclaims Holly. "I was so ill yesterday and I couldn't play the show. I had no voice, and I was in the middle of Subway just checking my notifications, and I saw that she'd commented: 'I've done this ritual before - it defo works'. She is our motivation for getting up in the morning, no joke! So seeing that, I was like, 'What is going on in my life right now? Like, what the fuck?'"
An act of higher power, or just all of the band's hard work starting to pay off, it seemed to do the trick. Now, with their debut album on the horizon - "We're working on [it] currently and can't say more than that," Holly tells us - let's hope Chaz is keeping a guardian eye on Crawlers for the foreseeable future too.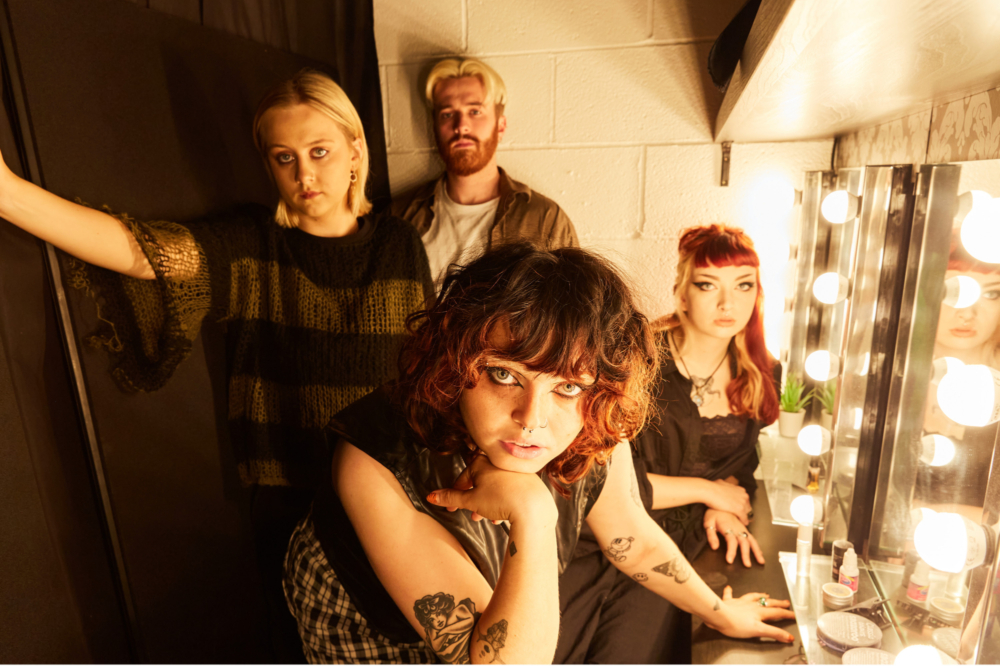 Read More