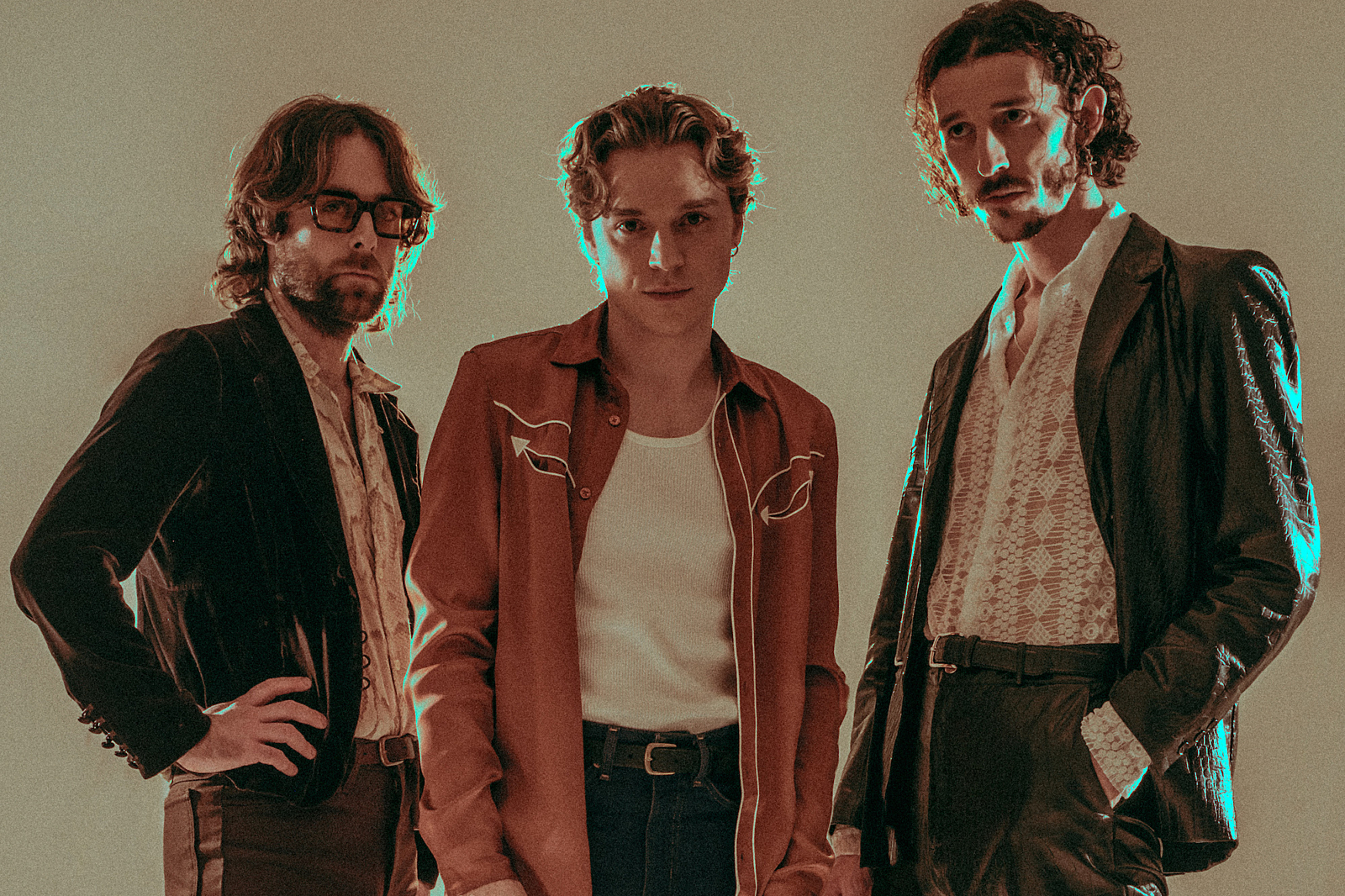 Photo: Richard Stow
Demob Happy: "I just give less of a fuck what people think every time I write something new"
We catch up with the band's Matthew Marcantonio to chat the "evolution" of third album, 'Divine Machines'.
Five years on since the release of second album 'Holy Doom', Newcastle-via-Brighton trio Demob Happy have announced that their third full-length, 'Divine Machines', will be out on 26th May via Liberator Music.
"I really see what's happening to the human race as a moment in a hero's journey," the band's Matthew Marcantonio says of the album's inspiration. "We're at the point in the James Bond film where the villains reveal themselves and tell us the plan. We've got Elon Musk and Jeff Bezos, these absolute supervillains with their rockets doing whatever the fuck they want, and software guru Bill Gates buying vast swathes of farmland for who knows what. They're all revealing their plans to humanity and we're all still going, 'I hope they're the good guys!'
"What we need is inspiration to change because we only win this war if the change starts with us. There's huge ripples of that in society, and it's distorted through social media but you can see people becoming more self-aware. That's what I wanted to write about - inspiring that change."
We caught up with Matthew to find out more…
Hey Matthew, how are you?
Very, very good DIY, our favourite publication. I'm feeling good. We're back and it feels great.
You've just announced your third album, 'Divine Machines'! How does that feel?
We've been working on this record for three years. We started it just before lockdown sent everything west, and had to navigate those waters as a band while trying to make something beautiful. The extra time meant we could make exactly what we wanted for the first time, but it also pretty much destroyed the industry around us, meaning when it was ready we had nowhere to take it. We didn't want to release something we loved so much into a black hole of nobody caring, without proper support behind it, so it became a test of our patience. Thankfully we signed to an amazing new label and we got moving again.
It's been five years since your second output 'Holy Doom'. What have the last few years been like for you?
Difficult like everyone else, but with dizzying highs as well. We toured that record so much - four US tours, three UK tours, one EU tour, all in 2019 - that we were knackered by the end, and we needed a bit of time off. The world obliged of course, in the worst way, but still it gave us some breathing room to get things right.

"This record was an effort by me to start owning my own shit."
— Matthew Marcantonio
When did you start work on 'Divine Machines'?
Feb 2020 really, that's when we started demoing and performing our usual hibernation routine in the Welsh countryside, disturbing no one but ourselves, which is how we like it. Then when lockdown came, giving us no idea of how to continue, I took those sketches and with the luxury of time turned them into the record, for the most part. But we wanted to polish them up and enjoy recording them properly as a band, so given the chance to go back into the studio in May 2022, we chose to. We made this mad hybrid of a record, with all the charm of the demos, the magic that you can never really replicate in the studio, but with all the bells and whistles of being in a proper space, performing together as a band.
You've said that you wanted to write about "inspiring the change" on this record. Can you tell us a bit more about that?
I think the world is as bad as we allow it to be. I've always been interested in the corruption of the world, the tendrils of which sink very deep, but I've come to realise that in reality no amount of social revolution will ever actually stick while the people themselves are unwell. Even with the best intentions it will fade and be corrupted like it always has been. So we need people to recognise, truly and honestly, that it's their responsibility in this collective conscious soup we are all a part of to own their own shit. Without that, nothing changes. And this record was an effort by me to start owning my own shit, and I can only hope people relate and it helps them too, that's all.
What other themes or stories inspired you when writing the record?
The record has a very grand feel to it, there's a scope to a lot of the songs. They're not epic, they're just expansive in that Pink Floyd way, and it conjured in us this slightly uneasy but exciting feeling of a dystopian sonic aesthetic, alongside a utopian message. It felt unique and new and unlike anything we were really aware of, so we took it and ran, leaning into anywhere we could. We wanted it to feel like a cohesive concept.
It's been described as a more "hopeful" offering than your previous records. How would you characterise your change in approach between albums?
I think musically we've let ourselves relax a bit and let our defences down. I've observed in myself a cynical self-monitoring of what I think is acceptable from my writing, and this has its roots in many things, but it feels like - and this is an ongoing progression I'm sure - but I just give less of a fuck what people think every time I write something new. But then I felt this beautiful feedback, where the people whose opinions I cared about most would respond better the more vulnerable I was, and this was a revelation to me. I'm slowly letting the world into my world, which I've always kept precious and hidden.
You've introduced the album with 'Voodoo Science'. Why did you choose this track to launch the record?
It felt like a slice of perfect chaos to shake the cobwebs off, and it's the perfect time for the message of the song to come forth.

Can we expect any surprises on this album?
I think so. It's an evolution of our sound and our writing, we never want to stay still, but I know our DNA runs through it, so they'll be surprised but they'll feel safe. The beating heart of what we've done, and will always do, is there, it's just a bit wider in scope, in sound, in harmony and in emotion.

What else can we expect from Demob Happy in 2023?
Revelations, transformation and illumination, amongst other things.

Get your copy of the latest issue
Read More