Cleaning Up: Dry Cleaning
Since their acclaimed debut album, Dry Cleaning have been on a giddy upwards trajectory. While the world around the London quartet has changed, 'Stumpwork' is as singularly idiosyncratic as ever.
Dry Cleaning were in the middle of an early recording session for their second album at Monmouthshire's Rockfield Studios late in 2021 when vocalist Florence Shaw was stopped in her tracks. While perusing her phone during a quiet moment, she happened across a flurry of Album of the Year lists that all featured her band's debut 'New Long Leg' in giddily high positions (including a Number Three placement on our very own).
"It was a bit of a surprise," she now admits. "I think in my mind, I've always had this idea that the audience for what we do is quite niche, and it was harder to imagine that after some of those lists. I had to take a minute to quiet some nerves after that."
For the quartet, the relative social inaction of the pandemic period had partially shielded them from the full reality of their precipitous rise. However, to the outside world, Dry Cleaning had quickly become one of the UK's most talismanic new bands - a lightning rod for post-punk revivalism, their trademark aloofness somehow capturing something of the spirit of their age.
Florence's deadpan, expressionistic lyrics, spoke-sung with a freeform, stream of subconsciousness logic, were a primary reason for 'New Long Leg''s heady acclaim. But with attention now drawn to how well-received her writing had become, the job of penning a new set of tracks suddenly seemed to have become more complicated. "Obviously, your mind starts to drift towards the people listening instead of just trying to express yourself and please yourself, which is always what I'm doing when I write," she explains. "I don't really think about the audience, not very much anyway. I think I write better things that way. So that became a little tricky."
It doesn't show. The resulting album, 'Stumpwork', released last month on 4AD, sees Florence's lyrics and persona return entirely intact; if anything, her surreal, non-sequitur storytelling has turned even more abstract. From the Emporio Armani builders that pop up on 'Anna Calls From The Arctic' to the young couple clinging to a bundle of trash on the title track, 'Stumpwork' is brimming full of madcap details and bizarre imagery.
Musically, too, Dry Cleaning are leaning into their weirdness more than ever. The track 'Hot Penny Day' finds them embracing a deep funk groove that they see as borrowing from hip hop crate diggers like Madlib, while 'Driver's Story' is a languid, patient, strung-out cut that shows off a band hitting confident, full strides for perhaps the first time. As bassist Lewis Maynard puts it, "The first record showed us that we could go in lots of different directions and with 'Stumpwork', we did. We went more extreme jangle pop, more extreme stoner rock, more extreme ambient."
"On the first record, you're in your head a lot, thinking every take has to be perfect, whereas second time around, you do trust the process a lot more," adds guitarist Tom Dowse. "You look at the bigger picture and realise that you can't always be looking at all the little details."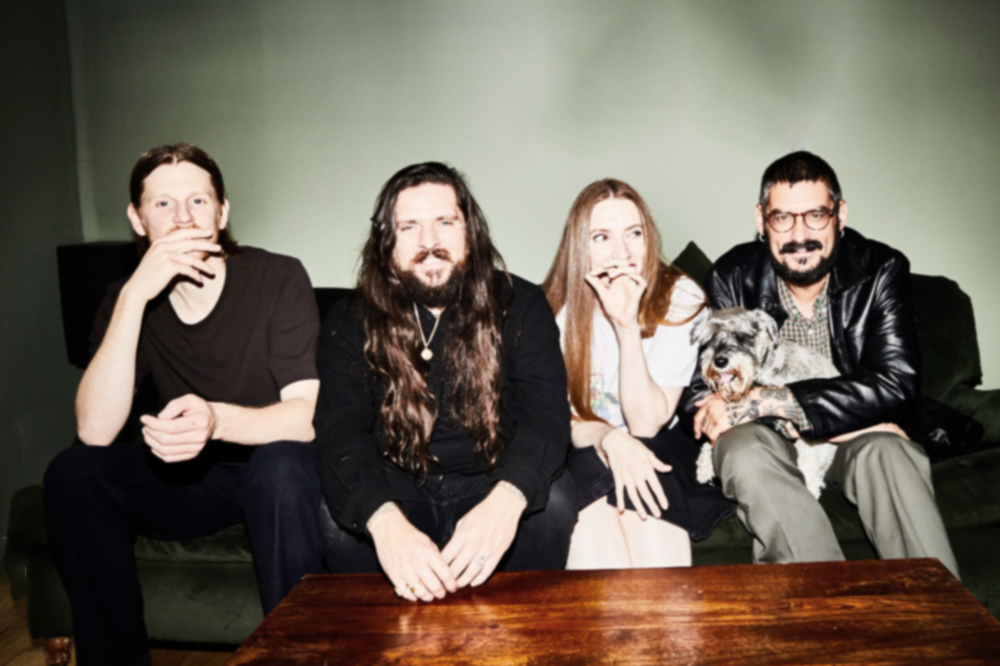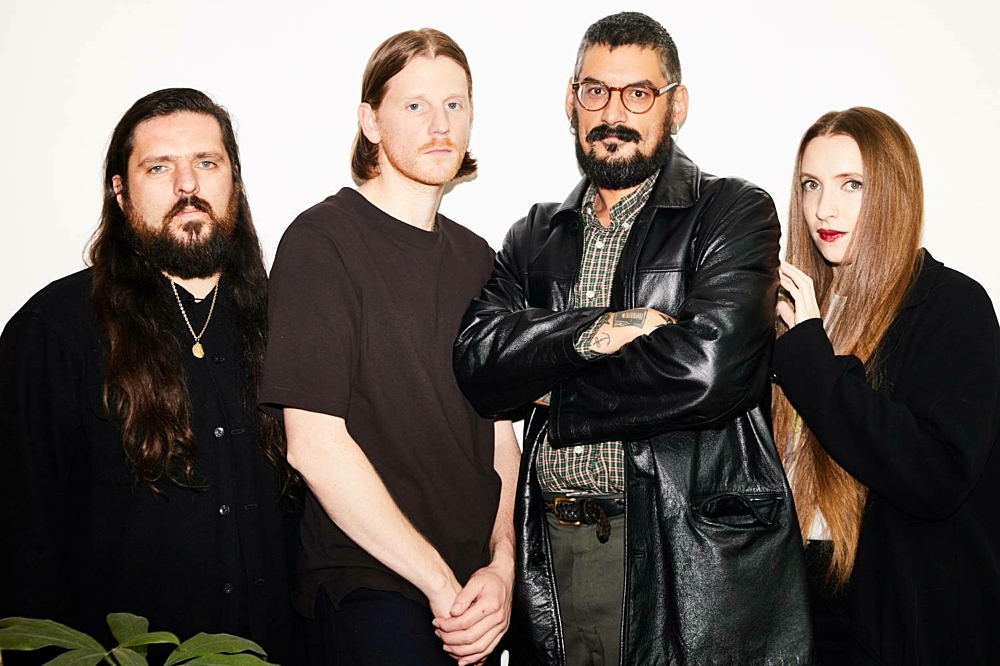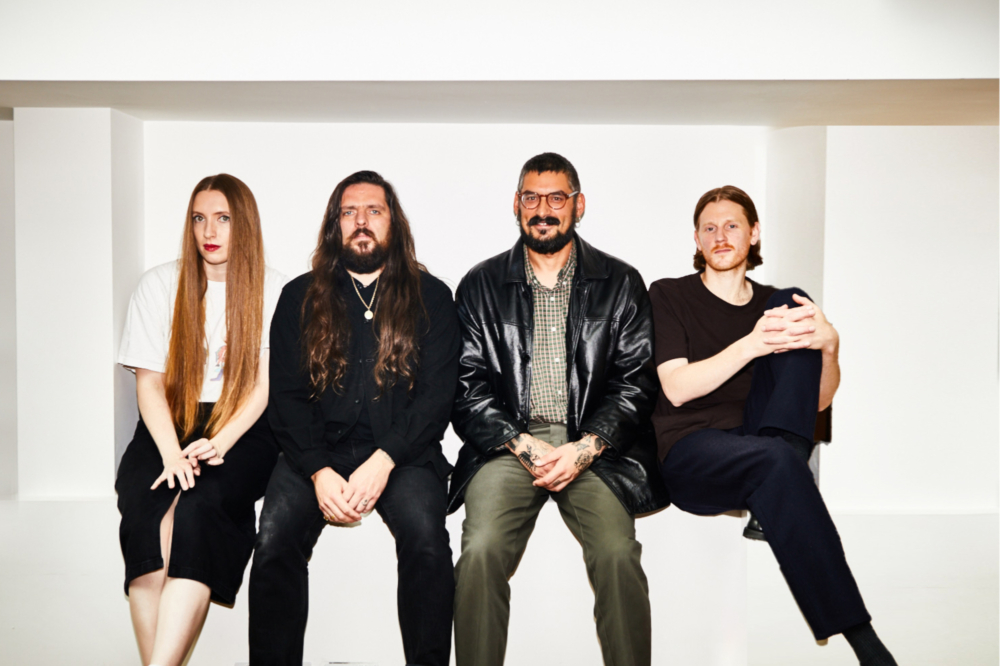 "The first record showed us that we could go in lots of different directions and with 'Stumpwork', we did."
— Lewis Maynard
'Stumpwork' stands as one of the most anticipated album releases of the year, but also one of the most satisfying. For all the tweaks, this is still a record with Dry Cleaning's now-familiar character written into its every orifice. "We've met some of our heroes and been able to have conversations with some of them about what we do," says Tom. "But as a band, the way we work, the way we relate to each other, it's just the same. We still write in the same way, the dynamic is the same."
Florence's delivery, for one, is as distinctive as ever. At select moments on 'Gary Ashby' and 'Don't Press Me', however, she allows a delicate, sonorous singing voice to break out. "It's just a different ingredient to add," she notes. "My singing has a different quality to my more spoken word stuff - to me at least. I'm not a skilled singer, so that's got a certain quality; it's a bit more vulnerable sounding, maybe. If that's what I want to introduce to a song, that's where I'll go with it. Or sometimes I'll use singing for bits that are more silly somehow. There are all sorts of reasons, but I really enjoy it."
Florence collects fragments of incomplete thoughts and jotted notes of passing inner reflections over the course of her day, whether on a bus trip to a flea market as on 'Kwenchy Kups' or on her short walks around Bristol. The overall effect is often that of discombobulation, but with specific details of everyday life sprinkled throughout. With the occasional inclusion of familiar contemporary sentiments ("Nothing works, everything's expensive and opaque and privatised," she intones on 'Anna Calls From The Arctic'), Florence nevertheless tempts us into reading a broader message into her songs.
If anything, her disjointed lyrics serve as a perfect accompaniment to our increasingly bewildering modern life. At a time when one is expected to make sense of incomprehensible things like the Bank of England's asset sales and the rate of maturity of gilt bonds, there is something strangely comforting in Florence's scattershot, frenetic writing; it brings solace to believe that somewhere among all her mayhem lie the answers we crave. And even better, unlike the inhospitable hard realities of real life, with Dry Cleaning, whatever truth you choose to find is as legitimate as any other.
"It's really up to the listener," she says, reassuringly. "Lots of people talk to us about the possible meanings of the songs. And then there are lots of people who think they're about nothing, or that they're random. And I'm kind of fine with all of the above, I don't really mind however people want to take them. Occasionally, people understand exactly what I meant, but I don't write them to be very, very clearly understood. If there is an overarching message, it would be something like just wanting people to feel that individual minds are interesting and valid, as opposed to anything about politics or life specifically."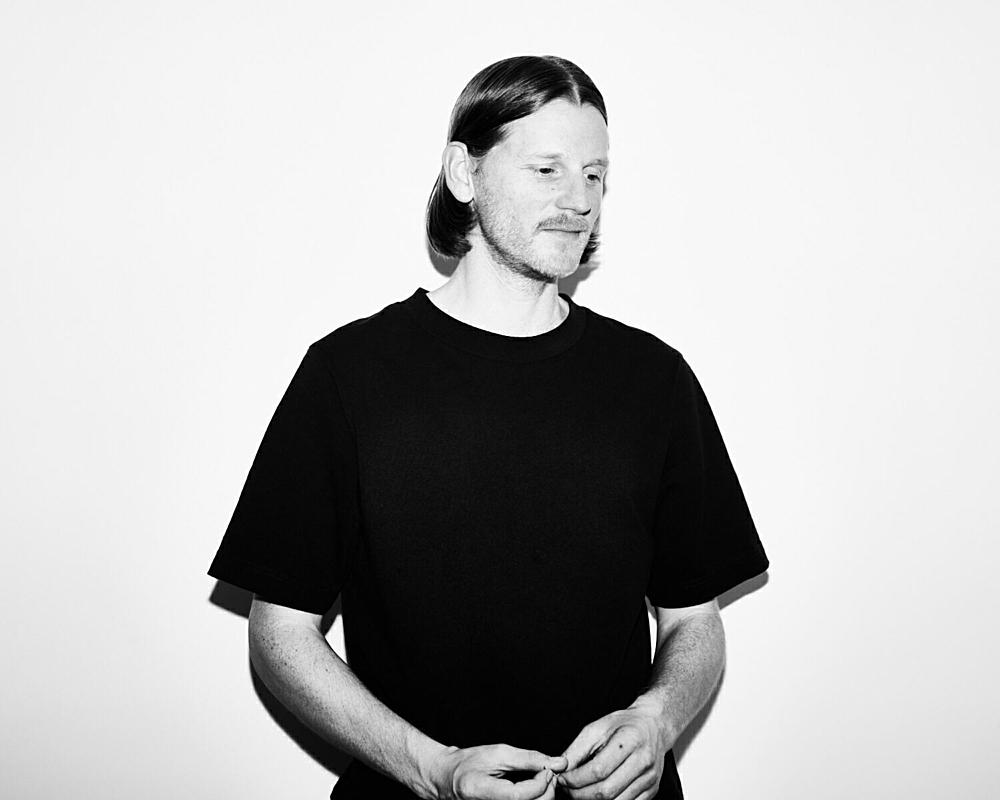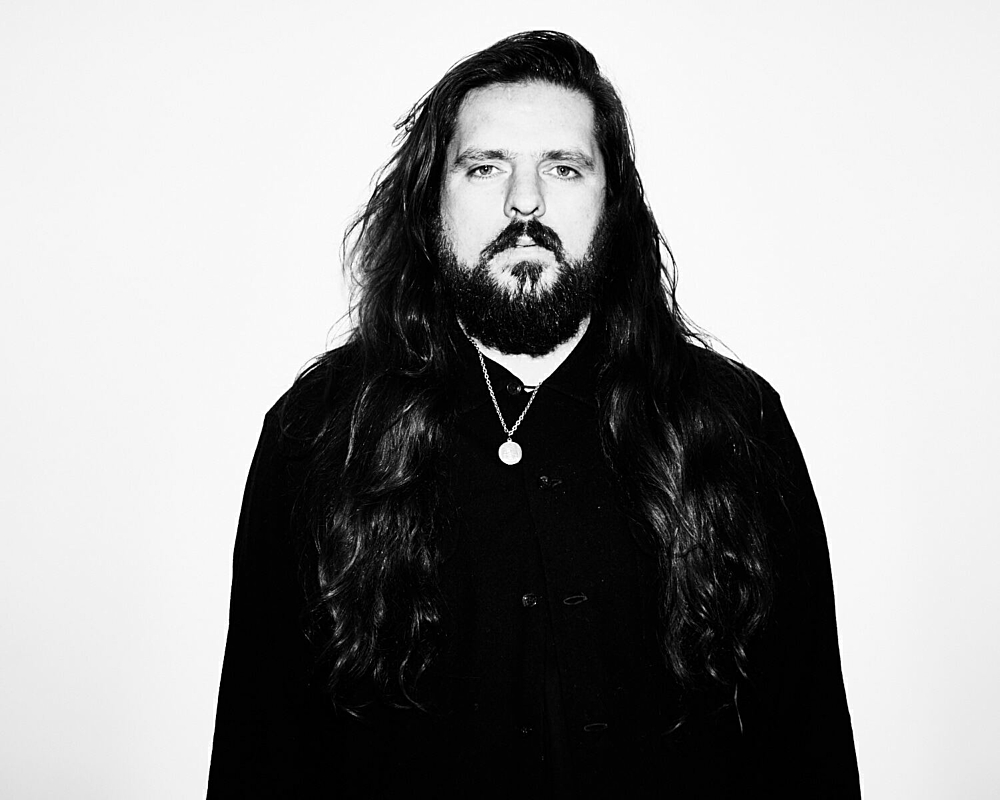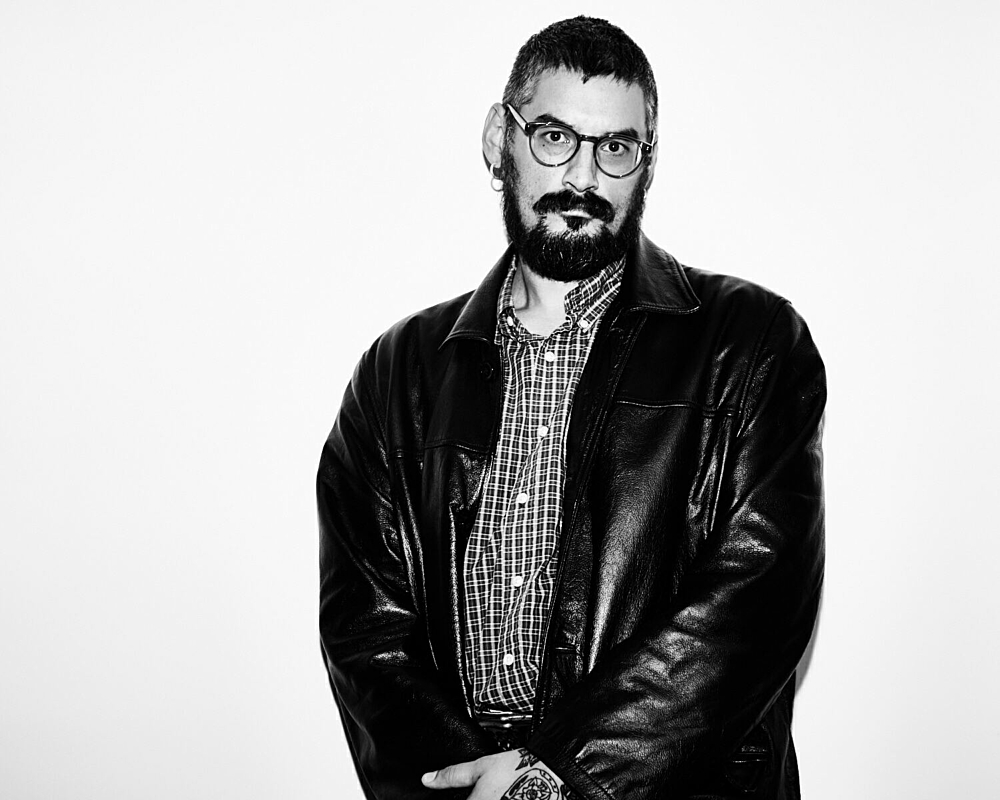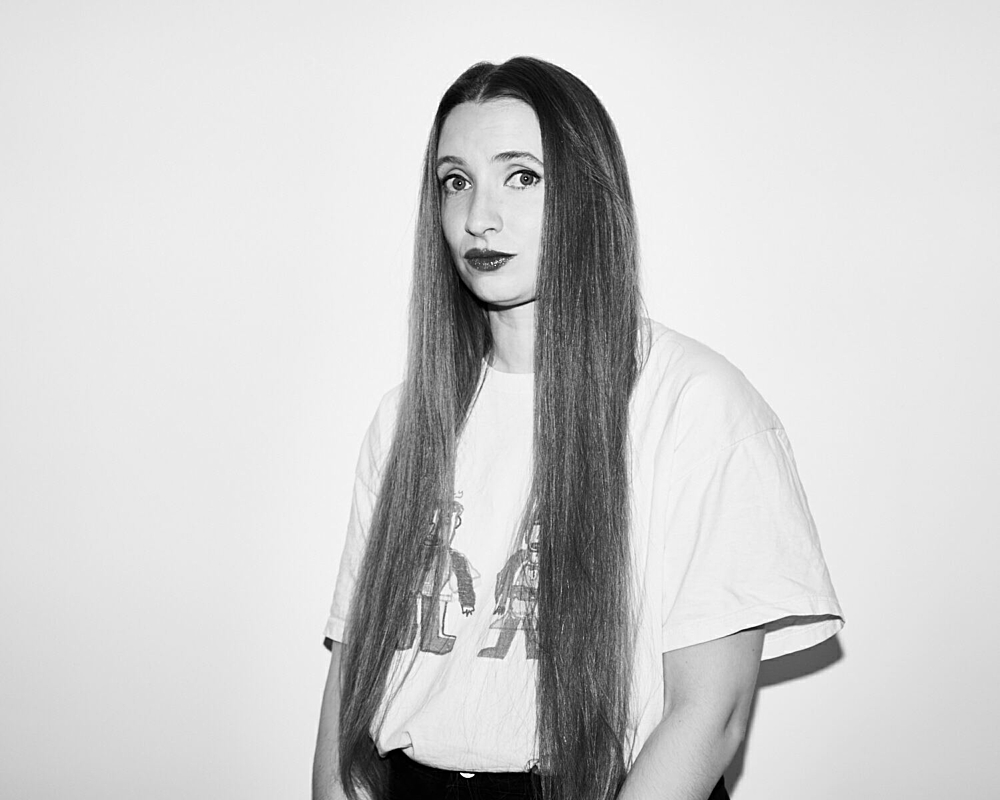 "If there's an overarching message, it would be wanting people to feel that individual minds are interesting and valid."
— Florence Shaw
The same principle extends to the entire band. Dry Cleaning evidently aren't prescriptive about how a listener is supposed to feel when responding to their music, believing instead that the best connection is made when both parties are in on the conversation. "Our kind of messaging is not really about directness or being candid," explains Tom,. "It's not necessarily about saying, 'I feel this way and you should feel this way'. It's more a style of performance that allows the listener to complete the song."
Just occasionally, though, things actually are just as they seem. 'Gary Ashby' tells a very straightforward and sweet tale of a titular family tortoise that has gone missing; "Have you seen Gary?" sings Florence. "Are you stuck on your back without me?" Any listeners hoping that the song is another of Dry Cleaning's arch, ironic flights of fancy might be surprised to hear that Gary is very real.
"We don't know what happened to him," she says. "There was a lost poster for him near my mum's house during lockdown that said 'Gary Ashby' with a little picture and rip-off phone numbers at the bottom. We don't know any more than that. I kind of hope they hear the song, I hope they don't mind."
If these stories seem to point to a whimsical writing and recording process, then conversely there were great sadnesses for the band during that period, too. Tom's grandfather passed away, as did Lewis' mother Susan, whose home had lent its name to early EP 'Boundary Road Snacks and Drinks', indicating just how central she was to the band's life. In fact, she was in hospital at the time of their debut appearance on Later…with Jools Holland in March 2021. She would pass away just one week after the release of 'New Long Leg', but she saw its eye-watering rise to Number Four on the UK Albums Chart.
"It's hard to judge where it comes out," says Lewis about the impact of her passing on 'Stumpwork'. "I always try to react positively to negative situations and try to find the best in it, but it's obviously a huge influence on the record. It's been a big part of our lives."
It's clear that Dry Cleaning are a united and close-knit group of friends, and of all their contemporaries, they must number among the least likely to fall for the trappings of their success. "We've been gigging a lot," says Lewis, "and if anything's going to humble you, it's an airport." "We all see it as being very important to keep our feet on the ground, but often you don't have to work very hard to do that," adds drummer Nick Buxton.
Suffice to say, when they formed the band just four years ago, the quartet could never have expected all this. But with 'Stumpwork' likely to draw similar accolades to its predecessor, it would seem that Dry Cleaning are going to have to get used to their new status.
"It feels like a privilege that people care so much about our band, and that they spend so much of their time thinking about it," says Tom. "We've got some amazing fans and we'll never not be grateful for that."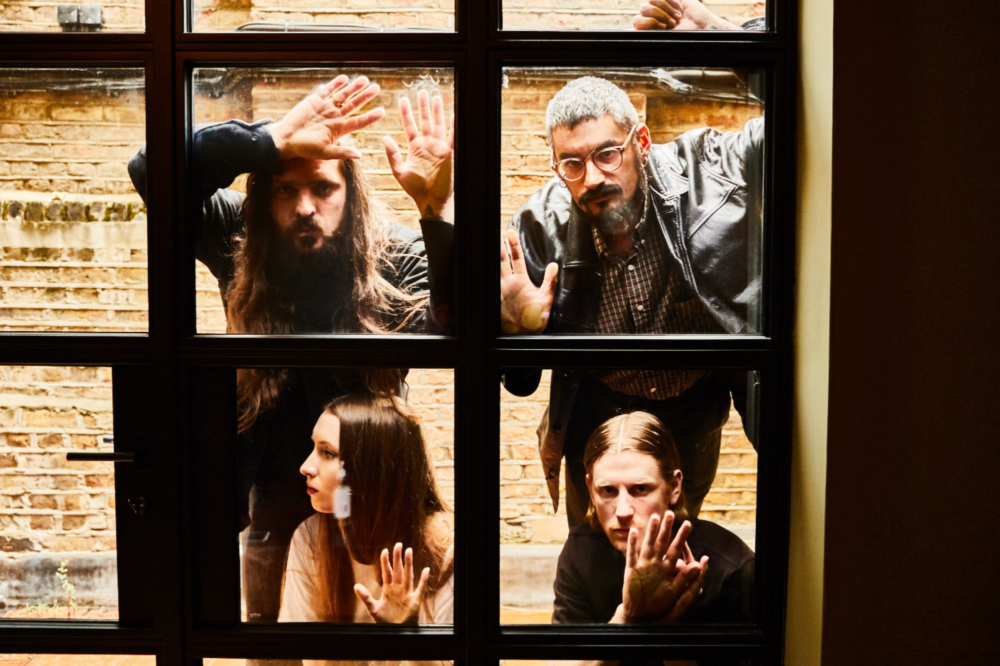 'Stumpwork' is out now via 4AD.
Read More